Madhya Pradesh has an embarrassment of riches in tourist attractions – 10 national parks (forests), numerous ancient temples, forts & palaces, prehistoric rock art, rivers/waterfalls and generous doses of culture. Sadly, most of these sites haven't gotten commensurate fame – and consequently, the state doesn't even feature in the top 10 destinations for domestic Indian travellers. But we love visiting places which aren't overexposed and hence we are drawn to this state. And during these covid times, avoiding the popular crowded places is just a no brainer!
Previously, we have explored the state on two occasions – the first trip covering Bandhavgarh/Khajuraho and the second trip covering Sanchi/Bhimbetka/Mandu. On this trip, we focused on the beautiful towns of Orchha and Gwalior – with an additional secret destination.
Travelling in the times of corona
With covid-19 cases down in India (and worldwide) in January 2021, we explored if travel was possible, without taking undue exposure. A road trip seemed far safer when compared to flights / public transport – as it would make our interaction with others inside closed spaces minimal. For our stay, we chose hotels which had independent cottages or rooms with no central AC. We ate in open air sections of restaurants or ordered room service. We had masks on the entire time, when we were out of our rooms or our car.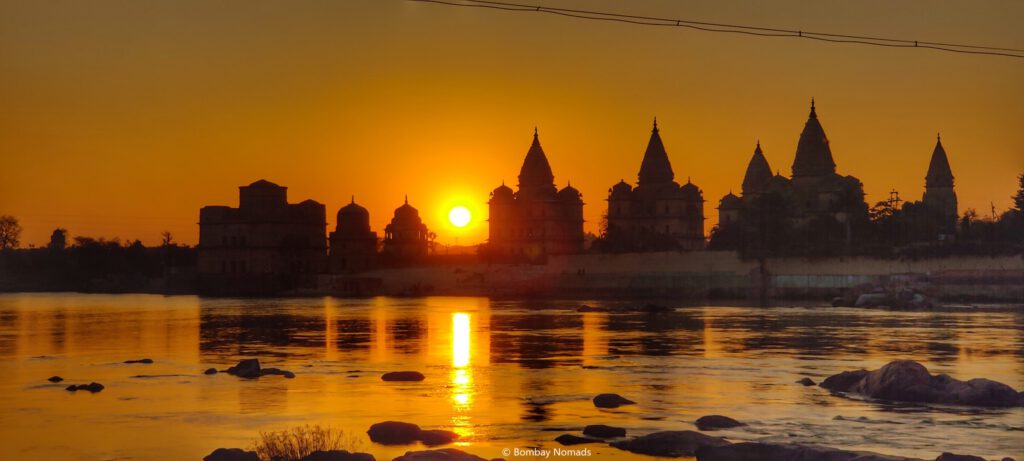 And the most important factor is the choice of destination. Avoiding the more popular destinations in Goa, Rajasthan etc, we looked for a destination that was driveable from Mumbai and would have lot of things to see. Madhya Pradesh fit the requirements the best – as it is within a 2 day drive from Mumbai and there is no dearth of places to see. And our choice was vindicated multiple times on this trip, as we found ourselves as the only tourists at a lot of the sites!
Mumbai to Madhya Pradesh Itinerary
Day 1 : Mumbai to Indore
With a distance of almost 600 km to Indore, there is nothing much else to do on this day apart from driving. All the driving is done on good quality national highways – taking NH60 till Dhule, and then NH52 till Indore. As of February 2021, the roads are in very good condition. We managed to start the drive by 0800 hrs and limit ourselves to just two breaks, apart from fuel stops. Breakfast was at the McDonald's (drive thru) at Vashind, after Bhiwandi, and our lunch stop was at a an open air dhaba near Malegaon. We reached our hotel in Indore at 1800.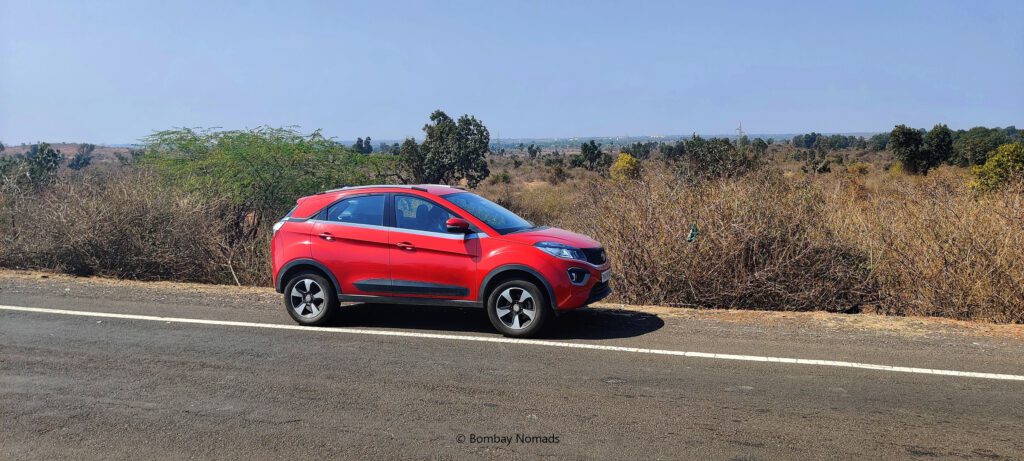 Day 2 : Indore to Orchha
With a distance of 500 km to cover on the day, we started our drive in a bit more relaxed fashion at 0830, after a heavy breakfast at our hotel. NH52 out of Indore continues to be a good road, and after Biaora, NH46 was in equally good condition. However, once we turned onto NH27 after Shivpuri, the surroundings became a bit barren. The dhabas on the stretch were decidedly downmarket. We postponed our plan to stop for lunch on the route and stretched all the way to Jhansi city, where we found a bistro on the outskirts of the city.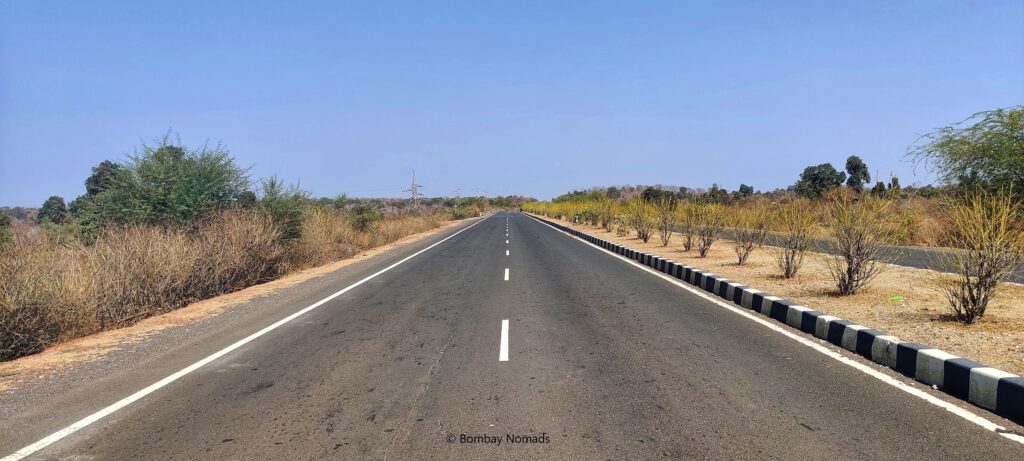 The notable event of the day was the multiple fails by Google Maps – which was a first for us. Initially, Google Maps told to bypass Jhansi using a village road through Khailar. However when we reached Khailar, the road was so narrow, that even two scooters would have trouble passing side by side.
So we abandoned that route and headed towards Jhansi, where Google Maps kept asking us to take roads through Jhansi cantonment – which was blocked by serious-looking army security!
Finally we gave up on Google's navigation and plotted our own route through NH39, which turned out to be the correct route to Orchha. With our navigation struggles, we reached Orchha only by 1630. After two days of continuous driving, we just relaxed at our resort (pictured below) and didn't venture out.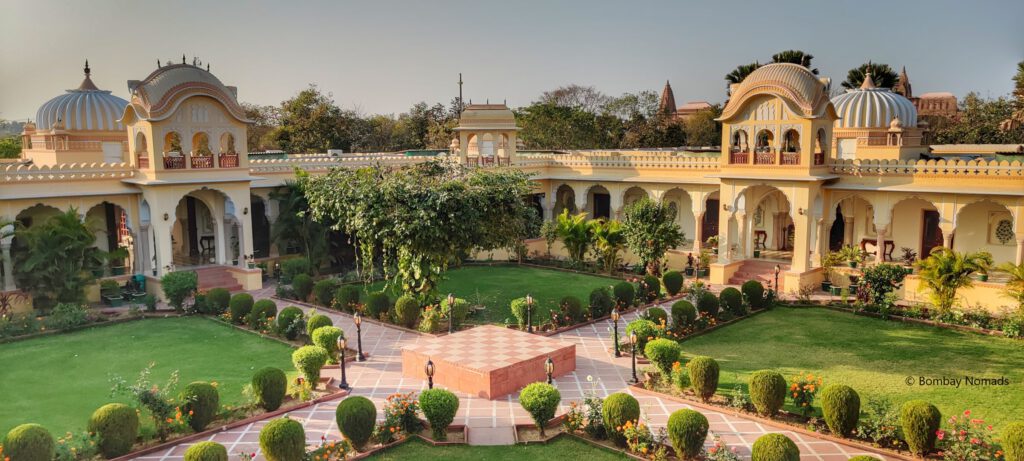 Day 3 : Orchha sightseeing
We started the day with an early morning trail taking us through Orchha's lesser known structures, keeping the bigger attractions for later. Set amidst green wheat fields along the banks of the river Betwa, away from the bigger monuments, are:
Dasiyon Ka Mahal
Panchmukhi Mahadev Mandir
Radhika Bihari temple
Vanvasi temple (pictured above)
and countless smaller unnamed temples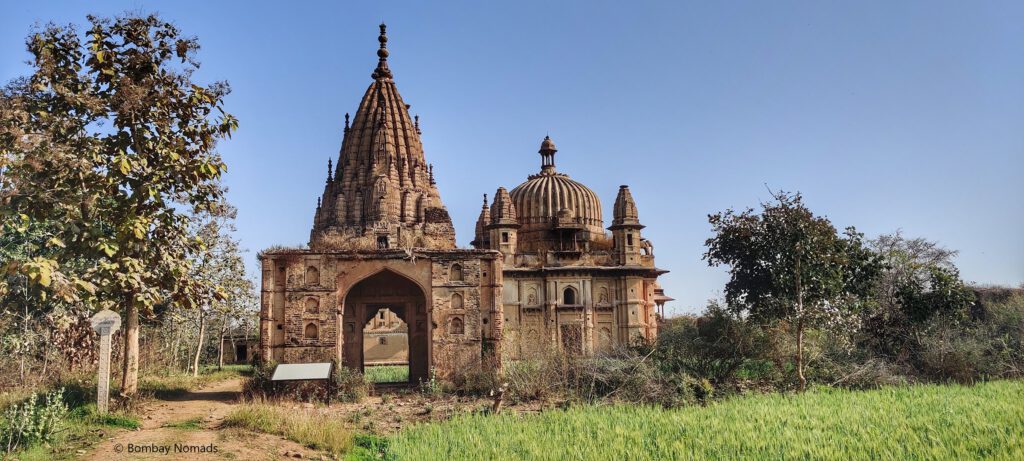 After finishing the walk, we found our way to the shore of the river Betwa and sat on the banks for a while, enjoying the pleasant February morning (pictured below). This trail is about 2km long and highly recommended.
* although some of these smaller buildings have been encroached by the locals and aren't in the best of shape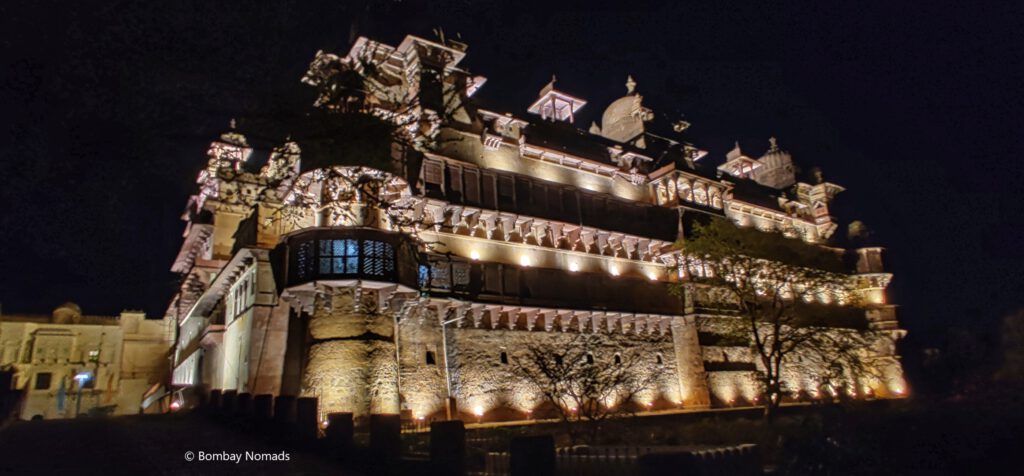 In Orchha, the absolute must-see monuments are:
Jahangir Mahal, (pictured above) an ornate fusion of Mughal and Rajput styles with a perfect symmetrical plan and multiple terraces, is the most impressive structure in all of Orchha
Raja Mahal was the actual residence of the Orchha kings and contains beautiful murals in the royal bedrooms
Chhatris are royal cenotaphs, similar to the Rajput ones. They are bunched together near the banks of the Betwa, amidst curated gardens. They look magical in the evenings (pictured below)!
Chaturbhuj temple is majestic in scale, soaring almost as high as Jahangir Mahal nearby. The interiors aren't as impressive as the exteriors though
Laxmi Narayan temple stands a bit distant from the other buildings in Orchha. It has a triangular plan, to resemble the bird Jatayu in full flight. But more importantly, it is full of beautiful murals, some painted at much later dates (after the 1857 Sepoy Mutiny)
Rai Praveen Mahal is a much smaller palace, but with an interesting backstory. The nearby Hammam and Uth Khana (camel shelter) are also worth a look
Raja Ram temple is the cultural heart and soul of Orchha. The local people treat Lord Ram as the current ruler of Orchha, hence the name. This temple is more of religious interest, rather than architectural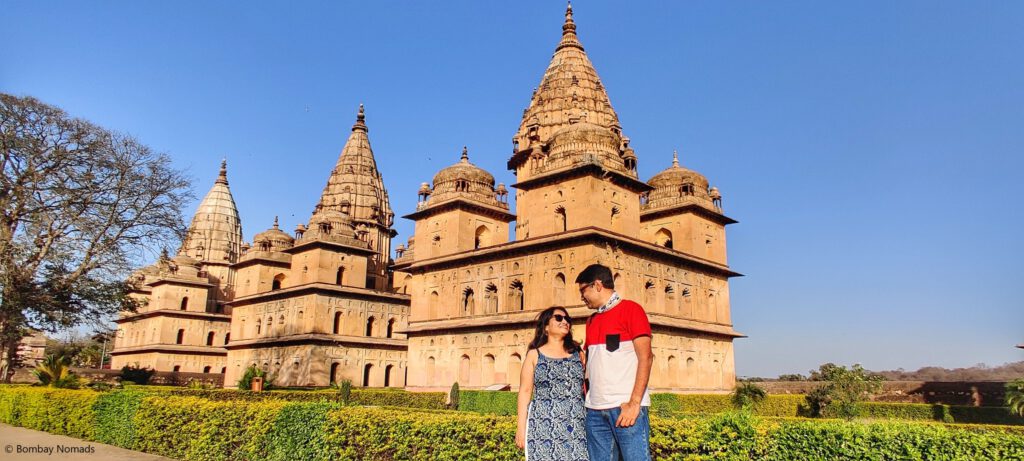 Day 4 : Jhansi & Barua Sagar
Jhansi (and Barua Sagar) actually lie just across the border in Uttar Pradesh – though I have to confess that before this trip, I used to think Jhansi belonged to Madhya Pradesh. A further 15 km from Jhansi is Barua Sagar, a small & picturesque 18th century hill fort, overlooking a manmade lake of the same name. We were the only visitors at the fort and the lake and the MPTDC guard was somewhat taken aback to learn that we had come all the way from Mumbai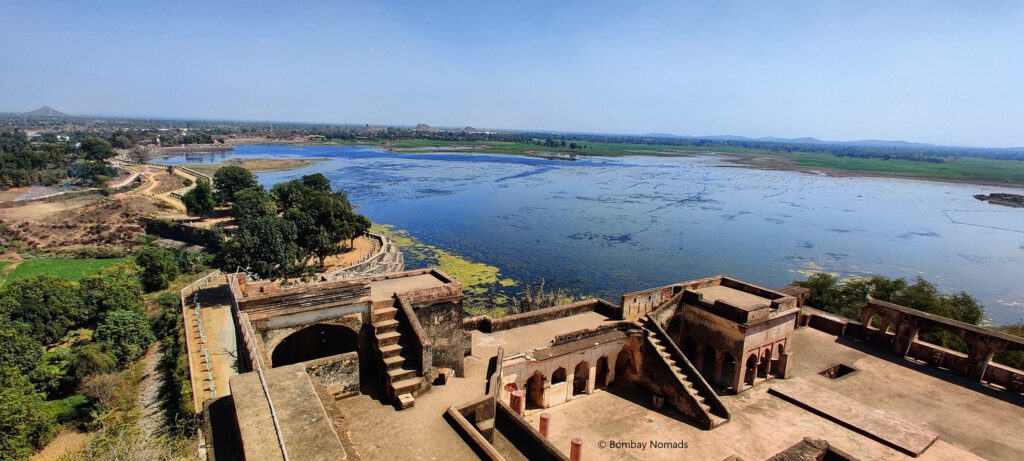 On the NH39 itself between Barua Sagar and Jhansi lies the little-known Jarai ka Math, a beautiful sandstone temple built by Pratihara king Mihir Bhoj in 860 AD. The temple is missing the central deity, but it is believed to have been dedicated to Devi (Amba or Durga). The temple has some wonderful carvings outside, especially the door lintel.
Jhansi Fort has been immortalized by Rani Laxmibai, and her story probably features in textbooks all over India. The hilltop fort towers over the town of Jhansi. Because of the continued occupation by British forces till Independence, the fort is fairly well maintained. Walking along the ramparts of the fort is a nice experience.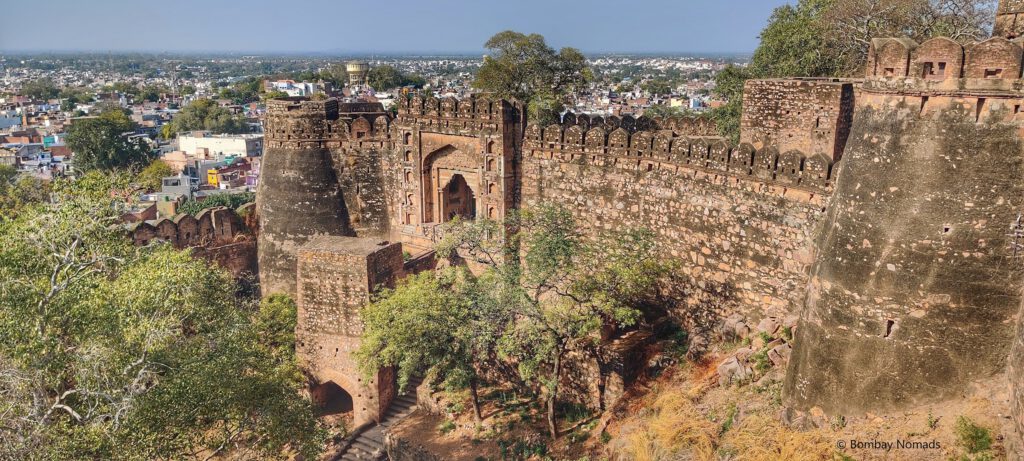 Rani Mahal is a small palace in the old part of Jhansi city – which used to be the residence of Rani Laxmibai. Some of the rooms are decorated with beautiful wall paintings. Nowadays, it houses stone sculptures found in nearby archaeological excavations. However, the roads around Rani Mahal are extremely narrow (like any old city), and there is no place to park your car. There is a small visitor parking lot, but it is being used by locals to park their tempos etc. We had to give up on our plans to see Rani Mahal as we just couldn't find any other parking nearby.
Day 5 : Chanderi
Chanderi is a fortified medieval city, about 110 km away from Jhansi/Orchha. Historically, Chanderi's location has been very important, as it stood on the southern route to the Deccan. It has been fought over from the time of the Yadavas, 1000 yrs ago, to the British as recently as in 1857. But the most famous battle in local history happened in 1528, when Babar conquered Chanderi, and the then Rajput queen committed jauhar along with 600 other ladies.
Chanderi is also the place where the movie Stree was filmed. A significant portion of the movie Sui Dhaga was also picturised here.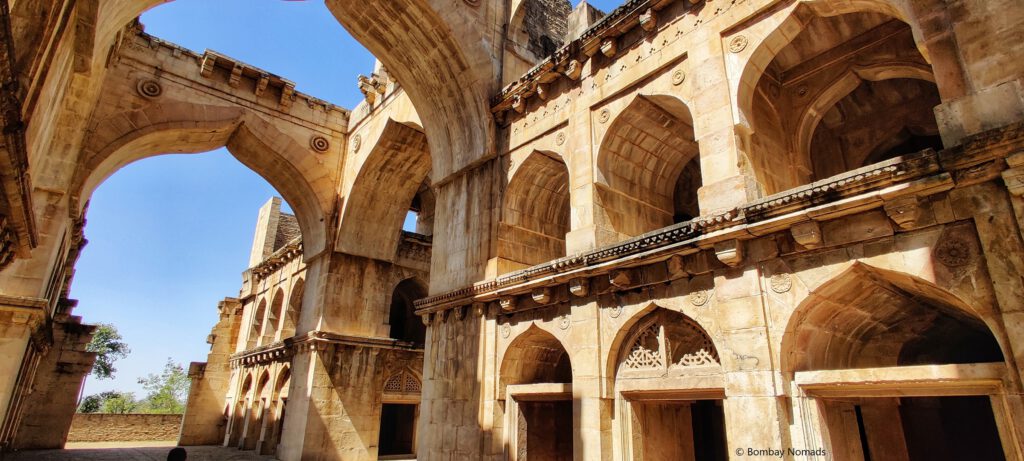 The must-see things in Chanderi are:
Chanderi Fort is the oldest structure in Chanderi. Apart from the new fortifications done by the Scindias in the 19th century, the older parts of the citadel are in ruins. The Khooni Darwaza, named so because of the fierce fighting with Babar's forces in 1528, is still quite impressive.
Koshak Mahal is a ruined palace with a unique square layout – and our favorite monument in Chanderi (pictured above). Instead of a traditional courtyard in the middle and rooms around it, Koshak Mahal has two wide passages crossing each other at right angles in the centre, forming a cross. There are 3 floors in each corner, with high arches supporting the roof over the cross passage.
Kati Ghati is a hill pass cut in the hill range surrounding Chanderi. There is an interesting folklore about how Babur's army cut this pass in a single night to bring up his artillery to attack Chanderi. However, the pass was probably made in 1490 by Jiman Khan.
The hunting lodge at Ramnagar is a single-storey structure overlooking a lake of the same name. The balconies have good views of the lake and are very photogenic too
Jama Masjid stands in the centre of the town. It is a nice medieval mosque with a large courtyard and a moderately decorated pillared hall near the mihrab.
The palace at Singhpur stands overlooking Chanderi Talab lake and is surrounded by dense forests, a mere 7 km from Chanderi. The location is magical, but the palace itself is less than impressive. Though more than 500 yrs old, it has been in continuous use (including as a museum by ASI) and hence heavily modified
Chattris of Chanderi Kings and mausoleum of a princess – Shehzadi Ka Roza – lie close to each other, surrounded by graves and small chattris of lesser mortals. The chattris are in need of some maintenance. Shehzadi Ka Roza is a large square structure, whose domed roof has fallen. There is also a lake and a temple uniquely dedicated to Lakshman nearby.
Chanderi handloom silk sarees do not need much introduction. There are innumerable showrooms and weavers cooperatives selling the famous drapes here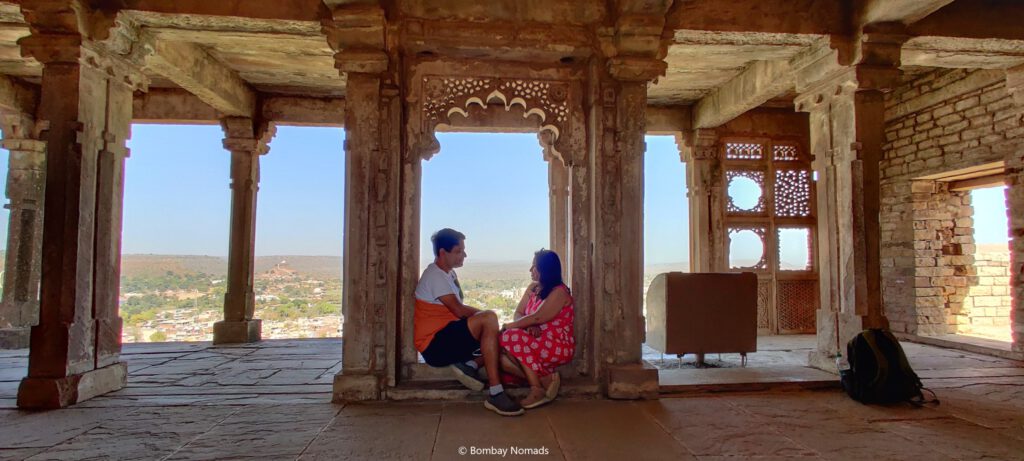 There is a MPTDC hotel Kila Kothi in the premises of Chanderi Fort – which is also the best place to have lunch in Chanderi. Accompanying the meal is a great view of the entire town.
We visited Chanderi as a day trip from Orchha. Our visit was made really special by a very able guide in Nadeem Jafri, who was both very knowledgeable and very articulate. He also happens to be very well travelled and is fairly active on YouTube!
Day 6 : Datia
Datia lies on the road from Jhansi (Orchha) to Gwalior, 30 km away from Jhansi and 75 km from Gwalior. One of the sons of Orchha king Raja Bir Singh Deo founded Datia as his own kingdom in 1626. There are two magnificent structures in Datia that are worth a visit: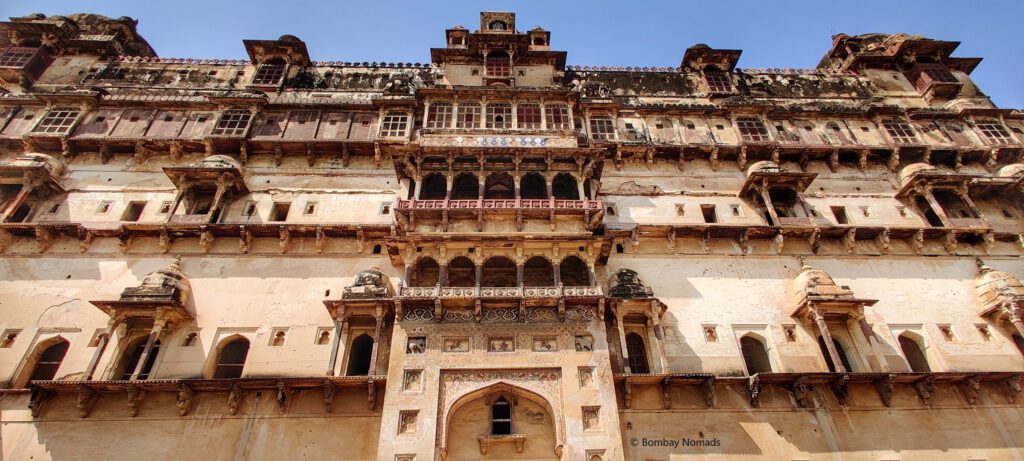 Bir Singh Deo Palace was built in 1620, to welcome Emperor Jahangir – though legend has it that he never came here and hence this palace was never lived in. The structure is very impressive with two underground storeys and 5 visible storeys, in a square layout. Instead of a central courtyard, it has a central living area and courtyards around it, divided by double-decker pathways. The architecture is a mix of Mughal and Rajput, and a single room has a spectacularly painted ceiling covered in floral designs. We did not expect much from this place but it was one of the highlights of the trip for us.
Rajgarh Palace is situated on another hill inside Datia town. Unfortunately visits are not allowed currently because of instability, but it looks really impressive from outside
* the approach road to Bir Singh Deo Palace is very narrow and not clearly marked. We had to ask locals of Datia multiple times for the right route And the road is quite narrow – two vehicles will pass each other with difficulty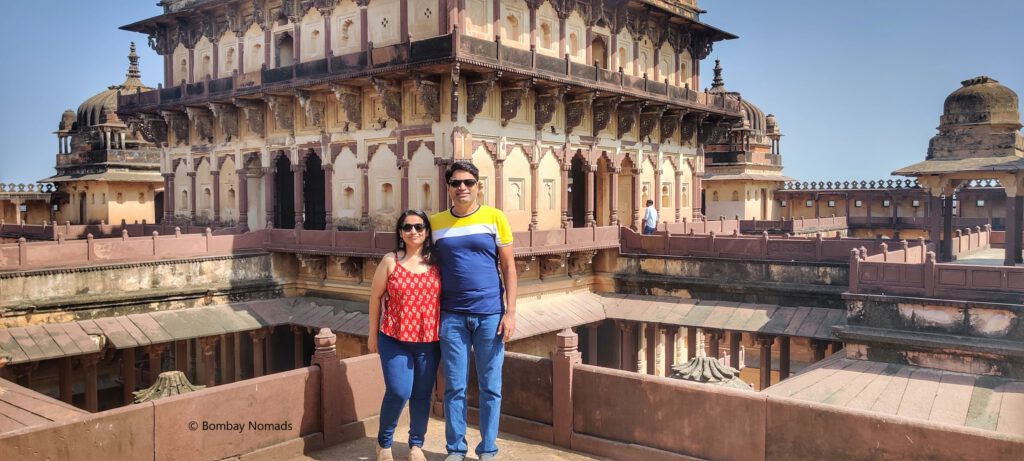 Datia is also the site of Peetambara Peeth, considered a Shakti Peeth by devotees. 15 km outsidfe of Datia lies Sonagari hill, which is a Jain pilgrimage site with scores of Jain temples. We visited Datia on our drive from Orchha to Gwalior.
Day 7 : Gwalior
Gwalior is one of the largest towns in Madhya Pradesh, and is home to one of the most imposing hill forts of India – Gwalior Fort. The fort has existed since at least the 10th century and is truly majestic. Gwalior is also home to the Scindia royal family, who have been the rulers of Malwa for last 300 yrs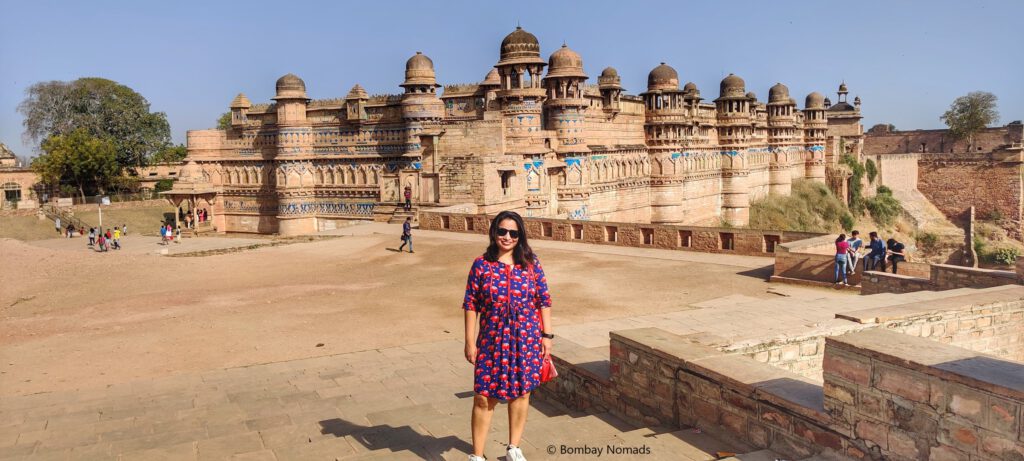 Inside Gwalior fort, the must see buildings :
Man Mandir Palace is the one of the prettiest fortified palaces in India. It was built in 1486 by the Tomar kings, and has some stunning decorations in turquoise, yellow and green tiles on the outer sandstone walls (pictured above)
Sas-bahu temple (corruption of the word Sahastrabahu or 1000-armed) is a pair of beautiful 11th century temples inside the fort. The larger of the two temples has some incredible carvings inside, even though the sanctum is empty/destroyed
Teli ka Mandir is a 9th century temple built by the Pratihara dynasty and perhaps predates the fort too. It has a unique structure which resembles the gopurams of southern temples from certain angles. The temple towers an impressive 48 m above the ground.
The Siddhanchal caves lie on the road leading to Urwai gate of the fort and have colossal carvings of Jain tirthankaras from 14th century (pictured below)
There is an impressive step-well at the entry of the fort, before the Man Mandir Palace
The other buildings inside the fort – Jahangir Mahal, Shah Jahan Mahal, Karn Mahal, Vikram Mahal, Gurdwara Data Bandi Chhor and others can be skipped if there is paucity of time.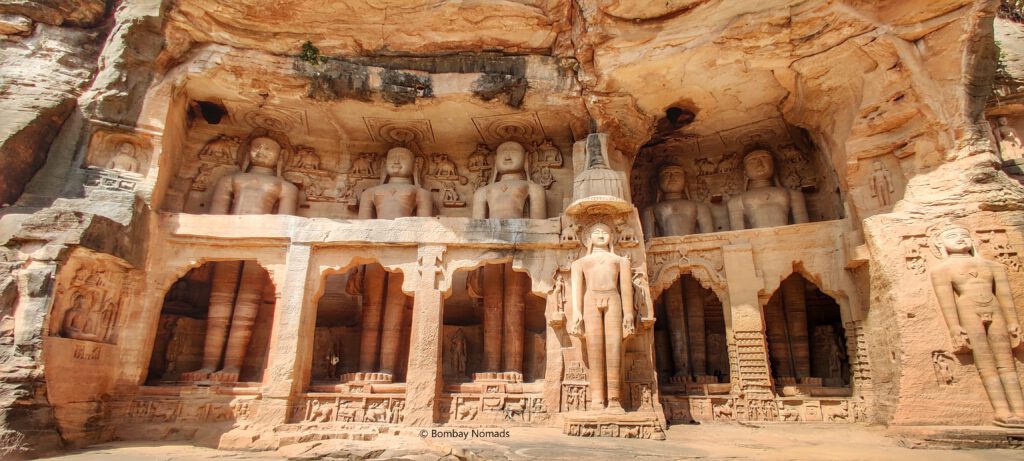 The famous singer Tansen was a native of Gwalior and is buried here. However, his tomb is extremely small and humble, while that of his spiritual teacher Mohammad Ghaus next door is rather impressive and worth a visit.
But to us, the most pleasing discovery was Jai Vilas Palace (pictured below), the current home of the descendants of the Scindia royal family (Jyotiraditya Scindia's family)
Jai Vilas Palace, built in 1874 by British architects and engineers, looks like an elegant European palace. One half of the palace is open to visitors with a hefty Rs 350 entry ticket (it is totally worth the price). The Durbar Hall, with the gold & red velvet furnishings and huge chandeliers is breathtakingly opulent. The other rooms offer a glimpse to the lifestyle of modern Indian royals in the 19th and early 20th century.
Day 8 : Mitaoli, Padawali and Bateshwar
Mitaoli is a small village 40km away from Gwalior and worth a visit for its Chausath Yogini Temple. Also known as Ekattarso Mahadev Mandir (the yogini statues have been replaced by shivlings), the circular building looks remarkably like the Parliament of India.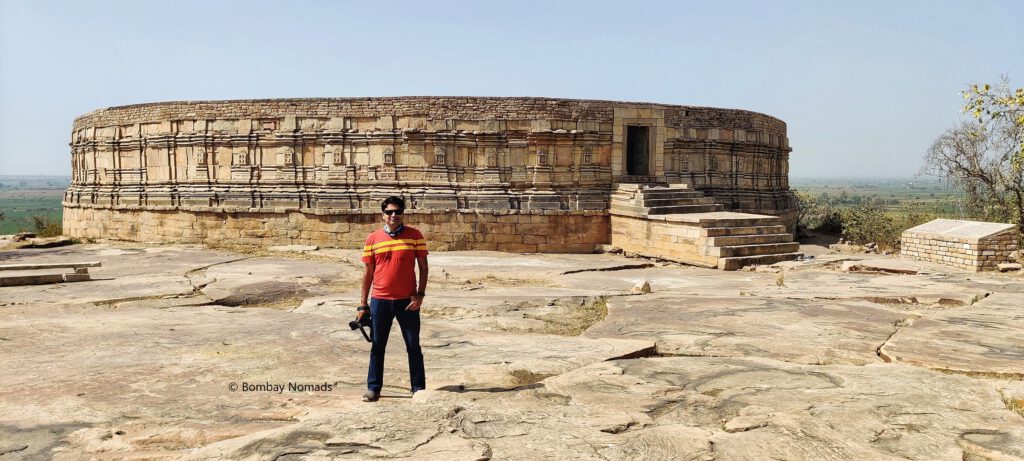 *The locals are convinced that this building was the inspiration of the parliament building, however there is no proof that the British architects every visited Mitaoli or Gwalior
Just 4km away from Mitaoli lies the fortress of Padavali. While the small fortress was built by local Jat rulers in the 18th century, the attraction is the 10th century temple inside. Only the mukhamandapa (front half) of the temple remains – there is no sign of the sanctum or rest of the temple. Whatever is left standing of the temple is covered with flamboyant carvings inside (pictured below). The stones from the ruined parts of the temple have been reused in the construction of the fortress – incongruous small carvings can be seen on various places on the walls of the fort.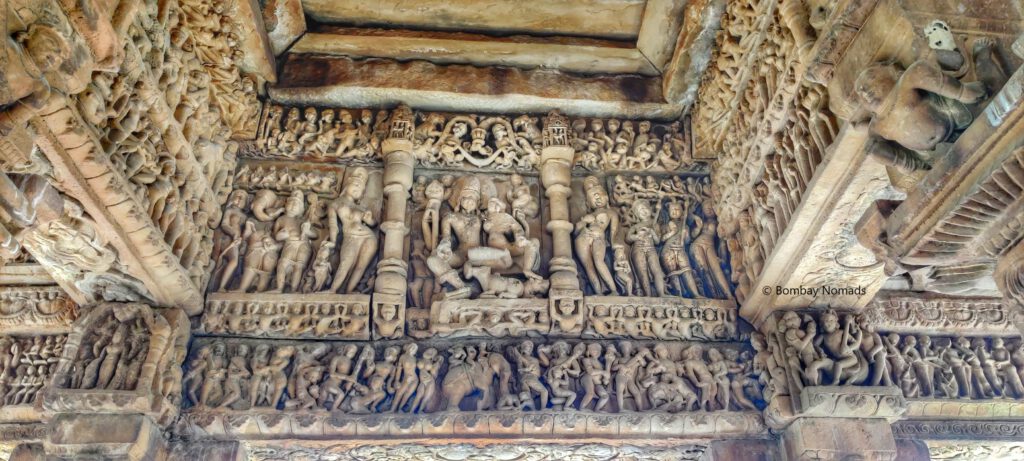 Bateshwar lies another km away from Padavali and is the most interesting site amongst this trio. It is a dense conglomeration of the ruins of some 200 temples in a very small hillside. ASI has done some very good work and restored about 60 temples, while the others are waiting for funding to be resumed. The temples are not full size – usually under 15 ft tall. They were built between 6-9th century, and were destroyed in the 13th century. Opinions are divided on the cause of destruction – either a powerful earthquake or invasions from Delhi Sultanate.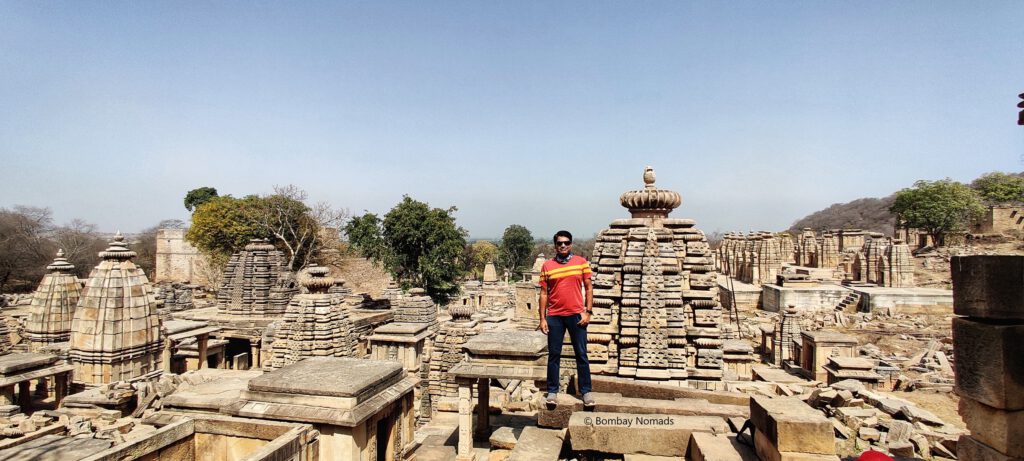 The road to Mitaoli/Padavali wasnt the best. For a few kilometres, the tarred road just vanishes and it is just loose soil, flattened by a roller.
Day 9 : Gwalior to Mandsaur
Our original itinerary called for going to Jhalawar in Rajasthan and halting there overnight, on our way to Mandsaur. However the rising number of Covid-19 cases in Maharashtra resulted in all neighbouring states requiring a negative RT-PCR test for visitors from Maharashtra
(thankfully we had already entered Madhya Pradesh before this rule was announced)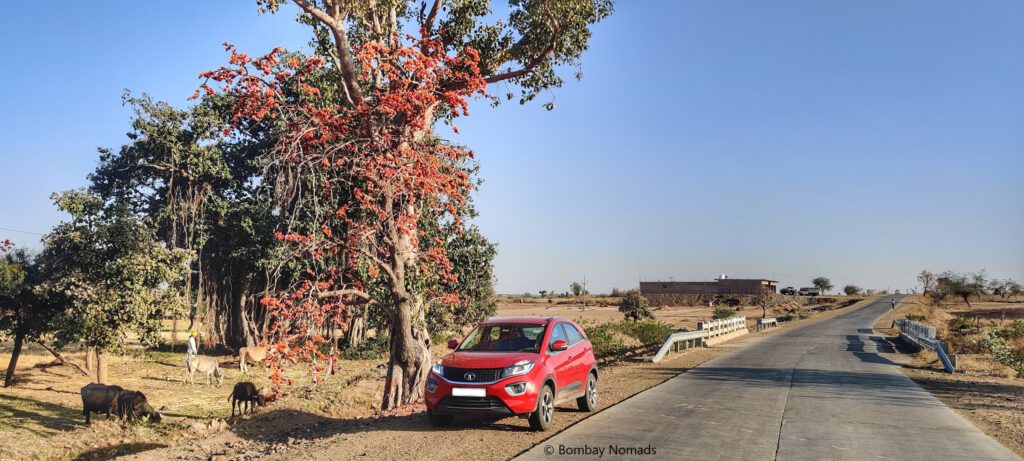 Since we did not want to get delayed due to RT-PCR tests, we modified our itinerary to avoid Rajasthan altogether. It meant we had to do the long drive from Gwalior to Mandsaur in one day – and take the longer route there, to avoid passing through Rajasthan. We took the NH46 towards Indore, which was a good road to drive on. Once we left the national highway and turned towards Agar/Mandsaur, the road narrowed down to a two-lane, although it remained decent. The 550 km drive took us 9 hours including all breaks.
Day 10 : Dharmrajeshwar Temple & Dhamnar Caves
The high point of our Madhya Pradesh trip – and the secret destionation – was the Dharmrajeshwar Temple and Dhamnar Buddhist caves! It is a testament to the wonderful riches lurking everywhere in India, that this spectacular temple complex is completely unknown, even to the people of Madhya Pradesh! This 8-9th century monolithic temple is carved out a solid hill. The makers of this temple just started chiselling down from the top of the hill, like the more famous Kailasha temple at Ellora.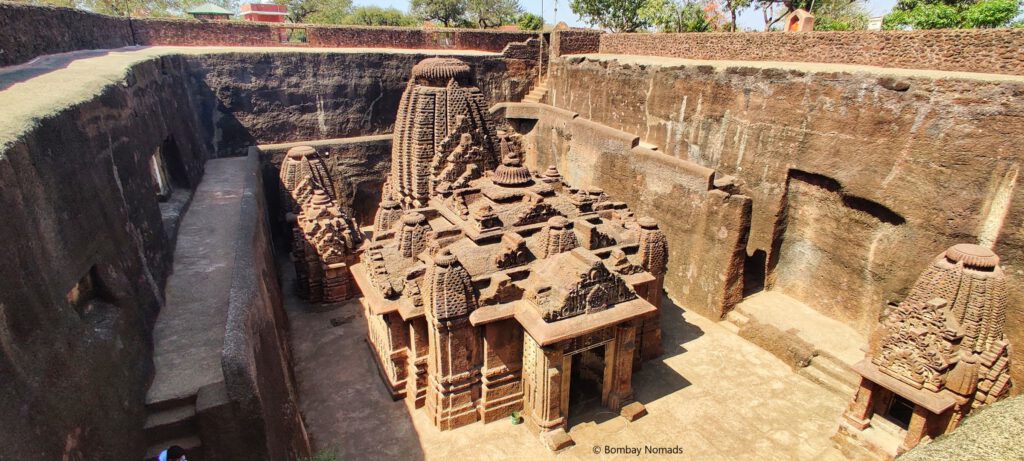 The Dhamnar Buddhist caves are carved on the same hill as Dharmrajeshwar, and were built in the 6-7th century. Like the Buddhist caves found in Maharashtra, they are carved into the hillside, overlooking a valley. Most of the caves are simple rooms with straight walls, with some small stupas. But Cave 14 has some impressive sculptures. The best part of the Dhamnar caves experience is discovering the caves by ourselves, as there is almost no information available online about them and we could not see any guides around. We were the only people at the site, which made the experience even more surreal.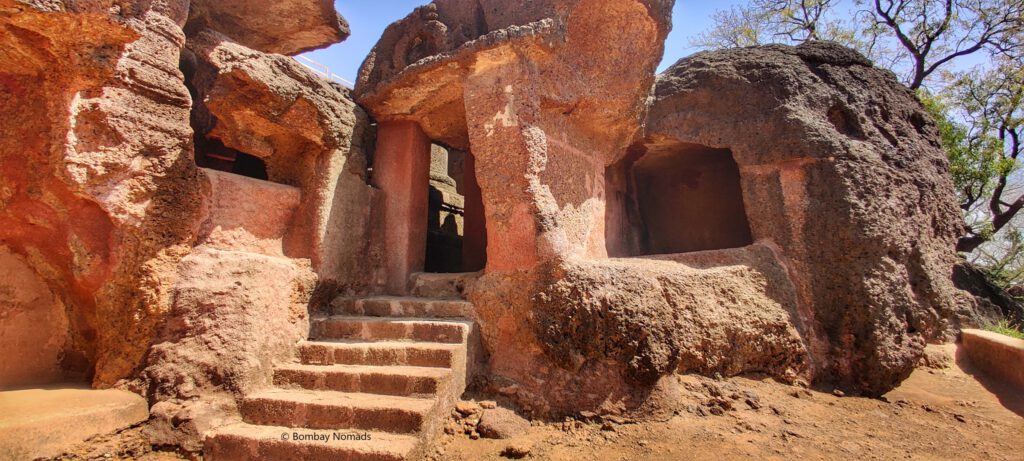 The hill containing Dharmrajeshwar and Dhamnar is made of laterite. Being a coarse stone, laterite is not as conducive to beautiful carvings like sandstone (or even granite), hence the sculptures are not as exquisite as the more famous temples of India. However, the scale and atmosphere of this site is breathtaking and it is regrettable that such a monument is completely overlooked and forgotten.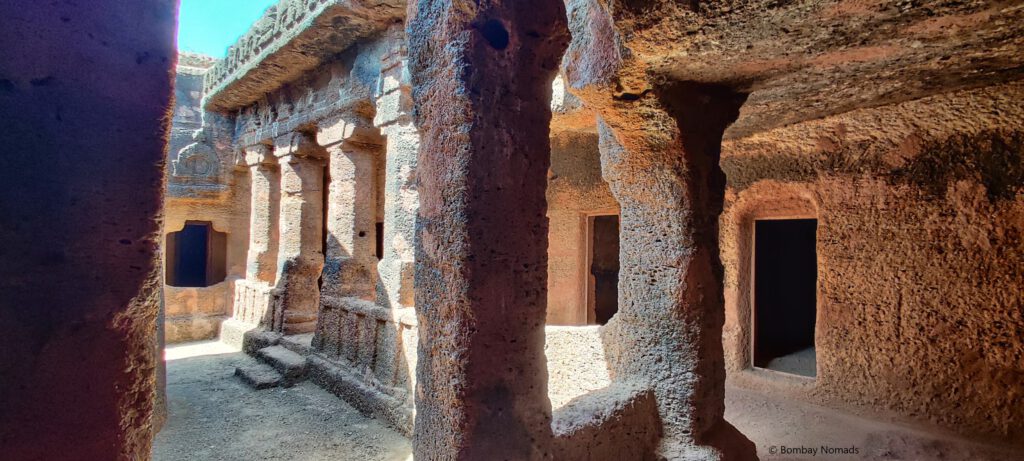 The last 15-20 km to Dharmrajeshwar Temple are over narrow village roads. At a couple of places, the road vanishes into a rocky patch for a kilometre or so.
Day 11 : Mandsaur to Indore
As a result of the changes in our itinerary (where we had to skip Rajasthan), we had only a short drive (200km) to Indore that day. The route goes via Ujjain, one of the ancient holy cities in India and one of the 4 sites of Kumbh Mela (Haridwar, Allahabad and Nasik being the other three).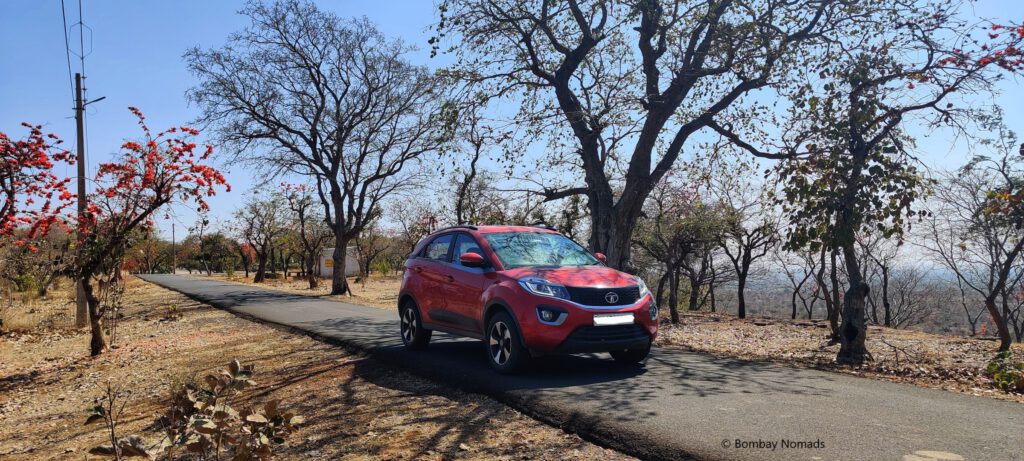 Not being particularly religiously inclined, we skipped Ujjain, and instead preferred to chill in our hotel room in Indore.
Day 12 : Indore to Mumbai
The last day of any trip is always a bit of a bummer, with only the journey home to look forward to. Thankfully, with the good quality roads, we covered the 600 km back to Mumbai in just 9 hrs. Descending down Kasara Ghats near Igatpuri was the most memorable moment of the day, although there is now one speed breaker too many there!
Our lunch stop turned out to be a lucky pick. Sai Car Dhaba has a beautiful rustic layout in the form of charpoys and benches in a mango orchard. The menu is limited to Maharashtrian cuisine, but the experience of eating in the open air, under the shade of trees, was really lovely (and social distancing friendly!)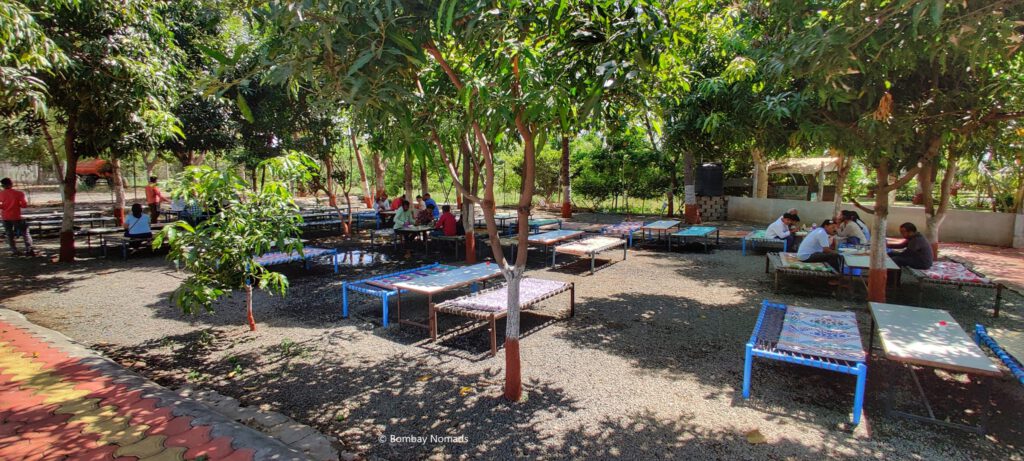 Highly recommended, just before Malegaon when driving towards Mumbai.
Know Before You Go
If you have never visited Madhya Pradesh before, here are some things to know in advance
Madhya Pradesh is the second largest state in India by area and there are many unique destinations to see in the state. Covering all in a single trip might require few weeks, so prioritize and plan your itinerary carefully
The roads of Madhya Pradesh were pretty decent. The National Highways (NH) are at par with the rest of the country. The smaller roads and state highways on this trip were much better than what we remembered from previous trips. We didn't come across any abysmal stretches, except for a couple of km of under-construction sections while visiting Mitaoli and Dharmarajeshwar temple.
Google Maps is usually a reliable guide and good indicator of travel times. But a few times on this trip, Google Maps wanted to send our car through narrow village lanes which were fit only for 2 wheelers. We have usually not faced this issue with Google Maps while driving in India.
The state is somewhat conservative culturally. Outside of cities, ghoonghats seem quite the norm and the normal greeting seems to be "Jai Shri Ram". Also, we saw more vegetarian restaurants than meat-serving ones.
Street food is one of Madhya Pradesh's hidden secrets. Most of Madhya Pradesh (especially Indore) has really vibrant street food culture. It would be really rewarding to keep some time aside to explore. For e.g. in Indore do try bhutte ki khees, Bedmi Puri, Fried gadalu etc.
There are numerous tolls on almost all roads (we counted some 12 on day 1 from Mumbai to Indore and cost us Rs. ~700). All except 2, out of the 100-odd tolls we crossed in our 12 days, were Fastag enabled. So it would help to load up a few grand on your Fastag before you start any roadtrip in India.