It was the weekend which marked the big "four o" for me
I am one of those people, who don't like to make a big hoopla about birthdays. But for this milestone, I decided to make an exception and bring in the forties doing something I liked.
In our years of travelling, we have been to a few national parks, but we have never sighted a tiger in the wild. Either it was the wrong time of the year (freezing winter in Bandhavgarh), or the park terrain made animals difficult to spot (Kaziranga, Manas, Periyar). So a trip to a tiger reserve was due for a while. And summers are the perfect time to visit a national park, as all animals are drawn to the water bodies, because of the heat.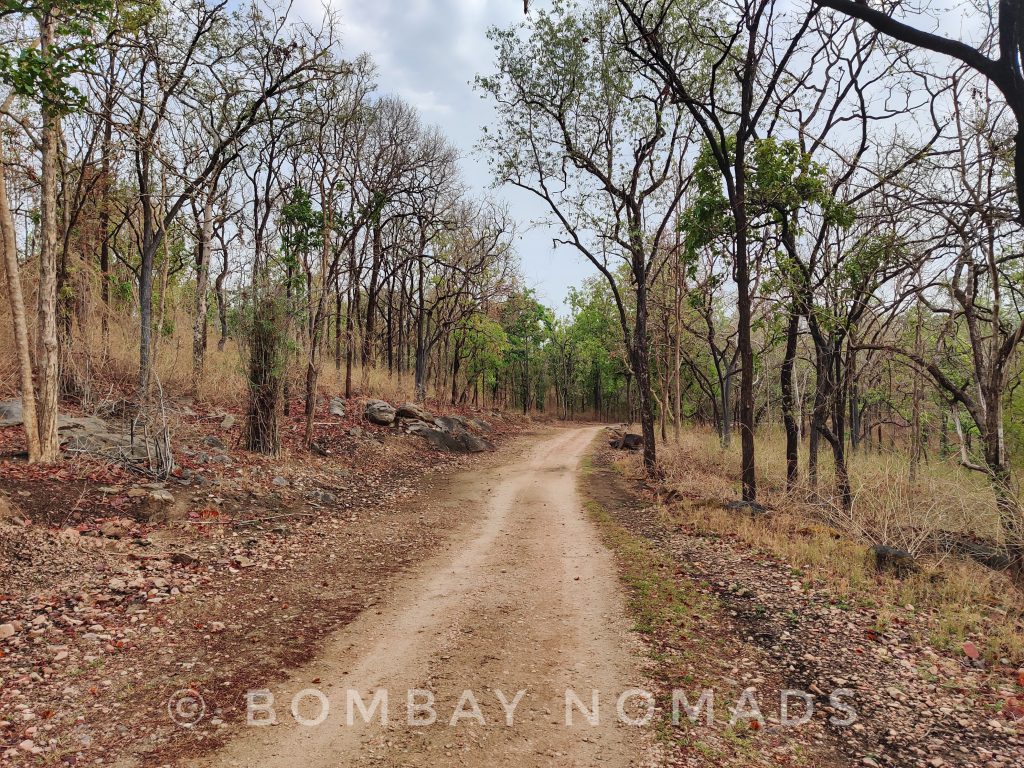 Our first preference was Tadoba National Park in Maharashtra. It is not as famous as Ranthambore/Corbett/Bandhavgarh etc, but it is the closest to Mumbai and has consistently given great sightings in the last 3-4 years. However, it is a victim to its own popularity – safari bookings for summer are almost impossible to get – even a month in advance. For those who aren't well versed in the National Park circuit of India, in 2012, the Supreme Court placed a limit on the number of tourist safaris per day in each tiger reserve, along with other restrictions, to minimize human impact on wild animals. But this resulted in demand outstripping supply for safaris in some popular parks like Tadoba.
We have, in the past, made plans to visit Tadoba or Melghat (both are tiger reserves in Maharashtra) a couple of weeks in advance, only to find all safari slots completely sold out.
This time, we initiated our plan 2 months in advance, and decided to not limit ourselves to Maharashtra. Also, we decided to go with wildlife safari experts, rather than do it alone. We chose Footloose Journeys, based on recommendations online – and we were not disappointed. Paresh, at Footloose, guided us through the availability at various National Parks within our reach, for the weekend we wanted, and finally organized a fantastic trip.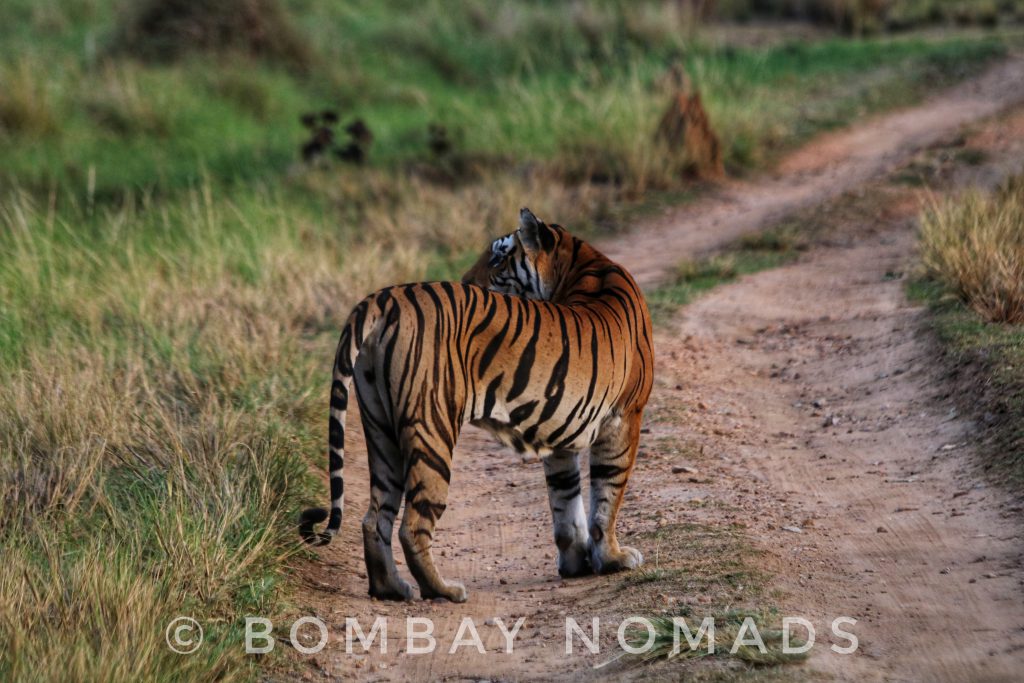 Based on Footloose's recommendation, we went to Kanha National Park for 3 days. Kanha National Park is in Madhya Pradesh, and one of the oldest National Parks in India. It is somewhat equidistant from both Jabalpur and Nagpur. Nagpur is much better connected by flights and hence, a common starting point for Kanha, Pench and Tadoba safaris.
Kisli/Khatia gate in Kanha is about 270 km from Nagpur, and is the location of a large number of tourist resorts, lodges and homestays. Mukki gate is a bit to the south and has the more expensive five star properties (Taj Banjar Tola, Baagh Resort, Chitvan Jungle Lodge etc). Our stay was at the more mid-range Kingfisher Resort, at Kisli. It is a small resort with about 12 cottages, and a nice swimming pool, and just 4km from Khatia gate. The rooms were large and clean, and furnished well (had a minibar). Only complaint would be the extra spicy/oily food from the restaurant.
We had signed up for the 4 day/3 night Kanha itinerary, which included 6 safaris
Thu aft
Fri morn-aft
Sat morn-aft
Sun morn
However, we could only take Friday off (work reasons), and so we customized our trip to 3 days, with 4 safaris. Footloose adjusted the costing accordingly, although with the cost of the additional taxi from Nagpur airport to Kanha, we didn't really save much.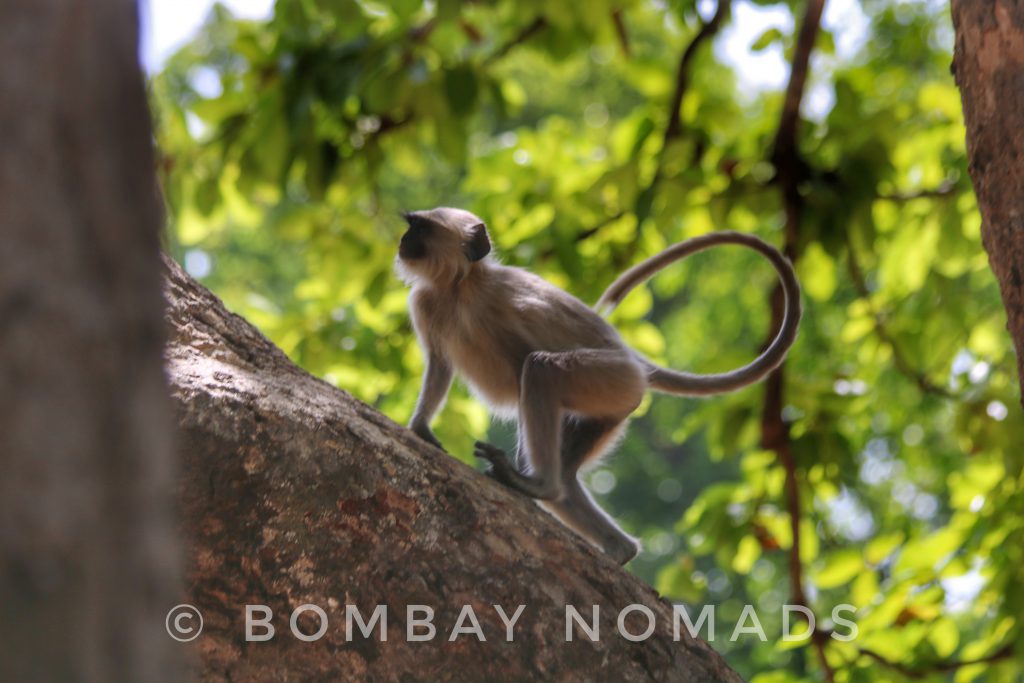 Our drive from Nagpur to Kanha was uneventful, and after an early morning flight, we spent most of the drive snoozing. NH44 till Seoni is a good 4 lane highway, after which it is a 2 lane state highway, but in decent shape. We crossed through the beautiful forests of Pench National Park, before entering Kanha.
At our resort, we checked in and met up with the rest of our group during lunch. We were 10 members + Ameya from Footloose. From the resort, we hopped into Innovas to transfer to Khatia gate, where our 2 gypsies were lined up. We queued up early, almost an hour before the 1600 safari timing. Apparently Kanha Park officials frown if empty vehicles line up as placeholders. And being the first into the park is desirable,as animals who are close to the trails, would move away deeper into the jungles once the train of vehicles enter the forest.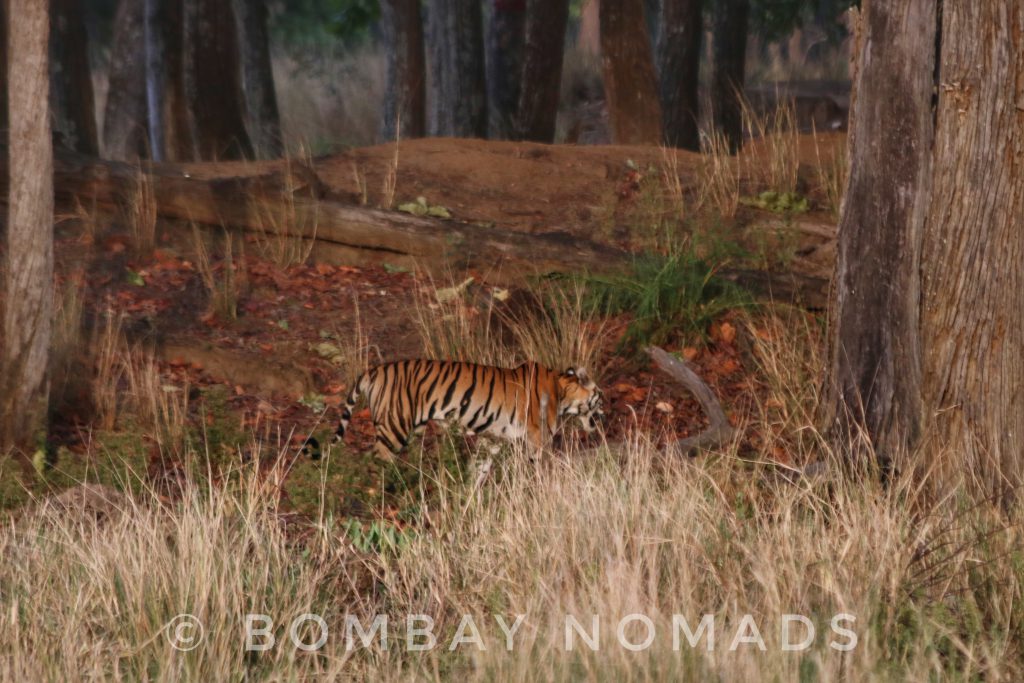 As anyone familiar with National Parks in India knows, the only vehicle used for tourist safaris in India is the now-defunct Maruti Gypsy. For the longest time, it was the only petrol-engined 4WD vehicle in India. Its light weight makes it nimble and well suited for the jungle trails, but it is a cramped vehicle and also has terrible leaf spring suspension. So tourists can expect to spend a good part of their safari lurching in their seats. Also, all the tourist Gypsies are open top, with 2 bench seats high in the back. The carrying capacity of each jeep is 6 tourists, plus driver and guide in the front two seats.
* We also saw a large minibus, converted for safari use, which can seat about 50 passengers at a time. It is run by the government. It provides a cheaper option for a jungle safari, but is slower than the Gypsies and probably doesn't go on all the park trails/routes (It is just my guess though – I saw it very few times during our 4 safaris in Kanha)
According to forest department guidelines, forest guides and routes are allotted on a lottery basis about 15 minute before safari timings. This eliminates collusion between guides and tour operators. The guides line up near the entrance, as each vehicle slows down before the gate, and they clamber onboard their allotted vehicle for the day. The forest department also has to be commended on mandating a GPS tracker on each safari vehicle, to keep tabs on vehicle speeds and locations. They are very strict about not exceeding 40 kph inside the forest, and violators are banned from entering the park for a full week.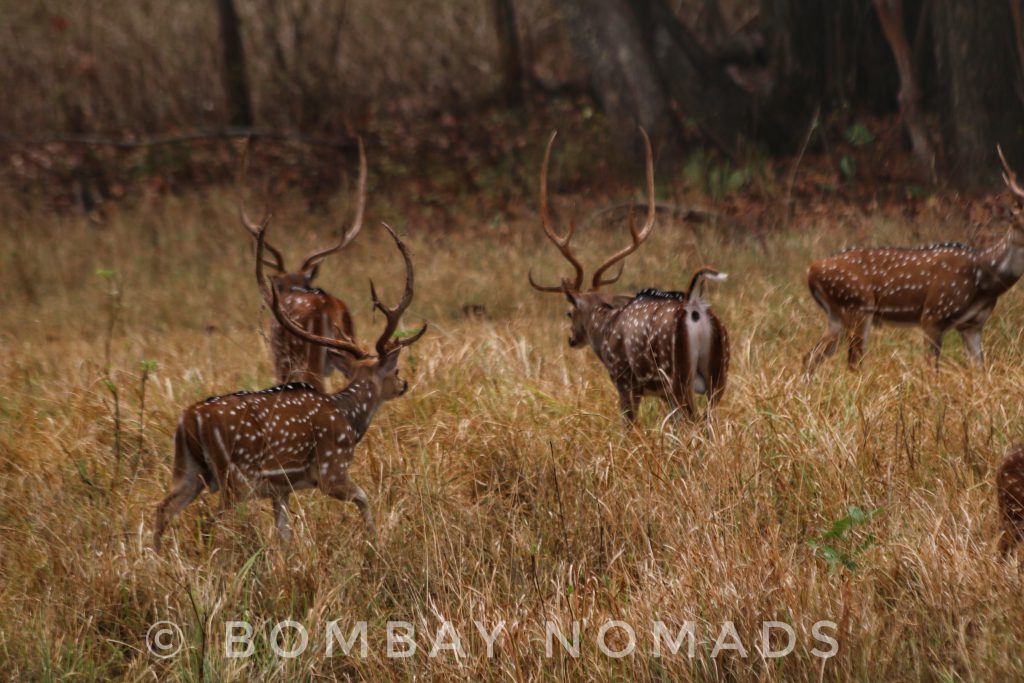 My first impression of Kanha National Park was just how beautiful this sal forest was. These tall and slender hardwood sal trees form a carpet of dried leaves on the ground, but arent densely wooded. These deciduous forests are interspersed with open grasslands and small river valleys, where chital (spotted deer) and langurs are everywhere. A good portion of the trails inside the forest are smoothened by regular use, and are a joy to travel on, with the forest canopy on both sides forming a green tunnel.
On our first safari, on Friday evening, our first sighting was a herd of gaurs (Indian bison) very close to the gate. These large muscular bovines look really smart I think, with the tuxedo-like back and white colours. They are notoriously bad tempered too, and are known to charge vehicles at times (one of the Footloose vehicles was charged during the morning safari). Thankfully, this time they were content to keep a distance, while eyeing us, and we moved deeper into the forest.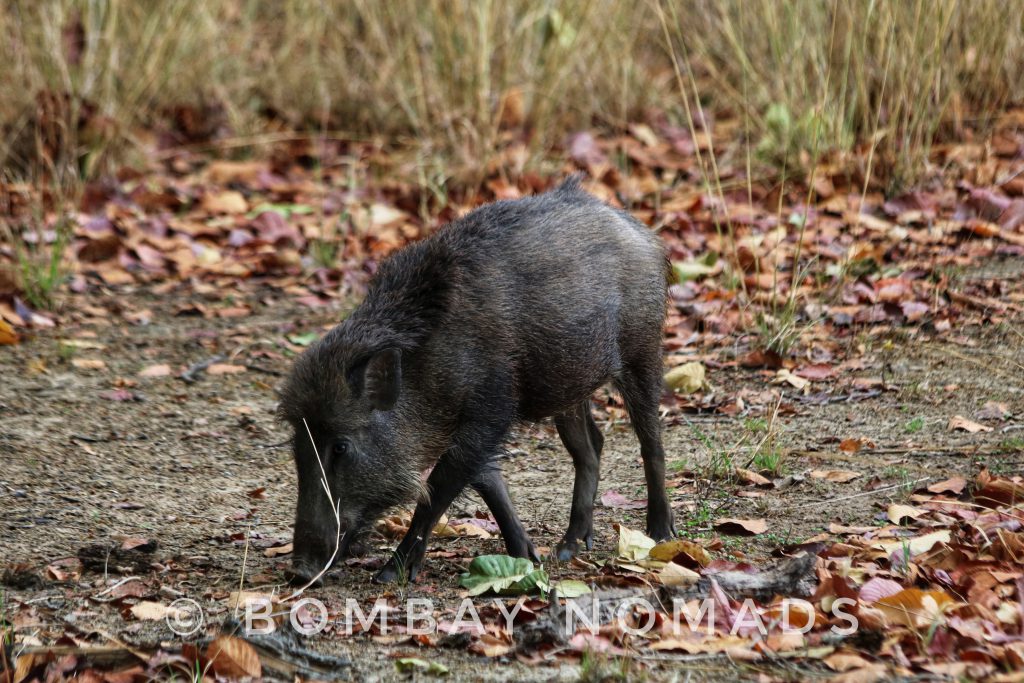 Amidst the far-too-many chitals and langurs, we spotted wild boars, sambar deer and lots of birds for the first two hours, before we got an excited squawk on the radio about a tiger spotting. We rushed to the area, and hidden in the bushes was our first wild tiger – DB2 !! There were a couple of jeeps already and although we could see the general area where excited finger pointing was going on, it was difficult to make out the perfectly camouflaged feline in the grass. Till DB2 got up and started to walk and we finally saw it !
DB2 stayed in the bushes, walking a few metres, before sitting down, probably waiting for the humans to disperse. All around us was an excited murmur, as everyone tried their best to peer through the bushes, and lay their eyes on the king of the jungle. There were excited shouts from newcomers when they managed to spot the carnivore, followed by shushing from the others. The whirr and the clicks of the cameras were constant, and I myself went on a frenzy, clicking dozens of photos, hoping at least a couple would be sharp and usable.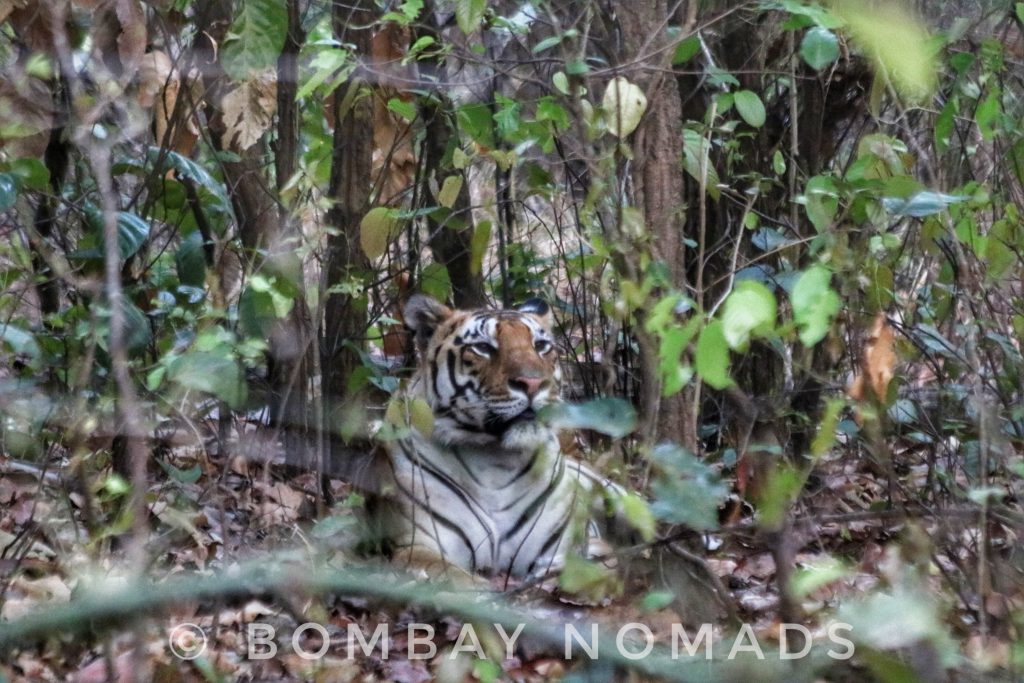 We would have loved to continue watching him, but dusk was falling and we had to exit the park by 1900, so we headed back towards the gate, feeling pretty pumped and excited
We were not the only ones with good sightings. The other jeep had gone on a different route and also had a tiger sighting, so everyone was in a good mood. After a quick shower, we gathered for an early dinner, where we swapped introductions, stories and photos from the jungle. With a full day of travel behind us, we quickly fell asleep, because we had an early start the next day for our morning safari.
The morning safari begins at 0530 in summers, which meant we were having breakfast at 0400 in our resort and lining up outside Khatia gate at 0430 to be ahead in the queue. On this safari, we tried a new route, which was supposedly favoured by leopards. We drove up a hill range, with the scenery changing to rocky outcrops, favoured by the spotted felines. However, we were not lucky enough to spot the leopard. But the drive itself was beautiful, travelling on top of a hill range for an hour before descending down into the plains, where we came across a large group of jackals.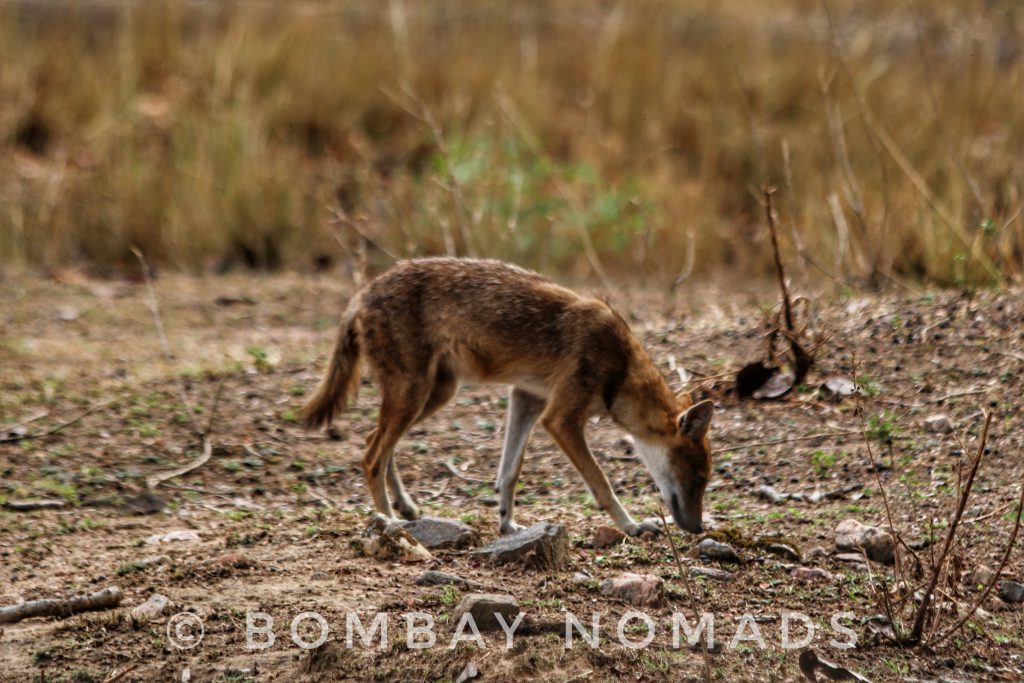 The hilly drive wasn't very good for animal sighting, but we spotted lots of birds – including vultures, serpent crested eagle, lapwings, Indian roller and Scope's owl – during our time in the jungle. We also came across a monitor lizard, and we witnessed some duelling between chital stags. The morning safari was a long one – from 0530 to 1100.
Back in the resort, it was again shower time, a little rest and then lunch and back to the park gates at 1500. We took a different circuit this time, and for the first hour, we only spotted the regular chital, sambar, langurs and some jackals. But near Shravan Tal (lake) we got lucky as the radio squawked about a tigress in the grass close to the lake. She was sitting in the grass but did not seem to appreciate the increasing attention from humans. As more vehicles accumulated, she crouched low in the grass and after a while, slunk away unseen (none of the guides could track her)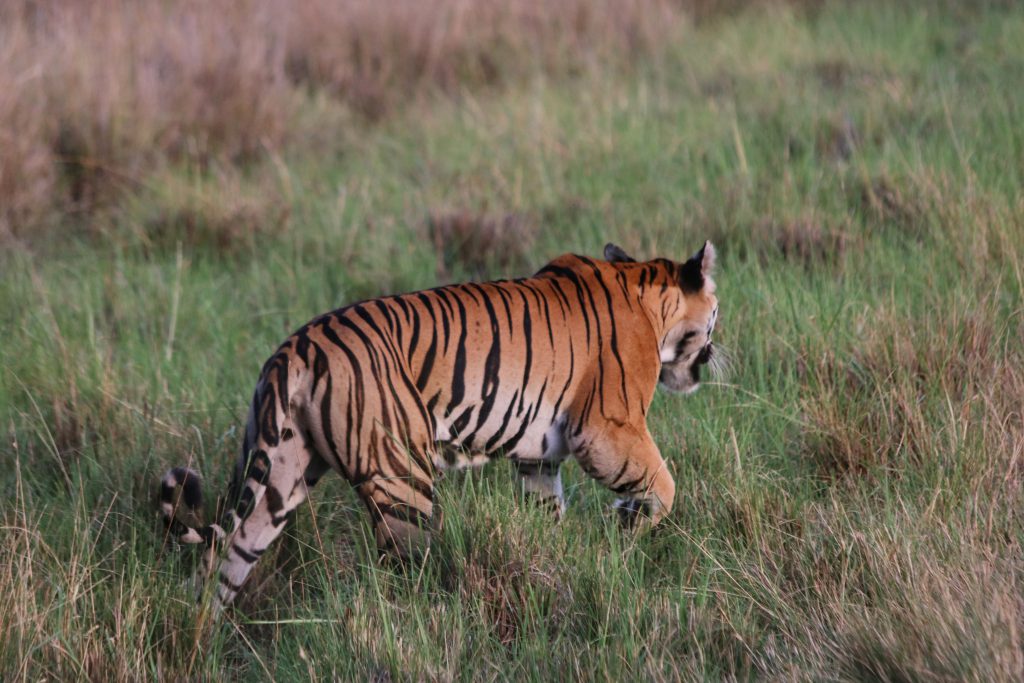 But then the radio squawked about another tigress, Neelam, who had been sighted on the other side of the lake. We joined the long queue of jeeps on the road, which happened to be between Neelam and the lake. At first, the only thing to be seen was a small tiger head in the distance, popped up from the glass, tracking a sambar deer. We waited patiently, while the sambar walked away, seemingly unaware of a tiger lurking closeby. Neelam, after a wait, majestically strode up to the waiting jeeps and crossed the road towards the lake. After having a drink, she proceeded to wander a bit around the shore, rubbing against trees, before calling her grown up children to come over.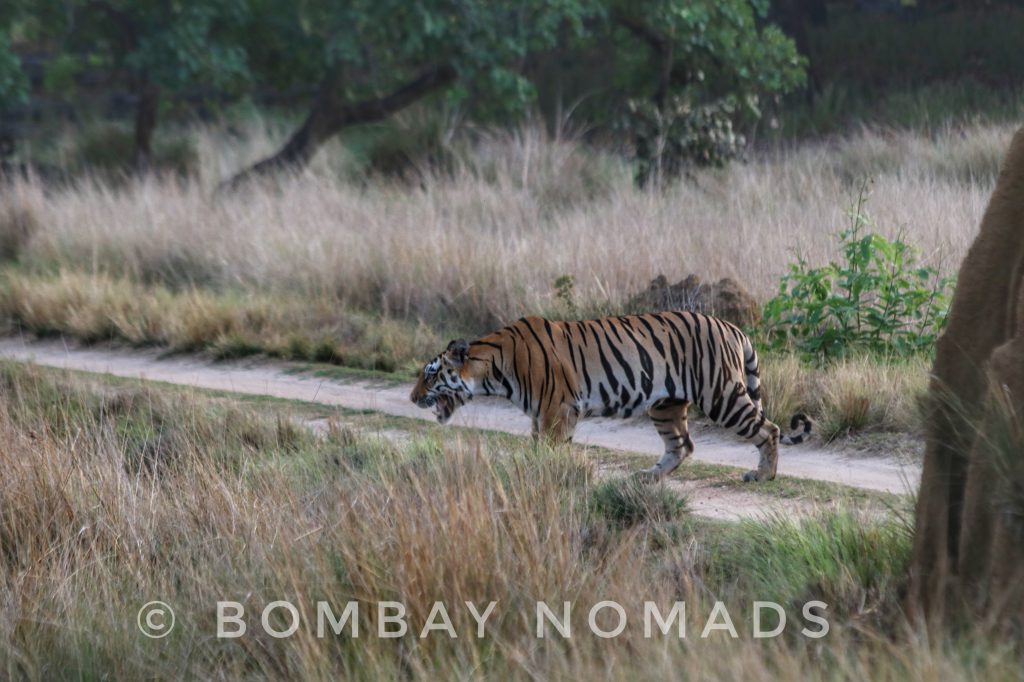 The juvenile male seemed quite hesitant, waiting near the road hidden in the grass, but not crossing it. By now the word had spread, and more than 20 jeeps had lined up on the road. Finally momma tiger came out in the open, egging him on and he quickly crossed the road and vanished into the grass near the lake. All the while Neelam stood unabashedly out in the open, supervising her kid crossing over safely. And this was maybe 20-30 metres from our jeep !!
Everyone was beyond thrilled by this sighting ! And for me, this couldnt have come on a more perfect day – my exact birthday!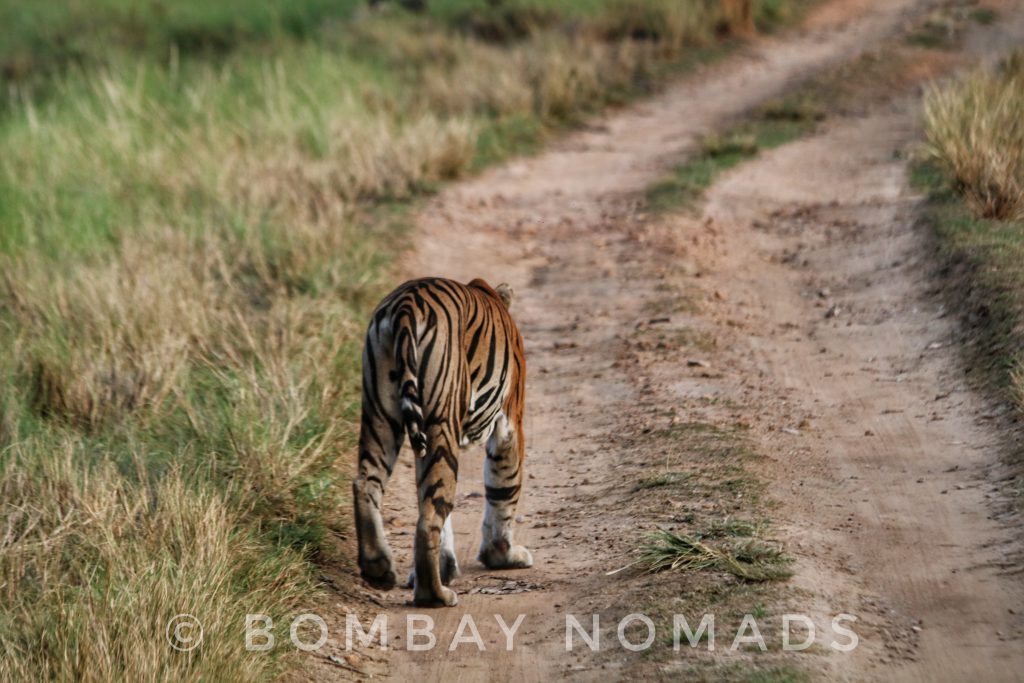 The high of such a magnificent encounter continued with us for the next day, when we didnt see any more tigers. But we saw numerous other new wildlife – the famed barasingha, wooly storks, dhol (Indian wild dogs), woodpecker, barking deer, black ibis and even a mongoose.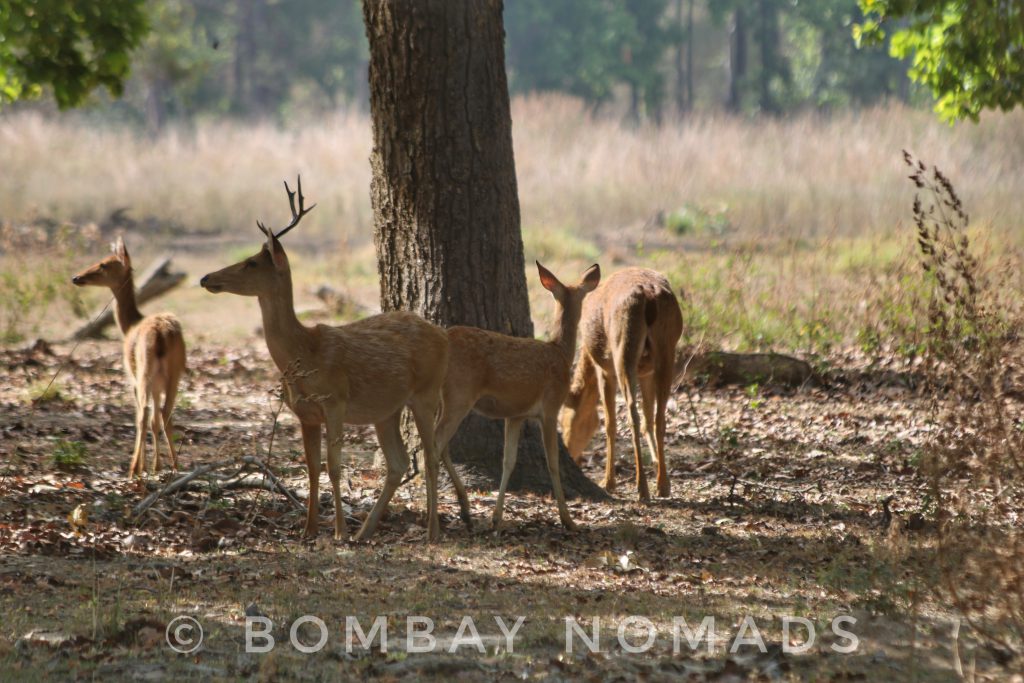 With the Sunday morning safari done, we checked out after having lunch, and bundled into our Innovas for a ride back to Nagpur City. We stopped at the famous Haldirams for some refreshments, before heading to airport/railway station/bus stand for our respective journey home.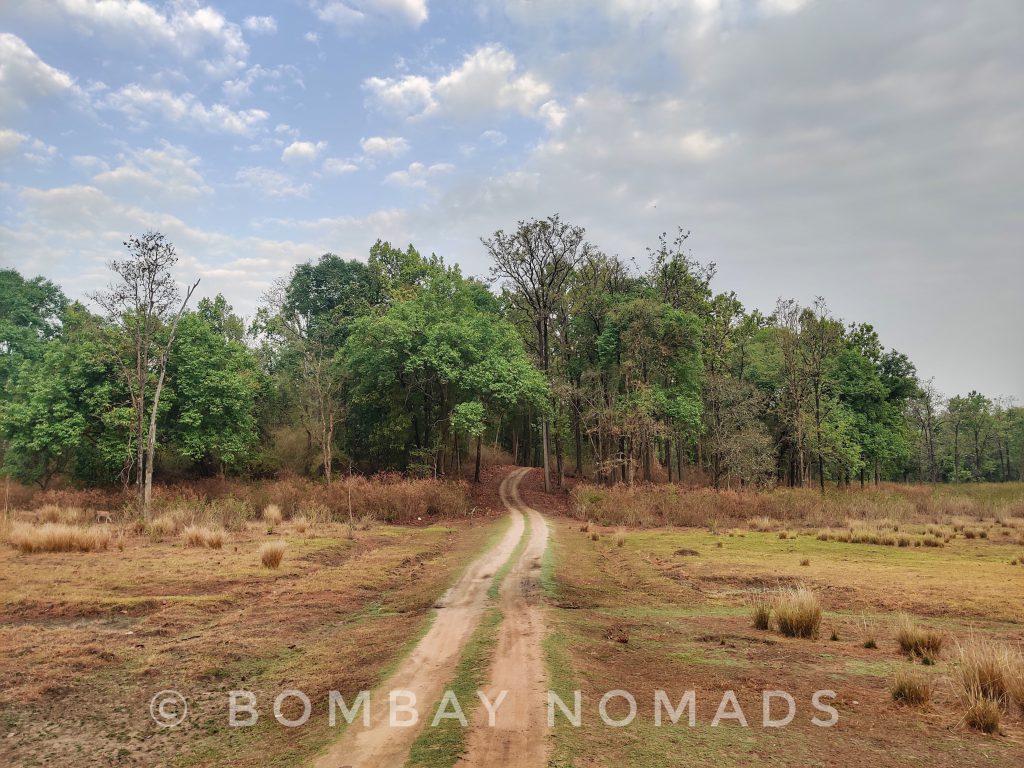 Even though the encounter with the tigress was magnificent, my enduring memory from Kanha would be the indescribably beautiful forest. I have been to a few wildlife sanctuaries, both in India and in Africa recently. Kanha is the prettiest jungle I have seen so far. It is not a wild jungle like Periyar, where the forest is impenetrable and green. Or the Gir, where the forest is just brown and dry in the summers. In Kanha, the month of May, the trees are still covered in green, even if the earth is parched and brown. But it is the slender beauty of the sal trees, forming a beautiful canopy, which makes these forests magical. No wonder Rudyard Kipling was enamoured by these jungles of Central India that he set his Jungle Book around here.