* I and 7 other cyclist friends rode to Chota Morbe dam in Nov 2021
Most Mumbaikars do not realize just HOW MANY pretty dams and backwaters surround this overcrowded, buzzing metropolis of ours. While they may be aware of Tansa and Vaitarna dams, because they supply drinking water to the city of Bombay, travel to these two dams is discouraged because of security reasons. For recreation, Mumbaikars will usually pick Mulshi or Pawna dam – or even Bhushi dam in Lonavala !
Because lets face it, who hasnt sat down on the steps at Bhushi dam in pouring monsoons, while having tea and bhutta (corn-on-the-cob), served by that remarkably agile waiter from the nearest stall 😀 ?
(for people not from Mumbai, visiting Lonavala in the monsoons is something of a rite of passage – can only be experienced, not quite described)
One of the greatest joys of being a recreational cyclist in Mumbai has been discovering these other – equally beautiful – natural locations, which majority of Mumbaikars have never even heard about. These places are usually devoid of any tourists from the city proper. These places also tend to be slightly difficult to reach, without any tourist facilities, and often without much information on the internet.
Morbe Dam near Karjat, is a large and somewhat well-known dam – as it is visible from viewpoints in Matheran and also close to the popular Irshalgad & Sondai Fort treks. But most people have not heard of its smaller namesake near Panvel – often referred to as Chhota Morbe, to distinguish it from its larger cousin. Chhota Morbe dam is the shadow of the Matheran Hill Range – which stretches from Karjat, via Peb and Chanderi forts, all the way to Tahuli peak near Ambernath. It is situated about 18 km from Kalamboli circle in Panvel and about 13 km from Taloja.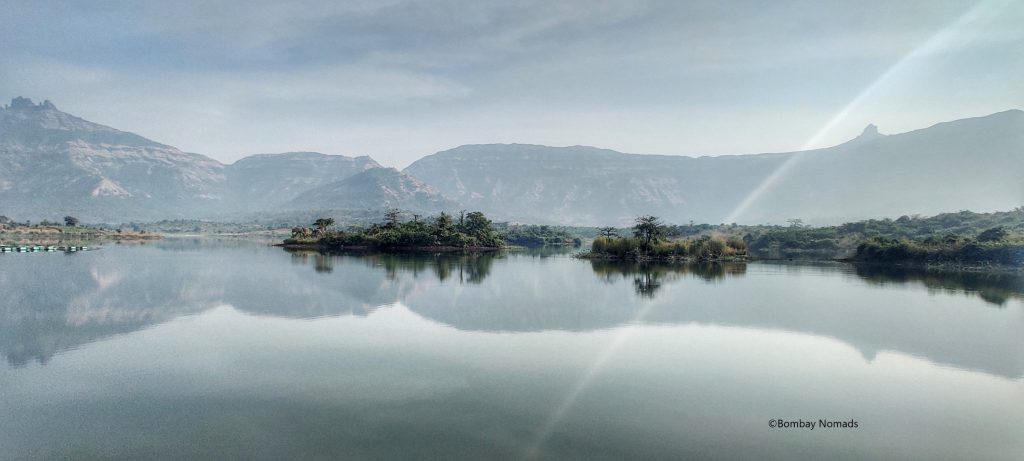 For long cycle rides in Mumbai, it is necessary to start early in the morning, well before sunrise. The benefit is twofold
at such early hours, traffic is much less, so riding on major roads/highways is easy.
finishing some of the route in the pleasant hours of dawn saves us from riding under the hot sun later in the day (Mumbai has such wretched weather, that even in the last week of December, cycling in the afternoon can be pretty unpleasant and sometimes downright nasty)
As per our usual timings, we started from Bisleri Junction on the Western Express Highway, in Andheri East, at 0430 in the morning. It is still fully dark and good lights on the cycle are necessary to negotiate the dug up, broken, and just plain bad Mumbai roads. Street lighting in Mumbai at night is pretty inconsistent at best, with some stretches well lit and others fully dark. From Bisleri junction, we rode south till BKC (Bandra Kurla Complex) where we turned to the new Chunabhatti flyover and on to EEH (Eastern Express Highway). On EEH, we rode north till Chheda Nagar junction , where we took the new Mankhurd flyover towards Vashi bridge
(As the crow flies, the shortest route from Bisleri Junction to Chheda Nagar is via Andheri Kurla road to Sakinaka, Asalpha and Ghatkopar. However, that road is really uneven, dark, passes through some shady localities and has a few thousand(!) large speedbreakers on it. We usually prefer using Santacruz Chembur Link Road to cross from WEH to EEH, but that is in a mess right now with flyover construction)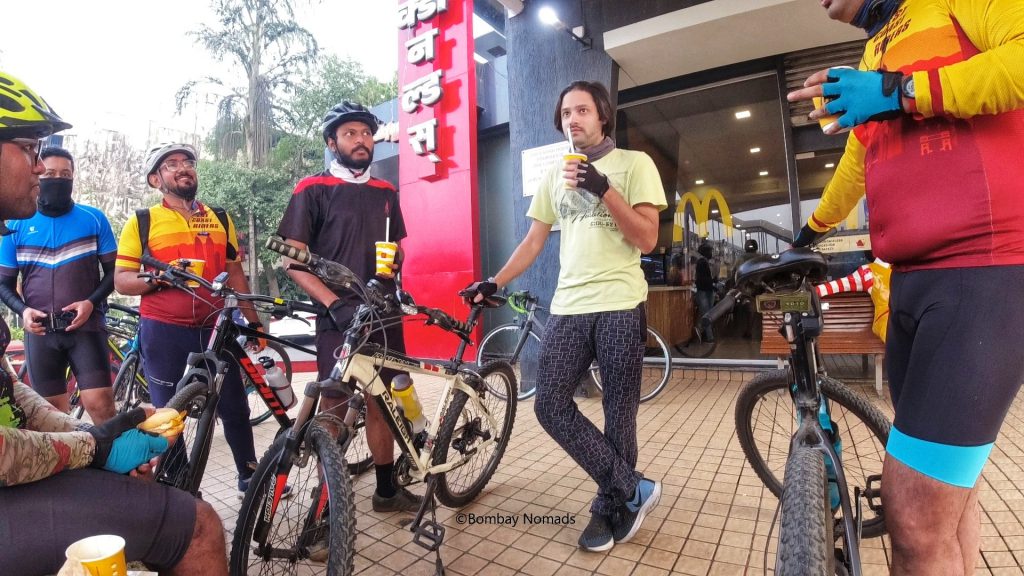 Once in Vashi, the road to Panvel is pretty straight forward. We stuck to the highway and crossed Nerul, Belapur and Kharghar in quick succession before stopping at the famous McDonald's in Kalamboli for breakfast. We cyclists are allowed to sit on the patio outside, with our cycles with us, so it is a great pit stop point. From Kalamboli Circle, there are two routes to Morbe Dam. One goes via the industrial centres of Kalamboli and Taloja. The other crosses Panvel town and goes via small rural roads. 
After a lengthy breakfast, we chose the Panvel route (because we had used the same route for our Gadeshwar Dam ride before – and it was 3 km shorter than Taloja route) and entered Panvel around 0800. Once we left Panvel, the initial road along Kalundre river was fine. There were maybe a few speed breakers, but mostly the road was good. But once past the villages of Kelave and Wakadi, the roads worsen noticeably. The road surface is never smooth for long and the cycle bounces almost constantly.
(doable in roadies, but more comfortable for hybrids and MTBs)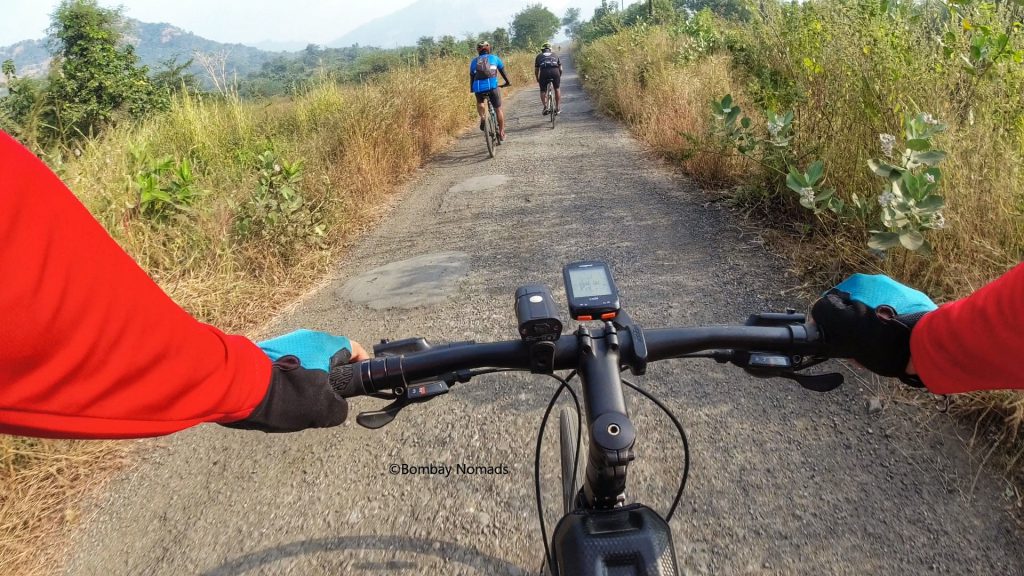 As we approached the village of Morbe, the rolling climbs became more pronounced, as did the heat from the sun. The roads continued to be patchy and covered in loose gravel. So our progress had slowed down. I also had a bit of a problem with my front derailleur, which had shifted a few degrees and was causing the chain to rub and make a noise. Unable to fix it, I continued with the ride hoping no major damage was done to the chain !
The turnoff to the dam proper isnt marked, and it is very easy to miss it – like we did. Google Maps took us towards the middle of the lake, a couple of km ahead of the actual dam, before we realized that we needed to do some navigation of our own. Thankfully with the help of some locals and guesswork on Google Maps, it isn't hard to figure out. The last km to the dam is a complete dust trail – no gravel or tarmac – just dirt. Thankfully in November it was completely dry and hence easily traversable. But in monsoons, it would resemble slush. There is a shallow descents filled with stones, which roadies couldnt tackle and had to get down and walk. But overall, the dirt track, when dry, is fairly easy to ride on.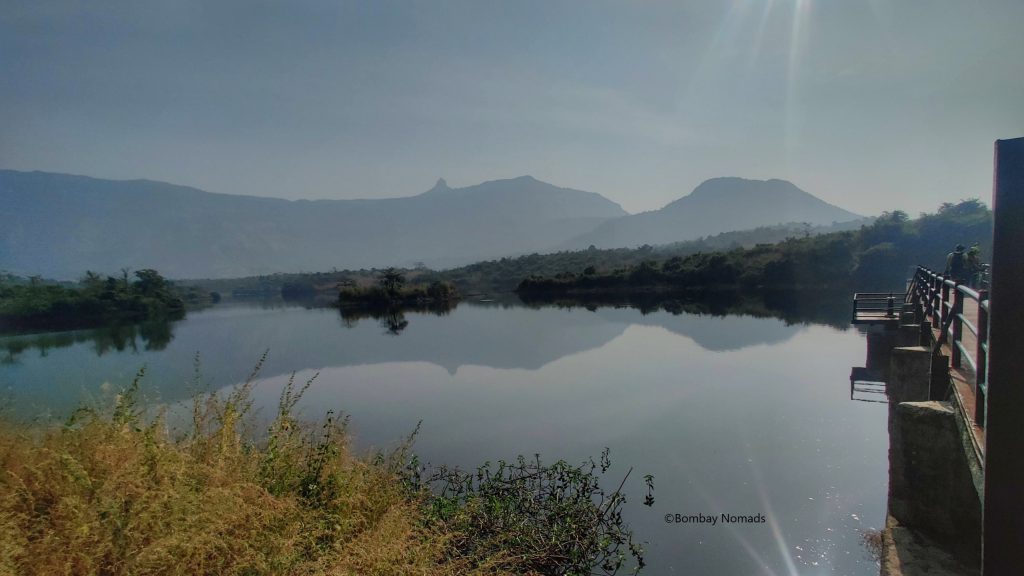 Our first view of Chota Morbe was very welcome, having laboured on bad roads, climbs and under a hot sun for the last hour or so. We were initially very surprised to find a floating platform in the middle of the lake, with a shed built on it. Then we figured it was a fish farming setup of some sort, but it did spoil a bit of the view. However, that minor irritant was forgotten when we reached the dam itself. It is open to access for everyone and we were the only people there at 0915 on a Saturday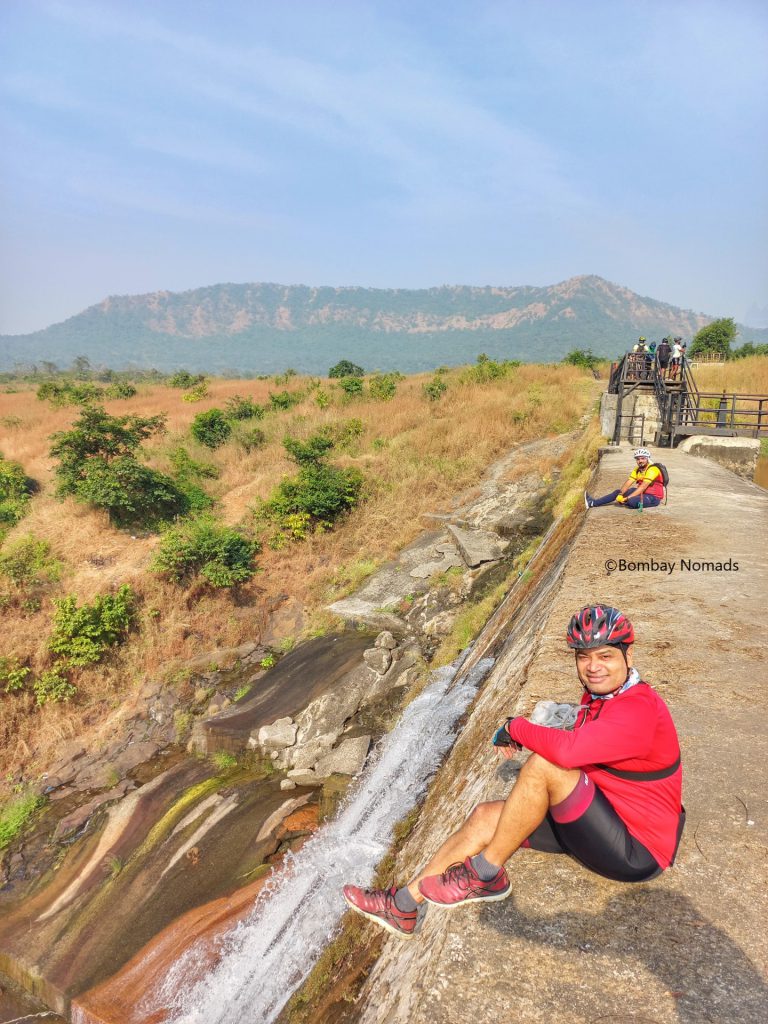 We spent some time on the top of the dam, savoring the pretty view, and celebrating the finish of a successful ride. After taking some pictures, we headed down to the outflow of the dam. Here is was a little peculiar as there wasn't any official outflow, but water seemed to be seeping out right through the dam wall, as if the dam was porous. With some lighthearted banter about the dam being structurally unsound, we proceeded to cool off in one of the corners of the dam. The water was flowing down a slightly sloped platform, and it was a very comfortable place for tired cyclists to just lie down and let streams of water wash over us.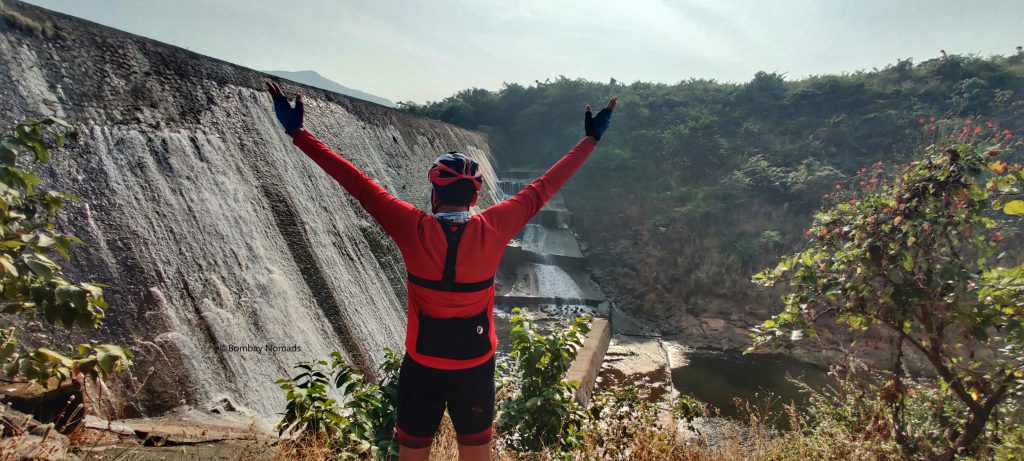 To be honest, we have seen cleaner water before. The water had a very slight chemical smell to it, which we attributed to the fishery on top of the dam. But after frolicking in the water for 20 minutes, one of the riders noticed, a leech on someone else's jersey. Alarmed, we all quickly got out of the water and checked each other thoroughly for leeches. Thankfully it turned out they were some harmless worm/caterpillar and not leeches.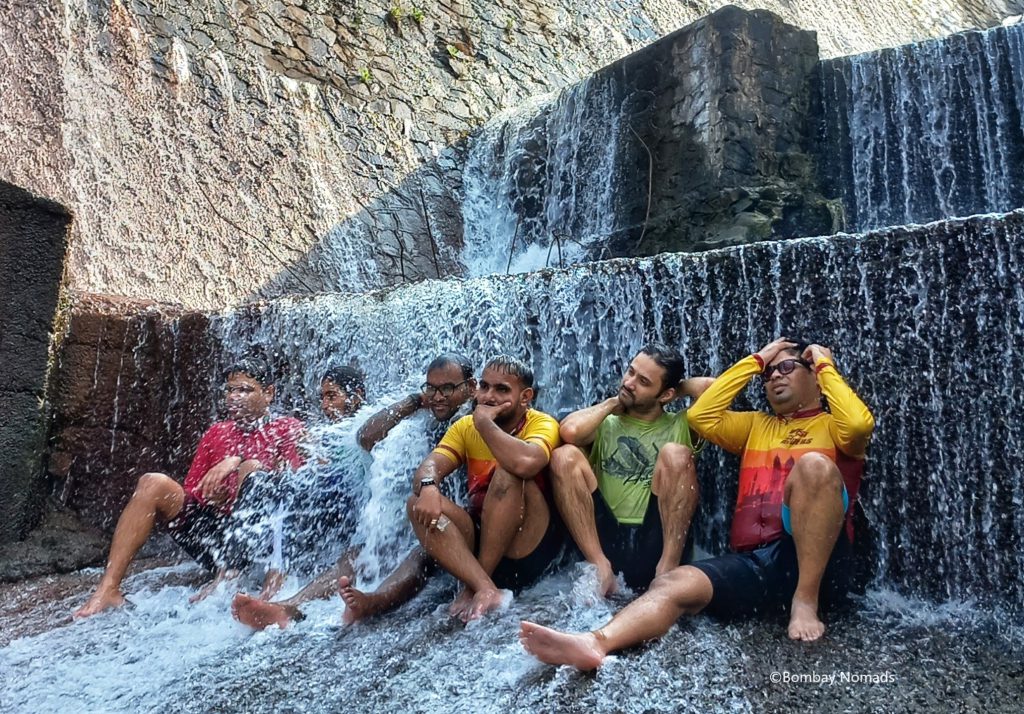 An hour after we reached the dam, we started our return journey. The initial stretch till Panvel was easier, because there were more downhill sections than uphill, even if the roads remained bad. From Panvel, it was a taxing ride under the midday sun back to our homes. We took the Palm Beach Road on our way back, to escape some of the direct sunlight on the tree lined avenue. But from Vashi Bridge to Mankhurd to EEH, there was no escaping the hot sun. I reached home in Santacruz around 1345 and others by 1415.
The total ride was about 110 km long and including all the food/drink breaks and the time spent in the water, it took us 9 hrs in total. The ride details can be checked on the ride link below