With the monsoons underway in full force in and around Mumbai, it is sort of hard to ignore the resplendent green beauty around Mumbai and stay at home on the weekends. But Covid-19 is still very much around and it is a very difficult balance to strike. Should we be careful and stay indoors till we are done with our second vaccine dose? Or should we disregard Covid-19 and restart our normal lives – meeting friends, eating out and vacationing like pre-pandemic?
The second wave of Covid-19 taught us that maybe it isn't wise to abandon all the covid safety measures. However, we personally have decided that open-air activities – at non-crowded places, with reasonable precautions – are at minimal risk and are acceptable to us. We wear masks wherever possible, buy takeaway food – or carry it ourselves – and avoid the famous (and hence crowded locations). It is not to say that this is the only way to travel, or everyone should do it, but this works for us.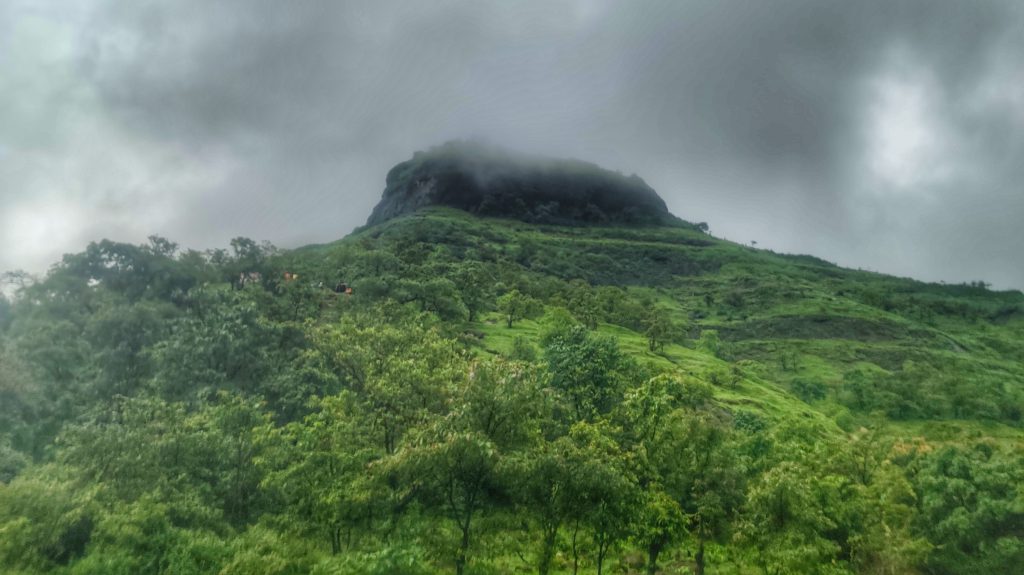 Sondai Fort is one of the many mountain forts in the Karjat area, overlooking Morbe Dam. Like Irshalgad and Chanderi forts nearby, there is not much left of the fort itself. But it provides a good view of the swollen Morbe Dam below – and most importantly, it is a very simple, non-technical trek, which everyone can do.
We started from home in Santacruz at 0715 and reached the trailhead in Sondewadi village by 0830. The weather was very monsoon-y – drizzle in the air, fog and clouds everywhere. It took some time to park the car and waterproof all our gear, before starting our trek around 0900. The trail is very clearly marked, and despite not being on the most-famous list, the route seemed popular enough. We always had company throughout the route, but it never got crowded. There are 2 or 3 tricky patches – where a rock face has to be negotiated. With good hiking shoes, those patches are easily taken care of.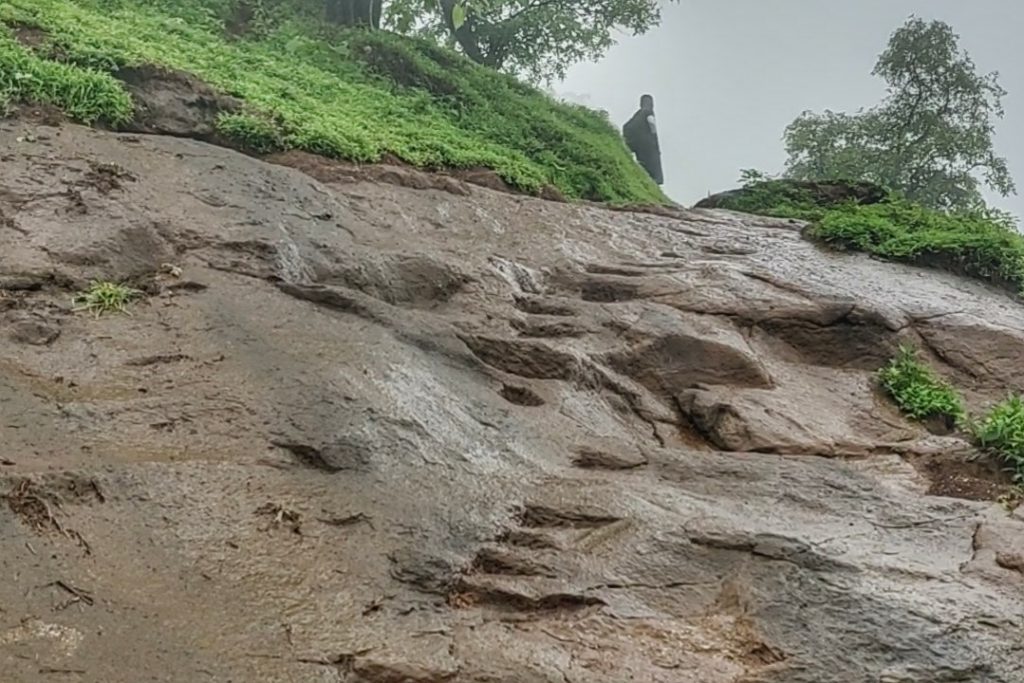 To reach the pinnacle, there are 3 iron ladders installed by the administration. They are mostly sturdy (the 3rd ladder has just one loose step), and wide enough for two people to pass. For the first 3 hours of our trek, clouds enveloped the whole mountain and absolutely nothing was visible from the top. Even the base of the ladder was hidden in the clouds, when looking down from the top of the ladder. There was light drizzle and lots of breeze accompanying us throughout the hike, which kept us refreshed. And thankfully no downpours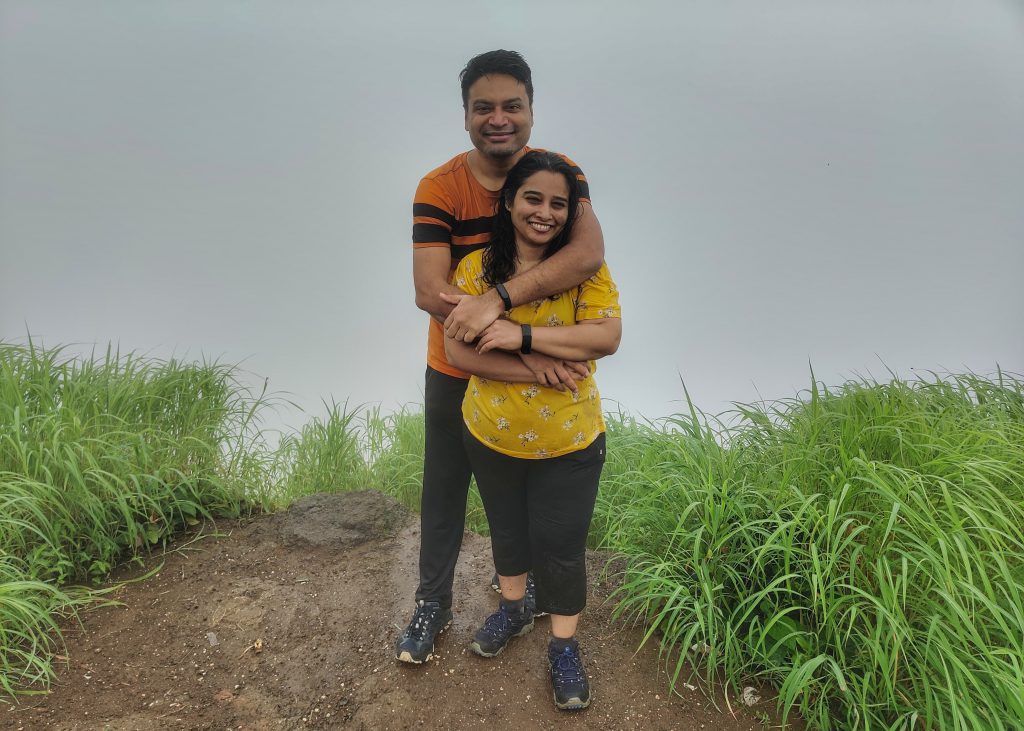 At the pinnacle, is a small flat area, where the locals have installed an idol under a tree and offer prayers there. To be honest, it is a bit underwhelming, and eventually disappointing, that nothing remains of the fort. But mother nature put on a remarkably good show for us – tall grasses on every side were swirling crazily in the wind, almost hypnotically. Clouds continued to be all around us, so the green sides of the mountain fell away below us, into the white fog.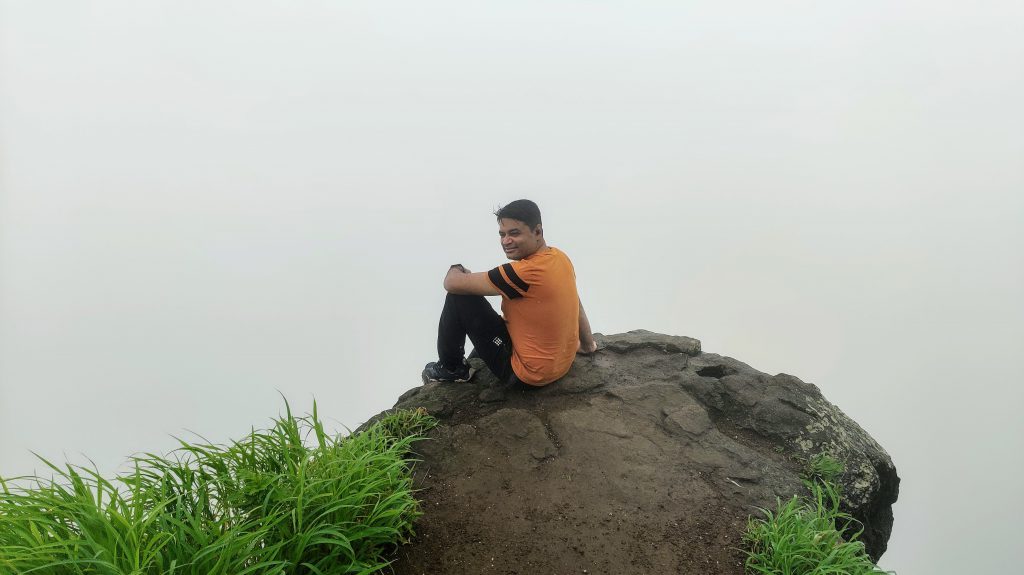 We sat on a rock on the edge and enjoyed the rejuvenating vista for half an hour, before clicking a lot of pics and beginning our descent. The initial descent was pretty fast compared to the climb. But it was a little more difficult negotiating the tricky rock faces this time. Because it was past 1100, there were a lot more people coming up the trail now, creating a bit of traffic jams at these points.
Halfway down the hill, the clouds cleared up and we could see the lush green base of the hill and the beautiful Morbe Dam laid out below. It was really a sight for sore eyes! Our descent took just an hour and we stopped for a cold drink at one of the shacks to celebrate our successful trek.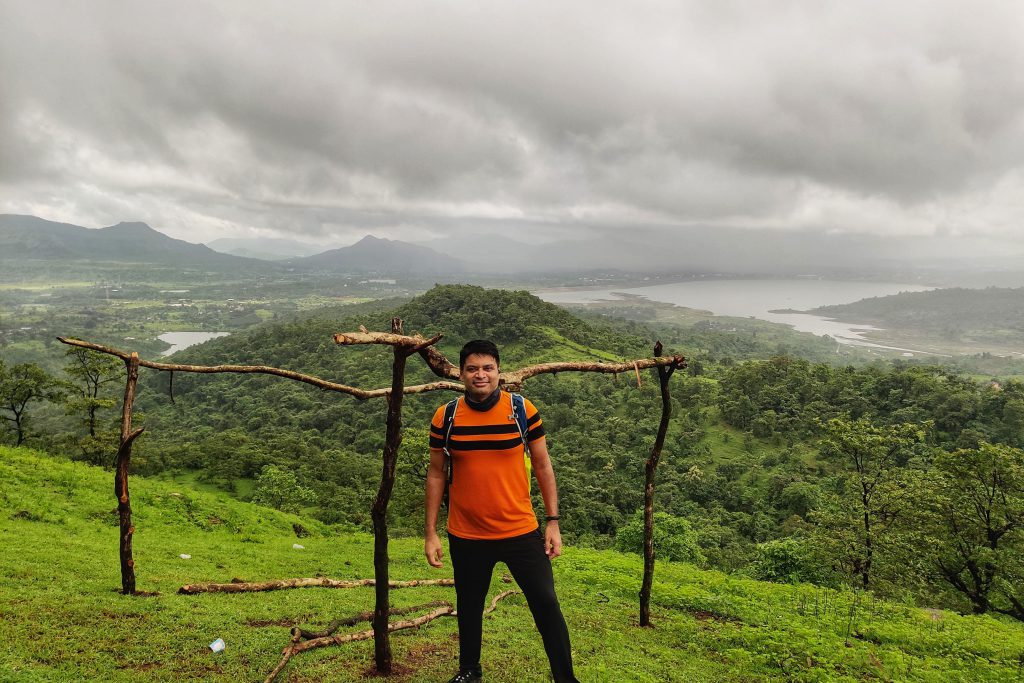 A hike to Sondai comes with a lovely bonus – Changewadi waterfall just 400m away from the trail head. The waterfalls are not voluminous and easy to access, so the best possible end to the day is to just stand under the falls – and let the roaring waters wash away all fatigue and tiredness from the climb. We were lucky that despite a lot of people on the trail by 11 am, not many of them were at the falls – we were able to sit under the natural torrents till our hearts were content.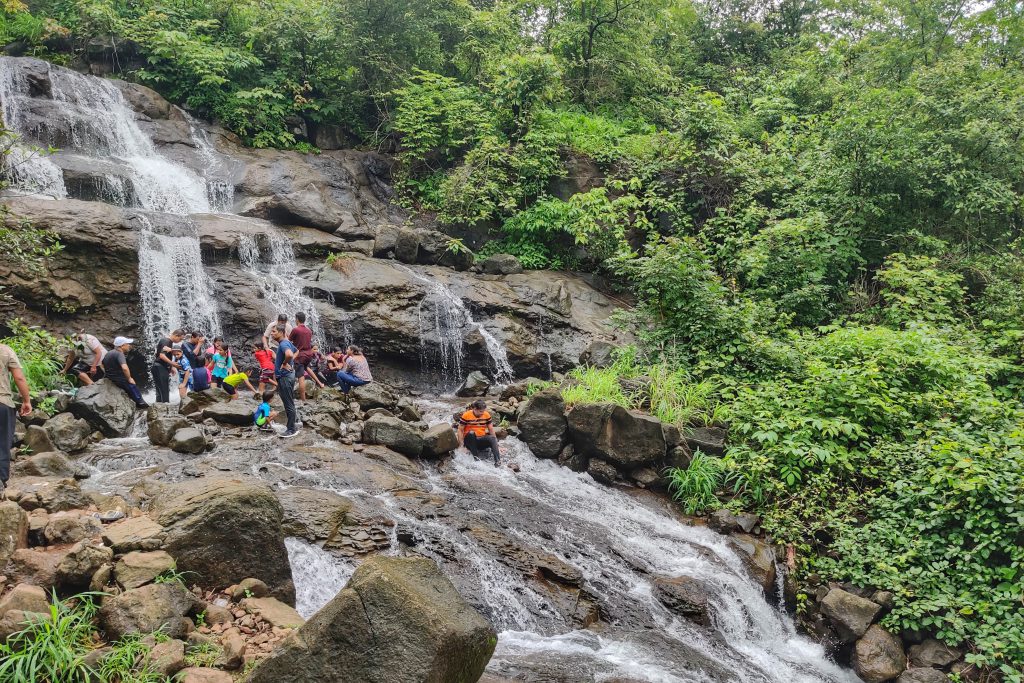 After the refreshing soak in the waterfall, we grabbed a couple of steaming hot vada pavs at one of the stalls on the highway and ate them in the car.
Useful Information
The hike has an elevation of 300m (if Strava on my phone is to be believed), and would take fit people less than an hour to finish. It took us 1.5 hours to reach the top, with a lot of breaks.
If you are driving your own vehicle, there is space for parking a bit ahead of the trail head. Expect enterprising villagers to demand parking charges – we paid Rs 50 for the privilege of parking right on the curve. But you can drive a bit ahead and park for free on the side of the road. Also, you can engage one of the local village youths to guide you through the tricky parts – especially if you have women and children in tow.
Carrying 1 lt water per person was sufficient for us – and it was a windy foggy morning that day. There are 4-5 stalls selling water/nimbu paani/cold drinks/cucumbers/chips in the lower half of the hike, so water can be bought or refilled if required. There are 3 water tanks carved into the rock at the top, but it was green with algae, so the water in those tanks is probably better avoided.
Good hiking shoes could be life saving in some situations. If you enjoy trekking or want to start doing it seriously, consider investing in a hiking shoe (Decathlon offers some value for money options). But it is also true that on every trek in Maharashtra, you will find yourself overtaken by locals wearing beach slippers or kolhapuri chappals – and you would stare at them and then your own fancy shoes wondering when did physics stop working 😀
Our trump card for all such trips are our waterproof car seat covers from Amazon (which are actually meant for pets). They are super easy to put on – and do the job of keeping our car seats nice and dry after all our monsoon shenanigans. Highly recommended for all Bombay junta who like making weekend trips in monsoons
There are no places to change clothes near the waterfall, but a towel to dry off would probably make the return journey a bit more comfortable. If you can carry it in the car, fresh footwear and socks help too.