From the windswept glacier lands of Southern Patagonia, we travelled to the Lake District in Northern Patagonia. It is a milder, greener landscape, with a high concentration of stunning blue lakes, Andean peaks and picturesque alpine towns, spread across both Chile and Argentina. We kicked off another memorable adventure here – to drive on the iconic Carretera Austral (Ruta 7) in Chile. It is a legendary road connecting Southern Patagonia to the rest of Chile, through the untouched wilderness and splendour of Patagonia.
In Chile, returning a rental vehicle in a different location is prohibitively expensive, and crossing borders with a rented vehicle is comparatively easy. In order to avoid driving on the same road twice, we hatched our ambitious plan – start in Puerto Montt in Chile, cross over to Argentina, drive south on Argentina's Ruta 40, cross back to Chile to drive north on Carretera Austral and return to Puerto Montt. A total distance of 3800km, with a single driver (Pradosh), over 16 days. This plan gave us the chance to drive on two legendary South American roads and visit a few additional attractions in Central Argentina.
We have split the roadtrip into three posts. This posts focusses only on the Lake District of Patagonia covering Puerto Varas in Chile and Bariloche & El Bolson in Argentina. For the rest of the roadtrip see Ruta 40 and Carratera Austral.
Puerto Varas, Chile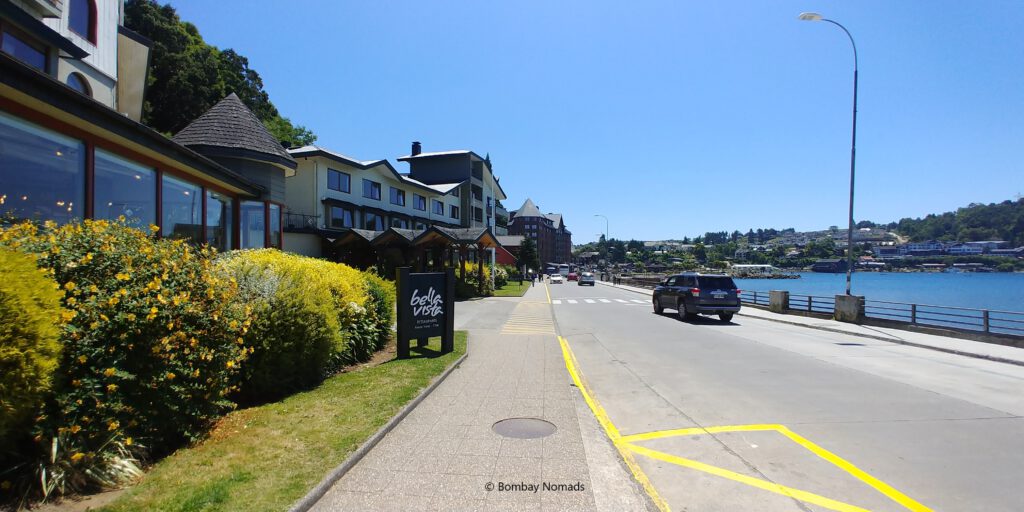 We picked up our rental car from Econorent at the Puerto Montt airport, and headed to the nearby town of Puerto Varas, 30 km away. Puerto Varas is a cute town perched on the shore of Lake Llanquihue, and has a delightful alpine/European feel to it. The houses have sloping wooden roofs, with flowers blooming everywhere. The snow-capped, symmetrical Osorno volcano looms in the horizon.
We were lucky to get a new rental vehicle – our Hyundai Creta had just 1,700 km on the clock and it performed flawlessly on our trip. We started off with some local sightseeing around Puerto Varas. Laguna Verde (green lake), near the town of Ensenada, was our first destination. The road to Laguna Verde hugged the shores of Lago Llanquihue, and gave us amazing views of the symmetrical Mount Osorno and Mount Llanquihue. Mount Osorno looked like it was floating on clouds, as the lake, clouds and the base of the mountain all seemed to merge into each other.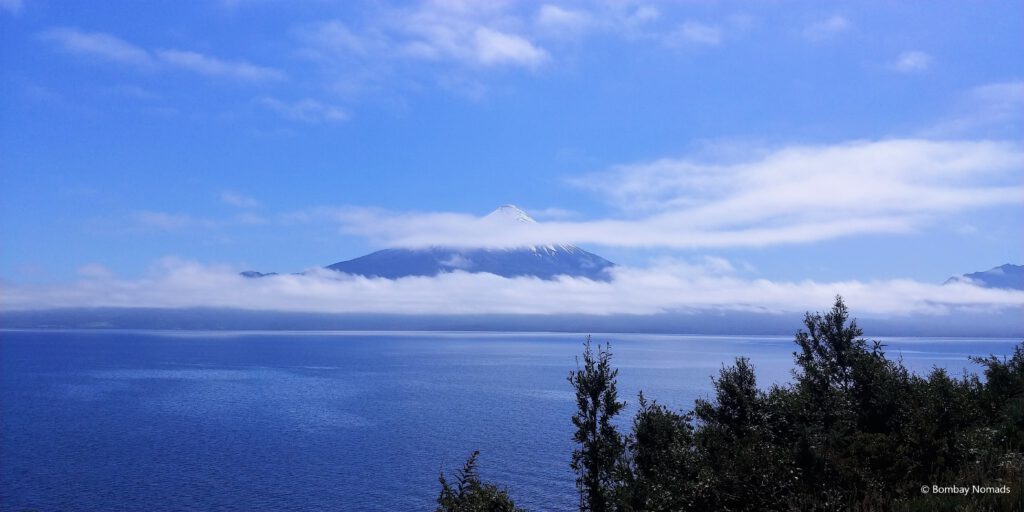 Laguna Verde ended up being lamentably small and isn't worth being on the tourist map at all. However, our next stop, the waterfalls at Saltos de Petrohue did not disappoint. The falls were not very voluminous, and flowed through small valleys, which were spanned by multiple walkways. It appeared to be a popular destination for families, and we saw several tourist buses there. The sun was out stronger and the view of Mount Osorno over the waterfalls, with the brightly blue sky behind, was quite epic. The waterfalls were just a 15-20 min walk from the parking, and we enjoyed steaming cups of hot chocolate on our way back to the car.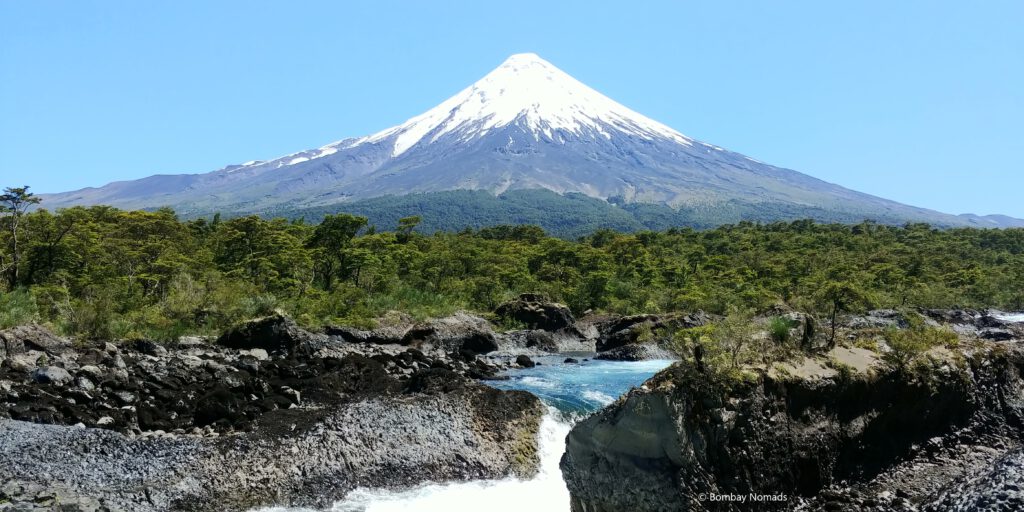 The road to Saltos de Petrohue continues on to the town of Petrohue, on the shore of Lago Todos los Santos. We had planned to grab lunch at Petrohue, but it turned out to be a camp rather than a town – mainly offering boat rides and kayaking to tourists. We got down for some kayaking, but abandoned our plans hastily when we were swarmed by buzzing black flies on the shore of the lake. Like the flies we experienced at Lake Myvatn in Iceland, they did not bite, but they annoyingly buzzed all around us.
We had quite a few good meals during our two day stay in Puerto Varas. Some highlights:
Quintal – A pub overlooking the lake, with large outdoor section under a canopy. Seemed very popular with locals. We had a fabulous Sunday brunch here with mojitos and some great pub food.
Sushi Bay – Located at the town centre. Great ramen/udon noodles, in addition to very decent sushi. Waiters were English speaking, which was a bonus
Cambalache – Also on the lake side, but slightly further away from the town centre. Slightly more expensive place, but food was commendable. Reservations are probably wise
* The only meal we did not like in Puerto Varas was in Cumbres Hotel. It is a stately hotel, built in the alpine style, and had amazing views of the lake. But everything we ordered was decidedly bad.
Crossing from Chile to Argentina
We crossed from Chile to Argentina at Cardenal Antonio Samore Pass. It is one of the busier border crossings, among the 14 or so major border crossings between Chile and Argentina. (There are 20 additional smaller passes between the two countries)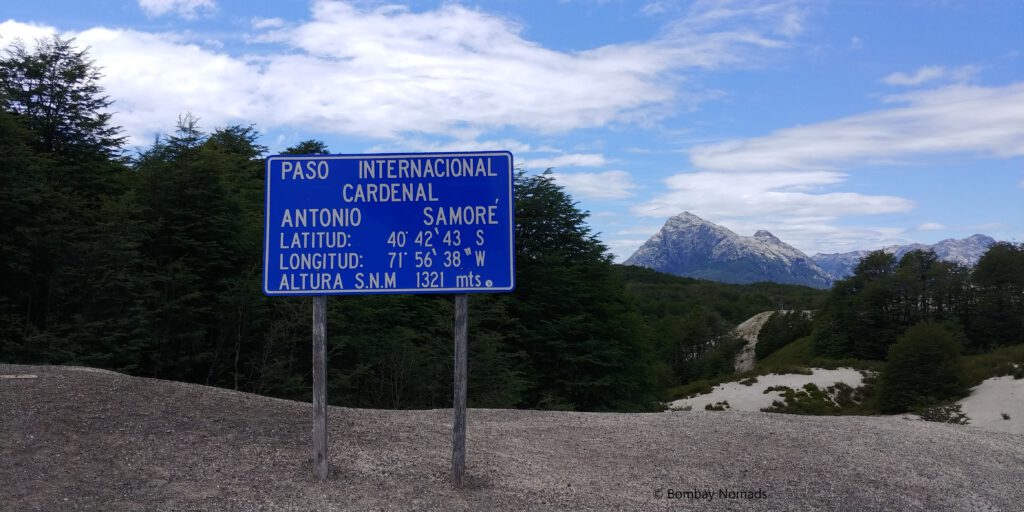 When we exited Puerto Varas, our route took us over the Pan-American highway for a small distance (40 km). it was our first toll road experience in South America. The toll cost us CLP 600, but it was completely worth the money. The highway is stellar – 6 lanes of perfect tarmac, wide shoulders and sweeping curves. The specified speed limit was 120 kmph, but everyone else seemed to be doing much more, so we also raced to 150-160 kmph. And we didn't need to lift the foot off the accelerator even at the turns!
At Frutillar, we turned into provincial route U-55, which wasn't as wide as the highway, but a terrific driver's road again, as it twisted and turned with the landscape, and had almost no traffic. The landscape soon changed from farms and estancias to the familiar azure blue water of Patagonian lakes – we saw Lago Rupanco and Lago Puyehue. Once past the lakes, we started climbing onto the mountains, towards the scenic mountain pass, which is also the border crossing.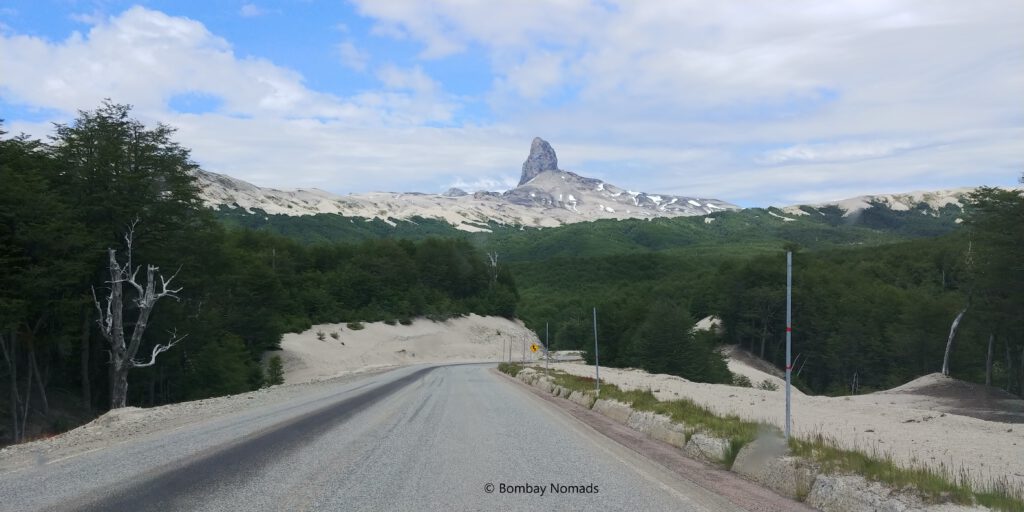 Like our previous experience in Tierra del Fuego, the Chile and Argentina border posts are 25 km away from each other. The roads in the no man's land between was in need of some repairs. At both the border posts, paperwork was identical. We first got our passports stamped at the Immigration counter. Then our vehicle papers got inspected and stamped at the second (automotive) counter and then we were waved through. The time taken in Argentine immigration was slightly longer, because of fewer working counters.
At the top of the pass is an open grassland, where you can see "Bienvenidos Argentina" and "Bienvenidos Chile" on opposite sides of the road, denoting the actual border. No fencing or even a border post. It was quite different from what we know of the border back in India – fully fenced and manned by border security personnel of both countries.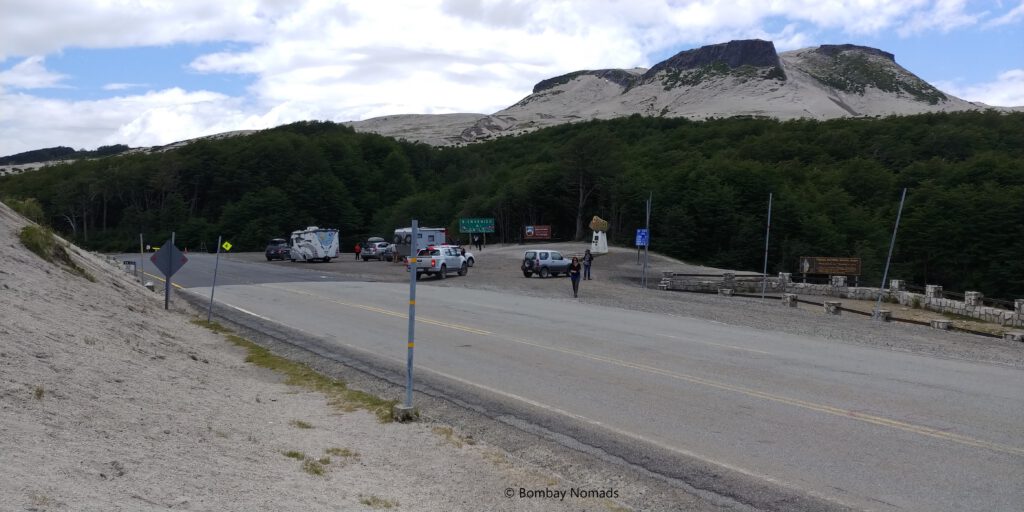 On the Argentine side, the quality of the roads is a notch lower than Chile. We joined Ruta 40 near Lago Espejo, where we hit a lot of traffic. Ruta 40 is the main highway in Argentina, which runs along the entire length of the country. In the Lake District, the road is just two lanes, and the road twists and turns along the lakes. This unfortunately leads to some very slow driving as everyone gets stuck behind one slower vehicle, as there is scarcely any opportunity to overtake on this twisty road.
Even if frustrating for the driver, Ruta 40 in this section is a visual delight, as it sticks to the shores of the bright blue Lago Nahuel Huapi, nestled between green hills. We stopped for lunch at Tasca Placido, near the town of Villa La Angostura. The food was regular parilla fare, but we fondly remember the proprietor, who on learning that we were from India, immediately brought us all the condiments she had, so that we could make our food more flavourful.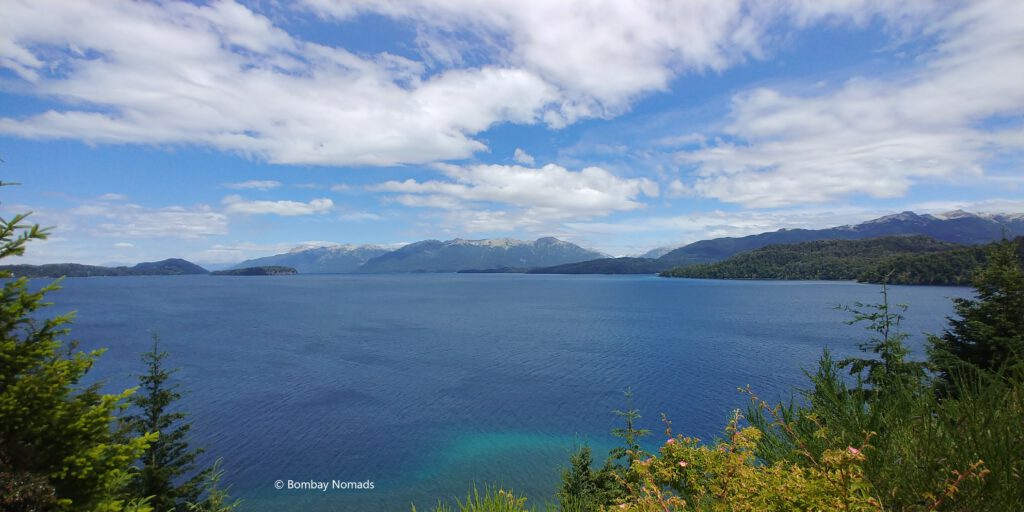 We got some jolts entering the town of Villa La Angostura – literally. We went airborne for a second, when we hit a large speedbump at full speed. The speedbump was almost invisible – neither was it painted, nor was there any road sign. It happened again in a few hundred meters, after which we slowed down completely and spotted 3 more such unmarked speedbumps on an otherwise arrow-straight road on the outskirts of the town. The town itself is very pretty and European, with abundant roses blooming on road dividers and it felt very similar to El Calafate.
Traffic increased after Villa La Angostura, and we averaged barely 50 kmph for the rest of the journey. While Ruta 40 hugs Lago Nahuel Huapi for almost its whole length, we were progressively less enamoured by its charms, as we remained stuck in the slow-moving traffic. It was about 17:30 when we rolled into the city of San Carlos de Bariloche.
San Carlos de Bariloche, Argentina
Bariloche is a picturesque alpine town, situated on the banks of the gorgeous Lago Naheul Huapi. It is often referred to as the Switzerland of South America and is also the winter skiing capital of Argentina. The town has numerous cervecerias (breweries) and chocolaterias, a legacy of German immigrants from 1900s. The city attracts kayakers, windsurfers and paragliders in summers and skiers in winters.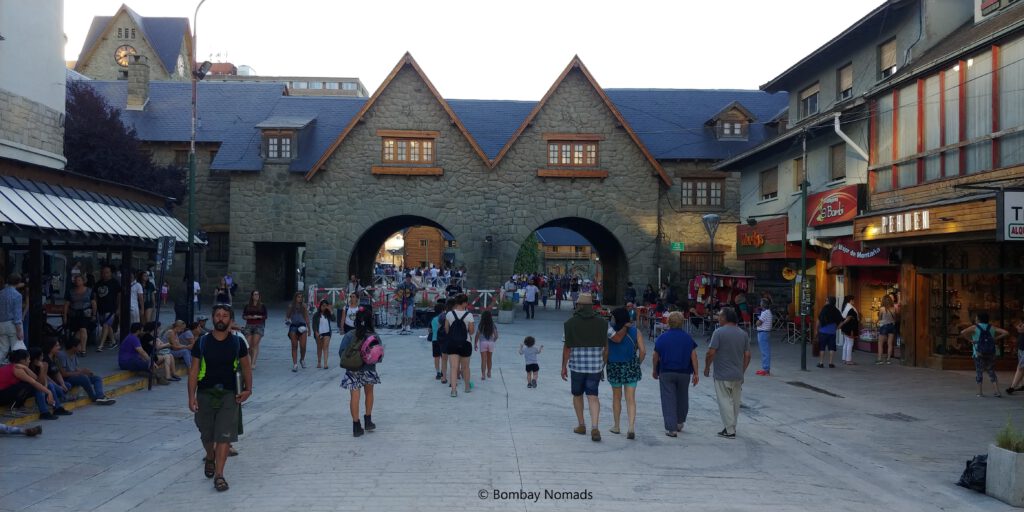 Coming from the spectacular landscapes of Southern Patagonia, the lakes and mountains around Bariloche though pretty, seemed a touch 'docile' to us. Hence, we decided to skip the numerous hikes and instead planned some relaxing drives among the lakeside beaches and miradors (viewpoints).
The most well-known scenic drives around Bariloche are:
Circuito Chico (small circuit)
Circuito Grande (big circuit)
Ruta de los Siete Lagos (aka Route of the Seven Lakes)
Circuito Chico
Circuito Chico is the most popular route around Bariloche. It is a 65 km long drive along Ruta Provincial 77, by the pretty coasts of Lago Nahuel Huapi & Lago Perito Moreno*. There are not too many 'designated stops' on the route, just lots of unnamed lakeside beaches and viewpoints.
(* Perito Moreno was a rather popular Argentine explorer, and hence the multitude of places named after him)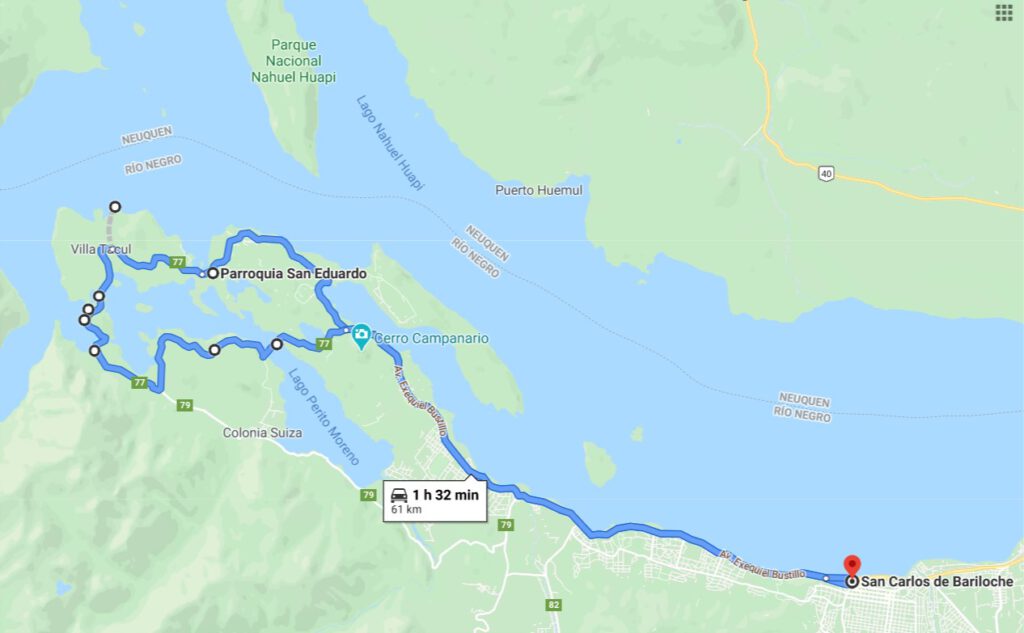 We stopped to see San Eduardo Chapel first, just before Puerto Panuelo. It is a small wooden church perched on the top of a small hill. There weren't any other tourists around, and there is a pretty view of Puerto Panuelo from the church.
With the help of maps.me, we picked out a few beautiful stops along the route. Some of them are right next to the road and for some need you to walk a little distance (1-2km). Among the notable stops of the day were – Mirador del Tacul, Lago Escondido, Playa Los Torros and Mirador Cerro Capilla. We got down to the beach of the lakes in a couple of places. Even though it was a sunny day, it was windy and the water was too cold to dip more than our toes in. A few brave souls were still defying the cold and trying to sunbath on the beaches. While there was quite a bit of vehicular traffic on the roads, the lake shores at some distance from the road, were mostly empty. So, we were free to explore the stunning vistas by ourselves.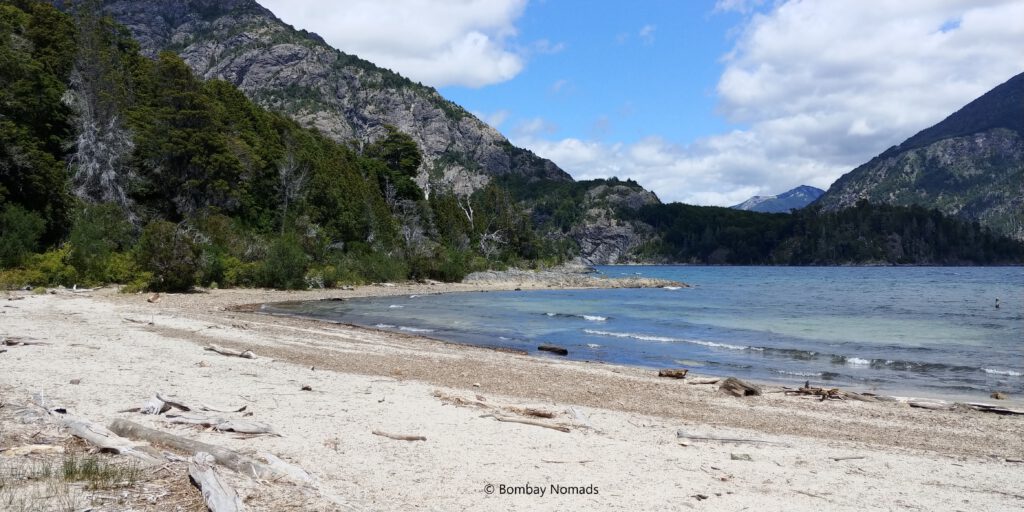 We drove on and soon crossed Puente Angostura, a bridge crossing between two lakes – Lago Nahuel Huapi and Lago Llao Llao. It is a very picturesque point and worth getting down to take a few photos, especially of the old footbridge below the newer bridge. There were again quite a few people who were sunning themselves on both sides of the bridge on the lake shores. We sat down for a relaxed lunch at a café on Playa Bahia Lopez (the café is attached to Hotel Alun Nehuen).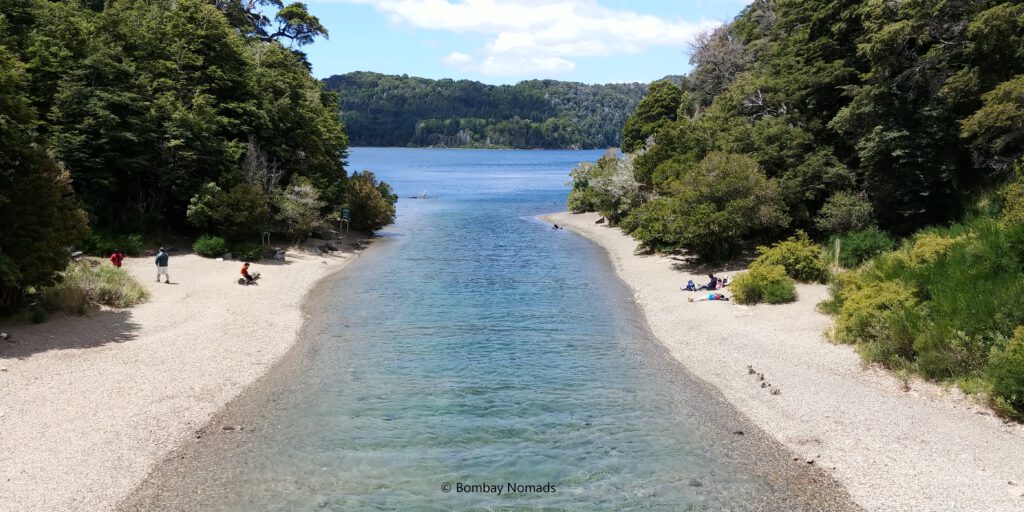 After lunch, our first stop was Punto Panaramico. It is a large public skywalk with a spectacular view of the blue Lago Perito Moreno and forested hills around it. There is also a restaurant of the same name, just before the viewpoint. The restaurant is perched on the slope, with walls of glass on all three sides, giving the same remarkable view – but with protection from the cold winds – and serves some terrific hot chocolate as well. A pitstop for coffee/chocolate is highly recommended.
With a small stop at Playa del Moreno Sin Viento, which was another pretty lakeside beach on Lago Moreno, we headed back to Bariloche. It was 16:30 when we reached our hotel.
Circuito Grande and Ruta de los Siete Lagos
'Ruta de los Siete Lagos' (Route of the Seven Lakes) is the stretch of Ruta 40 between the towns of Villa La Angostura and San Martín de los Andes. Circuito Grande is the circular route starting from Bariloche to Villa Traful and Villa la Angostura and ending back at Bariloche. The Circuito Grande and 'Ruta de los Siete Lagos' drives intersect a lot and we decided to combine the two and see the best parts of both in one day. We drove from Bariloche to Villa Traful on Ruta 237, and then on to Ruta 40, from where we drove on to San Martín de los Andes on Ruta. On our return journey, we stayed solely on Ruta 40 (map below). The total drive was ~400km.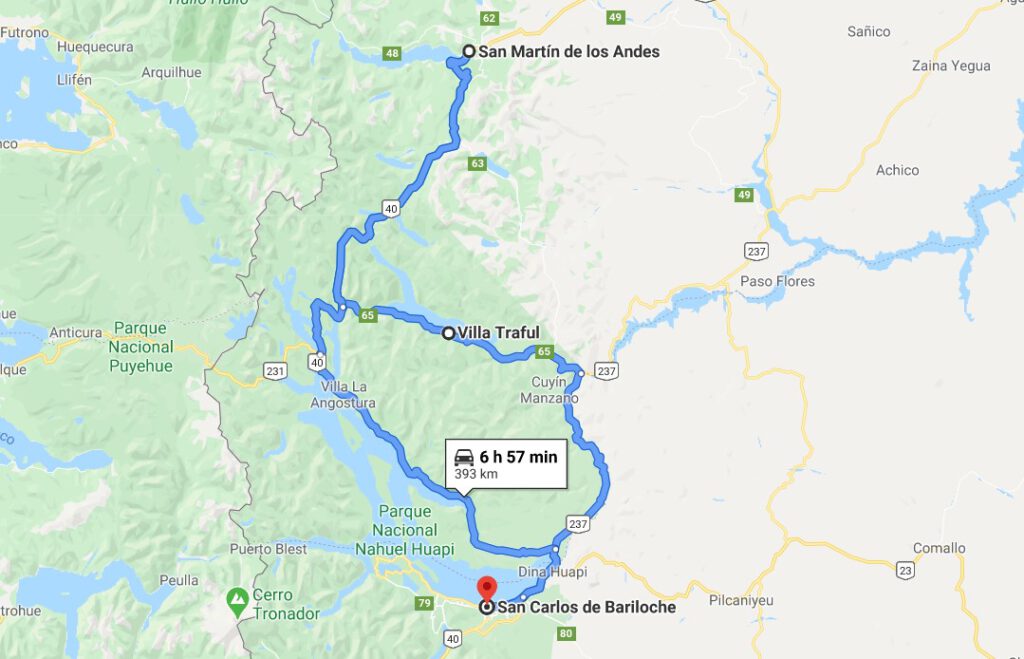 We started on Ruta 237 from Bariloche, towards Villa Traful – this is a paved road and there was very little traffic. Our first stop was on a beautiful bend of the Rio Limay called Anfiteatro. The curve in the blue green waters has produced a small river island, amidst the brown-yellow landscape.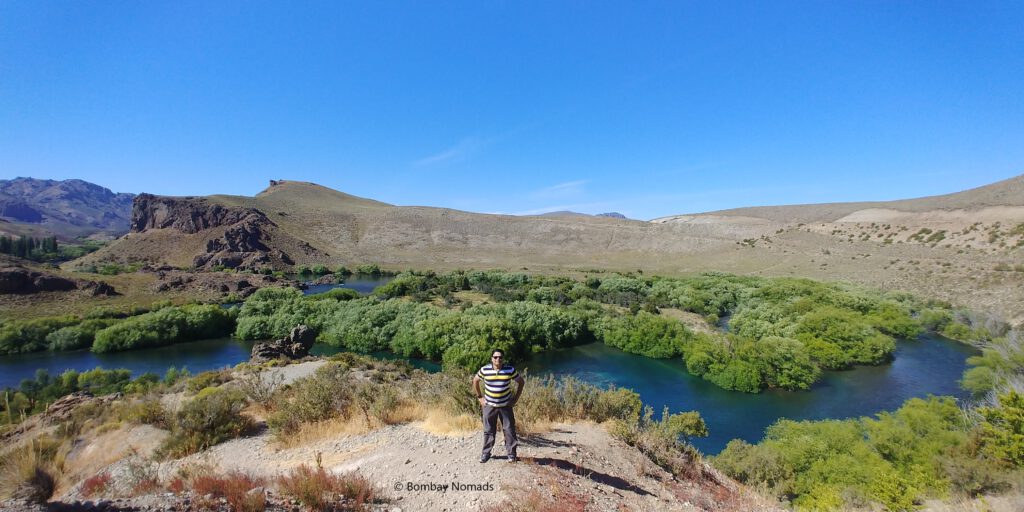 From Ruta 237, we turned to Ruta Provincial 65, towards Villa Traful, which was a gravel road. Villa Traful is a tiny hamlet on the shores of Lago Traful, that offers fishing, camping and hiking opportunities. It's a good option to stay if you want to stay away from the hustle & bustle of Bariloche. There were a few nice-looking restaurants by the side on the lake but it was too early for lunch, so we took a few photos and left. We continued on Ruta Provincial 65, till we joined Ruta 40 and turned right towards San Martin de los Andes.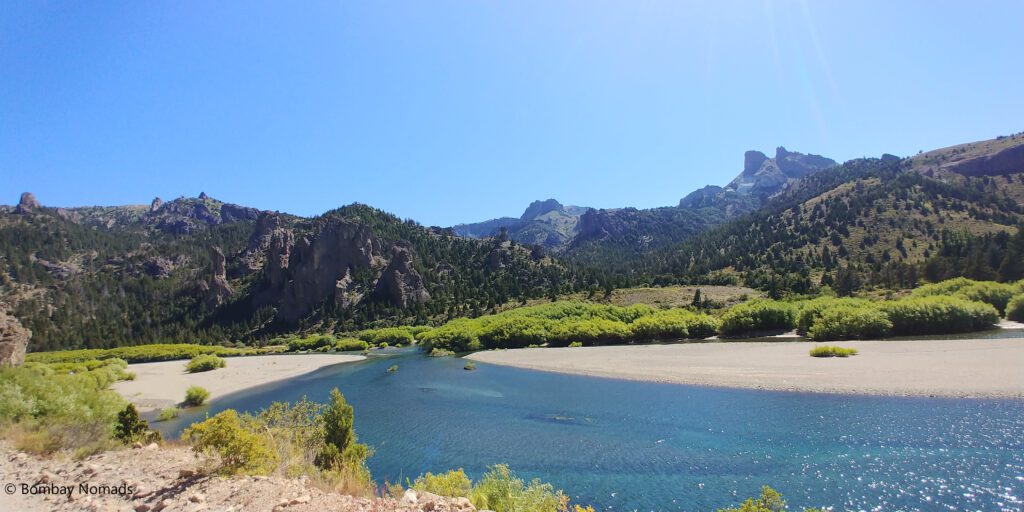 The first lake we came across was the tiny Lago Escondido, with the Ruta 40 almost level with the lake waters. A few hundred metres away was the more impressive Lago Villarino. Over the next hour-and-a-half or so, we saw (and stopped at) plenty of photo-worthy locations. We especially remember the tiny bridge, under which a narrow stream connects Lago Falkner and Lago Villarino. Lago Falkner had the best beach that we saw in the Bariloche region. The golden sand (not pebble or rock) beach had very few people around and was very tranquil.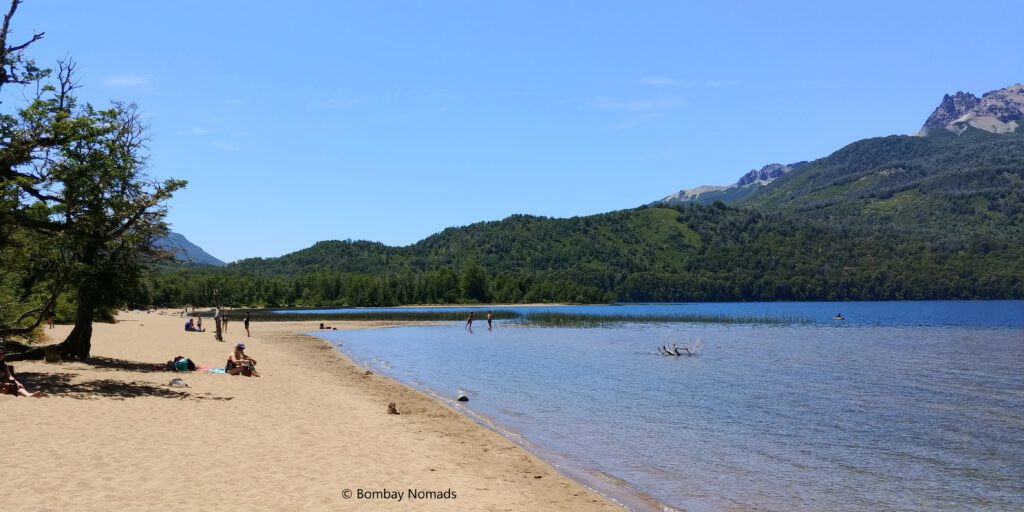 The last lake on the route was Lago Machónico, which had a mirador high above the lake waters. The last 2 km of the road to San Martin de los Andes is brilliant – a wide road descending down steep hillside to the shores of Lago Lácar. With the sheer cliff above and below the road, it might be mistaken for a drive on the Amalfi Coast!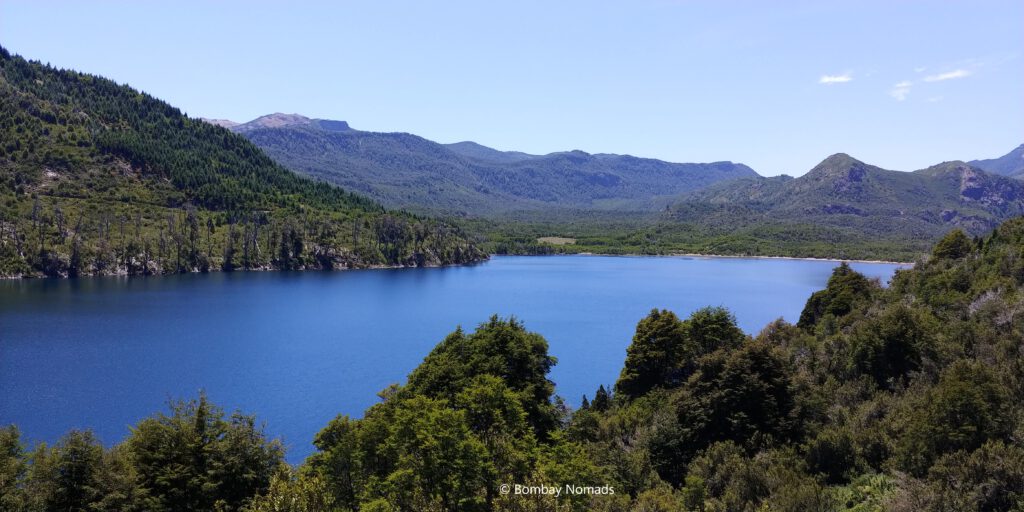 San Martin de los Andes is a holiday town set around the beach of Lago Lacar. The beach is not very wide and was really crowded with tourists. At 16:00, we had a bit of trouble finding a place still serving lunch, but we managed to find a parilla inside the town. After lunch we wanted to walk on the beach, but there was absolutely no parking to be found on the lakeside! Put off by the crowds, we left the town and started on our way back.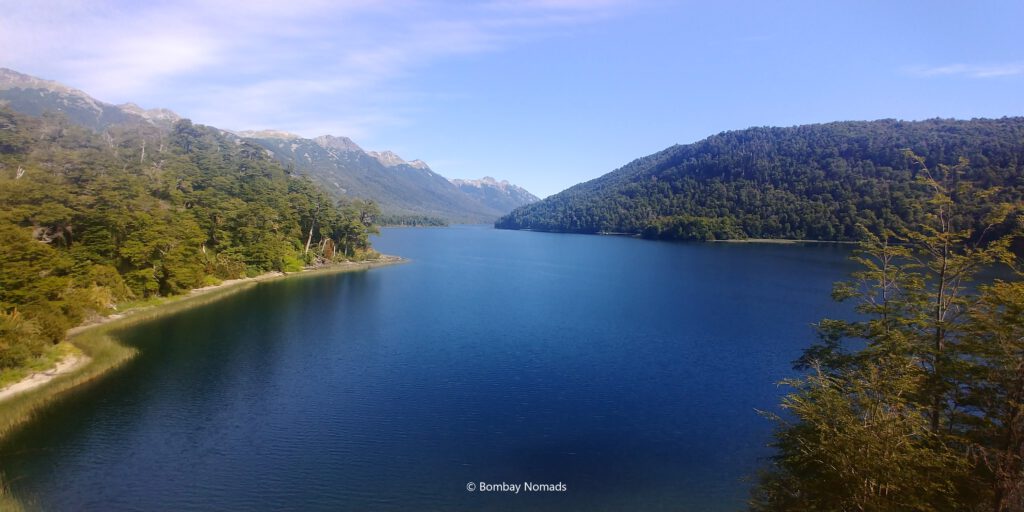 We stuck to Ruta 40 on our way back, with stops at Lago Correntoso and Lago Espejo, which we hadn't seen yet because of our onward journey through Villa Trafful. Lago Espejo also had a sandy beach, and we did not see much crowds there, although it was almost 18:00 when we were there.
After having done all three drives around Bariloche, we would rank Circuito Chico > 'Ruta de los Siete Lagos' > Circuito Grande
Beach day in Bariloche
We had kept one day for just enjoying the town of Bariloche. After a suitably late breakfast at our hotel, we walked around town in the checking out the chocolateries.
With the weather at a wonderful 21°C and having seen the pretty lakeside beaches on our drives in the last couple of days, we wanted to spend some time at one of the beaches. Post lunch, we changed into our swimwear and headed out to Playa del Moreno Sin Viento, on the shores of Lago Moreno. The beach was 22 km (half an hour) away from our hotel and we found parking on the road next to it. It was a pebble beach, and had just the right number of people, so as to not feel crowded or desolate. There were families playing on the shore and teenagers taking joyrides on motorboats. We would have preferred a sand beach, but when in Argentina, do as the Argentines do…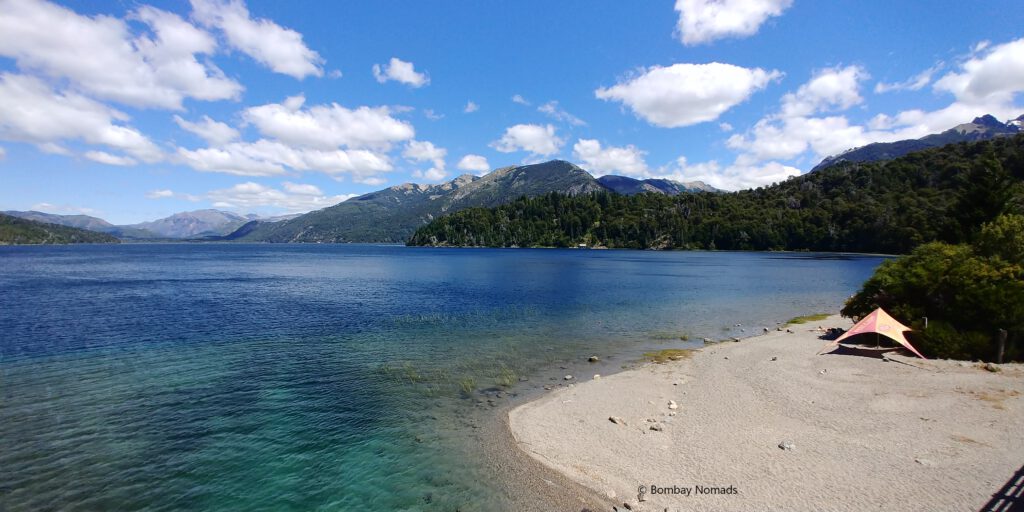 We found our spot on the beach and headed to the water, but the water was much colder than expected – maybe 10-12°C. Most people seemed to be content sunning themselves, or just getting their feet wet. We were intent on getting the full beach experience and waded into the water, but could stay only for a few minutes at a time, as our feet were getting numb from the cold. Also, the pebbles on the lake bed made it difficult to walk bare feet, while walking with slippers felt slippery.
Pradosh decided to go kayaking. He had to wait for a single kayak as Suchi's back doesn't agree with kayaking. It usually takes some time to find your rhythm while kayaking. So he stuck close to the shoreline initially, but then paddled out to the middle of the lake and later crossed over to the opposite shore before turning back towards the beach. The kayak rental cost 250 pesos for an hour.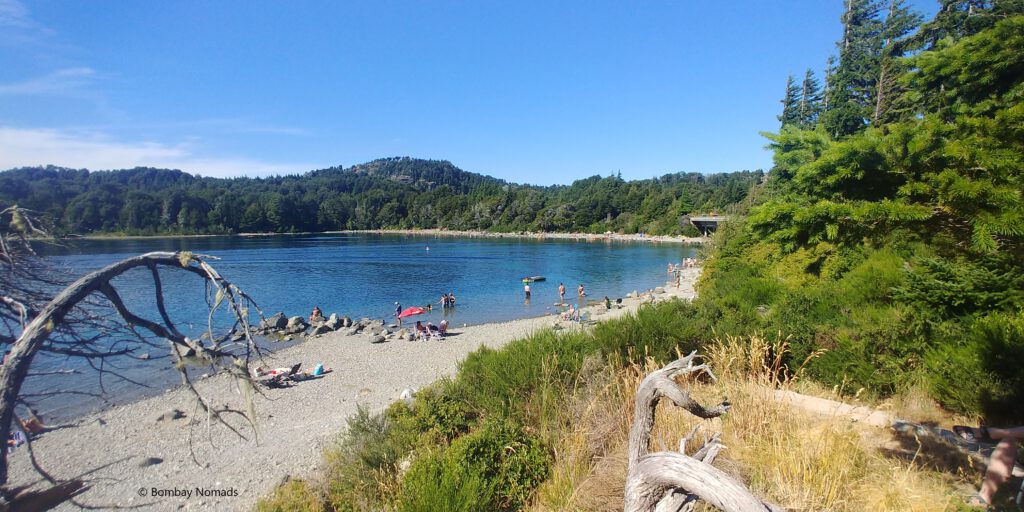 Meanwhile, Suchi spent as much time as she could in the water and then spent the rest of the time sunning herself and chatting with a lovely Argentinian couple and their kids. The youngest kid was a girl of 4-5 years and she was playing on the beach singing to herself – extremely cute and entertaining to watch.
As the sun started to dip towards the horizon, we packed our things up and headed back to Bariloche. We were back at our hotel by 18:30. And so ended our time in Bariloche.
Eating around in Bariloche
Mamuschka: The bright red store in the town centre stocks immense varieties of chocolates, and proudly proclaims to be a winner of "World's Best Chocolatier 2018" award on its doors. For chocolate lovers, this place is nothing short of heaven. Apart from umpteen chocolates of all shapes and sizes, there are other things chocolatey – cookies, chocolate sauce and even beers. There is also a small café serving sinful desserts, hot chocolate and sandwiches. We went at lunchtime, so ordered a panini each and a dessert each. Pradosh took a lemon chiffon cake and Suchitra took their signature cake Mamuschka – a rich chocolate cake covered in a hard chocolate outer shell, and with a melted chocolate filling (three layers – hence Mamuschka). Both the cakes were cloyingly sweet, especially the Mamuschka cake. We abandoned the cake after about 1/3 and managed to finish only the less-sweet lemon chiffon cake between the two of us. The hot chocolate also was sinfully sweet and rich – it met the same fate as the Mamuschka cake. As you can probably surmise, their cakes are for heavy duty dessert lovers.
Rapa Nui: One of the other famous chocolatiers in Bariloche, they also have a HUGE store near the town centre. One part of the store is dedicated to chocolates (and other chocolatey goods). The other part is a large ice cream parlour with some wonderful sundaes on offer. We both stuck to simple scoops of ice cream and the fame was well-deserved. Both our ice creams were fabulous.
Manush: One of the most well-known brewpubs in Bariloche is Manush. The name sounded intriguing to us Indians (Manush stands for man in Hindi). One of the reviews talked about a vegetarian chickpea curry and naan bread on the menu – which sounded positively tempting. The brewpub was a just a couple of streets away from our hotel and we reached the place around 22:00. It was a windy night, but Manush was buzzing with people. There was a group of people waiting outside, and we had to wait for 30 min before getting a table. It is a large establishment, spread over two floors. The waiters seemed overwhelmed by the number of people and seemed to be always rushing around. It was difficult to catch one of them to place our orders and service was overall quite slow. We ordered a couple of beers, along with nachos and stir-fry prawns. For mains, we both chose the naan with chickpea curry. Food was overall a tad disappointing with nachos being somewhat dull and the prawns lacking any flavour. And the poor waiters completely forgot about our beers and had to be reminded. The main course was better with the chickpea and vegetables curry being simple and honest – and felt like home food. But the naan bread (it was roomali roti to be honest, not naan) was cold and had become a papad. Maybe they cook all of it early evening and serve it through the night.
El Mexicano: We were looking for non-Argentine food and we found a pub, El Mexicano, close to our hotel. When we arrived, we found it was 'Taco Night' and we could have unlimited tacos for a certain fixed price. We ordered margaritas and chicken/pork tacos – both of which were pretty great. We got chatting with a father-son duo on our next table, and we stayed for a couple of hours with a steady inflow of margaritas. We returned to El Mexicano two days later. While their chicken nuggets with Habanero sauce was pretty good, the tacos weren't as good as the previous visit. Still, way better than parilla, especially when accompanied with margaritas.
El Bolson, Argentina
After spending four nights in Bariloche, we headed towards the bohemian town of El Bolson, 120 km away. Situated in the valley of the Rio Quenquemtreu surrounded by high mountains on both sides, El Bolson is a charming town, settled around the main road, Avenida San Martin, which runs roughly north to south. A lot of hippies in the 1970s settled in El Bolson and their laidback vibe is still evident in the town today.
The Ruta 40 from Bariloche to El Bolson is fully paved and the landscape continues to be a mixture of green hills and snow-capped peaks in the distance. The route took us through three beautiful lakes – Lago Gutierrez, Lago Mascardi and Lago Guillelmo. It was a clear sunny day and the lakes were all beautiful, but after so many days in the Lake District, it had become a repetitive sight. We did not even bother to stop for the latter two lakes.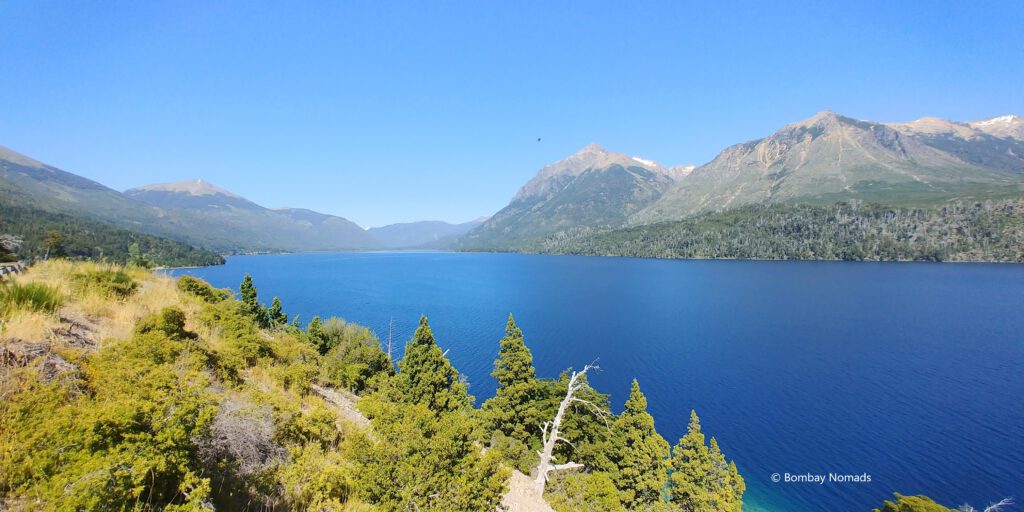 The drive to El Bolson took just under 2 hours. We checked into our cabin (booked through Airbnb) and decided to see a couple of local attractions before lunch as we weren't too hungry.
The first attraction on our list was Cascada Escondida (waterfall), which was supposedly very close to our cabin. However, it was one of the rare failures of maps.me – the road it showed to the waterfall did not exist. Rather than turn around and go back a long way to the other road, we decided to skip the waterfall for now and head to the Cabeza del Indio (Indian Head), a natural rock formation that looks like a head. On the road to the Cabeza was the Mirador del Azul, a viewpoint above the town to see the beautiful Rio Azul valley.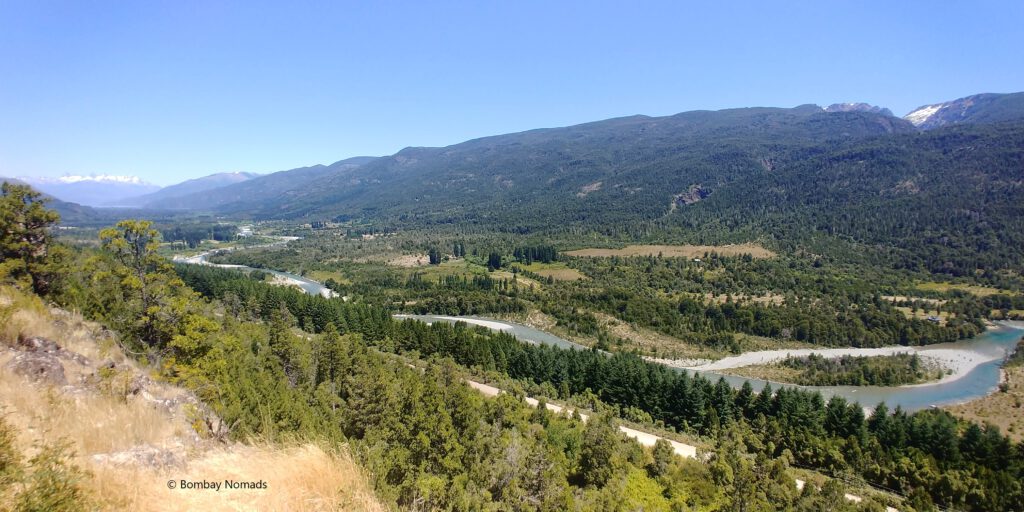 Entrance fees to the Cabeza is 70 pesos per person and it is a steep climb of some 200 steps to the rock formation. On a hot summer afternoon, climbing the steep steps up the hill wasn't fun. According to Pradosh, the rock formation was very trivial and not worth the climb and entry fees. To be fair, the climb took us just 10 min, and Suchitra thought the actual rock formation did justice to the pictures she had seen. There is another marked trail to 'Mirador del valle' at the ticket office, which we did not bother with, given the hot afternoon sun.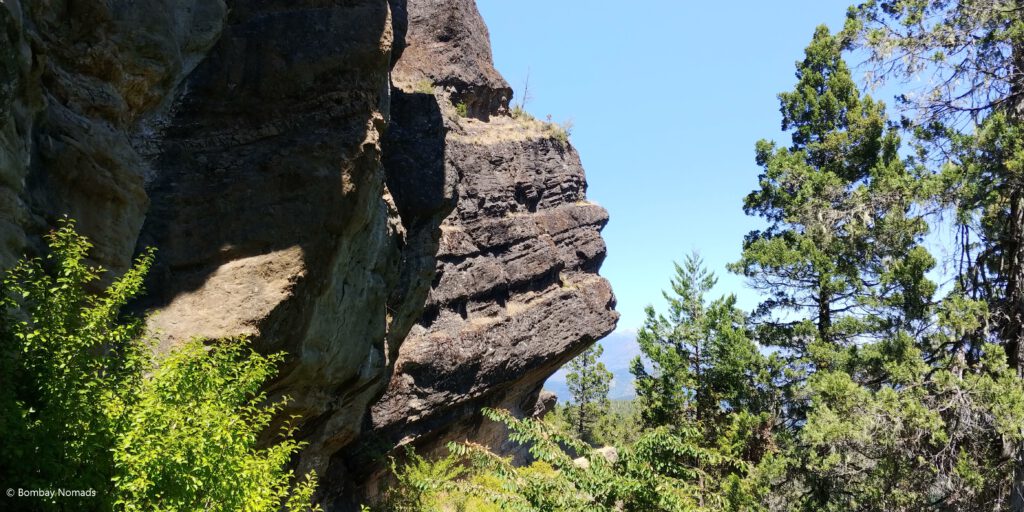 By then it was past 14:30. Hangry, sweaty and blaming each other for stupid Indian heads (😊), we headed to El Bolson and blindly turned into the first restaurant that had some people eating. Restaurant Agusto was a generic parilla restaurant, but it was serving some great raspberry juice. There was also a cute little girl at the restaurant who was running around a lot, and it took us a while to catch on that there it was a pair of identical twins! Repeat orders of fresh lemonades and raspberry juices calmed both of us and we had a good laugh about the whole thing.
After lunch, we headed towards Lago Puelo, a popular lake about 10km away. Lago Puelo is part of a National Park of the same name, and is the name of the small town outside the park too. This visit to Lago Puelo gave us a very good idea of what Spring Break in the US might be like. The lake shore was taken over by vacationers of all denominations – full families, groups of young singles, couples – and everything in between. Everyone was in their beachwear and sunning themselves. Or in kayaks and motorboats out in the lake. We had expected to find a Mirador or a hiking trail maybe, not a rollicking beach with barbecues. We were in full clothes and hiking boots, and have seldom felt so overdressed!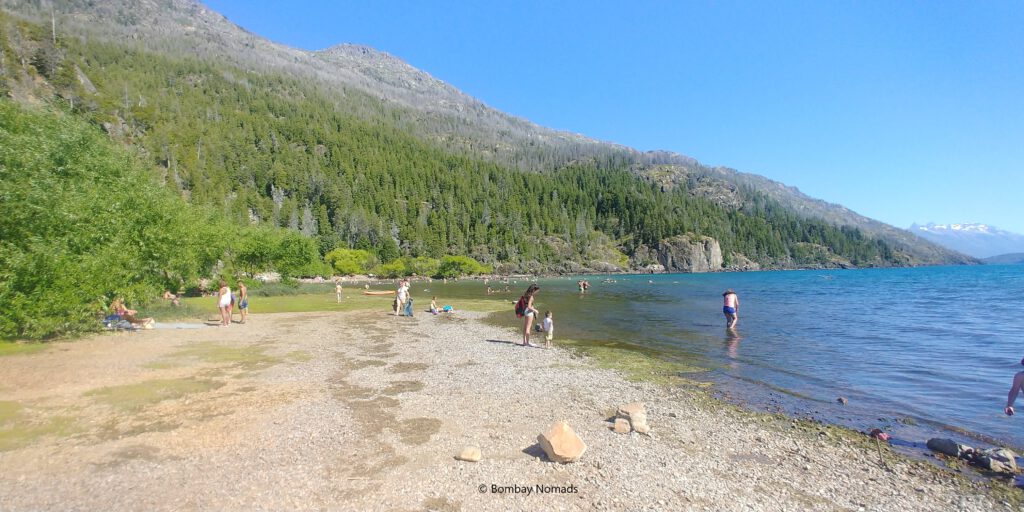 And to make things worse, the water temperature was around 20°C, much better than what we had encountered in Bariloche and a lot of people were swimming around. And there were changing rooms too! But our swimsuits were with our bags, back in our cabin. We did not want to add to our misery by watching others have so much fun, so we left Lago Puelo and drove back to El Bolson.
The last attraction of the day was the artisanal market in the town centre. Also known as the hippie market, it was a mishmash of assorted handmade decorative stuff, musical instruments, knives, food, jewellery etc. We sipped on smoothies while we strolled the market and we picked up some empanadas for dinner, as we didn't want to drive back into town again later in the evening. We sat for a while and watched little girls play with a can of confetti and it was nice to see children get so much joy from some flying foam. Every now and then we would smell a waft of weed smoke, just in case we forget we were in hippie central.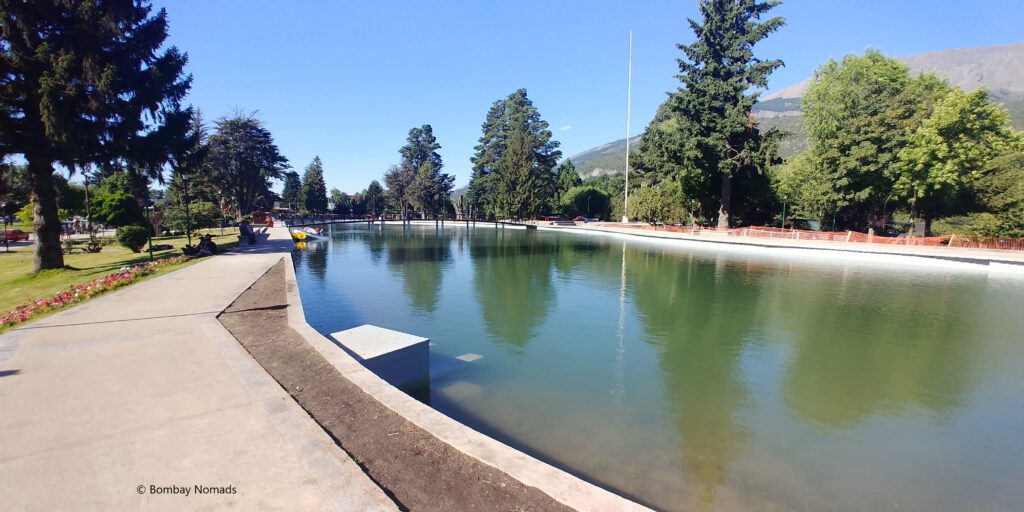 We decided to retire early that night, but when we reached our cabin electricity had gone out. Apparently, it was a problem with one of the electricity poles and it would be repaired only the next morning. We chatted with the Argentine couple staying at the other cabin for a while before coming back and eating our cold dinner with the help of rechargeable lights.
Accommodation
Bariloche is a prime tourist-y town and there are accommodation options to suit all types of budgets. You could also stay in one of the nearby smaller towns – Villa Angostura, Llao Llao, Villa Traful, San Martín de los Andes – for a more peaceful stay.
Since we were going to spend the next 2 weeks in really small villages in the middle of nowhere, we decided to treat ourselves to a nice hotel. We booked a lake-view double room in Hotel Tres Reyes at a pretty hefty price of USD 130 per night – double the average of USD 60-65 for our trip. The best part about the hotel is the location – it is on the main waterfront close to the city centre and has a great view of the lake from the front. But that's about the only good thing about the hotel. The room was not too large and the furnishing had seen better days. The hotel's parking was on the side street and not on the front, so loading/unloading the bags was a cumbersome. We also had to use an intercom near the parking gate, every time we wanted to use the car – and sometimes, no one would respond to the intercom! Breakfast was the same every day and it was a dull. The reception/concierge weren't too helpful with tourist information either.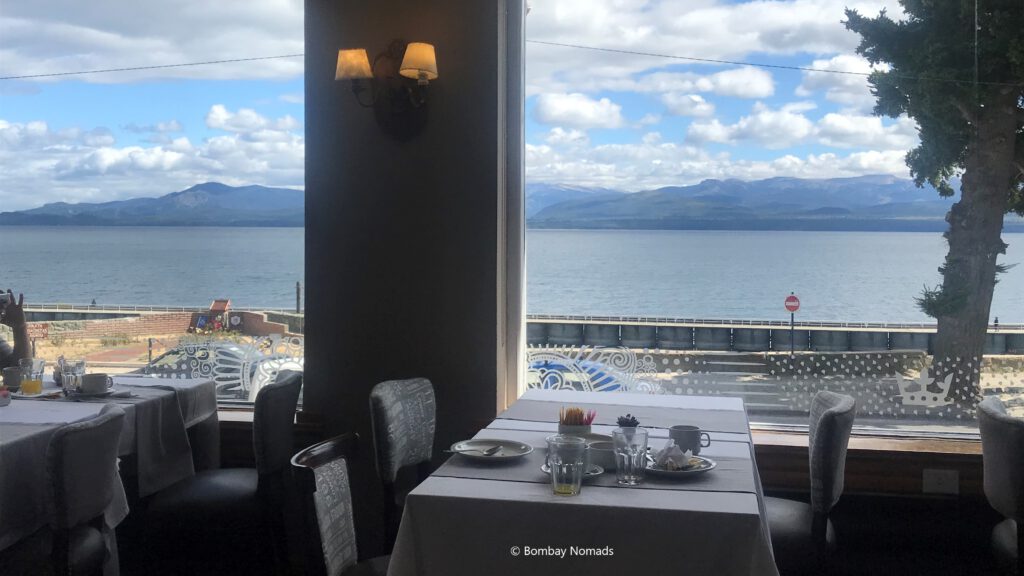 The episode which rankles us, was the 'free drinks' coupons. We were given coupon for free drinks at the bar, while checking in. We ordered for 2 pisco sours with our coupons, only to be told that the coupons weren't valid for any cocktails – and only valid for certain spirits and soft drinks. And worst, the bartender gave us a "look-at-these-guys-coming-in-for-a-free-drink-and-expecting-cocktails" vibe. This is a really terrible practice, as it makes the coupon holder feel really small for asking for a free drink. The hotel doesn't gain any goodwill from the coupon, as the embarrassment faced by the guest when his/her choices are declined by a bartender is far worse. And after that embarrassment, we never went back to the lounge even though it had a lovely view of the waterfront. Overall it was a disappointing stay and not at all worth the price we paid.
In El Bolson, we stayed at an Airbnb, a couple of kilometres outside of town. The road in that area wasn't tarmac, and we had a bit of trouble finding the place. The property had a pair of charming cabins set in a huge lawn with a lot of greenery. The hosts were an old German couple, who had two frisky dogs, and they made us feel at home immediately. Our cabin could accommodate 4 people, and was very neatly maintained. Our hosts served us a delightful breakfast the next day with bread, jams and two portions of raspberry pie – all homemade. Though we loved the cabin and the hosts, given that we were staying only one night, taking accommodation inside the town would have been more practical. And the issue with the electricity at night also didn't help.
The Lago Puelo town looked really cute and had quite a few staying options. It might be worthwhile staying there instead of El Bolson.
Other Useful Information
Circuito Grande, Circuito Chico and Route of the Seven Lakes can be done through organized day tours. But according to reviews, there is too much driving and too little sightseeing, as there isn't enough time given at the stops. So, if you can, hire a car for at least one day and drive on one of the routes on your own. If you have more time, you could slow the pace, break up the journey with a night in San Martín de los Andes (or camp somewhere along the route), and then return to Bariloche via the unpaved Ruta 65 the next day.
There is a multitude of other things to do in & around Bariloche

Day trip to Cerro Tornador & Black glacier
Day trip to Puerto Blest & Cascada de los Cantaro (waterfall) boat trip
Hike to Refugio Frey
White water rafting on the Rio Manso

If you're on a roadtrip like us, Bariloche is a good place to stock for essentials and get your laundry done. There are a few La Anonima supermarkets spread around town.
There are also a number of hiking routes near El Bolson, of which one of the most popular hikes is to Cajón de Azul, a small vibrant blue lake.
El Bolson apparently has a quite a few German migrants and consequently also has a good craft beer scene. We couldn't check out the breweries as Pradosh strictly doesn't drink and drive – and Suchi is not very fond of beers anyway.