This is the third part of our epic 16-day road trip in Northern & Central Patagonia, across Chile and Argentina.
Carretera Austral ("Southern Highway") or Chile's Ruta 7, refers to the 1,240 long km road that runs from the town of Puerto Montt in Northern Patagonia, to the village of Villa O'Higgins in the south. This legendary road passes through seemingly inhospitable terrain – deep fjords, thick forests, snow-capped mountains, large glaciers, fast moving rivers and lakes of every possible shade of blue. With human habitation restricted to a few villages and small towns along the route, the feeling of untouched wilderness during the entire drive is unparalleled. And the picturesque landscapes on the road are both incredibly diverse and breath taking – and offer endless opportunities for camping and hiking.
This road was commissioned only in 1976, after border skirmishes with Argentina – and Chile decided they needed to have a land route to the southern part of their own country (previously, the only way to access southern Chile by road was to use Argentine roads). It took the Chilean Army 12 years to finish the main road, although some sections were constructed as late as 2003. Even now, some fjords can be crossed only via ferries. Initially only a dirt road, parts of it have been paved over the years. Beyond Villa Cerro Castillo, it is still a gravel road. It might take another 3-5 years to fully pave the road.
Our Itinerary
Most people traverse Carretera Austral from north to south i.e. from Puerto Montt to Villa O' Higgins and return on the same route (necessitated by the prohibitively expensive charges for returning a rental car to a different city in Chile). We wanted to avoid driving on the same route twice, so devised an itinerary covering both Chile and Argentina. This plan gave us the chance to drive on two legendary South American roads and visit a few additional attractions in Central Argentina.
Our itinerary for the full drive was:
Day 1: Start from Puerto Montt; Visit Saltos del Petrohue waterfall, Laguna Verde; Overnight at Puerto Varas
Day 2: Cross into Argentina via Paso Cardenal Antonio Samoré and drive to Bariloche (300 km; 5 hours); Overnight at Bariloche
Day 3: Drive around Circuito Chico; Overnight at Bariloche
Day 4: Drive around Circuito Grande to San Martin de Los Andes and 7 lakes circuit via Villa Traful; Overnight at Bariloche
Day 5: Spare day in Bariloche; Overnight at Bariloche
Day 6: Drive to El Bolson (121 km; 2 hours); Visit Cascada Escondida, Cabeza Del Indio, Mirador del Azul, Lago Puelo; Stay overnight at El Bolson
Day 7: Drive to Sarmiento (570 km, 7-8 hours); Visit José Ormachea Petrified Forest (Bosques Petrificados); Overnight at Sarmiento
Day 8: Visit Cueva de las Manos; Overnight at Perito Moreno town (500km, 7-8 hours)
Day 9: Cross into Chile at Chile Chico and drive to Puerto Gaudal (180km; 3.5 hours). Overnight at Puerto Gaudal
Day 10: Visit Marble caves; Overnight at Puerto Gaudal
Day 11: Drive to Coyhaique passing through Cerro Castillo National Park (275km, 7 hours); Overnight at Coyhaique
Day 12: Drive to La Junta (280km, 7 hours) passing through Ventisquero Colgante (hanging glacier) (150 km, 4 hours); Overnight at La Junta
Day 13: Drive to Futaleufu (150km; 4 hours); River rafting at Rio Futaleufu; Overnight at Futaleufu
Day 14: Drive to El Amarillo (120 km, 3.5 hours); Visit El Amarillo thermal springs; Overnight at El Amarillo
Day 15: Drive to Caleta Gonzalo (80km, 2 hours); Ferry from Caleta Gonzalo to Hornopiren at 3pm (4.5 hours); Overnight at Hornopiren
Day 16: Drive to Puerto Montt (3.5 hours incl. 1 hour ferry between Caleta Puelche & Caleta la Arena); Roadtrip ends; Overnight at Puerto Montt
Note: We didn't drive on the portion of Carretera Austral from Puerto Guadal to Villa O'Higgins.
This post covers 8 days of our drive on Carretera Austral (Days 9-16) from Chile Chico to Puerto Montt. We have already covered the first half our roadtrip in "Lake District" and "Ruta 40".
Cuevas de Mármol (Marble caves)
After driving through the Patagonian steppes on Ruta 40 in Argentina, we crossed the Chile border at Jeinimeni pass, on our way to Puerto Guadal in Chile. This was our third time crossing the Argentina-Chile border and it was uneventful. After the border crossing, we spent most of the day driving along the shore of the fascinating Lago General Carrera. The rough gravel road wound up and down endlessly along the steep mountains surrounding the stunning blue lake, making the drive both challenging and mesmerizing. This is a really remote region of Chile and we barely saw 5-10 other cars after crossing the border.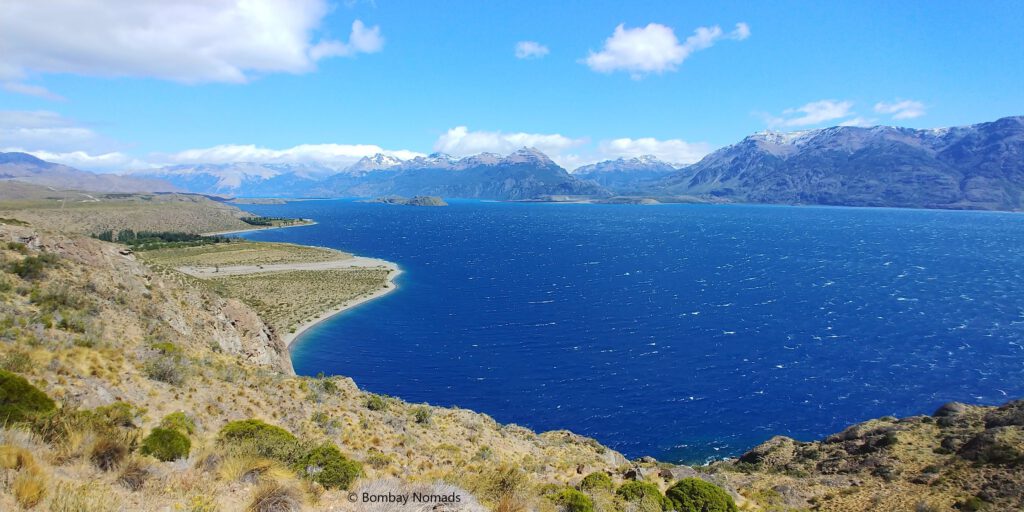 For the next two nights, we were staying at Puerto Guadal, a small village on the shores of Lago General Carrera. It was the site of our only hiccup in our accommodations – we had booked what we thought was a cabin on the lake shore. What we got instead, was a large room on the upper floor of someone's home. Apparently, "holiday accommodation" in Spanish became translated as "holiday home" on www.booking.com. The view from the room wasn't bad at all, but the cabins were much more gorgeous.
The Cuevas de Marmol (Marble caves) are accessed from Puerto Rio Tranquilo via daily boat tours. We stayed at Puerto Guadal, 60 km away from Puerto Rio Tranquilo , because we had read that it was a slightly larger settlement with more staying and eating options. However, the opposite turned out to be true. Puerto Guadal is severely lacking in eating options and it doesn't have a petrol pump either (it has grocery stores though). Restaurants in Puerto Rio Tranquilo were nicer, and on hindsight, is a better place to stay when visiting the Marble caves.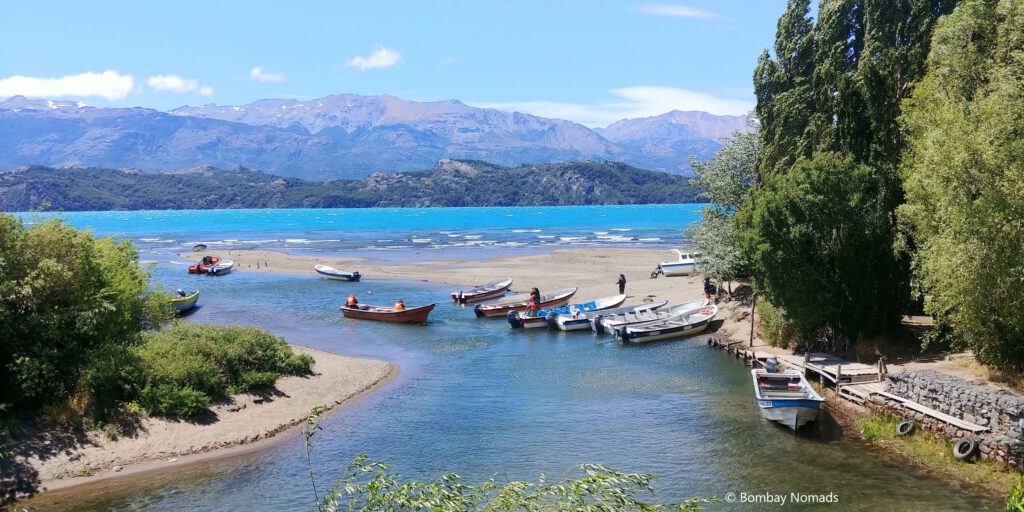 The marble caves are spectacular. These are shallow caves on the waterline of the lake, and have been carved by the crashing waves of Lago General Carrera over a period of more than 6,000 years. The caves are made even more beautiful by the swirling & colourful striations in the marble. These striations/patterns are enhanced by the light reflecting off the lake's azure waters, and their colours can vary a lot depending on the weather and season.
This marvellous geological formation is only accessible by organized boat tours or by renting kayaks. With strong Patagonian winds generating serious waves in the lake, kayaks weren't available that day. The tour operators are clustered in a single lane, opposite the gas station near the lake shore. We found all operators charging the same 10,000 pesos per person for a 1.5-hour tour. We happened to find a longer 3-hour tour, costing CLP 20,000 per person and we took that as we had nothing else planned for that day.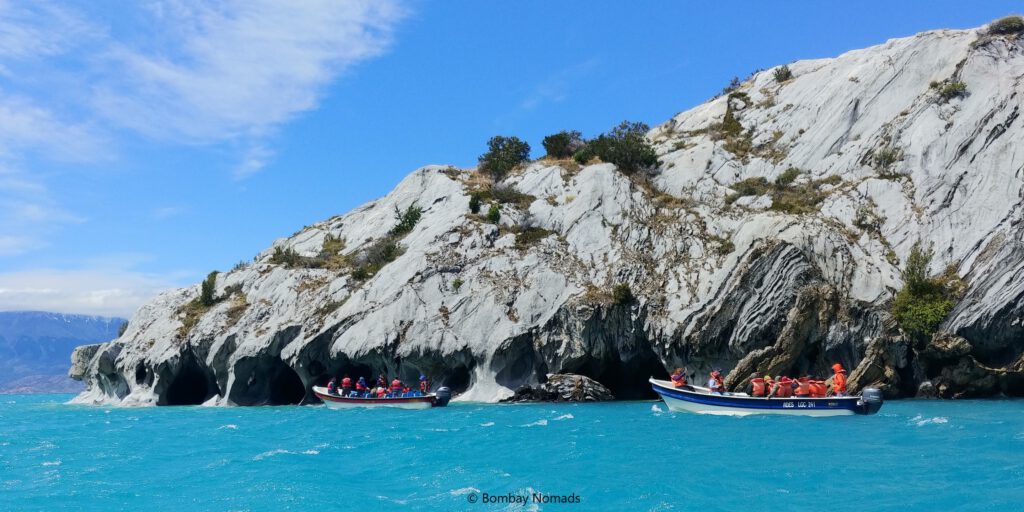 Tip: Even if the winds are not crazy on the day you visit, consider taking the kayak IF AND ONLY IF you are an expert kayak'er. Weather can change dramatically in a few minutes, making it really risky to kayak.
Tip: The 3-hour caves tour isn't worth it unless you want to see all possible marble caves. The regular 1.5-hour tour covers all the photogenic famous caves.
All departures happen from a single jetty, about 250m away from the operator's lane. It was a fairly busy jetty, with multiple boats loading and unloading tourists. The boats were all open fibreglass boats, with an outboard motor, which could seat 10-15 people on benches or seats. All tour operators ensured that passengers had donned their life jackets before boarding the boat. Some boats provided ponchos too – to guard against the water splashes from the lake. The waters in January were really chilly – around 10°C
Our boat, the Yaghan, showed up after about half an hour of waiting. We had only 6 tourists on our boat – us two and 4 young guys. Everyone was able to sit comfortably in twos, and we took the front seats. Our boat driver Pablo, and our guide Andre, both spoke very little English. Andre made all of us on the left side of the boat, wear ponchos, to save us from the spray. In the sheltered cove housing the jetty, we couldn't really feel the swells on the water. But once we roared out to the open water, the waves were alarmingly large and were seriously rocking the boat – we were clutching at our seats really hard. In spite of the pilot skillfully driving the boat parallel to the waves, the boat was swaying wildly, and Pradosh was getting doused with water as he was sitting on the left side.
Tip: For those who suffer from seasickness / motion sickness, definitely take some medicine before this ride
After what seemed like a long time jumping over crazy waves, we reached the first of the caves. The waves had eroded into the island along the waterline, resulting in small caverns 1-2m in height and with weird columns and hanging rocks in multiple jagged forms. Since we were on the longer tour, there were no other boats around us and we could see these caves at leisure. The entire island was made of marble, and inside the caves, wonderful striations in the marble could be seen – with the flickering reflections from the waters adding to the beauty. We peeked into many more caves for about half an hour, cruising slowly along the coast. In a couple of larger caves, Pablo managed to maneuver the boat completely inside, letting us see the insides of the cave. The water is really clear, so we could easily see the striations underwater too.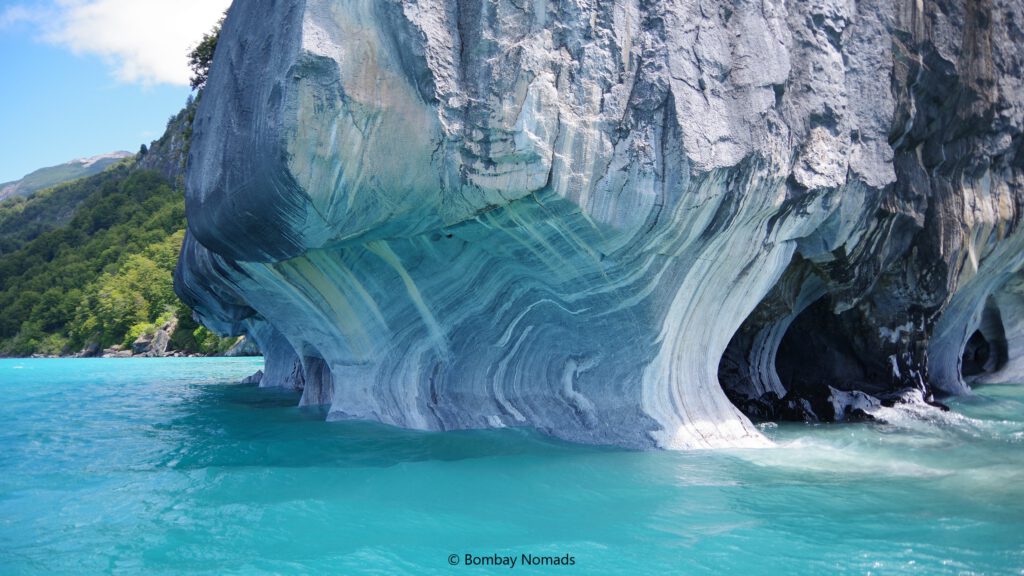 After the first island, we headed out to another cave system in another part of the lake. This time all the people on the right were asked to wear ponchos. Thankfully this trip was short and in 10 min, we had reached the second cave system. The cave system was similar to the first one, but the caves were a bit bigger.
The best was saved for last – the Catedral de Mármol (Marble Cathedral) and Capilla de Mármol (Marble Chapel) – two small mushroom-shaped marble islands. The bases of these islands have the best marble striations and colours. Standing alone in the lake, in the beautiful azure waters of Lago General Carrera, they look very dramatic. The shorter boat tours are limited to these two marble islands, so there was a bit more boat traffic here. The best colours are supposedly seen in the mellow light of early morning.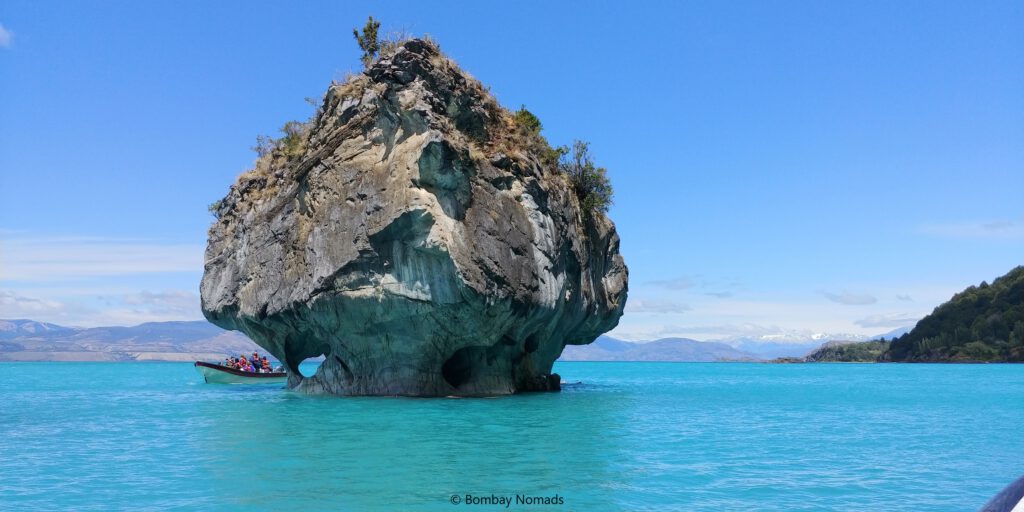 The return journey back to Puerto Rio Tranquilo was the day's final adventure. The wind had gotten stronger and we were riding against the waves this time. Our journey was a repetitive motion of climbing up sharply on a wave, cresting it and then crash into the lake with a loud bang. The waves were now about 2m high and the ride was as thrilling as any roller coaster we have ever been on – only this one had no safety belts. The bucking movement was so sudden, that we would go weightless for a second on cresting a wave, before crashing back down on our seats. For what felt like ages, but probably 20-25 min, we rode the watery roller coaster, while being sprayed with chilly water. Never had we seen such furious waves on an inland lake before and we were very glad to get back onto dry land.
Tip: If you can, plan for some buffer in your itinerary to see the marble caves. Every now & then all boat trips get cancelled for the day due to adverse weather. You don't want to drive all the way here and miss this one!
Puerto Guadal to Coyhaique, via Parque Nacional Cerro Castillo
The next day we drove from Puerto Guadal to Coyhaique on the Carretera Austral. The total distance was only 270 odd km, but with the gravel roads being in pretty bad shape, we got estimates of 6-8 hours for this stretch. After the sunny weather we had been getting on the trip so far, today was gloomy and overcast, with a slight drizzle. The wind was much worse, and we were glad that we got the opportunity to see the marble caves the day before, as boat tours were cancelled today.
From Puerto Rio Tranquilo, the road continues to hug Lago General Carrera for 10-15 more km before we bid a final goodbye to the lake. The road continued to be loose gravel, meaning driving was a constant struggle to find grip. The road kept company of Rio Murta for a while, before disengaging and connecting with the Ibanez river. On the banks of Rio Murta, we were on the lookout for Bosque Muerta, aka the dead forest. This is a stretch of forest, destroyed by the eruption of the Hudson volcano in 1991. When we reached it, the forest appeared to not-so-dead, with blackened tree trunks set amidst greenery and newer trees.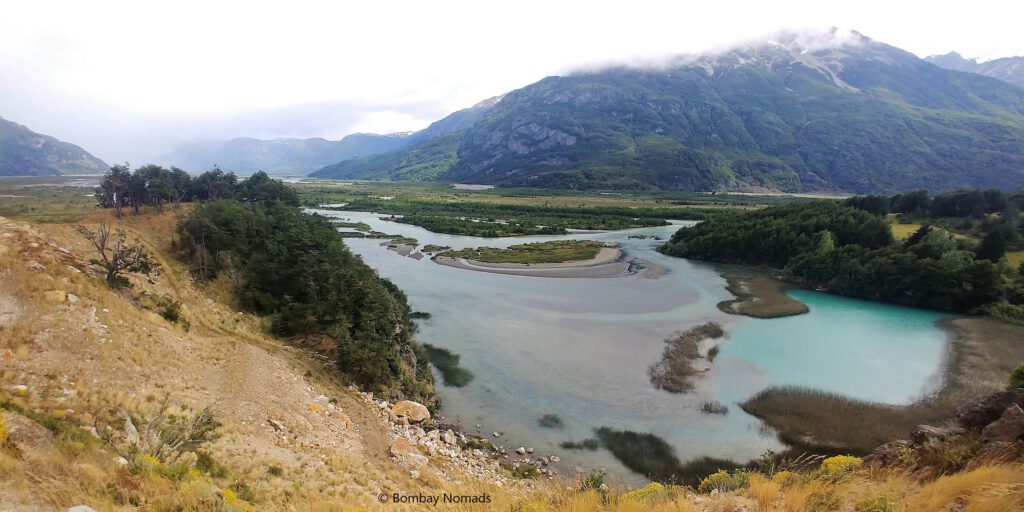 Instead, the mirador where the Ibanez river widens before joining the Lago Verde was really beautiful and is definitely worth a stop.
We reached the village of Villa Cerro Castillo, just around lunch time. The Cerro Castillo area is fairly popular for hikes and lot of people stay back for a day or two of hiking there. We had already finished our share of hiking in Patagonia, so we grabbed lunch and continued on our way. Just after Villa Cerro Castillo is a beautiful set of switchbacks, to climb up a hill. There is a mirador at the top, with an amazing view of the winding loops. The sky remained overcast for the whole day, although thankfully the rains stopped after the first couple of hours.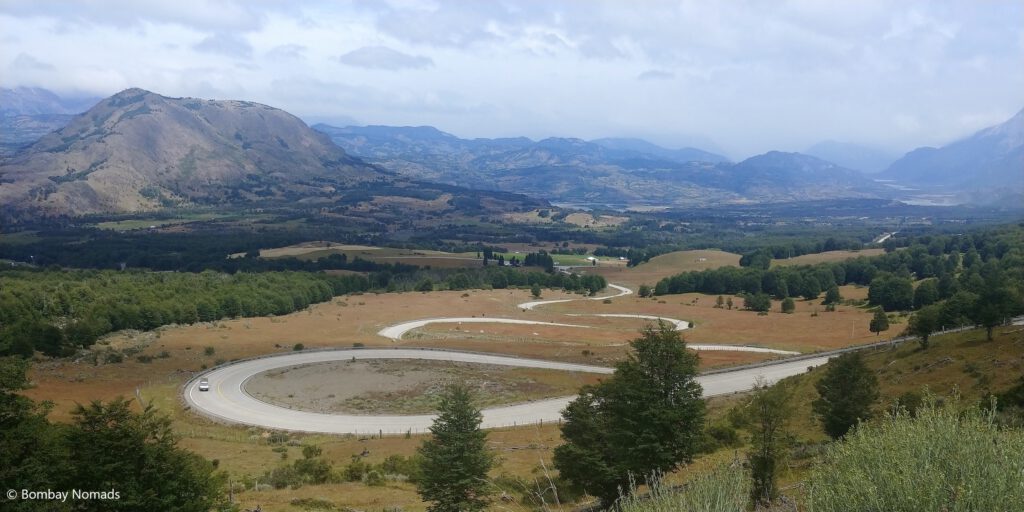 The road after Villa Cerro Castillo is paved and we were able to significantly up our pace. Around 14:45, we entered the town of Coyhaique and found our way to the Backpacker's Hostel, our stay for the night. Coyhaique is a large town and the regional capital – so it's a good place to stock up on any essentials and visit the ATM. We happened to find a vegan restaurant called Indian Stone, which was small, but served tasty food. Really recommended if you want a change from grilled meat options (do try their falafels).
Coyhaique to La Junta, via Parque Nacional Queulat
From Coyhaique, we drove on the Ruta 240, instead of Carretera Austral, as both Google Maps and Maps.me suggested we take 240. Today was another rainy day, with small patches of sunshine occasionally. There was a bit more traffic on the road today, compared to the desolate stretches of the previous few days. There were a lot of small rain-fed waterfalls along the road, just like the ones we see in Khandala ghats while heading to Lonavala. Only things missing were some vada pav and bhutta 😊 We stopped at one of the waterfalls – Cascada La Virgen (Virgin Waterfalls), which was quite impressive and right along the road.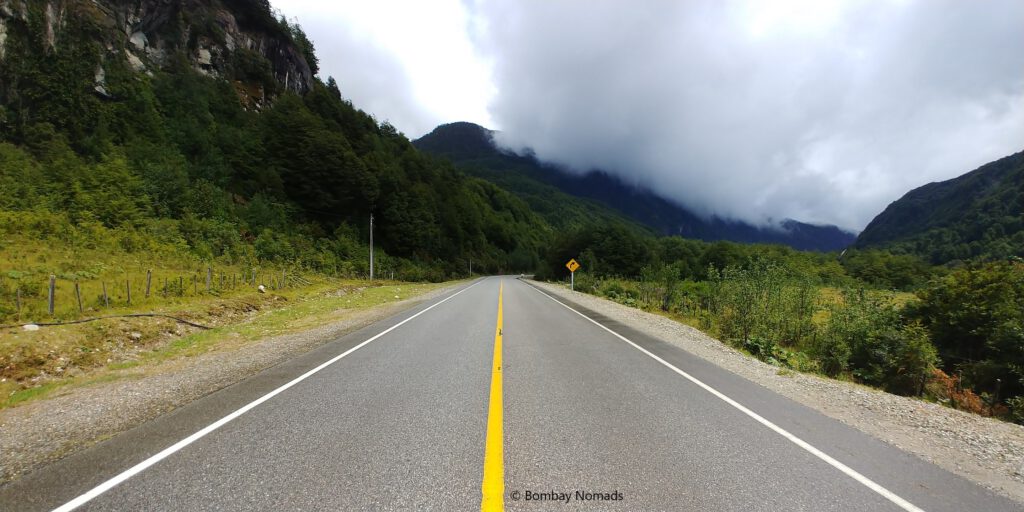 The road till the Parque Nacional Queulat. is mostly paved and is in decent condition. But once we entered the national park, the road broke down completely and was riddled with craters. It continued to rain heavily and there were quite a few switchbacks in the rainforest, making driving a tough job. Parque Queulat is heavily forested and is very famous for its hikes (what else). The most famous attraction in Queulat is Ventisquero Colgante (aka hanging glacier) – the glacier ends up high in the valley, generating a massive waterfall.
There are multiple options to see the hanging glacier (map below)
There is a viewpoint just 200m away from the guarderia (20 min return)
There is 600m-long, relatively easy hike to the glacier lagoon (1.5 hours return)
There is a 3.3km uphill hike (3-4 hours return) that takes you closer to the waterfall beneath the glacier.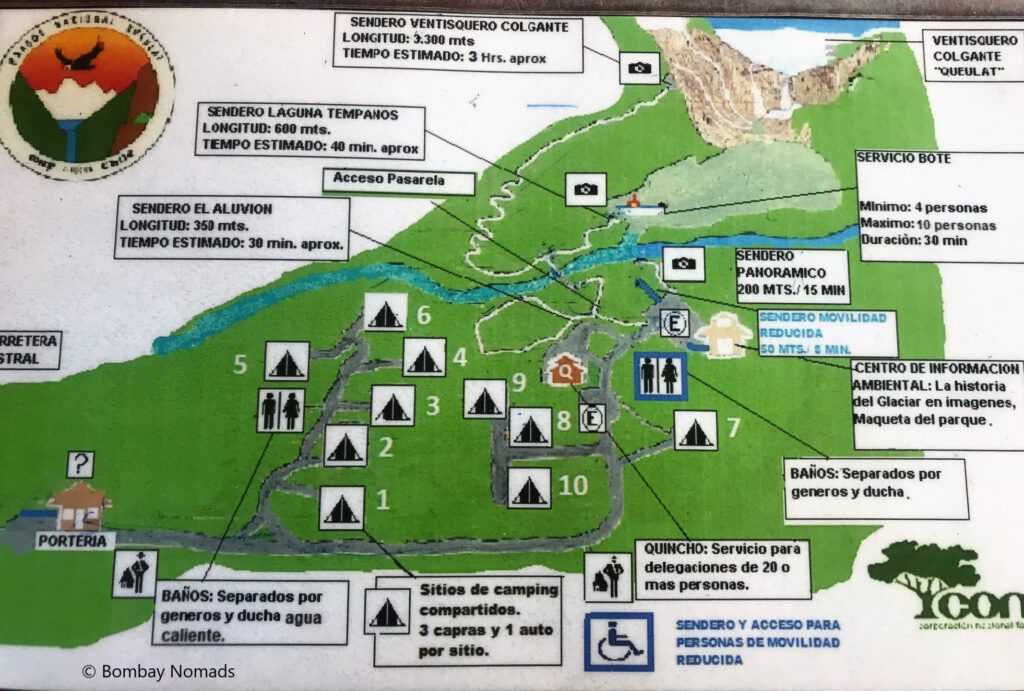 We stopped at the guarderia to buy tickets where the guide confirmed the routes and hiking distances & times. Tickets cost CLP 4,000 for adult foreigners. The park is open daily until 16:00-17:00 (depending on sunset timings).
We did not have inclination to do the long uphill climb to the waterfall. Before heading out to the glacier lagoon trek (2nd option), we decided to check the view, the weather and visibility from the nearest viewpoint. A small 10-min trail through a damp forest led us to the viewpoint. To be honest, after seeing so many spectacular glaciers in Patagonia, we weren't too thrilled about looking at yet another glacier. But we couldn't have been more wrong. The glacier is spectacular looking – ending high up in the mountain and with a sheer drop below. The huge waterfall cascading down from the melting glacier was making quite a roar too.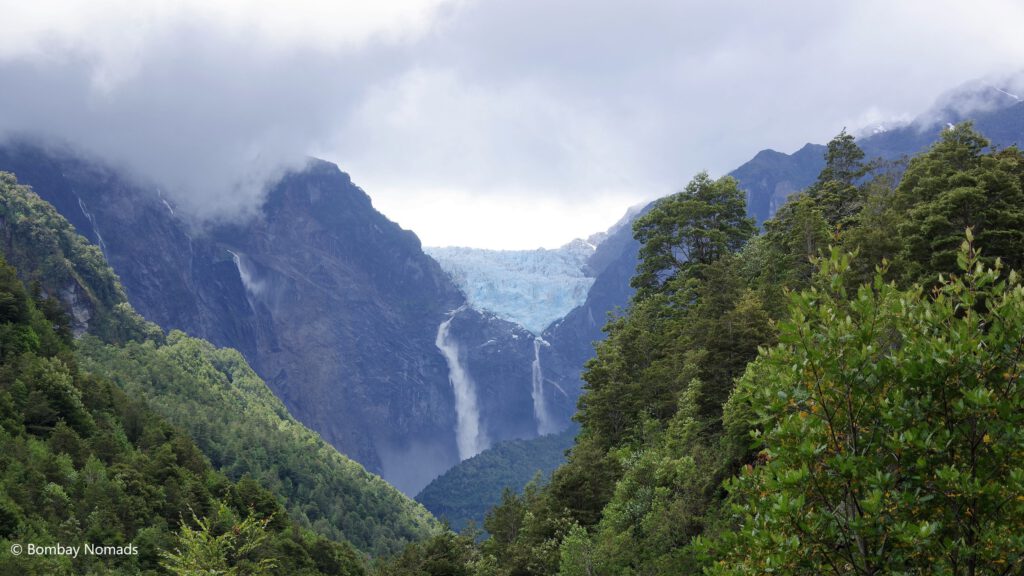 We headed back to our car to pick up our backpacks for our trek to the lagoon. However, just right then, the heavens opened up and it started raining like crazy. We sat in the car and waited for a while for the rains to stop, but it showed no signs of relenting. With the ground near the guarderia becoming completely slushy with small rivulets of water and the sky overhead completely dark, we abandoned our hiking plans in Queuelat National Park and headed out.
The road inside the national park was probably the worst stretch in the entire Carretera Austral, peppered with potholes and craters. Once out of the Park, the roads improved and we continued towards La Junta. Just before Puyuhapi, as the road runs next to a fjord, there are two thermal pools fed by hot springs. We stopped at Termas del Ventisquero, which was a commercial spa, with a restaurant overlooking the fjord.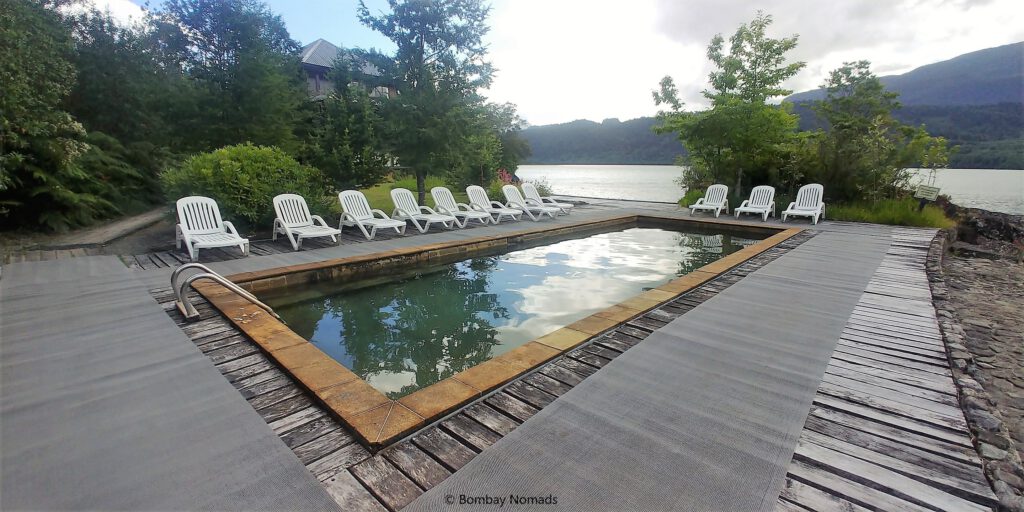 The thermal pools were built right at the level of the fjords, so the view from the pools was amazing! We grabbed lunch at the restaurant first, as it was already 15:00, before heading into the thermal pools. The facilities at the spa were good, we got fresh warm towels and clean changing rooms – and it wasn't too crowded. There is a largish swimming pool with lukewarm water (25°C) and three smaller pools with hotter water (35-40°C). Everyone else in the spa was in the smaller pools and we settled into one of them. It was really nice to soak in the hot water – one of the few times we have felt like we were "vacationing" on this trip. The best part was that we saw a family of dolphins swimming in the inlet of the fjord, very close to the pools. We spent about an hour soaking in the hot pools.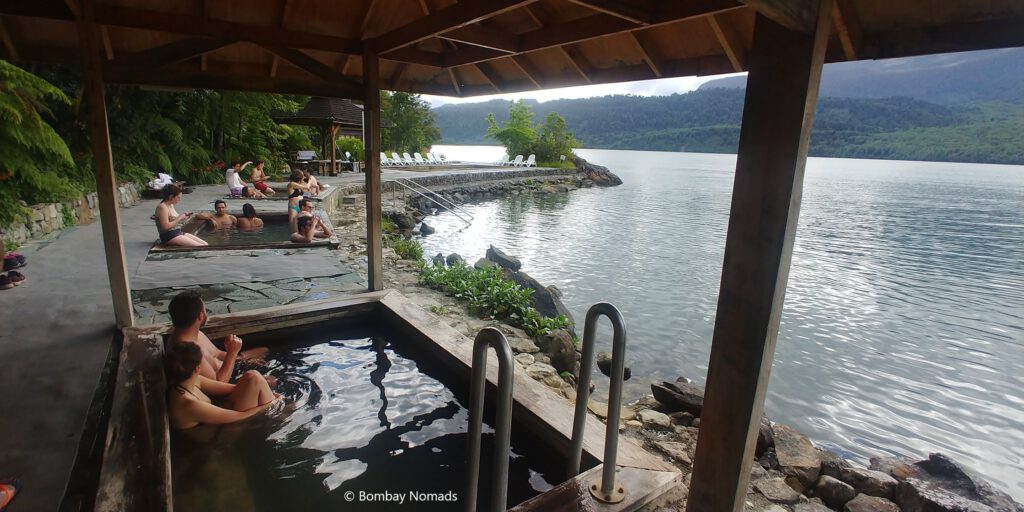 We were staying overnight at La Junta, a small village on Carretera Austral. Set in a river valley, with looming hills on both sides, it has accommodation options, petrol pumps and grocery stores. We were staying in a cozy cabana inside the village, but we treated ourselves to a dinner at the fancy Espacio y Tiempo Hotel just outside the village. Food was pretty good, and we wished we were staying at this charming (and expensive-looking) hotel for the night.
Rafting in Futaleufu
Next morning, we headed to Futaleufu, a small town off Carretera Austral, very close to the Argentina border. The town shares its name with a river, which is one of the most famous white-water rafting sites.
On the way to Futaleufu, Villa Santa Lucia was a very interesting stop. Santa Lucia village was the site of a large mudslide in Dec 2017, when a substantial portion of the hill behind the village came sliding down, killing 16 people. There is messy earth piled high on both sides of the road, with tree trunks strewn haphazardly across it. The mudslide also washed away the turn off point from Carretera Austral to the road to Futaleufu. The temporary connecting road was unmarked and difficult to find – we had to go back and forth a few times to spot it. The rest of the road to Futaleufu was a narrow, twisty gravel road, and covered with plumes of dust blown by vehicles ahead. It took us 2.5 hours of slow driving to cover the 75 km from Villa Santa Lucia to Futaleufu.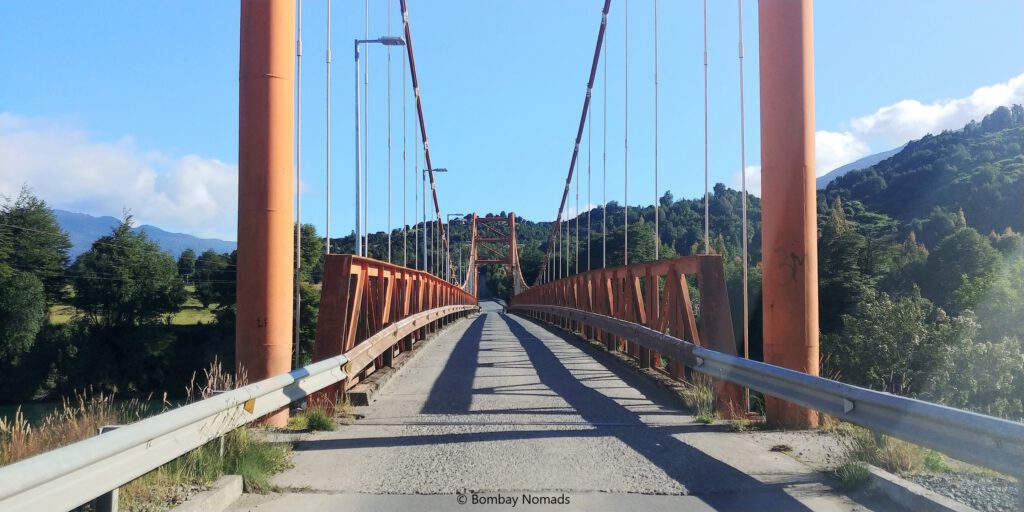 The most popular and beginner-friendly rafting expedition in Futaleufu is the "Bridge to Bridge" section. We had been in touch with two operators in Futaleufu – Patagonia Elements and Bochinche Expediciones. Both operators were extremely prompt in replying to emails and there was very little difference between the two – Bochinche's "Bridge to Bridge" tour had an additional Class V rapid, for a slightly higher cost of CLP 65,000 per person (vs. 55,000 at Patagonia Elements). Slightly scared of doing an additional Class V rapid, we chose Patagonia Elements. Patagonia Elements also had an online payment option. However, we could not get our credit cards to make the payment (a common problem we faced in South America). They were nice enough to hold our seats and we paid them (with credit card) at their office in Futaleufu.
We were told to report at the office at 14:30 and to come wearing our swimsuits underneath, as we would wear wetsuits directly over the swimsuits. They had a total of 3 boats that day. We bundled into a minibus and set off for the put-in point 45 min away. The minibus was a rattletrap, shaking violently over the gravel roads and crashing loudly into potholes. It felt like more than one wheel was completely missing shock absorbers. There was a small traffic accident on the way, which delayed us a bit and we reached our destination only by 15:40.
A bigger group of guides and support guys waited for us at the put-in point with the boats. There was no changing rooms or tents – we stripped to our swimwear or underwear and then donned the wet suits. We were given footwear, helmets and lifejackets. After getting kitted out, we got into our boats and floated out to the river for the instructions.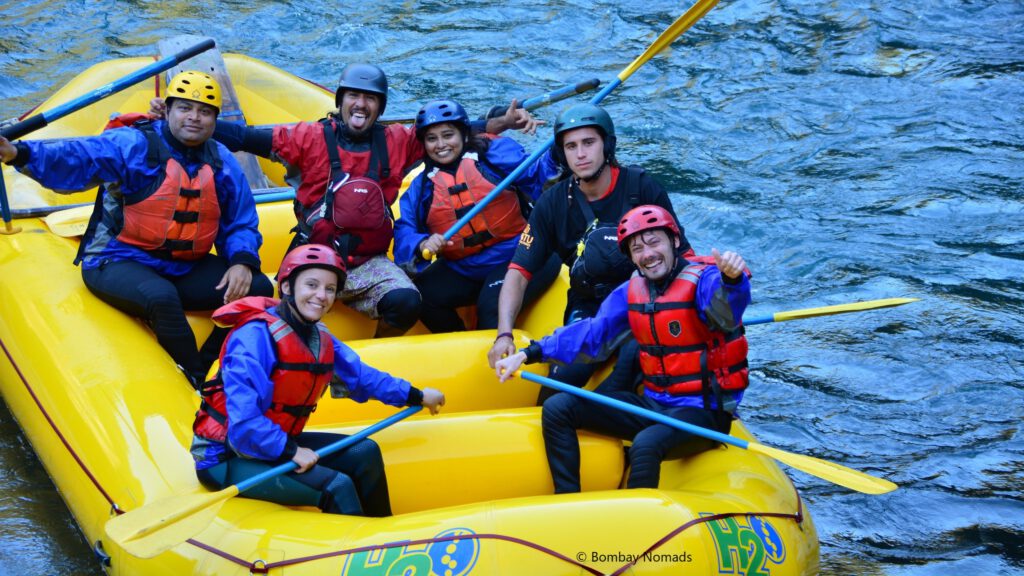 Our guide was Charlie, who was a full-time rafting guide – he split his year between summers in Patagonia and summers in Canada. He was a superb guide, quickly establishing an easy communication with everyone on the boat. He ran us through the basics of rowing instructions and then proceeded to explain what to do in the event of someone falling overboard. He also taught us how to lift others from the water. And then, as practice, he actually had all of us jump overboard and the others lift us up, in turns. So everyone on the boat was already soaked, even before we had seen our first rapid!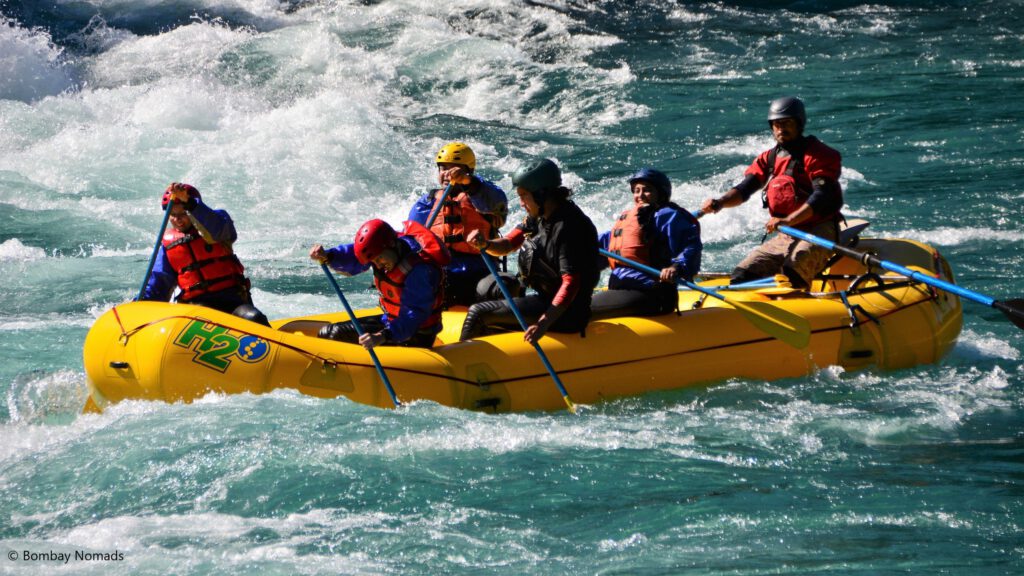 These exercises and instructions gave us a lot of confidence in the crew. There were also two separate guides in their own rescue boats, apart from our three rafts, so it was a very professional operation. There were also an extra staff in our boat. And there was a photographer in his own kayak.
Soon all instructions were finished and it was time to get down to the real thing. The first rapid, appropriately called Entrada, was not too difficult. But the first rush of heading into a raging torrent of water frothing everywhere was frightening and exhilarating. We bucked wildly a couple of times, while Charlie kept asking us to row forward. And then we were through. It felt like a small achievement to cross the first rapid.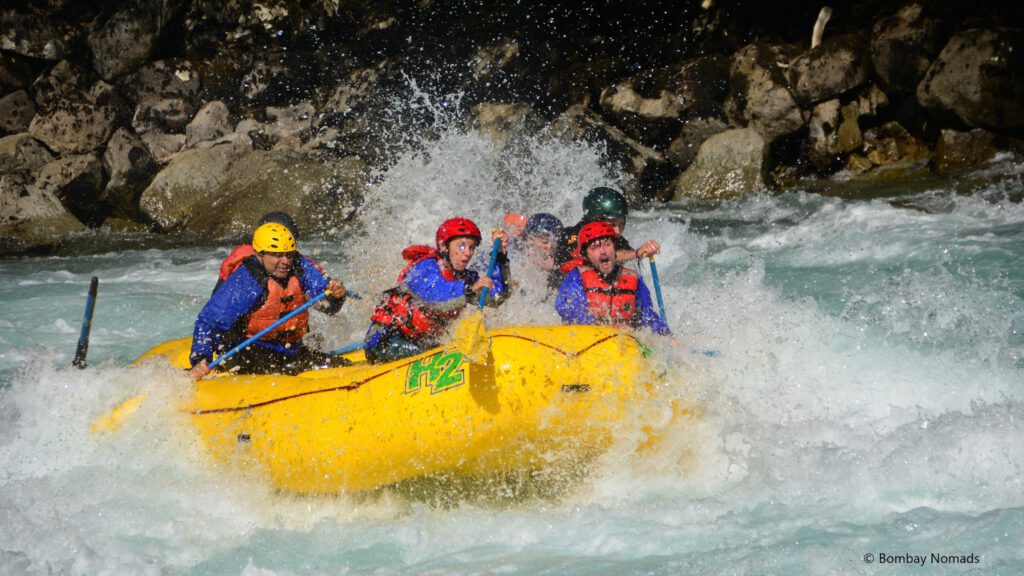 One after another, we passed through rapids named Morocco, Alformbra Magica (Magic Carpet), Pillow and Toro. By the third rapid, Pradosh had gained confidence that our guide was pretty good and we weren't going to overturn – and he was relishing the experience and looking forward to ride into the next rapid. Suchitra wasn't that thrilled and kept her eyes focussed inside the boat whenever we rode into a rapid.
Then we came to Mundaca, the solo Class V rapid in our trip. Charlie told us it was very wicked and there was a nasty 'washing machine' kind of whirlpool in the middle, where a lot of boats overturn. Suitably scared, we moved ahead and it was the wildest one yet, but we made it out with everyone onboard. And Charlie was the most ecstatic among us. Apparently, he has overturned multiple times in the same rapid and he was glad we came out unscathed. We all stretched out our legs a bit and soaked in the excitement of our first Class V. Even Suchitra smiled a bit.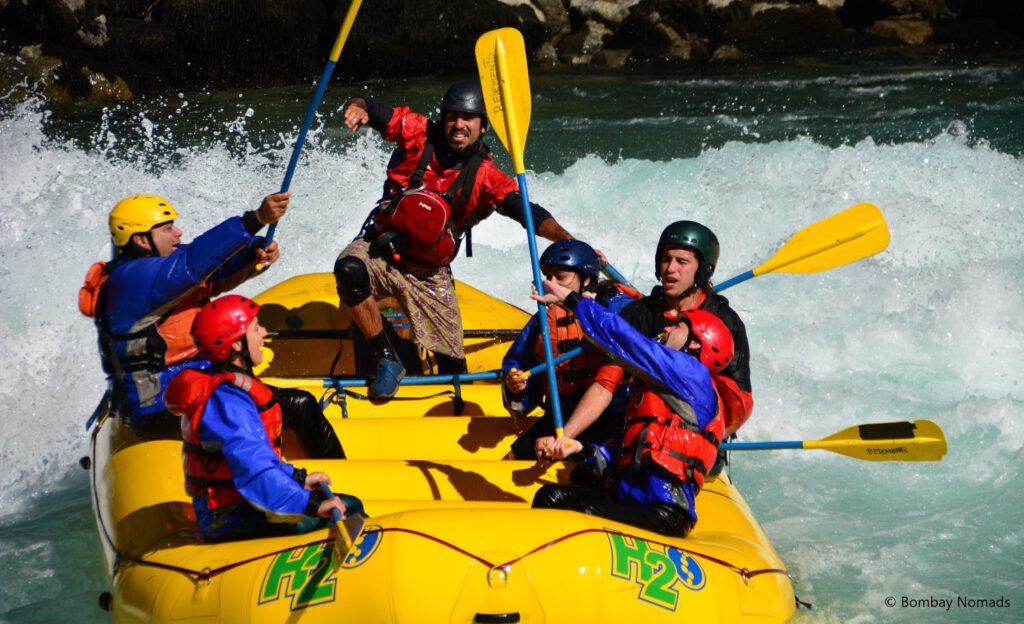 After a bit of a rest, we continued onto further rapids – Pudu, Puma, Condor, Guina, Tiburon. And in between the rapids, Charlie discussed our life in India and Hong Kong with us. According to Charlie, we were the first Indians he had ever met in Futaleufu – though there were a lot of Indians in Canada, where he spends part of the year.
When we finished our rafting and climbed onto the riverbank, our minibus was waiting for us with our clothes. We felt the lack of a changing facility more acutely this time as we had no choice but to wear our dry clothes over our now-wet swimsuits. There was a small picnic spread on the table for us – and we suddenly felt ravenously hungry! We polished off bread with various dips, nuts, juice and coffee. We reviewed the photographer's pictures (the ones above) and gladly bought the photos for CLP 10,000.
Futaleufu to Hornopiren, via Parque Pumalin
The last leg of our Carretera Austral roadtrip was relatively uneventful. With no major things to do or see, we mainly drove for the next three days.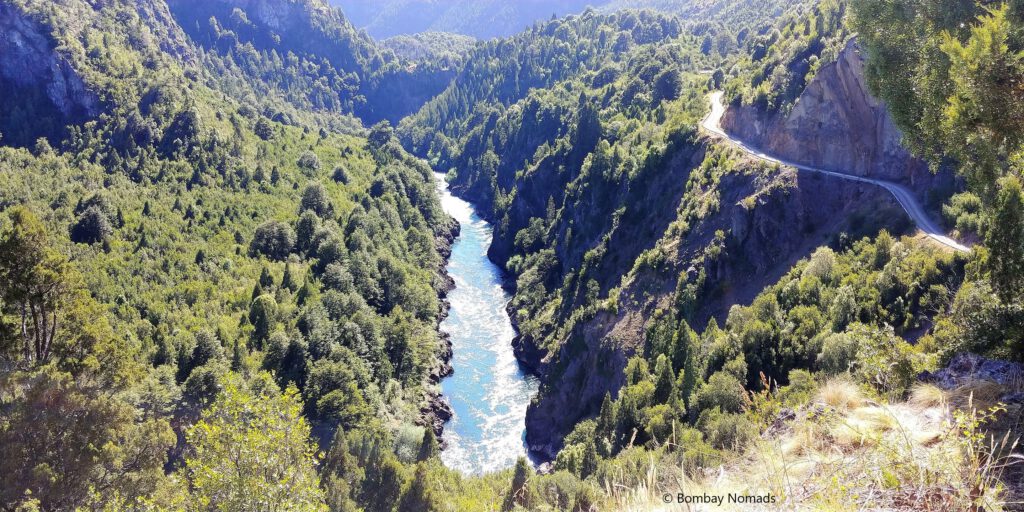 On our way out of Futaleufu, we made a detour to "Canadon del Devil" (Devil's canyon) for some great views of the canyon of Rio Futaleufu. We followed Maps.me to a small clearing with a board for "Canadon del Devil" near a trail. There wasn't any more information posted, and we were the only ones there. Thankfully the trail was short, even if it was very steep. The mirador at the top gave a stunning view of the deep canyon and the river inside.
We drove the 130 km to the small town of El Amarillo and rested for the day. The road was fully paved and there was a hint of rain in the air. The landscape was still lightly forested, with peaks rising on both sides of the road. Our accommodation for the night was inside a beautiful farmhouse outside of town. It was home to a lovely family and our room was large and spotlessly clean. The hosts agreed to let us use their kitchen and we cooked ourselves a simple pasta dinner.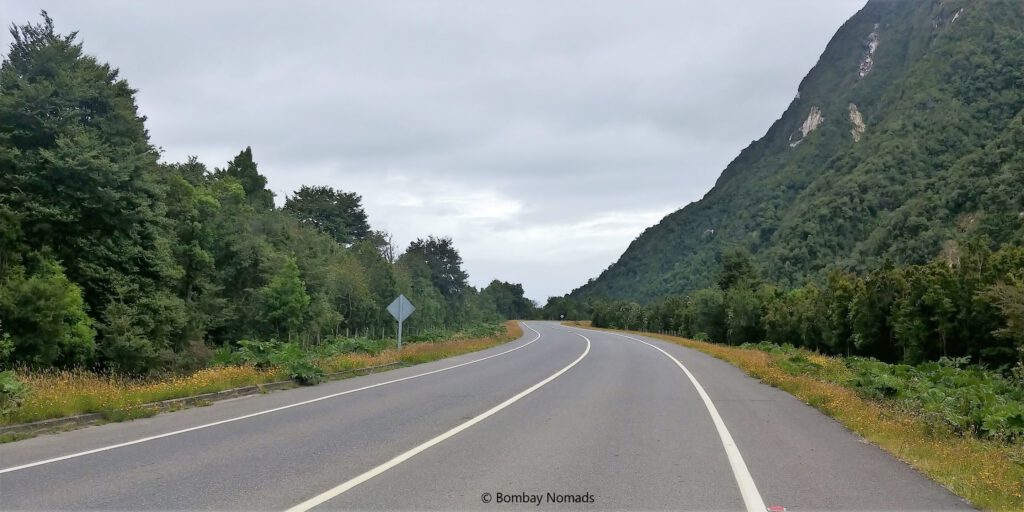 The next day, we had to take the first ferry of our Carretera Austral drive. From El Amarillo, Caleta Gonzalo was just 80 km away, but goes through the famous Parque Pumalin (Pumalin Park). If you stay overnight in one of the cabanas in Caleta Gonzalo instead of El Amarillo, then you can use this day for a hike inside Pumalin Park. There are only a few cabanas, and unfortunately for us, they were all booked out a few months before our trip.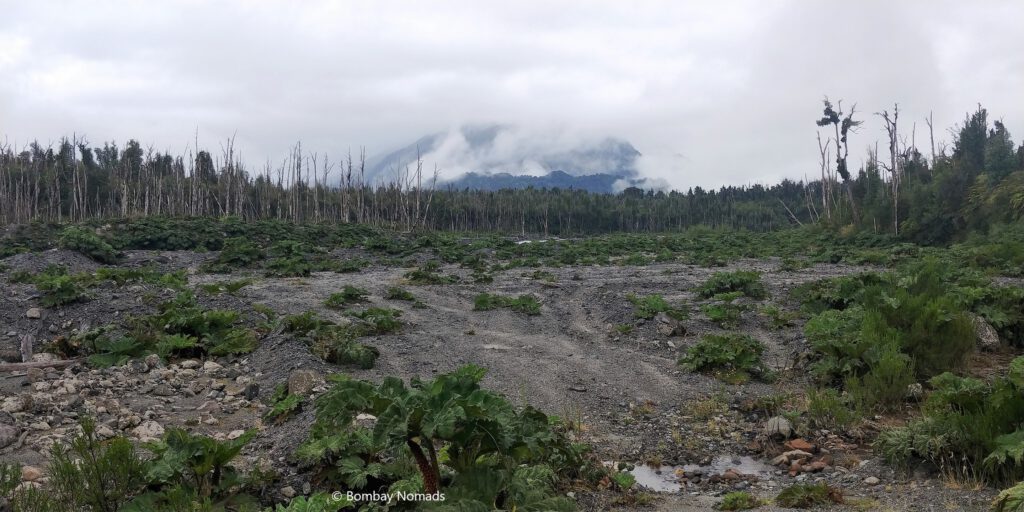 Pumalin Park is a temperate rainforest, which is a dense wet forest found in only a small region of Chile and Argentina. It has a bit of controversial origin story as a private nature reserve. The lands of the park were actually bought by Douglas Tompkins, an American businessman and founder of The North Face apparel company, who moved to live here full-time. He was a real outdoor and nature enthusiast and unfortunately, he met his end in a kayaking accident in Lago General Carrera a couple of years ago (the one that has the marble caves). The lands have been handed back to the Chilean government, but his trust still maintains the park.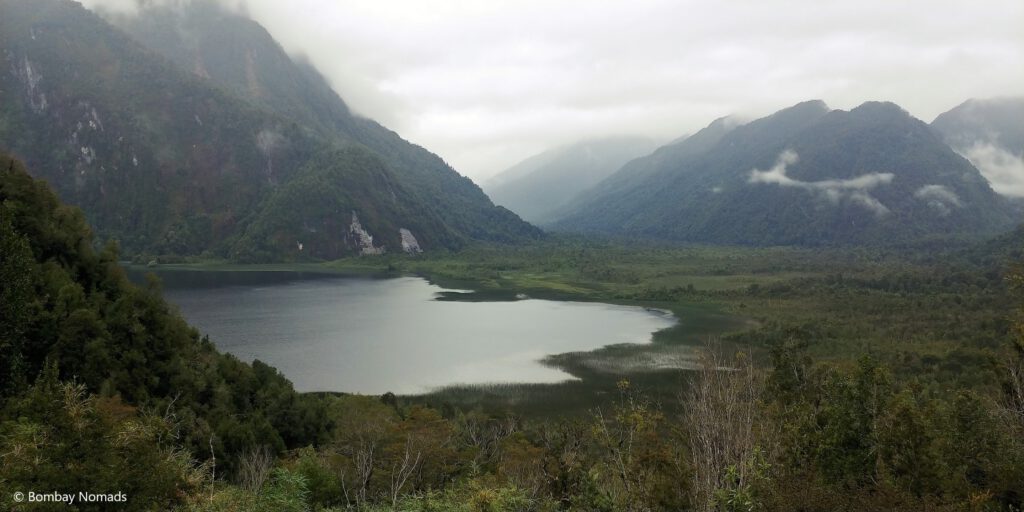 Driving inside Pumalin Park was a thoroughly unique experience. The first few km from inside the park had glorious roads – narrow straight blacktop through dense green jungle. But after a few km, where we were comfortably in excess of 120 kmph, the road abruptly turned into gravel. The switch from tarmac to gravel was a very scary moment as wheels lost all grip, but thankfully we lived to tell the tale. The gravel road made the forest look even more authentic – as if we were on a safari. We stopped at a few points to take photos and rued that we did not have more time to explore the park by hiking. Unlike other nature reserves, Pumalin Park has not built accommodation or dirt roads all around the park to make it easily accessible to non-hikers. The only way to really explore the park is hiking and camping.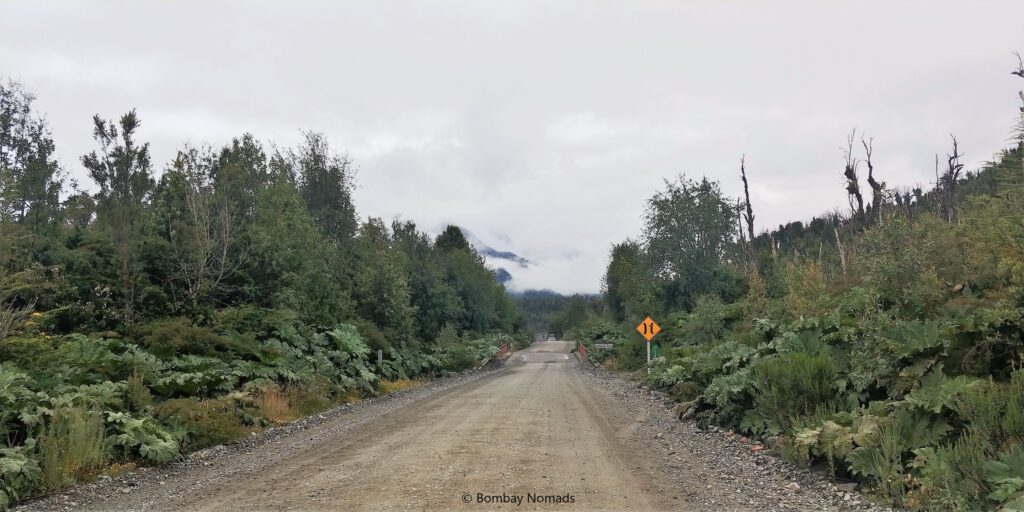 Caleta Gonzalo, at the center of the park, houses the park's very basic tourist infrastructure – a café, a visitor center, few cabañas with shared accommodation, and a ramp for loading vehicles onto the ferry. We were very early for our ferry ride at 15:00, and headed to the café for lunch. It was a really basic eatery and offered only one set meal option with soup, grilled chicken and dessert for a pricey CLP 16,000 per person. Thankfully, the food was surprisingly well-made.
Once the ferry came in, boarding was very smooth and we were one of the first onboard. We grabbed a few snacks and headed to the passenger lounge. The passenger area was huge, and could probably take 300-400 people together. There was a small refreshment stand in the centre and rows of seating all around. We had the pick of the seats and after much experimentation, chose seats near the front windows. Suchitra tried the coffee from the refreshment stand, pronounced it undrinkable and threw all of it.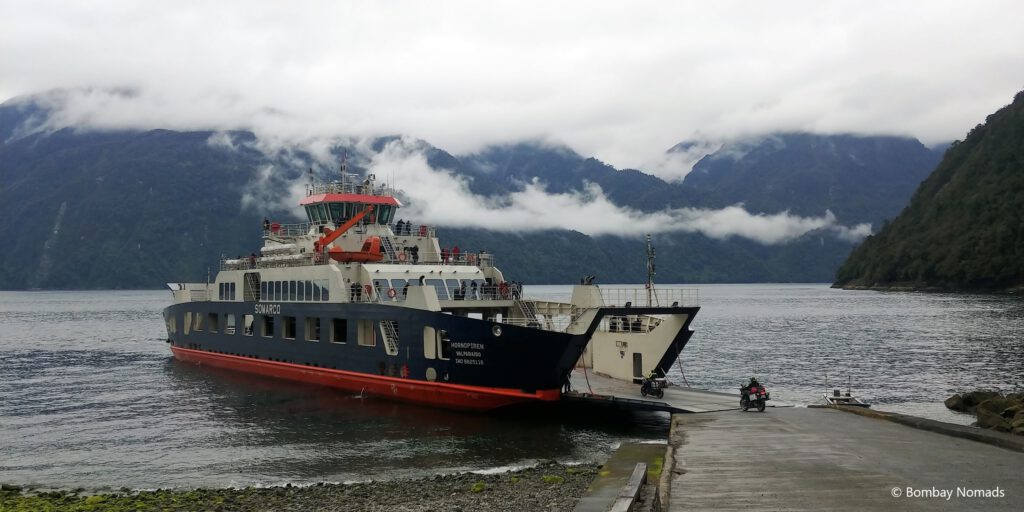 The ferry ride was long and boring (4.5 hours). After a nap or two, we reached Hornopiren. The town of Hornopiren was small but bustling. We saw many supermarkets and a busy plaza. We checked into our cozy cabin just outside the town, and again cooked a simple dinner for ourselves.
Tip: The ferry ride from Caleta Gonzalo to Hornopiren (or vice versa) can be reserved online and paid with credit card. But printed tickets are not accepted. The paper ticket has to be collected from the Transportes Austral (ferry operator) offices. We picked our tickets from their office in Chaiten, on our way from El Amarillo to Caleta Gonzalo.
Ending the roadtrip at Puerto Montt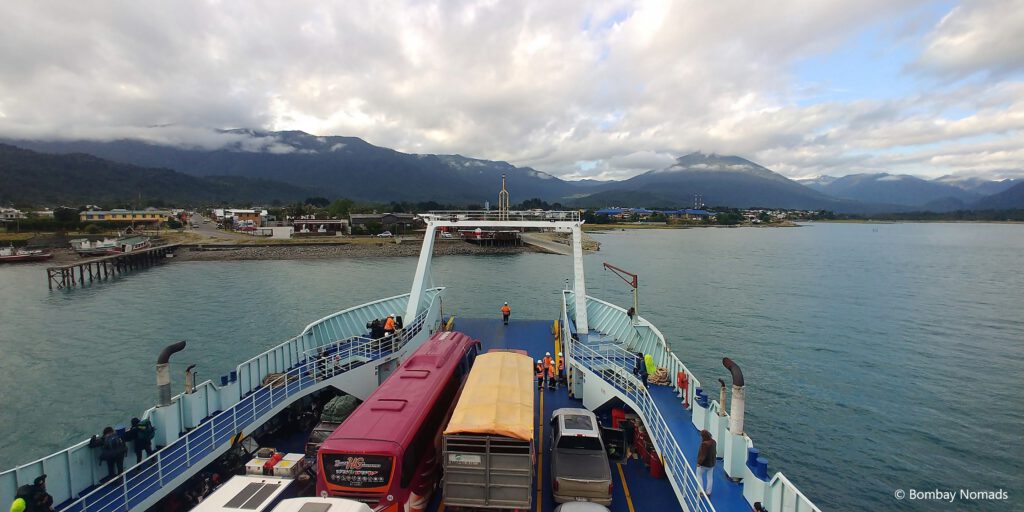 Our last day on the roadtrip, was spent driving to Puerto Montt from Hornopiren. The drive included a 30-min ferry between Caleta la Arena & Caleta Puelche. This ferry service runs multiple times in the day and does not need any advance booking. It was a fairly uneventful drive. In Puerto Montt, we returned our rental car (thankfully without any scratches or any other damage).
And so finished our unforgettable 6 weeks Patagonia. Next stop would be Santiago and then Atacama!
Planning your itinerary for Carretera Austral
You would need to budget at least 2 weeks to do any meaningful roadtrip on Carretera Austral. While the distances might not seem large, average speeds are around 40 kmph, so the going is slow. It can also be quite confusing to plan a detailed itinerary for Carretera Austral, since there is limited information available. The Northern part of the journey between Puerto Montt and Chaiten can be especially challenging, as there are ferries involved and there are multiple options for ferries depending on how much time you have and what you want to see.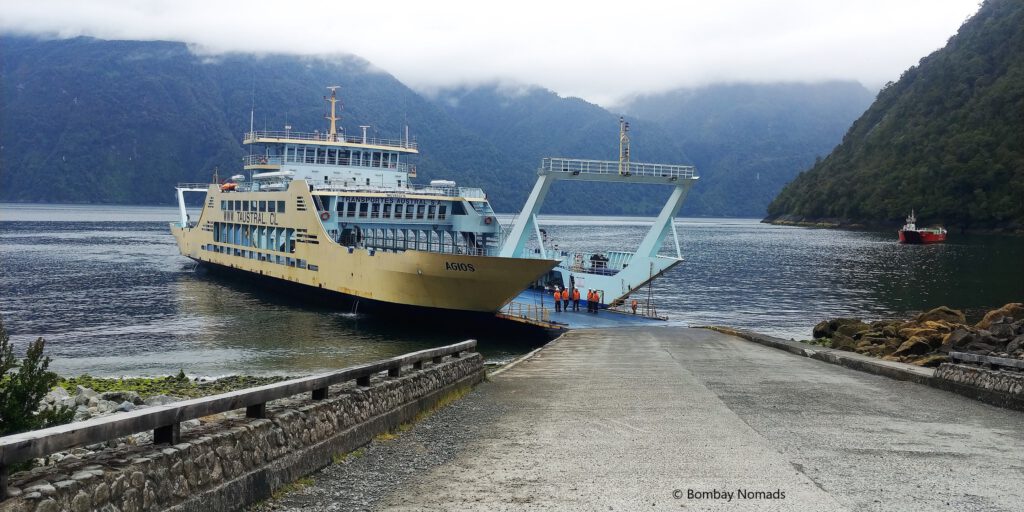 There are basically 3 options to travel between Puerto Montt and Chaiten.
Option 1: Drive from Puerto Montt to Caleta la Arena. Ferry between Caleta la Arena & Caleta Puelche. Then drive to Hornopiren. Ferry between Hornopiren to Caleta Gonzalo and then drive to Chaiten.

Between Hornopiren & Caleta Gonzalo: There is only one daily ferry each way – 9:00 departure from Hornopiren and 15:00 departure from Caleta Gonzalo. You have to buy the ticket in advance online or offline. If you buy it online, you have to collect the ticket at the tourist office. You can see itinerary and ticket prices at http://www.taustral.cl/ (use translate option).
Between Caleta la Arena & Caleta Puelche: During summer, the ferries ply almost throughout the day every 30-45 mins and advance booking is not needed. You can see itinerary and ticket prices at http://transportesdelestuario.cl/en/routes-and-schedule/

Option 2: 9 hour ferry ride from Puerto Montt to Chaiten directly on Naviera Austral. You would save time but miss out on seeing Pumalin Park. Also, sitting for 9 hours on a ferry sounds boring really. You can check the itinerary and ticket prices at http://www.navieraustral.cl/chaiten/
Option 3: Drive from Puerto Montt to Pargua. Ferry between Pargua & Chacao. Drive through Chiloe island to Quellon. Then ferry to Chaiten. This is a longer route and you would take this option if you want to spend some time on Chiloe island – which is even more remote than the rest of Patagonia.
We decided to go for option 1 since it allowed us the opportunity to drive through Pumalin Park. Allow yourself a flexible itinerary with enough buffer as weather in Patagonia can be unpredictable even in summer. While this is applicable for any trip to Patagonia, this is even more true for a road trip on Carretera Austral.
Renting a car
Puerto Montt is the largest city in this area and well-served by all major car rental companies. With the popularity of Carretera Austral, can rentals can be expensive and vehicles get booked out early. We reserved our rental 2.5 months before our trip. We used Econorent, a large Chilean rental company, and we were happy with their service. They replied to our emails (although with delays because of the time difference) and helped us with the documentation for crossing into Argentina. We did not have to make any payment at the time of the booking and we paid the rental directly at the counter when picking up the vehicle. Other car rental agencies in Puerto Montt include Budget, Eurocar and Chilean Rent A Car.
With large portions of Carretera Austral and Ruta 40 (Argentina) being dirt roads, we wanted higher ground clearance than a sedan – a small SUV or a crossover. Our research indicated 4WD wasn't required – and after finishing the trip, we can confirm that it is indeed the case. There is a significant extra cost of taking a 4WD vehicle. We paid USD 62.5 per day for a Hyundai Creta (all inclusive).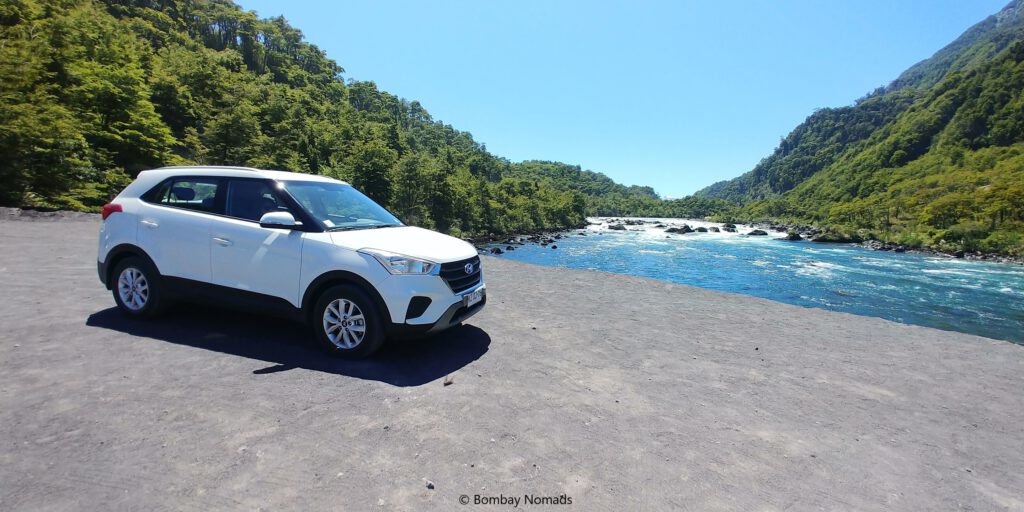 If you're crossing over into Argentina, you need additional documentation and insurance. The car rental agency does the paperwork for a fee, but they need a notice of 2-3 weeks minimum.
We would also recommend buying insurance for broken windshields with your rental agency. In gravel roads, a flying pebble can easily crack windshields – it happened to us while driving in Salta-Jujuy in Argentina.
Other useful information
Navigation: Maps.me was better than Google maps for navigation (true for most of our South America trip). It is recommended to download the maps of the region on Maps.me, since mobile network can be patchy.
Accommodation: Apart from a few exceptions, don't expect fancy hotels along Carretera Austral. We mostly booked cabins and private rooms via Airbnb and booking.com. Average cost in Jan 2019 was USD 60 per night. None of them were great enough to recommend highly, nor were they particularly bad.
Hiking options: There is no end to the number of hikes one can do in Patagonia. We did not do any hikes on the roadtrip, due to lack of time and also because we had already done several hikes in other parts of Patagonia. Some of the more popular hiking options along Carretera Austral include:

Hike inside Queulat national park to see Ventisquero Colgante (aka Hanging glacier)
Hike to Cerro Castillo in Cerro Castillo national park
Hikes inside Pumalin Park

Tank up on fuel every chance you get. Make note of when the next fuel station will be and plan accordingly. Also, ensure you have enough cash as quite a few places do not accept cards.

Location of gas stations: Hornopirén, Chaitén, Futaleufú, La Junta, Puyuhuapi, Puerto Cisnes, Mañihuales, Puerto Aysén, Puerto Chacabuco, Coyhaique, Puerto Río Tranquilo, Chile Chico, Cochrane, Villa O'Higgins
Location of ATMs: Chaitén, Futaleufú, Coyhaique, Chile Chico, Cochrane

The Cuevas de Marmol (marble caves) are arguably the most popular site along the Carretera Austral. If you want to visit them without doing the entire roadtrip, you need to take a flight from Santiago to Balmaceda and drive another 190km (4.5 hours) one-way to reach Puerto Rio Tranquilo. There are several tour operators who do a day trip from Balmaceda to the marble caves.
River rafting at Futaleufu can also be done by crossing over from Argentina, if you're spending time in Esquel. It's a 75km (2 hour) drive and can be done as a day trip, assuming you have visas. However, be aware of what time the Chile-Argentina border closes in the evening.