This is the second part of our epic 16-day road trip in Northern & Central Patagonia, across Chile and Argentina. For the rest of the roadtrip, see Lake District and Carretera Austral.
Argentina's famous Ruta 40 (or just La Cuarenta) is one of the longest highways of the world and an internationally renowned classic road trip. Stretching for 5,224 km, from the Bolivian border in the north to the Magellan Straits in the south, this legendary road runs down the length of the country, alongside the Andes mountains. It is paved for the most part, but few sections are a rugged mix of dirt and gravel, especially in Patagonia.
We started our journey from the town of El Bolson, near San Carlos de Bariloche, and drove on this fabled route for about 1,150 km, before crossing into Chile via the Jeinimeni Pass. We travelled through the vast emptiness of Chubut and Santa Cruz provinces, where the wide-open Patagonian steppes are devoid of any human habitation, animals or even trees. There are a few small dusty towns along the way, and we would usually pass only a handful of vehicles in the entire day.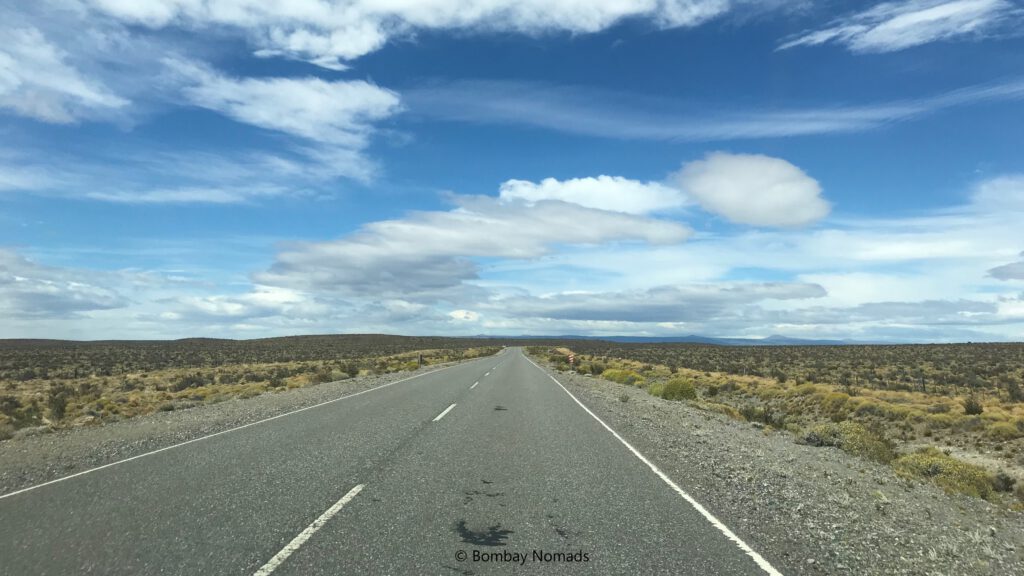 While this starkly beautiful landscape seems monotonous after a while, we had two very special places in our itinerary on the Ruta 40 – the petrified forest (Bosque Petrificado Jose Ormachea) near Sarmiento, and Cuevas de las Manos (Cave of Hands), an outstanding Neolithic rock art site.
Petrified Forest at Sarimento
With just a couple of petrol pumps on the 600 km route from El Bolson to Sarmiento, we ensured we started with a full fuel tank. The Ruta 40 out of El Bolson is paved and is in terrific condition. With traffic all but disappearing within an hour of starting our journey, we managed some terrific speeds on this stretch. The landscape changed from alpine forests to shrubs, and then to scrub & grassland. Soon signs of human habitation had all but receded. With no distractions on the road, we reached the town of Tecka*, a distance of 240 km, in under 3 hours.
* Esquel is a largish town about 160 km from El Bolson, but since our tank was still 2/3 full, we didn't stop there
Tecka is a small dusty town, with the Ruta 40 running through its centre. We did not bother exploring the town or looking for restaurants, as Pradosh was thrilled with the hard driving and wanted to get back on the road as soon as possible. We tanked up our car and had sandwiches at the convenience store next to the petrol pump. And soon, we were back on Ruta 40, whipping past the landscape at 150 kmph.
Sometime after Tecka, the tarmac road degenerates into broken gravel and dirt road. The road is still a driver's delight, and driving fast on it felt like rallying, with loose gravel scrunching under our wheels, and tyres sliding a bit when we entered into corners. It reminded us of driving in Salta-Jujuy, but the landscape here was flatter compared to the hills in Salta.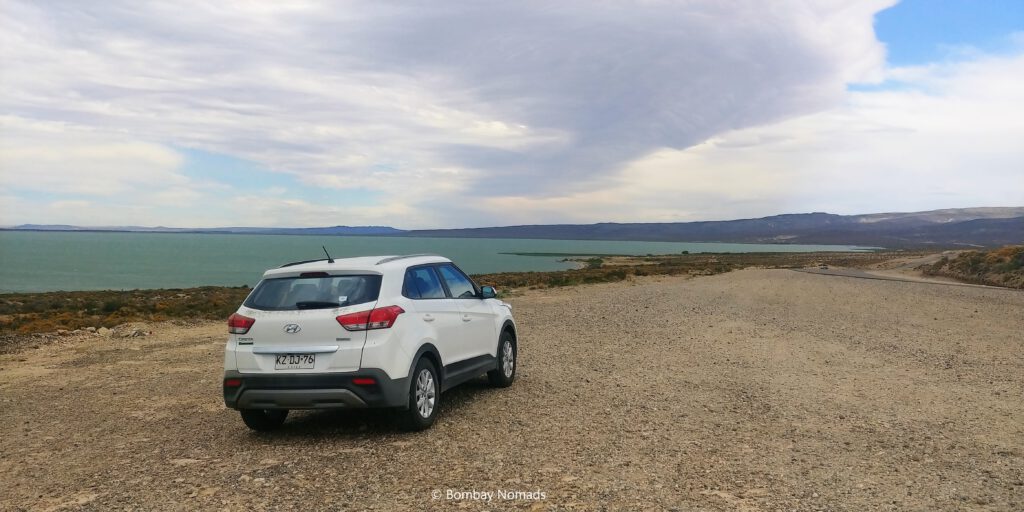 Around 14:30, we turned off from Ruta 40, onto Ruta 26 towards the town of Sarmiento. After a whole day of looking at dry scrubland, the green waters of Lago Musters were a welcome sight. When we stopped by the lakeside, the sky had become overcast, and wind was whipping around our clothes. After a few hurried photos, we jumped back into the comfort of our car and headed onwards. It took us less than 6 hours to cover the 590 km to Sarmiento, and that included the 45-minute stop in Tecka!
Sarmiento is a small town with a population of just 8,000 people, situated between Lago Musters and Lago Colhué Huapi. On a Sunday afternoon, looked like half the town was having a picnic on the banks of Rio Senguer, just on the outskirts of the town – we saw whole families lugging picnic chairs and baskets. The town itself seemed devoid of any people or activity. We checked into our hotel – El Molle Boutique Hotel – and then headed out to check the famous petrified forest nearby.
Bosque Petrificado Jose Ormachea, the official name for the park, is about 30 km away from Sarmiento. The road to the petrified forest is fully gravel, but not too tough to drive. There is a small visitors hut at the entrance, with a clearly marked trail showing the 11 most noteworthy locations. There was a small entrance fee, but we don't remember the exact amount. And as far as we could see, there weren't any guided tours. At 17:00, there were just a few tourists at the park. It is in the middle of nowhere after all.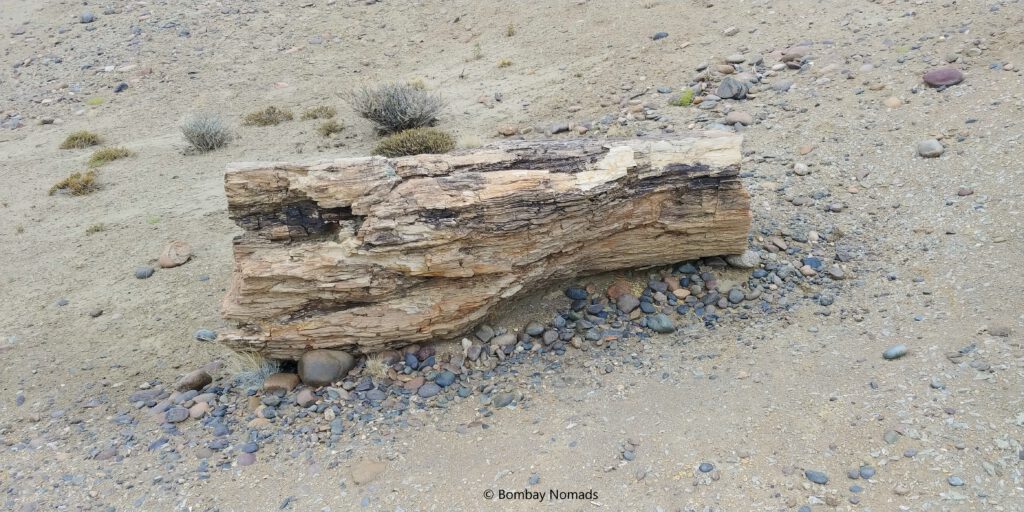 A few steps into the trail, and we saw our first petrified tree trunk. It was maybe 3 feet long, surrounded by a rough circle of stones. Without the stone circles, we would just have ignored it as a regular log of wood and just sauntered past it – so identical it looked to the real thing! We had to knock it with our knuckles to convince ourselves that it was stone, and not wood.
* Apparently, if living matter is abruptly buried in volcanic ash, the tissues do not get a chance to decompose. Over millions of years, minerals dissolved in water would replace the cellulose via osmosis, and the log of wood would slowly turn into a perfect replica in stone.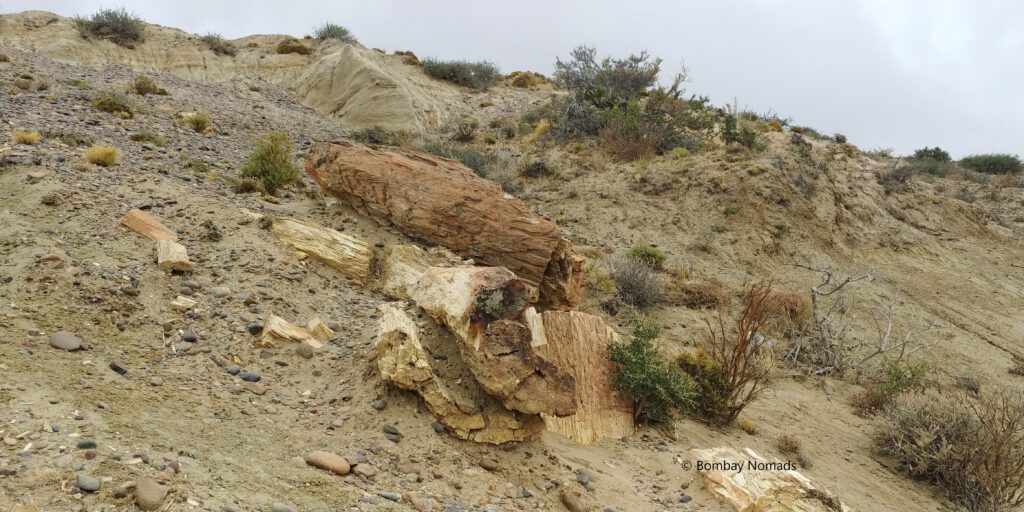 The Sarmiento forest is dated to be 90 million years old, formed as a result of volcanic activity. The landscape is now desolate and arid, with the yellow clay making the landscape look more lunar than earthen. But 90 million years ago, this area was a lush forest full of conifers, palms and ferns and inhabited by dinosaurs, crocodiles and many other creatures.
As we walked around the marked trail, we saw more such petrified logs of woods (stone) strewn around. They seem to tumbling out of the earth, after rainwater had washed away the clay. Some logs have tumbled down to gullies formed by running rainwater. Some are perched precariously on the edge, where a little soil erosion is likely to send them tumbling down. The ground is littered with wood shavings, the kind you normally see at a carpenter's shop. Except, if you picked it up, it is heavy and made of stone. In one of nature's quirks, we saw one petrified log enclosed inside another stone, like a natural coffin formed by sedimentary sandstone.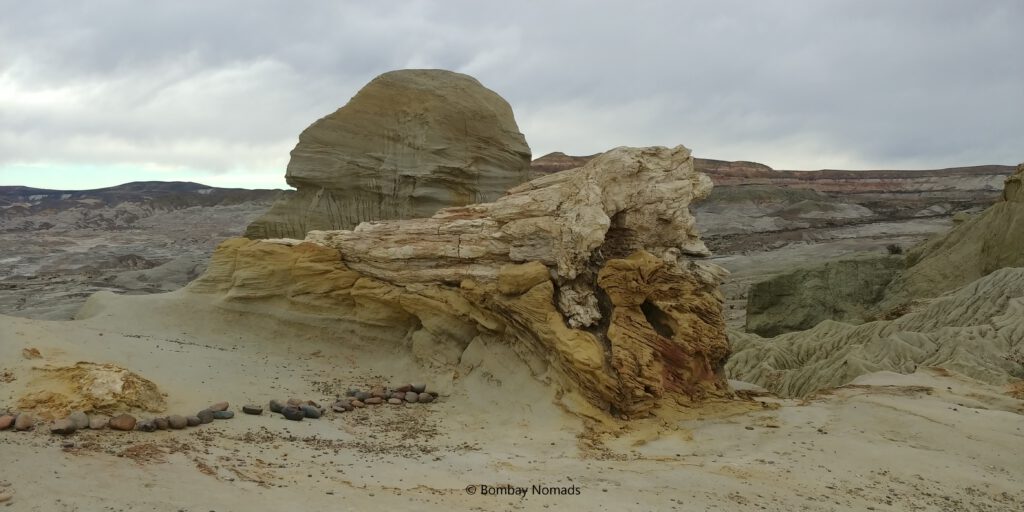 For someone who hasn't seen fossils outside of a museum, this place is phenomenal. To see 90-million-year-old fossils spread out everywhere over the ground gave us an amazing thrill. Midway during out visit, Pradosh started to get into 'Indiana Jones' mode and started searching for more fossils. And lo and behold, he found a rock with a paw print on it! We have no clue what animal it was, or even whether it is a true fossil or just dried piece of mud, but it just made his day! Sadly, Suchitra knocked some sense into him and made him leave it on the ground where he found it.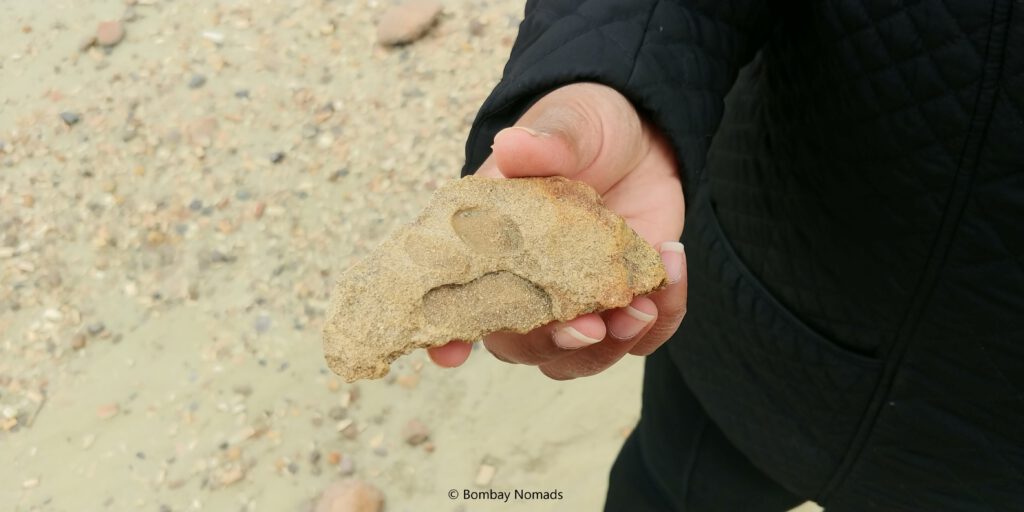 The tourist trail at the park wasn't very long and we were done in an hour. Back in Sarmiento, we were worried about dinner because we knew Argentine towns tended to be shuttered on Sundays and with such a small town, we had very low expectations of anything different. When we found a hotdog stand in the town plaza, our dinner was decided. It helped that the vendor lady had a special homemade spicy sauce with her.
Tip: There are two petrol pumps in Sarmiento on the main road – a YPF and a Petrobras. Seeing a big queue at YPF, we went to the Petrobras one and filled fuel there. The car ran very funny the next day, with major power loss. We suspect the petrol was inferior or adulterated, so maybe avoid the Petrobras outlet and stick to YPF.
Cuevas de las Manos (Cave of Hands)
Cueva de las Manos (Cave of Hands) is a UNESCO World Heritage site, discovered only in 1972, in a remote corner of Patagonia. It is filled with stencilled hand paintings done by local indigenous people from 9,000-13,000 years ago. Given that human habitation in the whole American continent only started 15,000 years ago, it is incredible to think ancient humans crossed the whole American continent – from Alaska to Patagonia – in about 2,000 years. The dry weather in this region of Patagonia, along with this isolated location, contributed to the remarkable preservation of these paintings.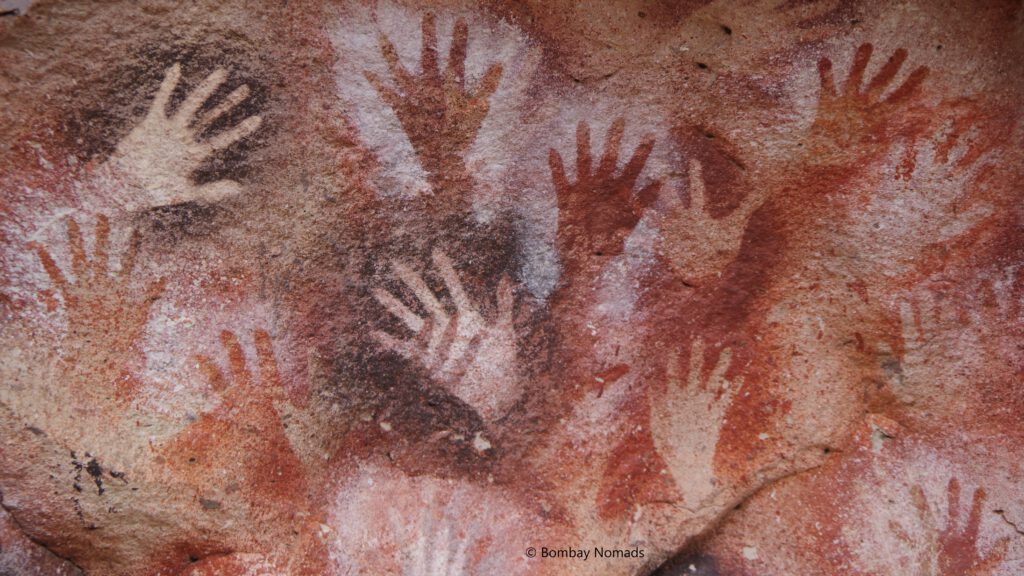 The closest town to Cuevas de las Manos is Perito Moreno (not to be confused with the famous glacier of the same name, which is much further south). The weather continued to favour us and it was a bright sunny day. The landscape was flat and dry and the roads arrow-straight for the most part. But we were plagued by an underperforming vehicle, which would just not climb to high speeds, however hard we were on the accelerator. We suspect it was from less-than-stellar fuel from the Petrobras petrol pump in Sarmiento, because we never had any problem before or after this day.
We even topped up the tank at the first petrol pump we came across (in town of Rio Mayo), in the hope of making the problem go away. With the slightly crippled car, we managed the 250 km drive to town of Perito Moreno in 3 hours. It was a curious town, where almost all the restaurants seemed to only open for dinner. We were lucky to find the restaurant at Hotel Austral open for lunch. The food was nothing to write home about – the pizza we ordered was drowning in too much cheese (which was the case for most pizzas we had in Argentina)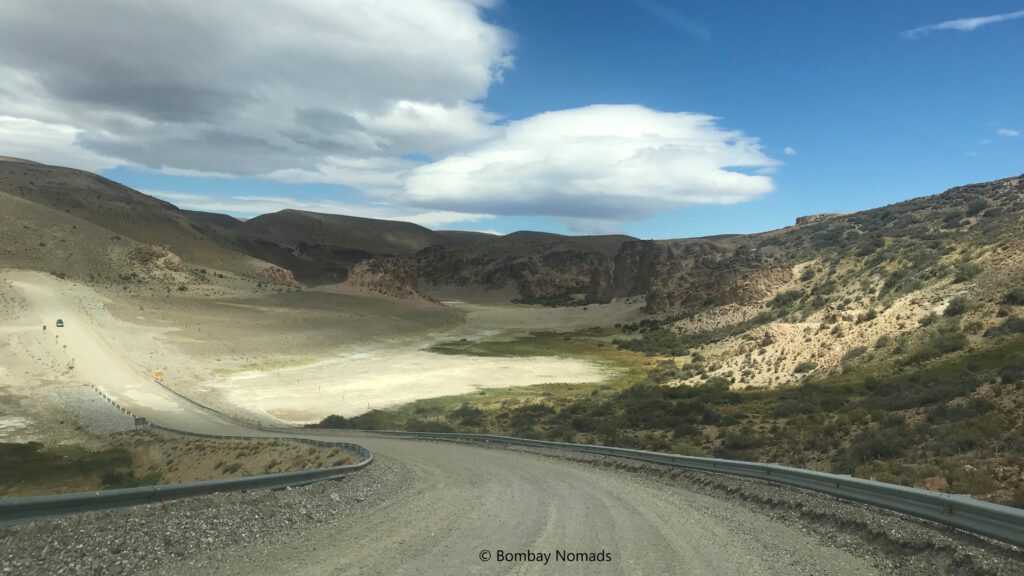 From Perito Moreno town, the caves are another 120 km away, with the last 30 km on fully gravel roads. These last 30 km are quite challenging, as the gravel is very loose (prone to sliding) and the landscape is undulating. It makes going down slopes really risky, as the brakes don't work really well in that scenario. And the uphill slopes were also a struggle, as the tyres would struggle for traction and sometimes vehicles would just slide backwards instead – scaring the cars behind. Momentum was our best friend here. All in all, the last few kms are somewhat of a test for the driver.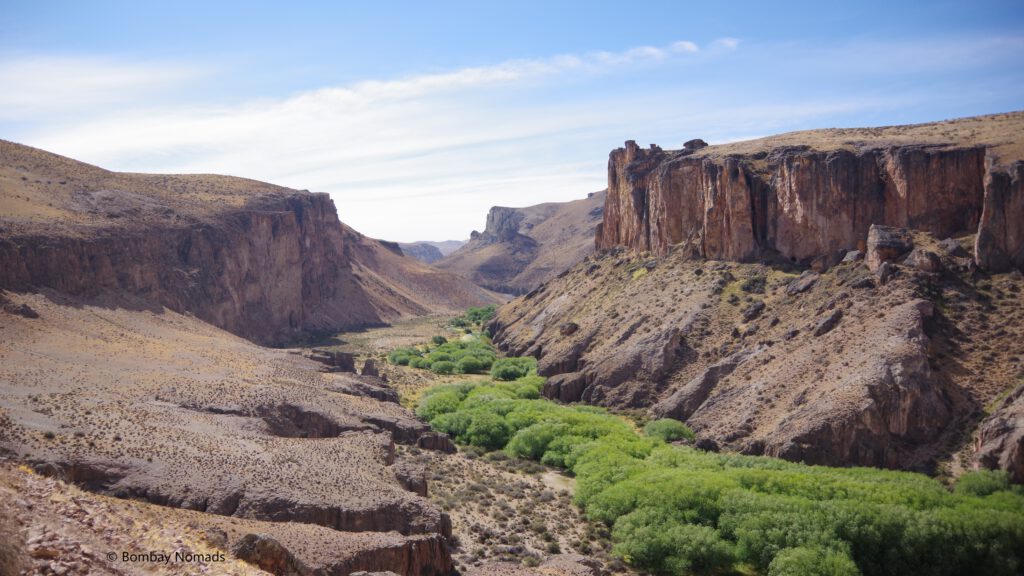 The visitor centre at Cueva de Las Manos is rather small. There is parking only for about a dozen vehicles. It is perched midway in the Rio Pinturas valley, and also contains a small guest house next to the visitor centre. The only way to view the caves is via guided tours and there are tours every hour. We tried to make it in time for the 15:00 tour and managed to reach by 14:50, but unfortunately the tour was already full and we had to wait for the next one at 16:00. Each tour takes 20 people and the charge for the guide is included in the 200 peso ticket price.
We were the only English speakers on our tour and our guide would explain everything first in Spanish and then repeat it in English for us. Using flash while photographing the paintings is strictly forbidden. From the visitor centre, the caves are about 500m away, on a narrow path along the deep canyon of Rio Pinturas river. The path is well marked and has a strong wooden railing alongside.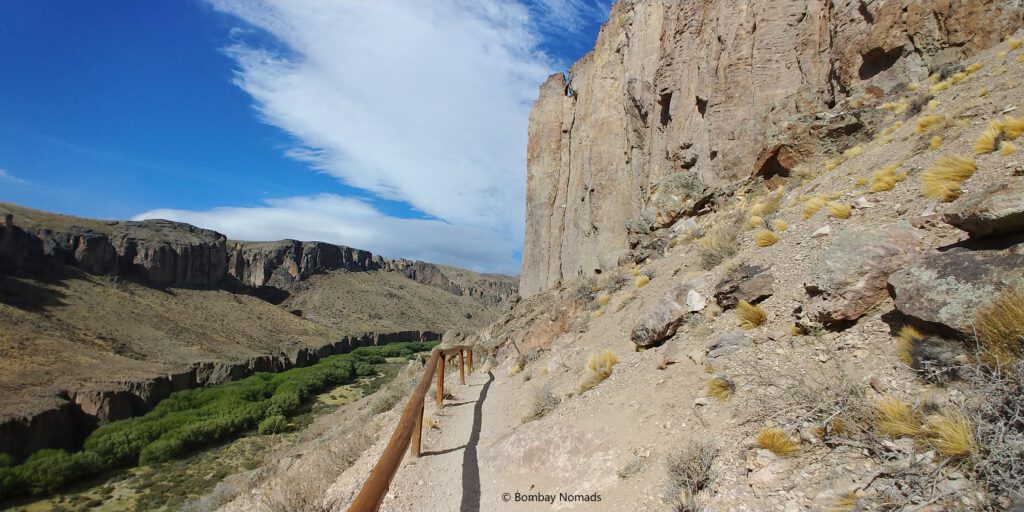 Tip: Comfortable walking shoes or sneakers are highly recommended, as the path is rocky in places and it goes up & down a bit. A visitor in our tour who was in platform heels struggled quite a bit.
The caves are not real caves, but more rocky overhangs. The paintings are protected by 6 feet high metal fences now. The fence is necessary, to stop the inevitable defacing that humans feel compelled to do at historical sites. The fences were put up only in early 2000s, after some graffiti had been painted (some names and even some mock hand paintings – people are idiots!).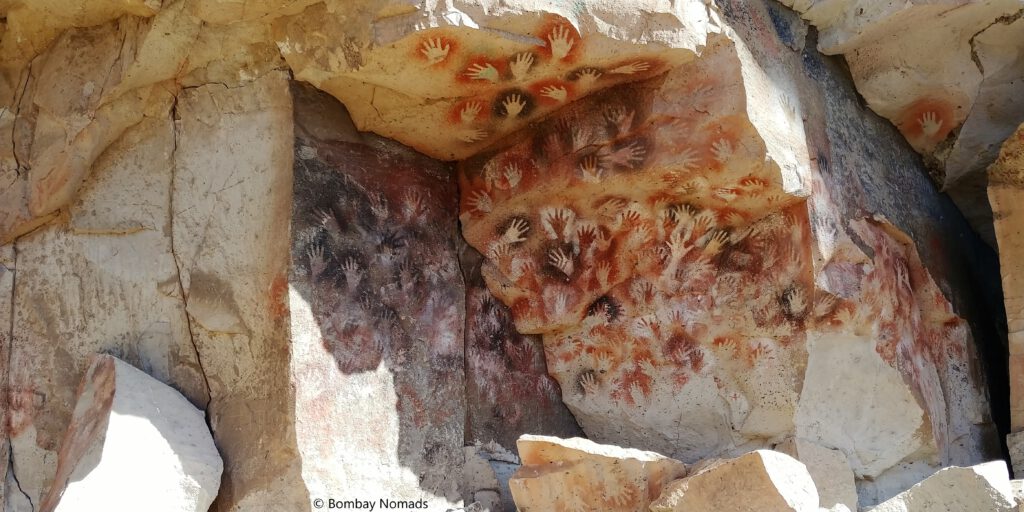 The cave art is spread out for about 300-400m along the canyon walls, but the greatest concentration of paintings is in a famous cave in the middle. This large hollow seems to be covered in hand prints everywhere, some painted over each other. The hands are painted in bright colours – red, orange, maroon and black. And they are impossibly vibrant for paintings done thousands of years ago! There are few paintings of guanacos (wild cousins of llamas) too, including pregnant ones. The guanacos were the sole source of food and sustenance for these hunter-gatherers.
According to our guide, there are close to 2,000 imprints of hands here, and all of them are stencils or negatives, instead of solidly painted hands. It is assumed that a hand is kept on the wall and paint sprayed around it through a bone tube. Also, most of the hands painted are left hands, suggesting that majority of the painters were right-handed. Apart from guanacos, there are some other animals depicted – lizards, pumas and frogs – in the last cave. But they are assumed to be of a later date. There is also a Mirador (viewpoint) at the end of the trail, but it isn't much and can be missed.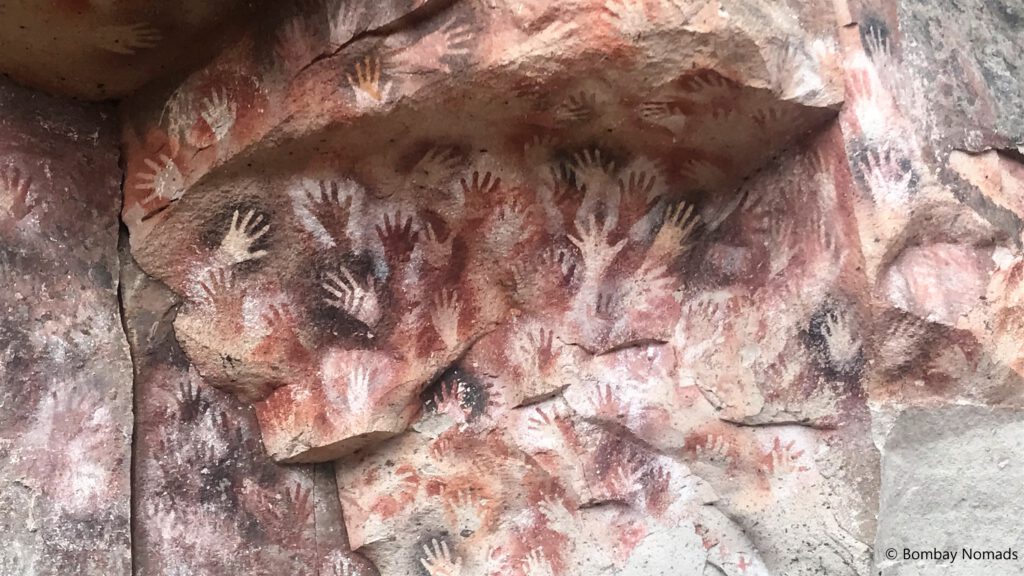 Cuevas de las Manos is an exceptional prehistoric rock art site, where 9,000 year-old art can be seen, in such vivid colours, as the day the original artist painted them. We felt thankful that we got an opportunity to see these remnants of the past with our own eyes, while they are still intact.
This was the end of our Ruta 40 leg and from here, we headed west towards Chile. It was too late to cross the border that night, so we stayed in a cabana in Estancia La Serena, on the shores of Lago General Carrera (called Lago Buenos Aires in Argentina). The stay was very rustic, with electricity for just 4 hours in the evening, but it was warm and it was close to the Jeinimeni border crossing.
Other Useful information
Renting a car: Bariloche is probably the best place to rent a car in Argentina for a roadtrip on this portion of Ruta 40. Since were on a longer roadtrip, we had rented in Puerto Montt in Chile. A 4×4 vehicle is not necessary but a high-clearance vehicle is a must – we had a Hyundai Creta. It's also better to take insurance for the window panes as a big part of the journey will be on gravel roads, where flying stone chips can break windshields.
Navigation: Maps.me was miles better than Google maps for navigation (true for most of our South America trip). It's highly recommended to download the maps of the region on Maps.me since mobile network can be patchy.
Accommodation: There are woefully few staying options on this portion of Ruta 40. So don't be choosy and go with whatever is available on booking.com or other aggregators. The same goes for eating options as well. All our stays were functional, but nothing special.
Fuel. Tank up on fuel every chance you get, as not only are petrol pumps far apart, but not every petrol pump is functional. Locals would have more up-to-date information about the next fuel station, so ask and plan accordingly.
Money. Credit card acceptance is not universal (true for most of Argentina outside the capital), so ensure you have enough cash with you. ATM charges on foreign cards can be as high as 11-14%.