After almost two full months of tramping around Argentine and Chilean countryside, including 6 weeks in Patagonia, we pulled into Chile's capital Santiago. It is a proper metropolis – with a population of about 7 million, a functioning subway, international food options and an overall great vibe. For two Indians desperately looking for tasty (spicy) food, Santiago was heaven. We spent a large chunk of our stay in the city, just chilling in our Airbnb apartment, before starting out for northern Chile and the Atacama. So this is going to be a description of our leisurely explorations of the city, rather than an exhaustive 4 day guide to Santiago.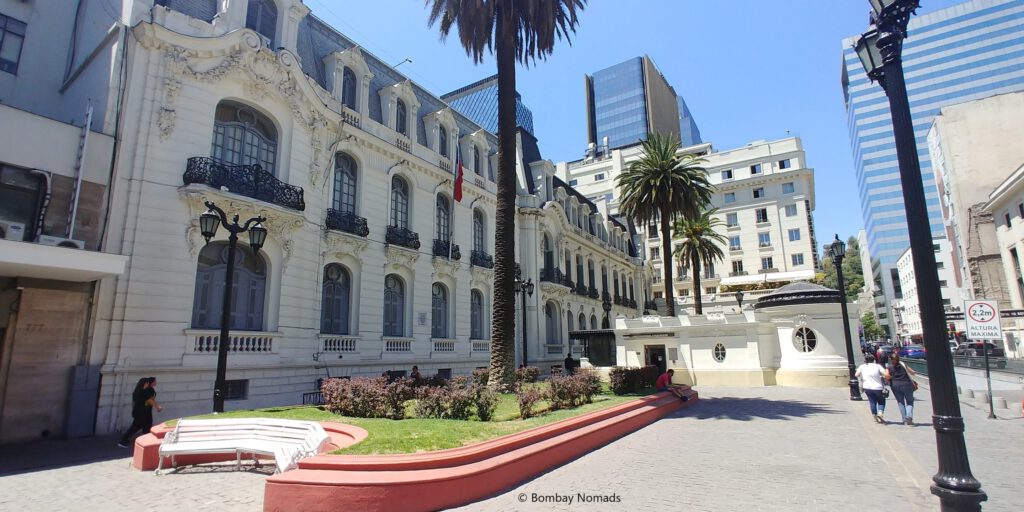 Stay
Our Airbnb was a small 1-bedroom apartment on the 24th floor of an apartment block in Recoleta district, right on the Costanera Norte freeway – overlooking the Mapocho River and Parque Forestal. Our apartment block was very centrally located, within walking distance of Plaza de Armas, Cerro Santa Lucia, Cerro San Cristobal and the Museo Chileno de Arte Precolombino (Chilean Museum of Pre-Columbian Art – the best museum in Santiago). The apartment also had a swimming pool – which we never managed to go to – but looked great from the balcony.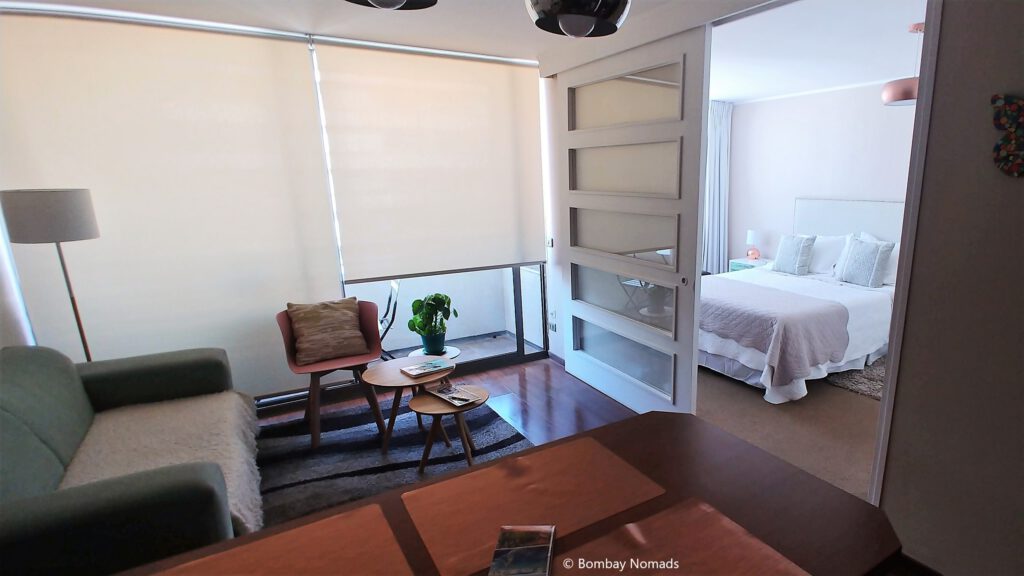 Airport taxi from Santiago airport was a touch expensive – costing 21,000 CLP or USD 32. We were mentally exhausted from our long Carretera Austral adventure, and just wanted to get to our apartment ASAP. So, we did not look around for cheaper public transport alternatives. Also, coming from the pleasant low 20°C in Patagonia, the 33°C weather in Santiago felt like a furnace, increasing our desire to be indoors.
Our first impression of Santiago was pretty good – the roads seemed nice & wide and population density was similar to Buenos Aires. One of the first things we did in Santiago was to find a lavanderia (laundry) nearby – and we found one little less than a km away from our apartment. It took us through our first walk through the Parque Forestal. This is a nice park where locals love to sit/snooze to escape the afternoon heat – and we walked through this park several times during our stay in Santiago.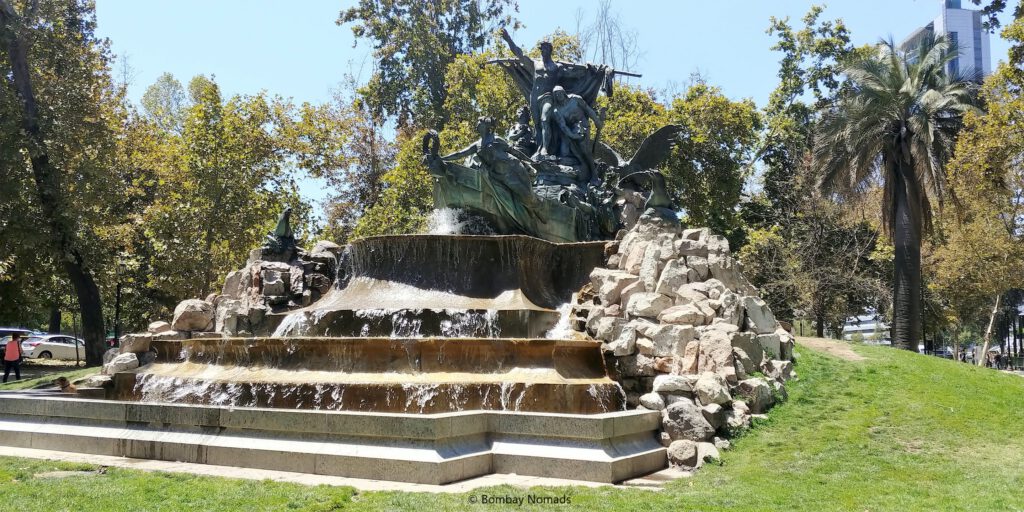 Museo Chileno de Arte Precolombino
The Chilean Museum of Pre-Columbian* Art was one of the best museums we have seen so far – and is acknowledged to be one of the best museums in South America. It is not especially large, but it has a terrific collection of South American indigenous art, displayed in an elegant and uncluttered way. What is striking about the museum is the exquisite aesthetics of the collection. At least for half the objects on display, we found ourselves asking, how did they make something THAT stunning, with primitive tools 1000-2000 years ago?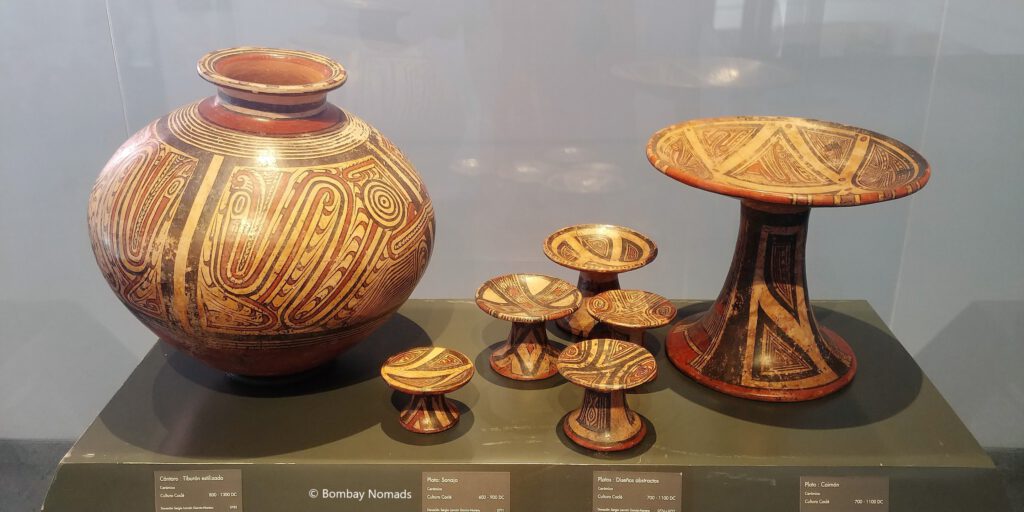 *Call it our ignorance, but it was only during this trip that we learnt that pre-Columbian meant the time before the arrival of Columbus (Europeans) to America.
The museum is situated close to the Plaza de Armas, and opens at 10:00 every morning. Ticket prices cost 7,000 CLP for foreigners (credit cards accepted).
The museum is housed in a colonial era mansion, and houses two permanent exhibits in the basement and upper floor. The ground floor houses an open courtyard and special exhibits. The basement exhibit is titled "Chile ante Chile" (Chile before Chile) and exhibits artifacts from Chile's prehistory – including two ancient Chinchorro mummies from 5000 years ago. The upper floor has a series of galleries from different cultures and regions of the whole American continent. But the most stunning works of art are kept in the 'masterpieces' gallery in the upper floor, where each artifact is breath-taking.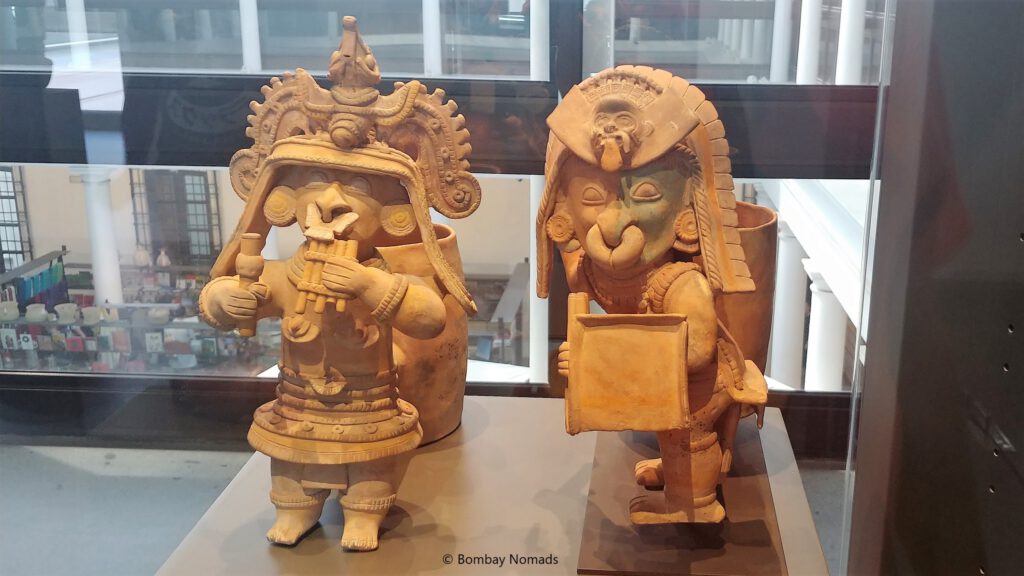 Plaza de Armas
The central or historic square of Santiago is a European style town square. It is filled with trees and surrounded by beautiful buildings, including the Metropolitan Cathedral. When we visited Plaza de Armas around noon, every bench and seating area under the shade of trees was occupied by locals and tourists – mostly busy eating lunch.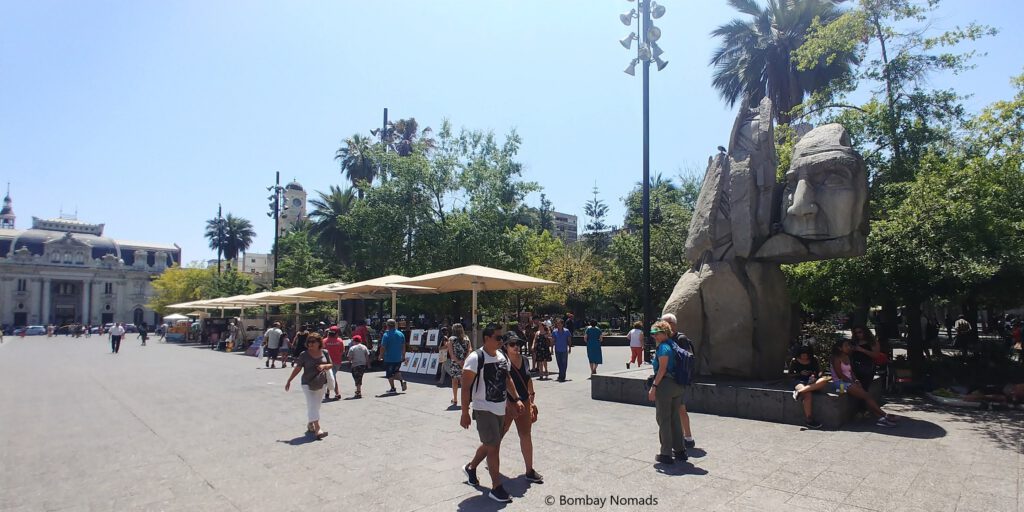 The strong noon sun led us to discovering the quintessential Chilean summer cooler called Mote con huesillo (roughly translated as 'husked wheat with dried peaches'). It is a sugary drink, with cooked wheat and peaches, and sold by street vendors on every corner of Plaza de Armas. The soft chewy wheat settles at the bottom and is eaten with a spoon. It is a served cold and is very refreshing. The drink is so Chilean that there's even a local saying that goes "más chileno que el mote con huesillo," or "more Chilean than mote con huesillos".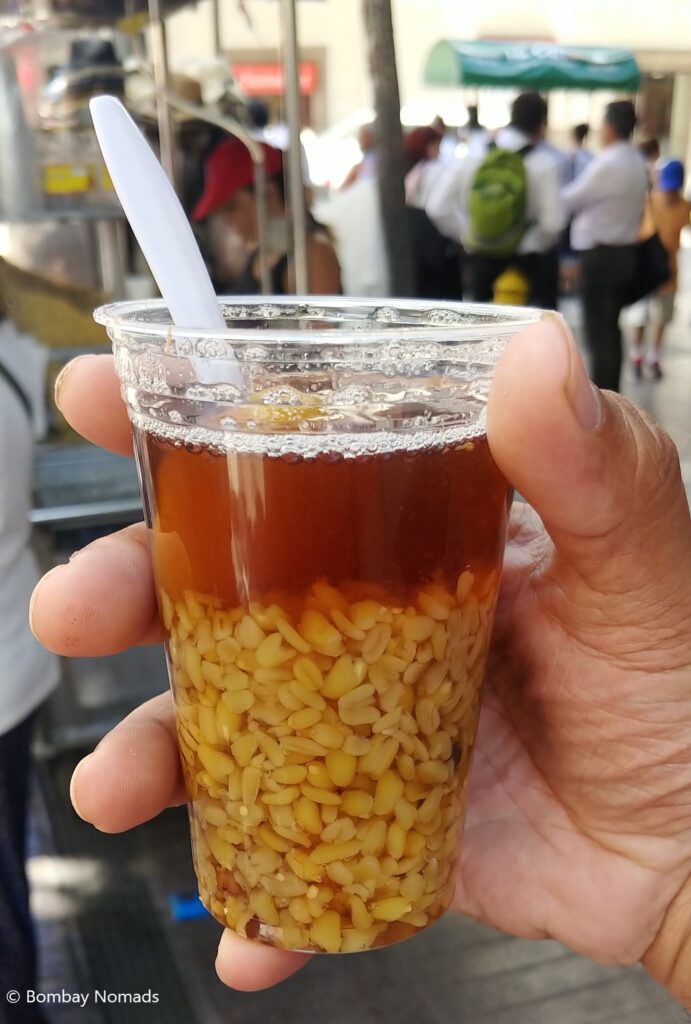 Cerro Santa Lucia
One of the famous landmarks of Santiago is Santa Lucia hill, and is within walking distance from Plaza de Armas and the Pre-Columbian museum. It is a small hill (long extinct volcano actually) rising amidst a mostly flat terrain of Santiago, with fountains, parks and a Japanese garden. There is also a small fort atop the hill, which we did not climb because of the heat.
But worth checking out is the Fuente Neptuno (Neptune fountain) in the southern part of Santa Lucia. An elegant two-story structure reminiscent of Italian architecture, and it has a statue of Neptune atop the fountain.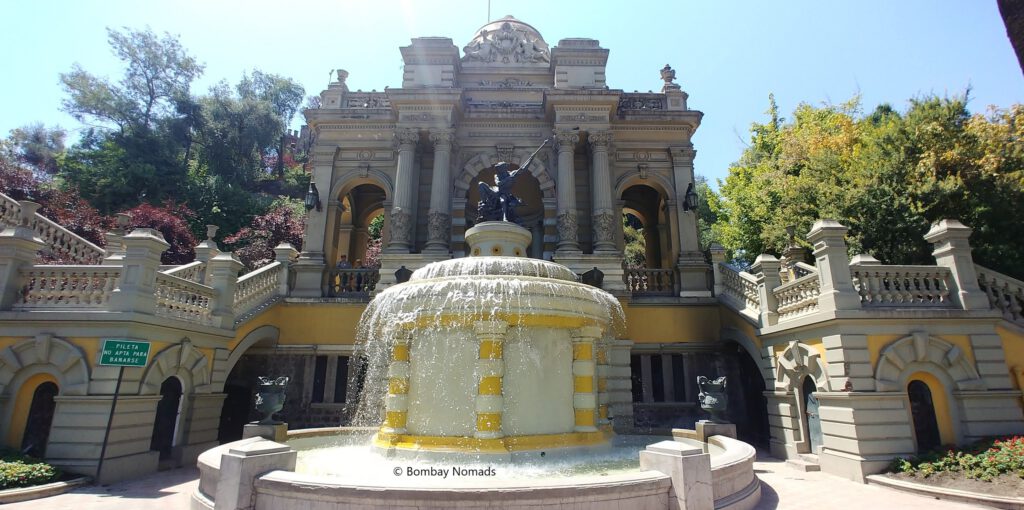 Maipo Valley (Vineyards)
Chile is one of the biggest wine producers in the world and one of the major wine-making regions of Chile is Maipo Valley, just outside Santiago. We had been sampling terrific local wines with most of our meals in Chile and visiting a vineyard was a must-do.
There are a number of vineyards in Maipo Valley and quite a few of them offer tours for visitors. Maipo Valley can be easily accessed through the metro (subway) if someone wants to visit on their own. There are more organized bus tours for larger groups too, from Santiago. Picking the vineyard to visit was easy. Concha y Toro is the biggest wine producer in whole of South America, and they have their base in Maipo valley. They offer regular wine-tasting tours in Spanish & English at their vineyard in Puente Alto, and the tours can be booked online. This last detail was the clincher for lazy tourists like us. They also have a shuttle bus from Las Mercedes subway station to the vineyard every 30 min.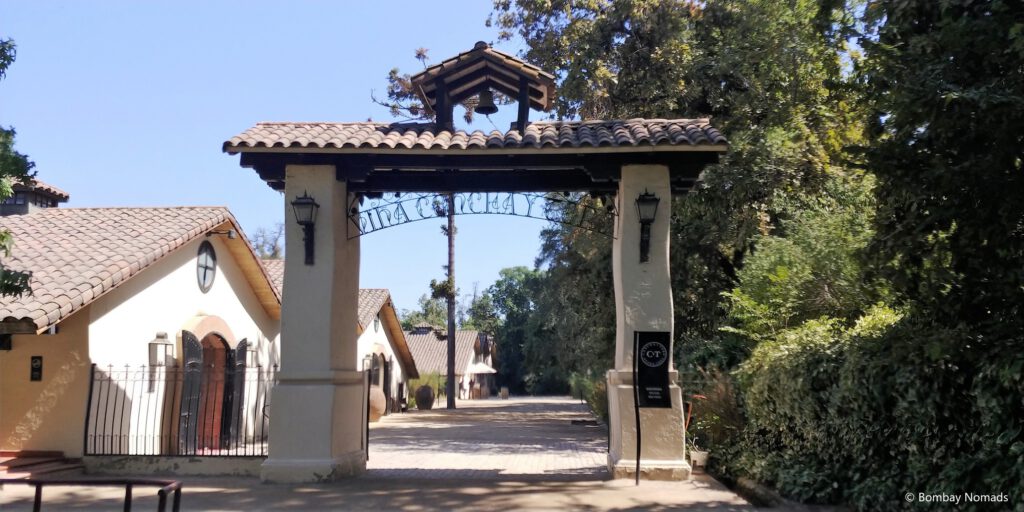 We chose the 11:50 tour in English, to ensure we had an unhurried day. The Bella Artiz metro station was closest to our home and we managed to buy tickets with the help of helpful bystander, who translated for us. Each ride costs a flat amount, irrespective of number of stations or number of metro lines, although a Tarjeta bip (bip card) is needed. We had to take the L5 subway till Vicente Valdez station, where we changed over to the L4 line, that took us all the way to Las Mercedes station. The Santiago metro is not air-conditioned and more than half the route was on elevated tracks rather than underground. In hot summer, the ride was cool only as long as we were in motion.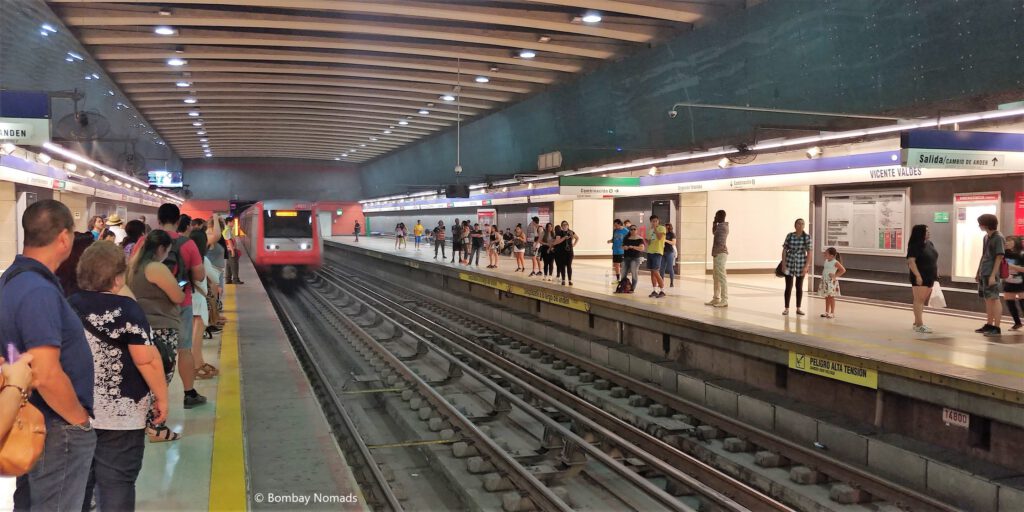 The Las Mercedes station is along a giant mall, and we had to struggle a bit to find the Concha y Toro minibus. When we found the bus in one corner of the mall parking, it was locked up and there was no one around in sight. Goaded by the strong sun, we hopped into a local taxi. It cost us 4,100 CLP, while the minibus costs 2,000 CLP per person – so there is no need to wait for the shuttle actually.
In just 8 mins, we were at the large imposing gates of Concha y Toro. There is a large parking space, which can accommodate a lot of vehicles. There is also a ticket office for buying wine-tasting tickets. Our tour had about 20 people in it, mostly retired old folks from the US and Europe – along with a local Chilean family. Our guide Claudio was competent, but he seemed a bit bored of the routine and delivered some of his lines by rote. There was a lot of glorifying of the founder of the vineyard and the stature of the Concha y Toro firm, including the fact that it owns some vineyards in Napa Valley.
The best part of the tour was the collection of the 26 grape varieties that Concha grows across different vineyards. The different grapes are labelled clearly and all of them were bearing fruit. Best of all, we were free to taste all the grapes. The grapes were smaller than I thought wine grapes would be, and all of them had seeds. Most weren't ripe yet, but a few were quite sweet.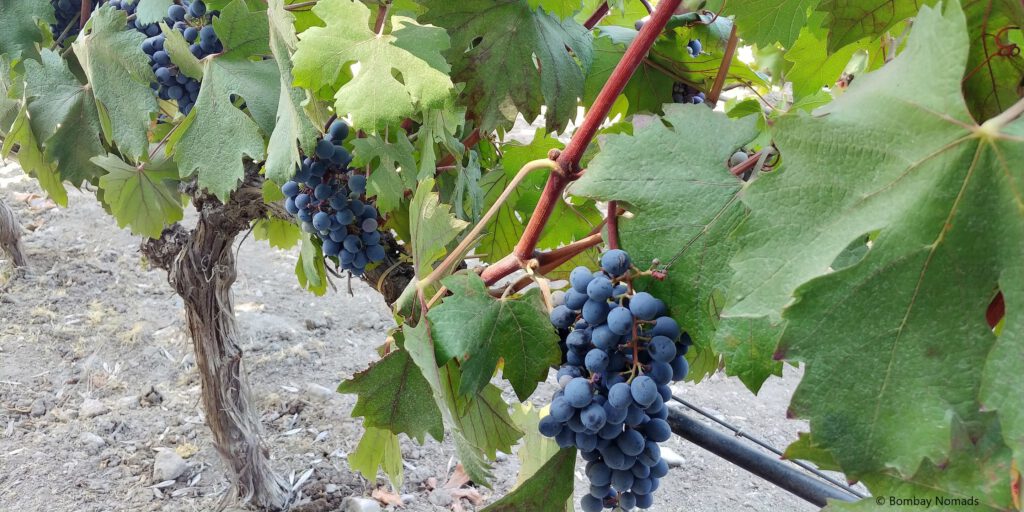 We tasted three different wines in our tasting (we were on a basic tour) – a Sauvignon Blanc, a Carmenere and a Cabernet Sauvignon. All three wines seemed quite good to our uncomplicated palates, but we liked the Cabernet Sauvignon the most. We got along well with the other people on the tour. The Chilean family chatted with us about their daughter, who spent half a year in Rajasthan and how she loved India. The other people had the usual conversations about India – how big, does India produce wine too etc.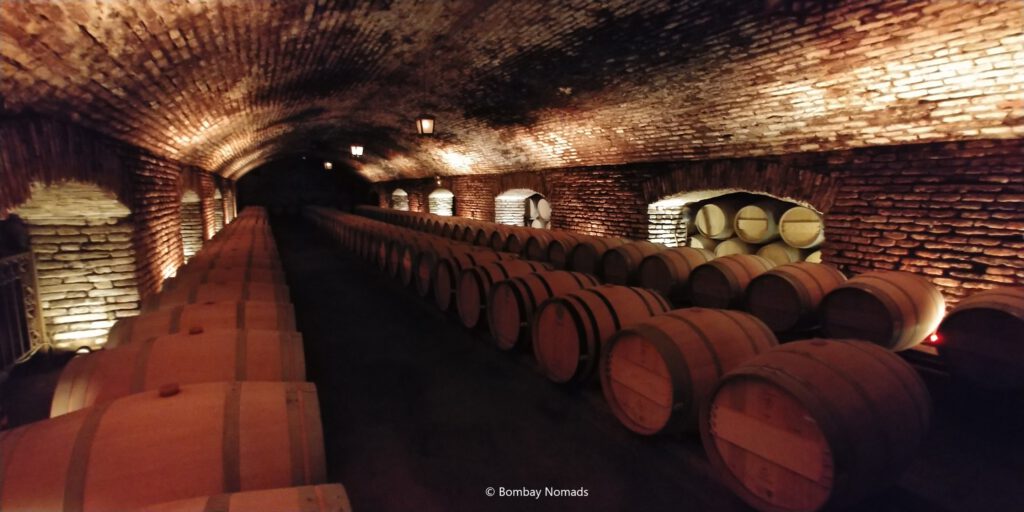 The tour ended with a fun video on the origin of the name of their largest selling wine – Casilleros del Diablo (the Devil's Cellar). This cellar is located in the vineyard itself, and is amazingly cool without any modern air conditioning. There is a cozy restaurant on the vineyard premises, where we had lunch. The cheese platter went really well with a bottle of their Cabernet Sauvignon. For the mains, Suchitra had roast lamb with vegetables on the side, while Pradosh had sweet-n-sour pork belly. The food was surprisingly good and we were a bit tipsy from the wine. All in all, a Saturday well-spent!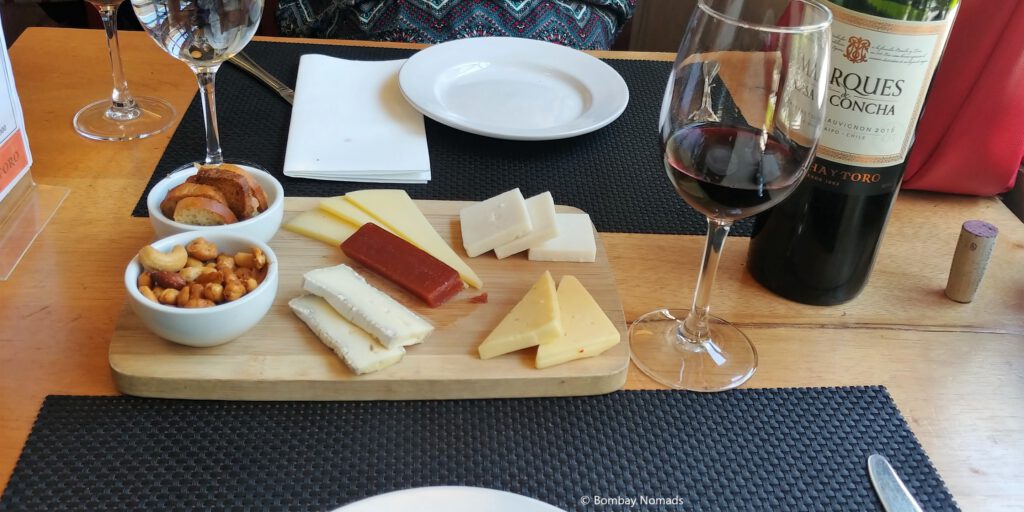 (Asian / Indian) Food in Santiago
Severely deprived of Asian & Indian flavours, we were very clear about where we wanted to eat in Santiago. So we did not visit – or even consider – any of the top rated European or Chilean restaurants in Santiago. We solely focussed on Indian or Asian food.
Jewel of India
(Avenida Manuel Montt)
There are quite a few Indian restaurants in Santiago, and we picked 'Jewel of India' for our first dinner, on the basis of good reviews. We took a taxi to Avenida Manuel Montt, which is home to a lot of eateries apart from Jewel of India. Somewhat suitably, we saw a 'Made in India' Mahindra XUV 500 parked close to the restaurant.
* Pradosh was really excited to spot Indian vehicles in South America, Suchi not so much. And we spotted quite a few Indian vehicles in Chile – Bajaj motorcycles, Mahindra SUVs and a few Suzukis (including an old Maruti 800)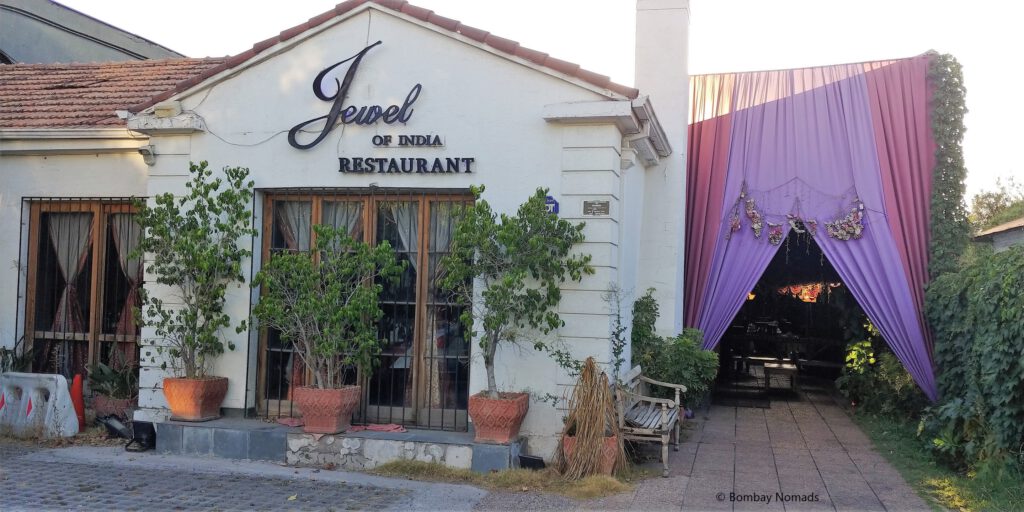 We were greeted to a large, but mostly empty restaurant when we entered Jewel of India. The proprietor was an old (Sindhi, we think) desi man in a Hare Krishna garb. He seemed delighted to see proper Indians, and peppered us with questions about where we were from etc. However, his taste of jokes left a lot to be desired – on the lines of Mamata Didi and Mayavati not being harasse because of how ugly they look.
However, so eager we were for Indian food, that we ignored his offensive jokes – although we gave him a suitable cold shoulder. The menu was as extensive as any Mughlai restaurant in India – with lots of kebabs, and an equally wide selection of main courses, breads etc. We went overboard with the kebabs, ordering three plates – two chicken and one lamb. On hindsight, only one would have sufficed. The kebabs were extremely disappointing – with little masala beyond the thin coating on top. It seemed like the meats weren't traditionally marinated, but dipped in the masala and thrown into the tandoor. Worse, the chicken pahadi kebab was liberal doused in green colour, while the tikka was a bit unnaturally red. The lamb tasted too much like the Argentina asado lamb rather than mutton kebab. Suchi thought the kebabs looked 'radio-active' 😊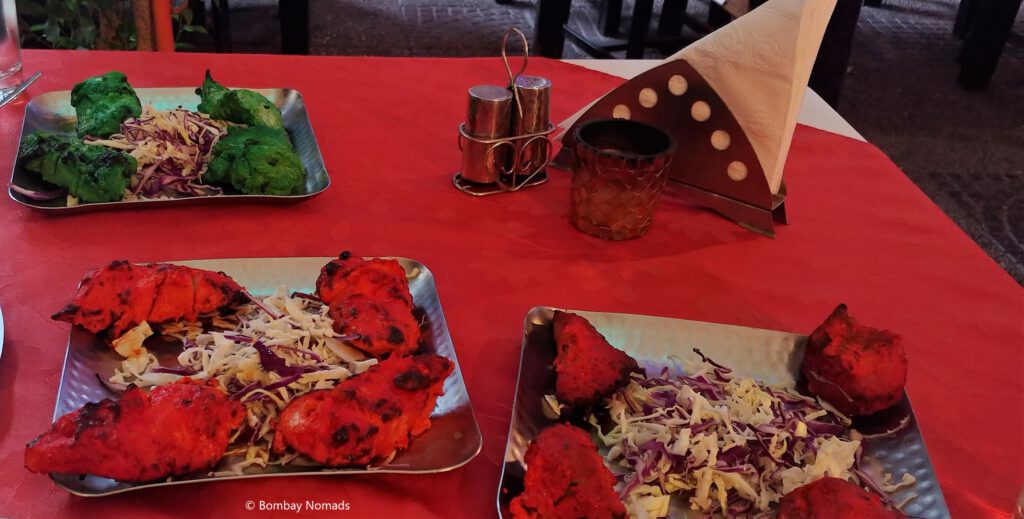 The main course was better, with a stellar dal makhana. But by then we had already stuffed ourselves with the dry and tasteless kebabs. Overall, it was a disappointing experience, and any Indian food aficionados should steer clear of this restaurant.
Lai Thai
(Avenida Holanda, behind Sky Costanera mall)
We had lunch at this small Thai restaurant while waiting for our Bolivian visa. This open-air restaurant isnt fancy, set inside an old style, double-storey market complex. The first Lai Thai shop we saw was actually abandoned, as the restaurant had moved to a different shop. It seems to be a popular lunch place for local Chilenos, as we were the only tourists there. The food is very good and hits all the right spots – and this is coming from people living in Hong Kong. We shared a chicken satay, which had a great peanut sauce. Pradosh had a pad thai noodles, while Suchitra had a green curry – both had terrific flavours. But what we most remember from the meal was the phenomenal lemonades (with basil leaves). The ice-cold lemonade balanced the spice in the food, and was really welcome on a hot day.
The Raj
(Avenida Manuel Montt)
The Raj was our second pick for Indian restaurants, after Jewel of India, and our dinner choice for our second day in Santiago. It is a proper South Indian restaurant, staffed completely by Tamilians. They even had a live tabla player in the restaurant. It is situated on the same Avenida Manuel Montt as Jewel of India, and was a 15 min taxi ride from our apartment.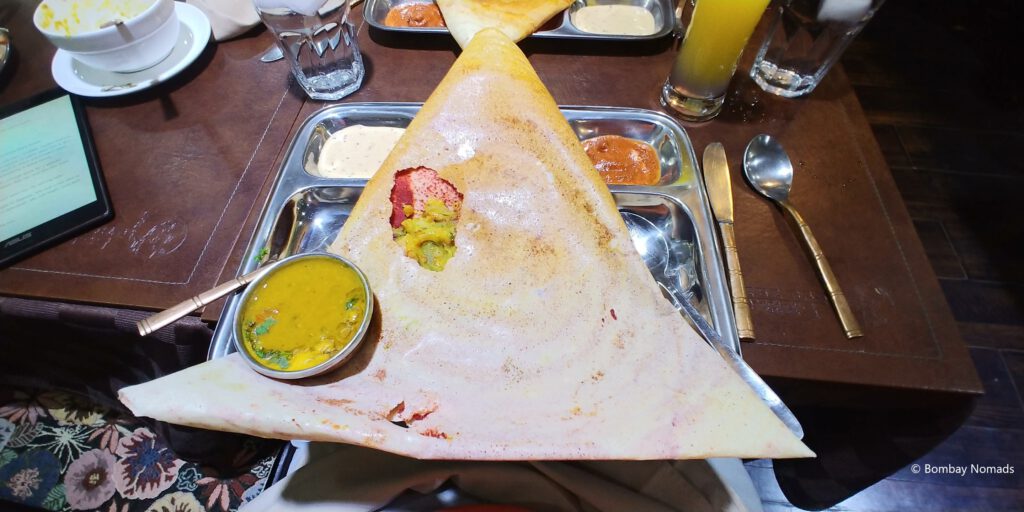 We were craving for some samosas, so that was our first order at The Raj. We followed it by medu vada in sambhar and mysore masala dosas. The samosas were good, but each plate came with 4 samosas, so they were quite filling. The medu vada was disappointing as it was a bit hard and the white coconut chutney was just plain terrible. It had a jelly-like consistency and definitely did not have any fresh coconut. Pradosh thought the samosas and the dosas were pretty good (disregarding the chutney), but Suchitra was a bit harder to please. With our stomachs full, we regretted not being able to try any of the meat options on the menu – they had excellent items like Chicken Chettinad etc.
Rishtedar
(Avenida Holanda, behind Sky Costanera mall)
Rishtedar was comparatively more crowded than the other Indian restaurants we tried in Santiago – although we did not have to wait for tables. Their menu is not as extensive as Jewel of India. Having learnt our lesson by now, we steered clear of any appetizers and went straight for naan with Chicken Tikka Masala and Dal Makhani. Both the dishes were were much better than what we had before. And this was the most likeable Indian restaurant we visited in Santiago. We actually went back one more time, for another good meal of Chicken Biryani and Achari Murg.
Miyako Sushi & Thai
(Moneda 856, walking distance from Plaza de Armas)
We picked this restaurant on Google Maps, from a list of Japanese restaurants, when we were visiting Plaza de Armas. The sushi was okay, although we did end up with a weird tempura sushi, which was fried on the outside, like a pakora (fritters). Nothing memorable.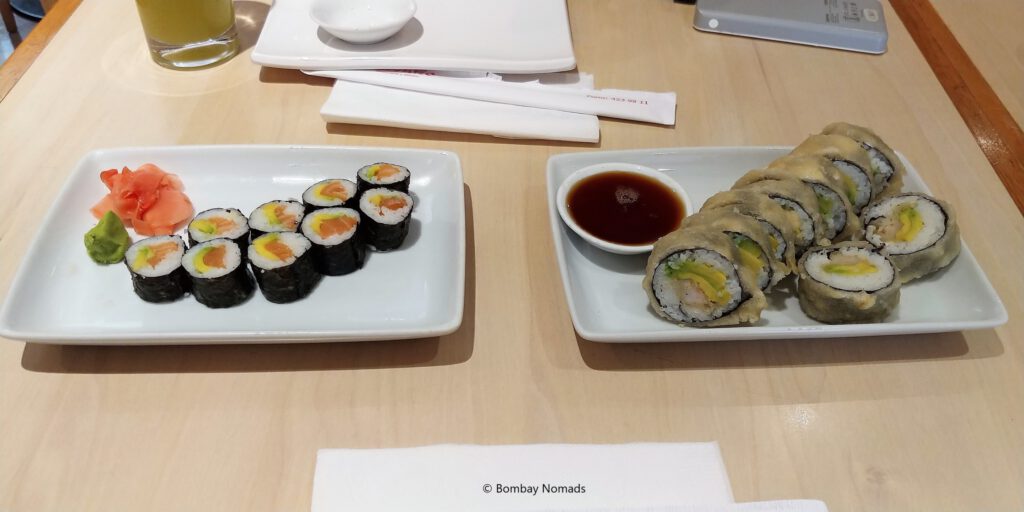 Bao Bar
(Avenida Manuel Montt)
We had spotted this relaxed-looking Asian lounge bar during our visit to Jewel of India. Having satiated our hunger for Indian and Japanese food, we spent one of our evenings at Bao Bar. Although the baos were pretty good, and the drinks were nice too, the service was terrible. Our orders were forgotten, and after reminding, they took ages to arrive. And it wasn't because of crowding either – it was a quiet night.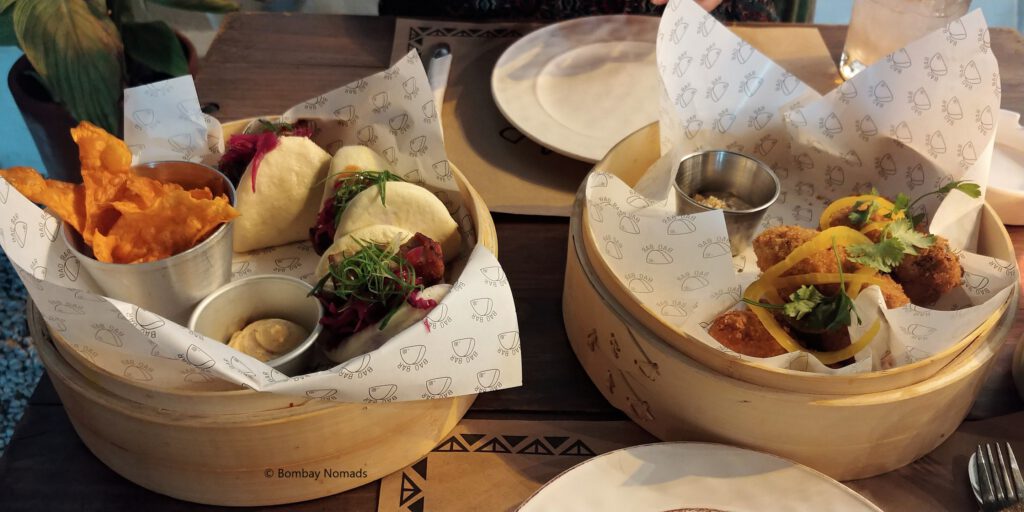 Getting a Bolivian Visa in Santiago
Because Bolivia has no consulate or embassy in Hong Kong, we had to apply for Bolivian visas in Santiago. The process was fairly straightforward. There is an online form (5 pages), which needs to be filled and submitted. Then the passport, along with printout of the form and some supporting documents, needs to be submitted at the Consulate. The visa is usually given on the same evening, or else the next day. In Feb 2019, there was no need for any visa appointments with the Consulate.
To apply for a Bolivian visa, we (Indian passport holders) needed to submit the following documents to the Bolivian Consulate
Printout of online form
Copy of passport
Itinerary
Proof of funds (bank statement)
Proof of accommodation (hotel booking)
We had pdfs of all these documents in USB drives. All we needed was to print them out – which turned out to be harder than expected. Our apartment was close to the Mercado Central (Central Market), so we were fairly confident of finding a "Fotocopia" or "Imprenta" close by via Google Maps. The first couple of places turned out to be either closed, or large commercial printers. We had to walk about 1.5 km and check 4 other places before reaching a small photocopy shop (like the Xerox shop in India), where we managed to get printouts.
The Bolivian Consulate is near the Sky Costanera mall, and was a quick taxi ride (5 km) away from our apartment. The Consulate was housed inside a standalone bungalow, with the visa office in the back of the building, accessed by a separate door. There was a queue of 3-4 people, and we took a token and waited for our turn. Visa applications are accepted only till 13:00.
We were called within 10-15 min and we presented our documents. The officer asked us to deposit a visa fee of USD 30 per head. Payment was accepted only in USD, and it had to be deposited in the branch of BCI bank inside the Sky Costanera mall. Crossing the Costanera Norte road and the Mapocho River to reach the mall is an adventure in itself, needing three traffic lights! The mall is huge, and it took us 10 min to find the branch on the lower most floor. Thankfully, the bank employees were very helpful in depositing the visa fees and there weren't too many customers at that time. We were done with the deposit in less than 5 minutes and they also gave us our balance of 40 USD in dollars, not pesos.
After submitting the bank receipts at the consulate, we were told we could get the visas at 16:00 on the same day. We spent the intervening three hours having a great lunch at Lai Thai restaurant and shopping for bits and bobs inside the mall. Our visas were waiting for us when we went to the consulate at 16:00.
Other Attractions (which we did not see)
Valparaiso: is a UNESCO World Heritage city, just 115 km away from Santiago and a popular destination for tourists in Santiago. It is known for colourful homes perched on hilly slopes, and its street art. Valparaiso was home to Nobel laureate Pablo Neruda and other artists, writers, musicians over centuries. We skipped Valpo, as it did not look exciting to us – and it had too much walking up hilly roads 😊
Vina del Mar: The closest beach town to Santiago, is 122 km from Santiago and just 8 km from Valparaiso. The beaches look nice, but the water on the pacific coast of South America is always cold, due to the Humboldt current which comes from Antarctica. No fun if we cant get into the water, right?
San Cristobal hill: A larger hill in the northern part of metropolitan Santiago, which provides terrific views of downtown. There are parks, botanical garden and a zoo on the top and can be reached by a cable car. Lot of tourists choose to hike to the top of the hill, but the heat quickly made us skip the idea.
Other Useful Information
Transportation

Metro: Each ride on the metro costs a flat 720 pesos, irrespective of number of stations of number of subway lines used (as of Feb 2019). The bip card (which is the equivalent of London's Oyster card or Hong Kong's Octopus card), has to be bought for 1,500 CLP initially. Surprisingly, the 1,500 pesos is non-refundable – we couldn't for the life of us figure out why though! (the bip card is named after the 'beep' emitted at the card readers)

Uber: works well in Santiago town, although there is some friction at the Santiago airport. Pradosh had to sit in the front passenger seat and was supposed to act as friends of the Uber driver, if anyone asks. Nobody asked.
Taxis: Taxis are easy to find in the central areas, though we did struggle to find them at night, after dinner, on Avenida Manuel Montt. We did not get any feeling of taxis overcharging us in Santiago – everyone ran with taxi meters.
Buses: We did not try the buses, but they seemed to be plentiful on the roads

Santiago Airport: Arrival in Santiago was normal, but those departing from Santiago should take care – it is a crazily crowded and chaotic airport. We were flying out on a Sunday afternoon and the whole main concourse of the airport was packed with travellers. The queues at the check-in counters were 40-50 deep, and even longer at security. The multiple queues of each counter sometimes choked the common transit area. Make sure you reach the airport at least two hours before your departure, even for a domestic flight.