After two months of blissful travel in South America, we hit our first obstacle in North Chile. Unprecedented rains in the driest place in the world led to flooding in parts of the Atacama – specifically near San Pedro de Atacama, which we really wanted to visit!
https://www.straitstimes.com/world/americas/extreme-weather-hits-chile-worlds-driest-desert-floods
We were able to rejig our itinerary to add Elqui Valley and Lauca National Park in Northern Chile to our plan, while we waited for the flood waters to subside.
Elqui Valley
Elqui Valley is a one of the major wine-growing regions of Chile. It is a fertile valley along the Elqui river, amidst the arid landscape of southern Atacama. From historical times, the valley has been known for its fertile soil, producing oranges, avocados – and of course, grapes. It is also famous for being one of the best sites in the world for astronomy. The combination of low population/pollution, high altitude and non-existent cloud cover* makes the skies above Elqui Valley the clearest in the world, and perfect for star gazers. It is already the site of some major telescopes manned by global astronomers. In 2015, Elqui Valley was designed the first International Dark Sky Sanctuary of the world.
* The Atacama desert receives sunny cloudless weather for more than 300 days in a year
The valley is off the main tourist circuit and attracts visitors who want to spend time in a relaxed way. Vicuña, the largest town in Elqui Valley, has just 25,000 residents. Elqui Valley is also a major location for alternative medicine and natural therapy – with believers claiming the quartz in the region has unique natural energy. There are even a few UFO-sighters here 😊
When visiting Elqui Valley, it is difficult to ignore the word pisco. If you haven't come across this drink before, pisco is a grape-brandy, very similar to cognac – produced in the countries of Peru and Chile. The most common way to drink pisco is in the form of Pisco Sour, a refreshing cocktail made with lime juice, sugar and egg whites. Both countries claim pisco as theirs – it is their respective national drink – and they are pretty passionate about it. Chile produces and consumes more pisco, but Peru exports more pisco and hence pisco is known more as a Peruvian drink in the rest of the world – much to the chagrin of the Chileans 😊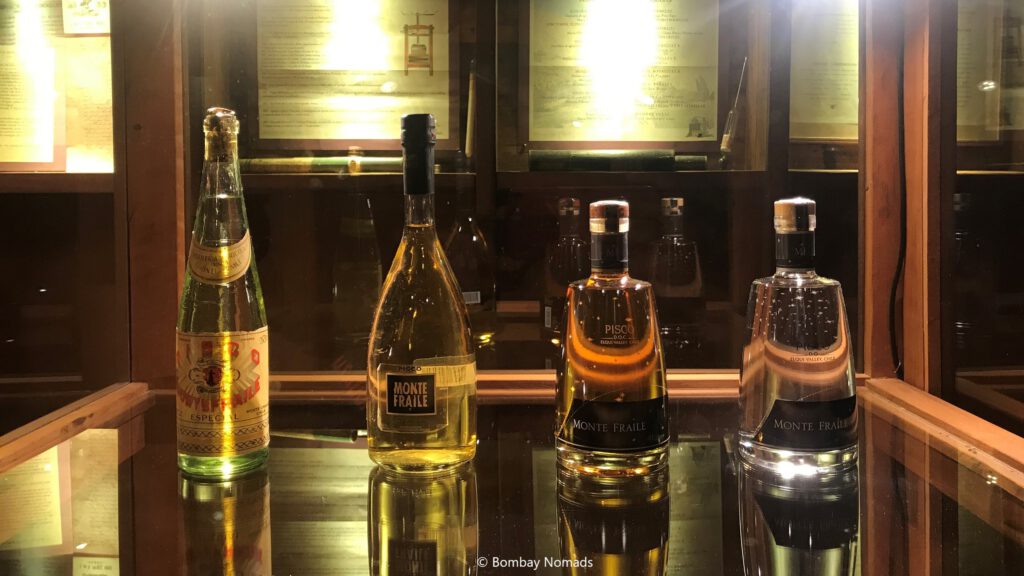 Just like cognac, pisco production is very highly regulated – it can only be made with select grapes, in specific locations in the country, and with strict guidelines on % strength and method of production. Elqui Valley is the largest pisco-producing region of Chile, and hence, a must visit for all 'spirited' people.
We travelled to La Serena (closest airport) via a flight from Santiago. We went on a whale watching expedition on our first day, which unfortunately, wasn't very fruitful.
The next day, we rented a car in La Serena and drove to Elqui Valley. We got a Hyundai Accent hatchback from Hertz, which was an unexpectedly fun little car to drive. We had the manual, which made driving on the hill roads even more fun. It was a short 1-hour drive (63 km) to Capel, and our route took us via a picturesque dam on the Elqui river.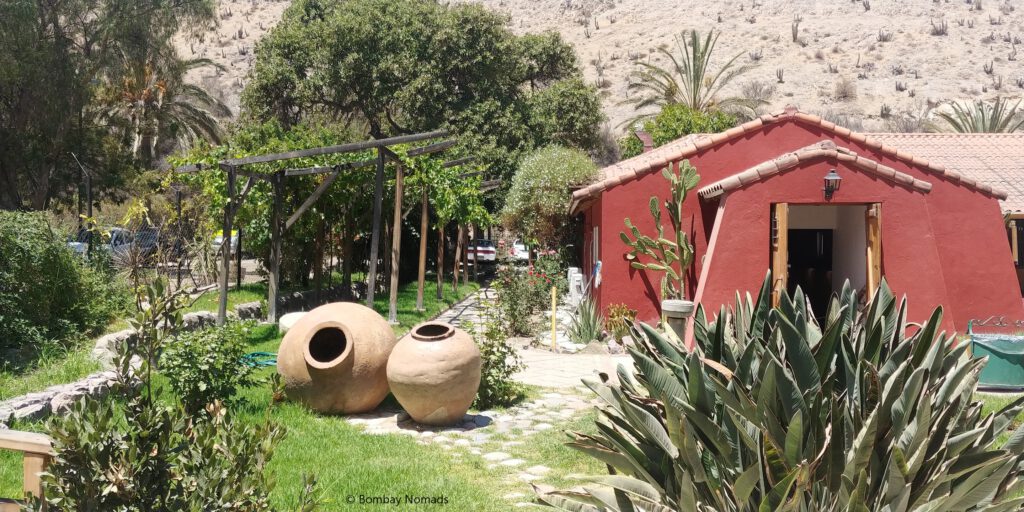 Capel (Cooperativa Agrícola Pisquera Elqui Limitada) is the biggest pisco producer in Chile and has a large distillery (not vineyard) just outside Vicuña. It is an industrial facility, but they do have a tourist centre, which includes a restaurant, a pisco museum, curio shops – and tours in both English and Spanish. The tours cost CLP 4,000 per person.
We were lucky to get a tour just for the two of us, when we walked in and bought tickets to the tour. Our guide seemed to know the place very well and gave us a good tour of the pisco production process. In Chile, pisco can only be produced in Regions III and IV of the country – and must be produced from one of the three grapes – Torrontel, Moscatel and Pedro Jiménez. The pisco also needs to be aged for at least 2 months and must have alcohol between 30-50% ABV.
*if any of these conditions are not met, it will be called brandy and not pisco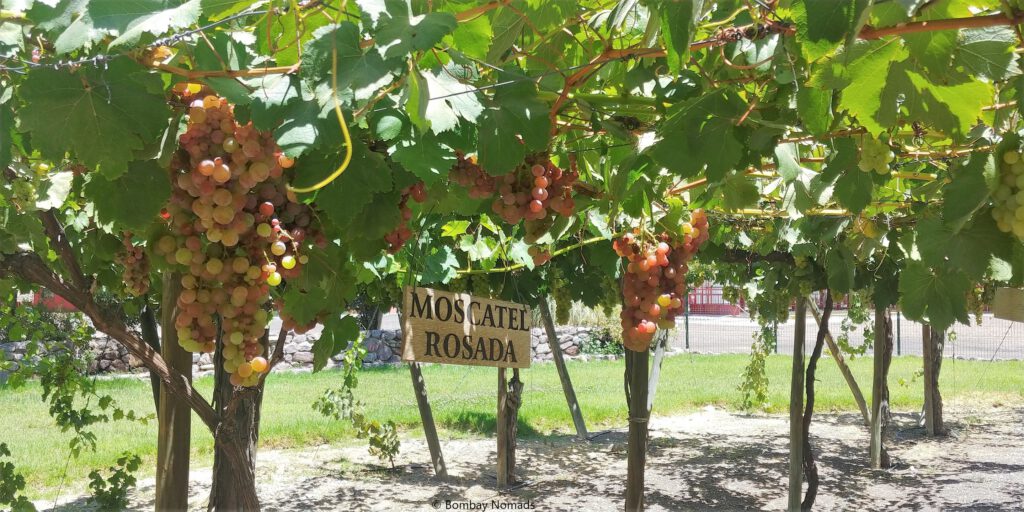 In this distillery, three kinds of pisco were produced
Pisco Capel, the largest selling pisco, which is produced in steel barrels
A fancy aged pisco, produced in French and American oak barrels
And an intermediate pisco, produced in local Chileno wooden barrels.
Some ready-to-drink pisco cocktails were also bottled (though we didn't taste any)
The distillery has retained their old production line, full of antique-looking copper stills and gauges.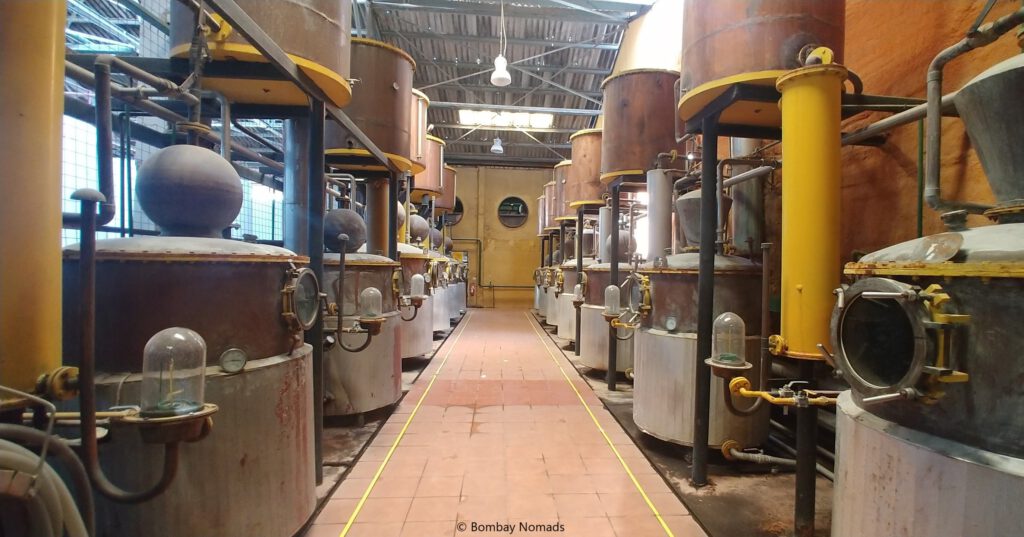 The tasting experience was one to remember. We tried three different piscos, including their best selling Pisco Capel. We could only detect minor variations in taste and smell – but at 40 proof, all three were very potent! Even with the tasters, we got some serious boozy kick and Pradosh declined the third, since he was driving. To us, pisco tasted very similar to cognac and we arent big cognac fans. So our advice, is to stick to Pisco Sours or Piscolas when trying pisco, unless you want to get really sloshed.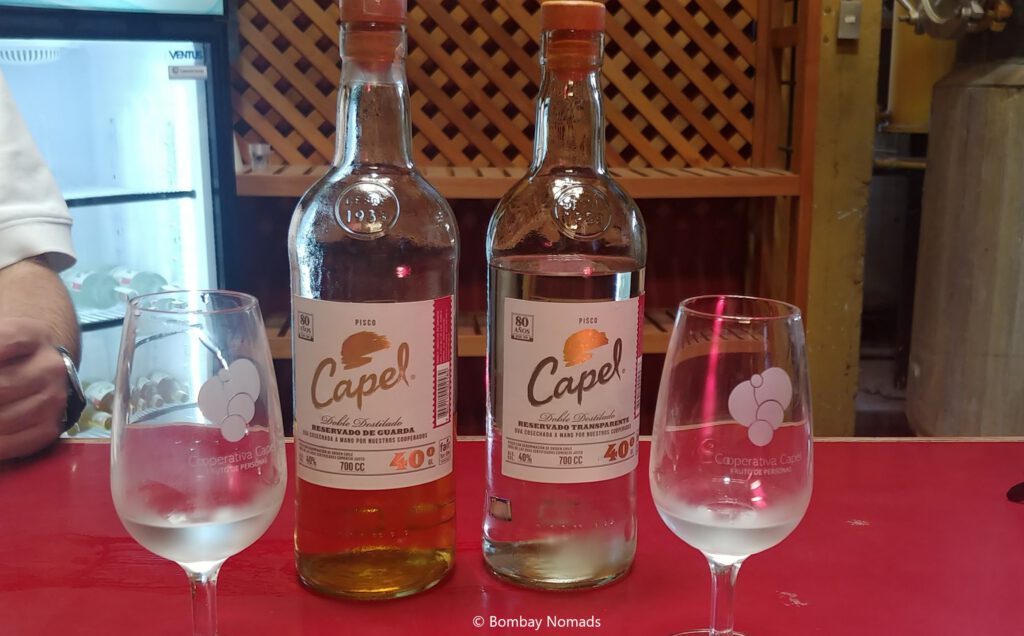 The restaurant in the distillery had a limited menu. We had a falafel burger and a quinoa salad – both were strictly average. We returned the car at La Serena and caught a flight to Calama.
Calama to Arica
Calama is a very drab and gritty town in the Atacama desert, in the northern part of Chile. But it is an economic powerhouse and and the mining capital of Chile. We were less than impressed with the tourist facilities at Calama, when we headed to the bus terminus. Instead of a single bus terminus, each bus operator has their separate terminus in Calama. Our bus operator, Kenny Bus, had a tiny and dingy terminal, in a dirty part of town.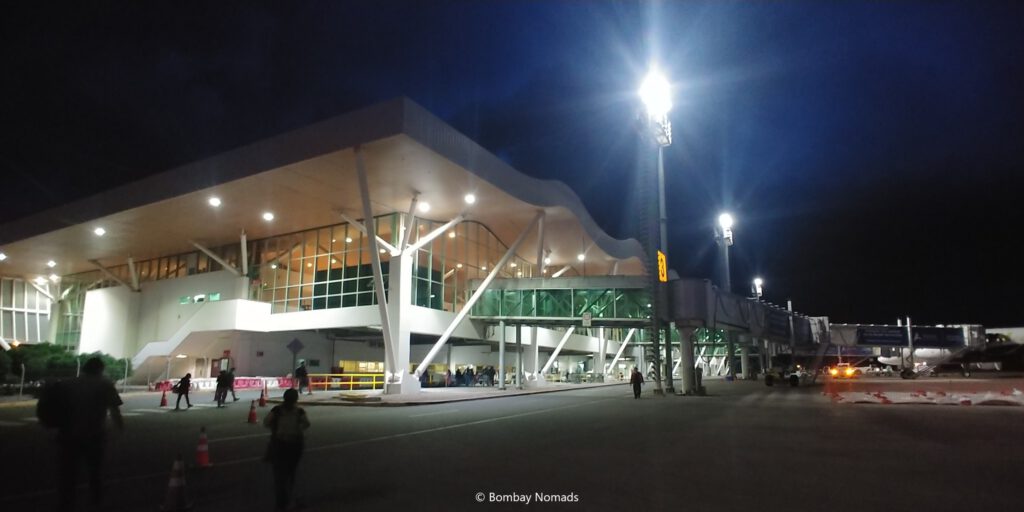 The bus ride from Calama to Arica wasn't smooth. Pradosh struggled to get comfortable on the semi-cama (reclining-but-not-flat) seats. The air-conditioning was switched off and there was a continual loud beeping from the driver cabin (like the warning sound when seatbelts are not worn). After complaining, air-conditioning was turned on for only 10-15 minutes. No one spoke English and we were probably the only tourists on the bus. All of this didn't stop Suchitra from soundly sleeping though.
At around 02:30, our bus halted in what seemed like a long queue of vehicles. The conductor announced something in Spanish, from which we gathered that the road was closed ahead and we would have to wait there for a while. Thankfully he opened a hatch on the ceiling for circulation, which cooled the bus and we both drifted off to sleep. The bus got moving again only around 08:00 in the morning, and we were driving on what seemed like an unpaved road for half an hour. Once we rejoined the highway, the rest of the journey was smooth and we reached Arica at 10:15, 3 hours behind schedule. Arica bus terminus reminded us of railway stations in India. It was very crowded, luggage and people on the floor everywhere and not particularly clean. The bathrooms were surprisingly clean though, and cost 300 pesos to use.
Overall, bus services in North Chile are several notches lower than the tourist-friendly South Chile.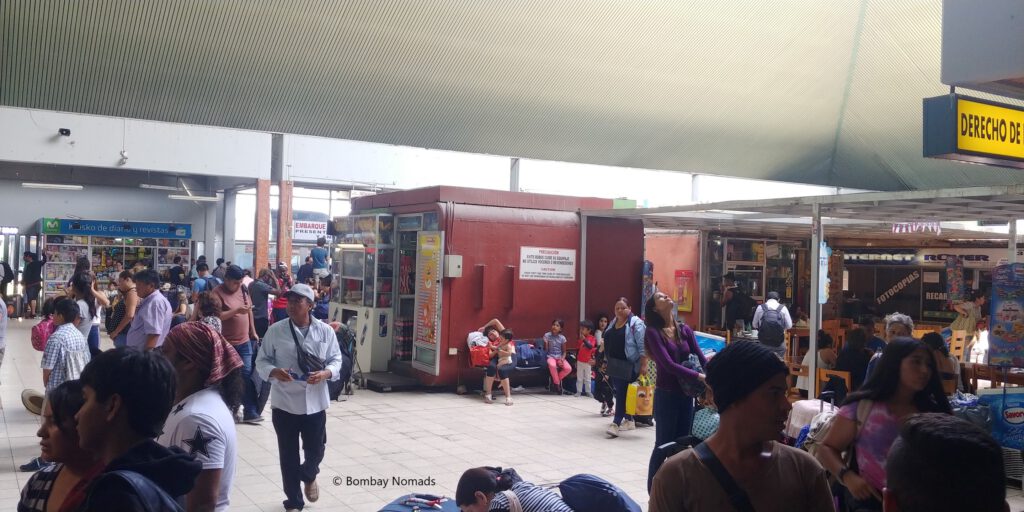 Chinchorro Mummies and San Miguel de Azapa Museum
We picked our rental car from Europcar in Arica, and headed for and early lunch to Dimango, one of the best rated restaurants in town. It has an excellent location by the beach, but their food did not live up to the expectation. The ceviche came with lemon juice on the side, and we were expected to mix it ourselves – which did not turn out well. The queso (cheese) empanadas were fine. The pepperoni pizza was missing any tomato sauce base – it was only cheese and an overload of pepperoni. Too meaty for us. The only good things were the cool drinks – we had a guava juice and a mango shake respectively and shared a lemonade.
* Funfact : Guavas are known as Peru in parts of India (Marathi, Gujarati), as Portuguese are believed to have brought them from Peru to India
One of the main reasons for our trip to Arica was to see Chinchorro mummies, specifically in the San Miguel de Azapa Museum.
Chinchorro Culture was a group of stone-age hunter-gatherers who lived on the Pacific Coast of Northern Chile (and Southern Peru) from 7000 BC to 1500 BC. They were expert fishermen and formed a prosperous society, living on the fringes of the inhospitable Atacama desert. Chinchorro was a pre-ceramic culture – but was remarkable for being the first humans on earth to mummify their dead. The oldest Chinchorro mummy found so far in Acha is 7000 yrs old, a full 2000 yrs before the oldest Egyptian mummy.
* the oldest natural mummy found in the region is a full 9000 yrs old.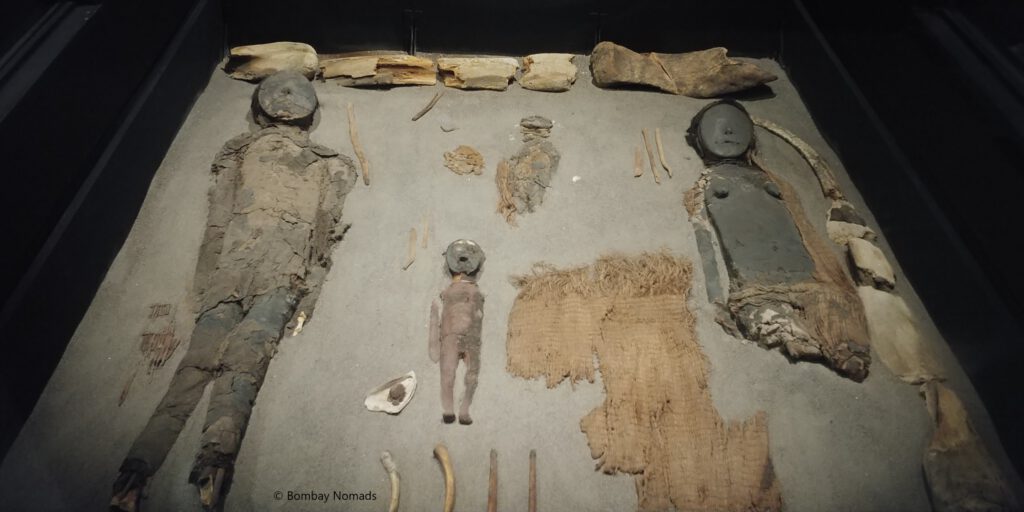 Chinchorro mummies were first discovered around 1916 by archaeologist Max Uhle. While the name Chinchorro comes from the beach in Arica, where the first mummies were discovered, the site best known for Chinchorro mummies is the Azapa Valley, about 15 km inland from Arica. The Museo Arqueológico San Miguel de Azapa is built around a real excavation site and filled with exhibits of Chinchorro mummies as well as tools, clothing and dioramas depicting Chinchorro life millennia ago.
Chinchorro mummification process was categorically different from the Egyptian mummies. The Chinchorro people would remove the internal organs and even muscles, leaving only the skeleton and outer skin. They would then fill the body with plants, clay and wood before sewing back the skin and covering the face with a mask. They were also very egalitarian in their mummification – it wasn't limited to the royalty and nobility, like in Egypt.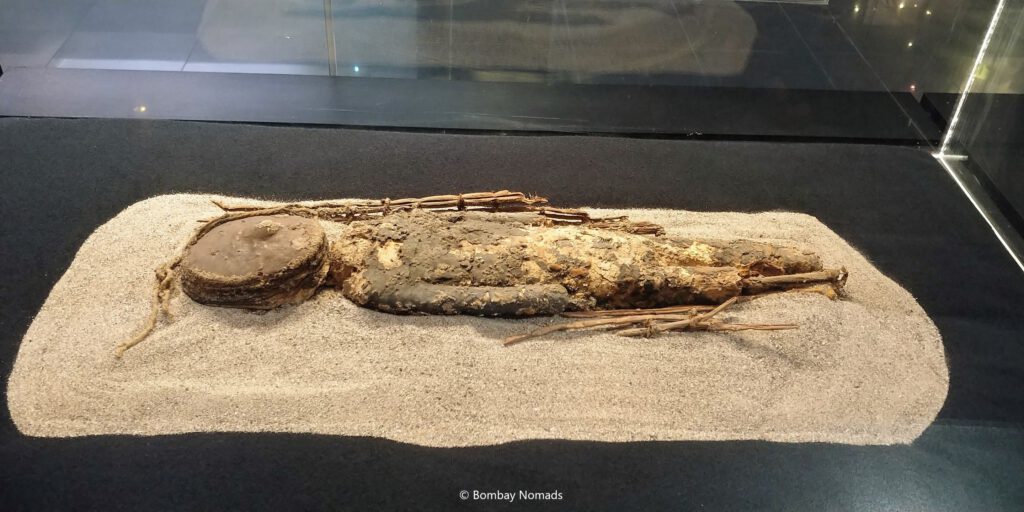 If we are to be honest, the museum experience was a bit disappointing. There are two permanent exhibits in different buildings. One exhibit for the history of human occupation at Arica region, starting from hunter gatherers 10,000 years ago all the way to Incas and then the indigenous people who coexisted with the Spaniards. The second building houses the exhibit dedicated to Chinchorro culture. There were weapons, implements, clothes and of course mummies. However, there was only two adult mummies on display and half a dozen child or partial mummies. Pradosh had really high expectations, especially after fantastic Museo Chileno de Arte Precolombino in Santiago, and was understandably disappointed.
Geoglyphs in Azapa Valley
Geoglyphs are giant designs/drawings made on the surface of earth – which are usually meant to be visible clearly from a distance away. They are usually made either by stacking rocks (or soil) on the surface, or by digging long furrows on the ground. The most famous geoglyphs in the world are the Nazca Lines in Peru, which are designed to be visible only from the sky.
800km south of Nazca, in the Azapa and Lluta valleys near Arica, geoglyphs have been made on the hillsides which are visible more easily to surface dwellers. It isnt known exactly why these giant drawings were created on steep hillsides – especially a lot of llamas – or who created them. Archaeologists date these geoglyphs to somewhere between 600AD – 1400AD.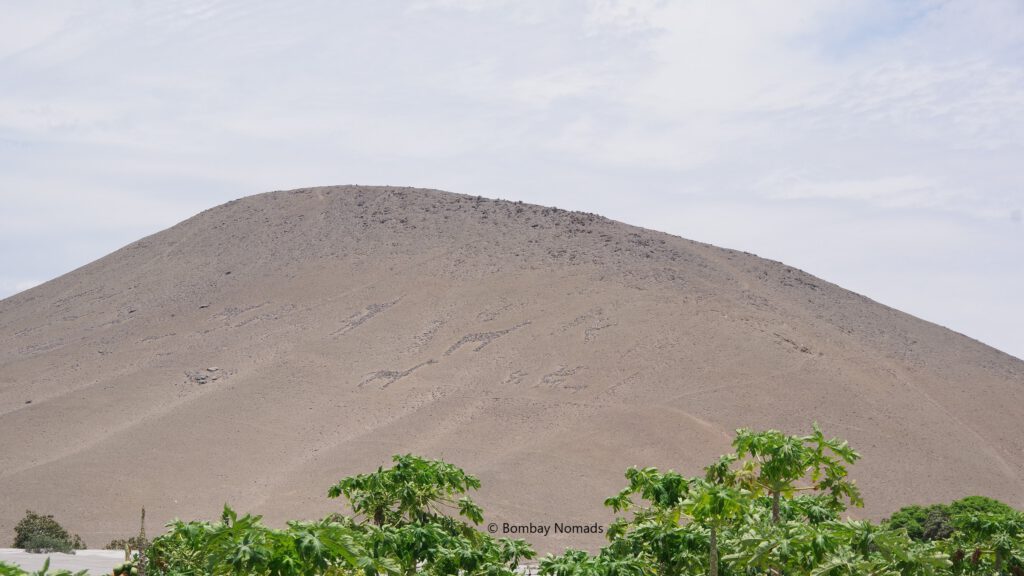 Reaching the geoglyphs can be a bit of a challenge, as we could not find any tourist map with all the geoglyphs marked. There are some helpful road-signs by the Chilean government denoting geoglyphs, but most of the glyphs are located well away from the road and beyond private farms and property (picture above). The fences and walls on these farms/houses impeded viewing and photography of these geoglyphs. We have to mention some of the really unhelpful road signs too – especially the ones lacking any distance measure to the tourist attraction. We followed some of these signs, turning left and right as indicated, but never reaching the destination! In another site, we saw a geoglyph, but the information board for that site was bleached completely white and was unreadable!
The roads in Azapa and Lluta Valley are dry and dusty, but without much traffic. In February, afternoon sun was blazing hot. After some unsatisfactory geoglyph viewing, we headed to Putre and Lauca National Park.
Lauca National Park
Lauca National Park is a stunning biosphere reserve set in the Antiplano – the high plateau in the Andes spanning Bolivia, Peru and Chile. Situated at heights of 3,900-4,500m, the park is cold, windswept and adorned with enormous 6,000m+ high volcanoes. With (almost) no human population, the high-altitude lakes amidst snow-capped volcanoes and grazing alpaca herds give some ridiculously photogenic vistas.
The road from Arica to Lauca National Park is Chile's Ruta 11. It is an international highway and one frequently encounters heavy trucks carrying things to and from Bolivia – to the port of Chacalluta. The road is terrific to drive on and is in excellent state – and the freight traffic doesn't impede spirited driving. One of the astonishing features of Ruta 11 is the rapid gain in elevation. In the 140 km drive from Arica to Putre, we climbed from zero (sea level) to 3,400m.
A must-do on the drive to Putre is to take the tiny A-19 deviation from the Ruta 11. While Ruta 11 sticks to the Lluta river valley, A-19 takes the scenic route above the hills. When we drove there, we did not see a single other vehicle on this road. The road is narrow, surrounded by brown dusty undulating landscape and becomes a dirt road in some portions. Yet, with an overcast sky and strong wind, the bleak plateau bounded by river valleys on both sides was one of the most memorable stretches that we drove on (video below). People who have visited Kaas plateau near Bombay can imagine a parched, barren and brownish-yellow version of Kaas.
After rejoining Ruta 11, we did not stop again and rolled into Putre within 2 hours of leaving San Miguel de Azapa.
Putre is a small mountain village, in the shadow of the Taapaca volcano and is the gateway to Lauca National Park. With no accommodation available inside the park itself, Putre hosts all visitors to the park – and has a population of less than 1,500 people. Another benefit of staying in Putre is acclimatizing to the elevation. Staying overnight at 3,500m high Putre prepared us for seeing the 4,500m+ Lauca National Park the next day.
We stayed in a B&B in one corner of the town. Our room was very neat, we had running hot water and we were provided with an electric heater. With temperature dipping to -1°C at night, that heater was a life-saver. The breakfast in the morning was pretty great too – with eggs made to order, fresh cut fruits & raspberry milkshake!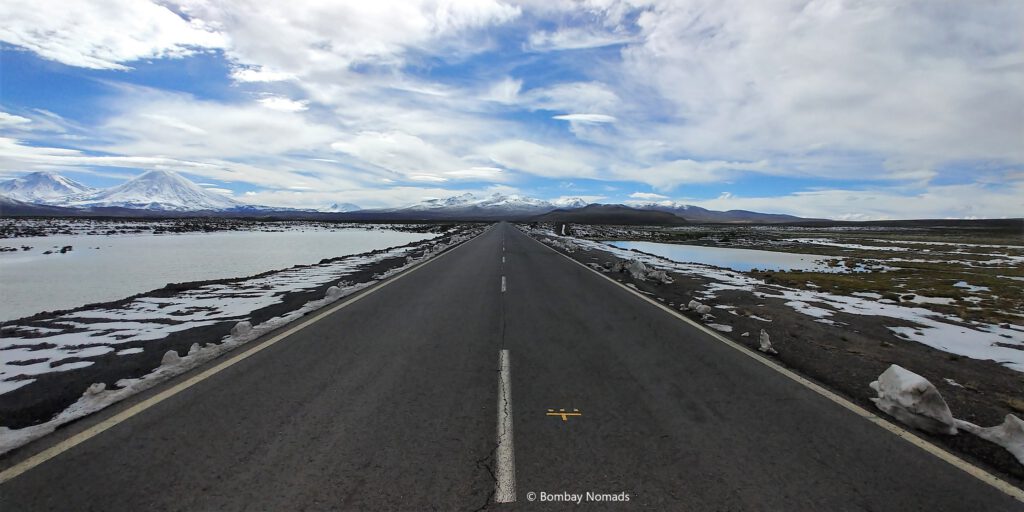 Although it was drizzling for the entire evening in Putre, the next morning was bright and clear. The sky was a shade of saturated blue – probably because of no pollution and our elevation. The few white clouds and white snow-covered peaks of the Andes looked especially contrasting. The Ruta 11 passes through some gorgeous scenery before entering the park. Once inside the park, the landscape becomes even more beautiful, almost indescribable in mere words. In February, there were light patches of snow on the ground.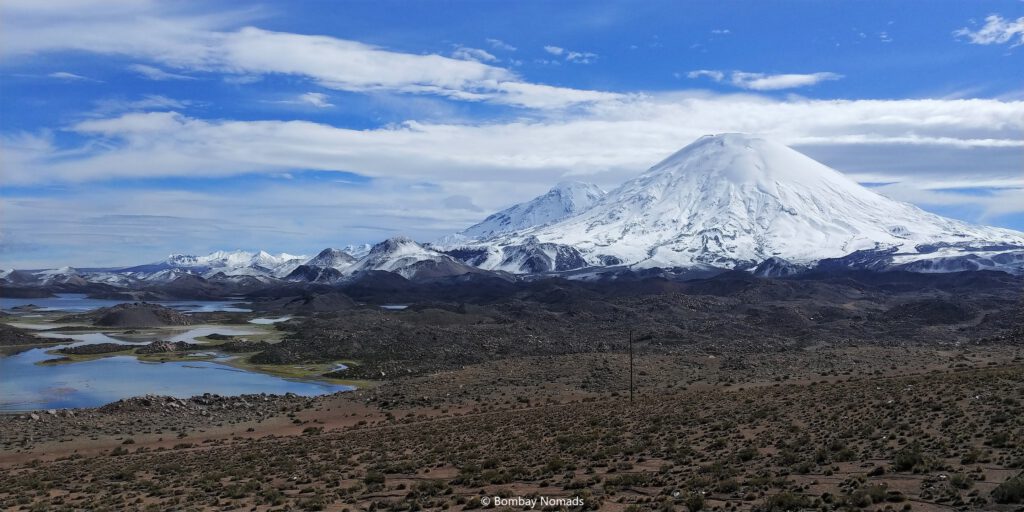 The highpoint (literally) of Lauca National Park are the twin 6,000m+ volcanoes of Parinacota and Pomerape, with their perfectly symmetrical conical shapes. From the shores of Lake Chungaro, the view is nothing short of spectacular, as Mt Parinacota towers over the lake. On calmer days, the reflection in the still waters of Lake Chungaro makes everything even more outstanding. Alas, it was quite windy on the day of our visit.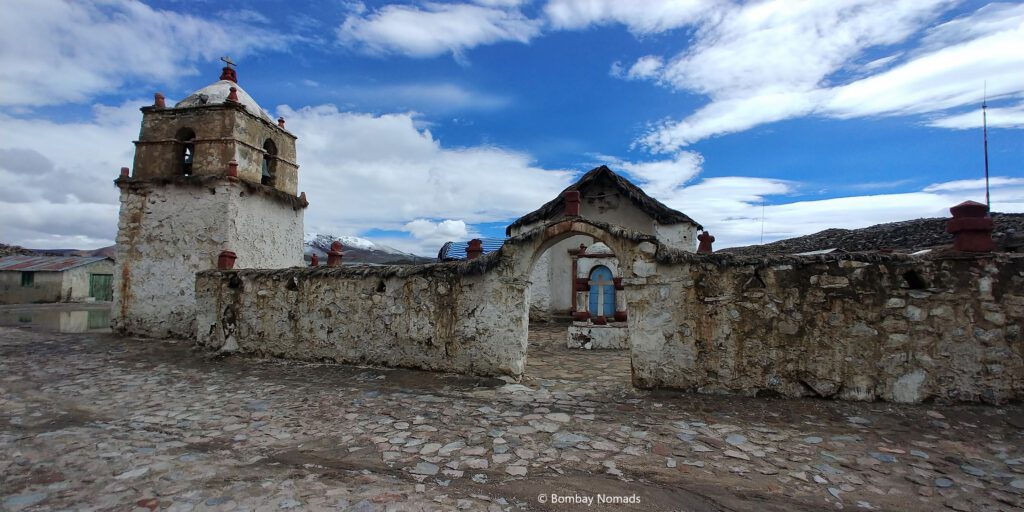 The ancient village of Parinacota, near the namesake volcano, is worth a visit. The last census puts the population of the village at just 29. An adobe church is the biggest structure and the most photogenic spot in the village. Most of the houses were locked and the whole village has an abandoned feel to it. We did not notice smoke rising from any house, but there were herds of llamas grazing outside the village.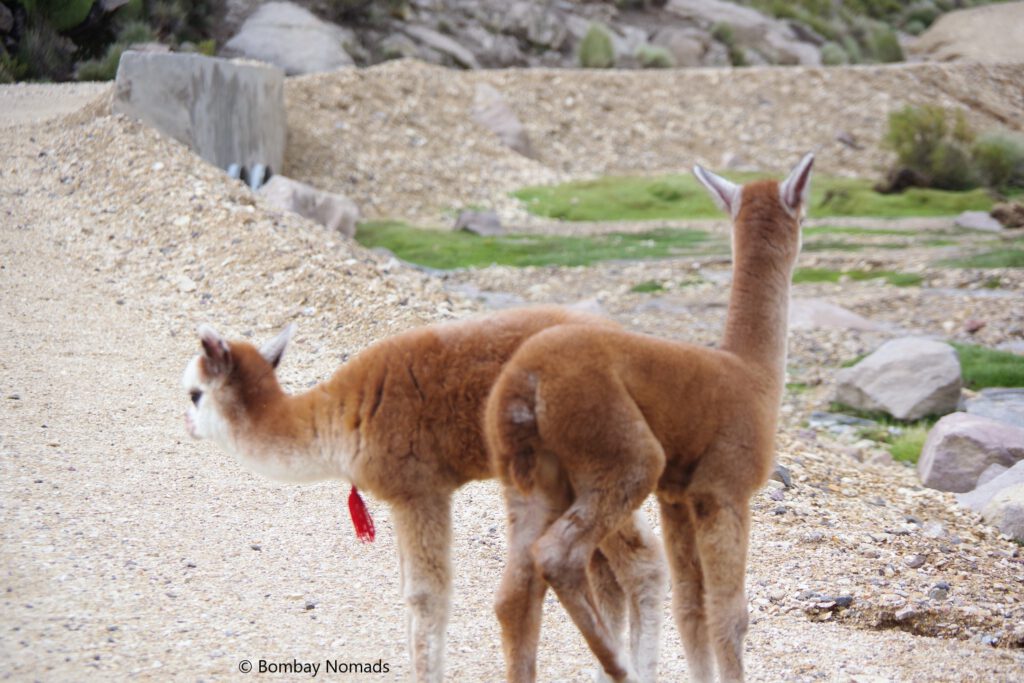 We tried a lot to photograph the cute baby llamas. But they were too skittish and would bolt as soon as we reached close. But we were lucky to spot – and photograph – a unique animal called a viscacha* near the meadow. It looked like a rabbit, with a long-curled tail and is native to South America.
*Apparently viscachas are rodents and not related to rabbits at all.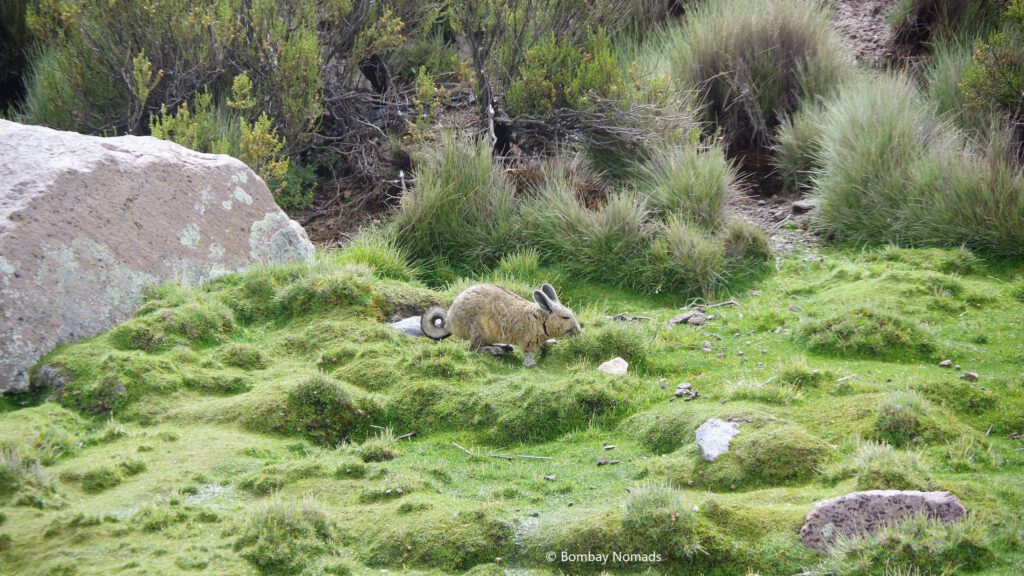 The best part about visiting Lauca National Park is the lack of other tourists – during our 3-hour stay in Lauca National Park, we did not see a single other tourist. There are occasional trucks and buses headed to Bolivia on Ruta 11.
Since we were taking the overnight bus to SPdA, we bid farewell to Lauca around noon. We stopped for lunch at Putre village before returning back to Arica. We drove only on Ruta 11 and covered the 147 km from Putre to Arica in just 1.5 hours.
Back in Arica, our planned visit to Anzota Caves, just outside Arica, did not succeed as the caves were closed to the public. We spent the rest of the afternoon on the La Lisera beach in Arica, which was a bustling with locals. We found a beach shack – and ordered beers and salchi papas.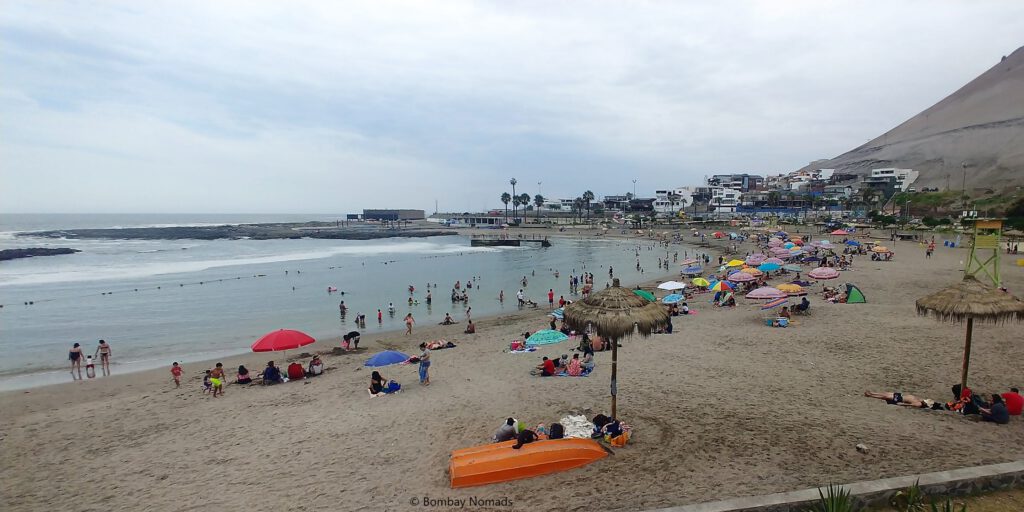 Our Arica journey neither began, nor ended smoothly. After dropping off our rental car, when we reached the bus terminus, we found out that the Ruta 5 to Calama has been washed away somewhere near Iquique, and hence every bus was cancelled. At 10pm at night, we realized we were stuck without any accommodation! Thankfully www.booking.com did not disappoint and we found Casa Beltran – a neat business hotel near the town centre.
Next morning, we ventured out to the bus terminus to search for more information. The bus terminus was crowded and chaotic, and we had to queue up at Pullman (bus operator) counter for a while to get refunds for our ticket. Locals helped with our struggling Spanish, and we gathered it might be a couple of days before road connectivity resumed. Even Ruta 11, the road on which we drove the day before, has been inundated at a river crossing and was closed!
The floods weren't too bad everywhere, as Ruta 11 and the road to La Paz (Bolivia) opened up by late afternoon. We seriously considered skipping SPdA (San Pedro de Atacama) completely and going directly to Bolivia via bus. Thanks to Suchitra's efforts at scouring and translating news from Chilean sources, we surmised the floods in the SPdA region weren't devastating and the road from Calama to SPdA had in fact, reopened.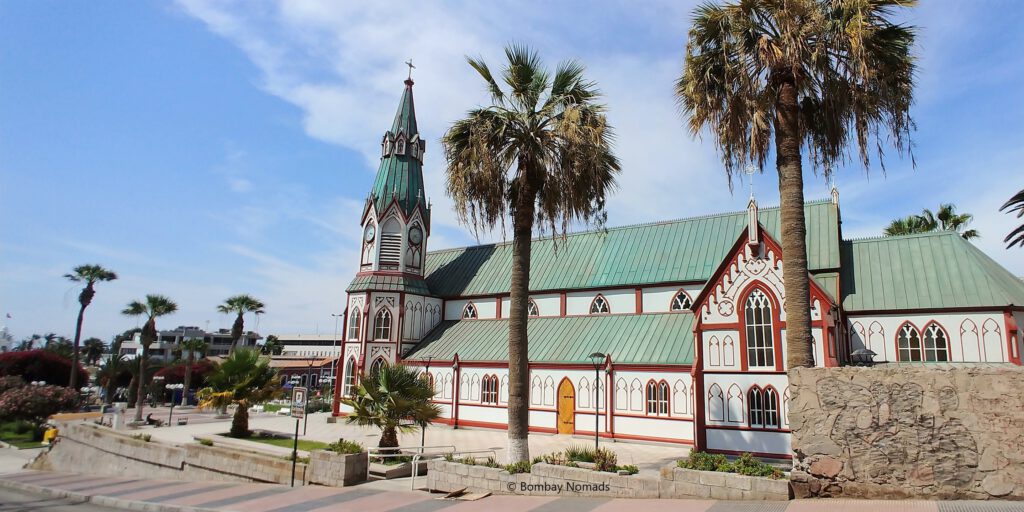 But there were no direct flights from Arica to Calama, so we had to buy some expensive tickets to fly via Santiago to Calama the next morning. We were able to cancel/reschedule most of our bookings in SPdA without much loss.
Other Useful Information (Elqui Valley)
Accomodation: We visited Elqui Valley as a day trip from La Serena. There are a lot of hostels and B&Bs available around the valley.
Astronomy: Elqui Valley is an astronomical hotspot and there are tours conducted for beginners as well as enthusiasts at quite a few observatories. We skipped stargazing in Elqui Valley, as we had planned for it in the equally good SPdA
Other Useful Information (Lauca National Park)
Accomodation: Putre is the only option for accommodation when visiting Lauca National Park, unless you are camping inside the park. Since Putre is a small village, most of the accommodation are B&Bs.
Food

We found Canta Verdi restaurant in Putre very good. Their prawn curry with chilli, quinoa risotto and grilled fish were all pretty great. We had both our meals in Putre in Canta Verdi.
One can buy basic groceries in Putre, for there is no food or water available inside the park itself.

Travel: It is highly recommended to rent a car and drive to Lauca National Park – or join a tour group. Although one can reach Lauca using a bus headed to Bolivia, and hop on a similar bus on their way back, they would have to do a lot of walking around the park by themselves. With limited cars on the route, hitchhiking would probably be difficult.
Lauca also has the Las Cuevas/Jurasi hot springs – and the Salar de Surire (Surire salt flats) is just 135 km away from Chungara Lake. But the lack of other tourists dissuaded us from attempting the long drive over dirt road to the Salar.