Most of us have heard stories of the famed Valley of Flowers in the Himalayas in Uttarakhand – where the entire valley is engulfed in wild flowers of all colours, for a couple of months in a year. My father had the good fortune of seeing it for himself back in his younger days and he cannot help gushing about how beautiful it was, every time the topic comes up. However, that phenomenon is not limited to Himalayan peaks alone. Here in Maharashtra, in the district of Satara, there is a plateau of Kaas (locally called Kaas Pathar) which too gets covered by wild flowers, when the monsoon rains recede.
These wildflowers blossom for a very short while – just a couple of weeks – but they cover the full plateau with it. The Western Ghats in the monsoons are already at their most magical, with all the hills surrounding Kaas in a verdant green. Lakes are full and waterfalls in full flow. Amidst all this, imagine a plateau kissed by clouds & fog, covered with pink, blue, yellow and white flowers all over. And if you are lucky, you will have a clear day without the mist – with blue skies above and flower carpet on the ground (as this photo below. Photo credit www.bcmtouring.com)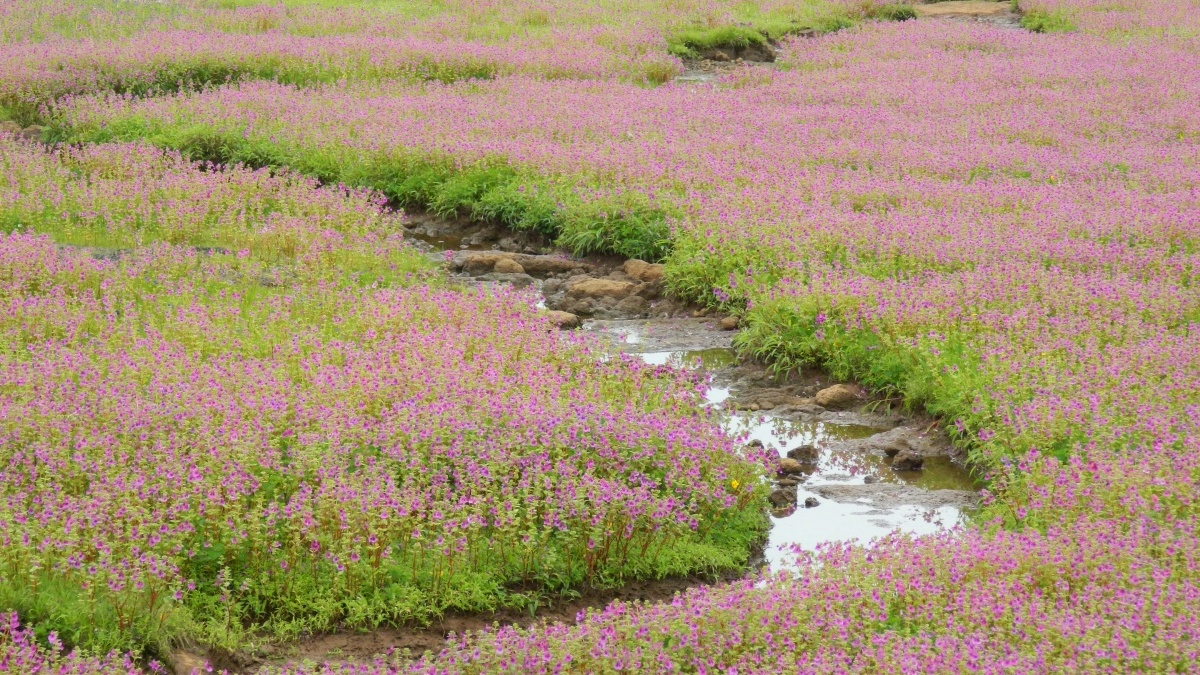 In reality, getting to see this spectacle requires more than a generous dose of luck. The flowers blossom only during the retreating monsoons – for just a week or two. As is the wont of the monsoons, they can be a trifle unpredictable with their timing. Travelling to Satara on that one (or two) particular weekend, at very short notice, is much more difficult to do. We have thought of doing it for 2 years before this, but by the time we got to know flowers had bloomed, it was already too late. This year, determined not to miss it, we kept our ears (and travel websites) open, kept in touch with travel-loving friends and kept weekends in September free. And we made it – well almost. We were late by a week – we did not see a full flower-covered plateau. But what we saw was well worth the trip.
Satara is an ideal monsoon getaway even without the Kaas flowers – we had been here in 2011 – and it was a wonderful trip. Coincidentally, this trip had the same group as last time – us two, Suchitra's cousin and her husband. Hence we did not spend time on the other Satara attractions – Thosegaar, Bamnoli etc. We were driving this time, and we headed directly to Kaas.
The Drive
There are two ways to reach Satara from Mumbai, taking the Goa road and then via Mahabaleshwar. Or via Pune and then using NH4. Having heard very good things about NH4 Pune-Bangalore – and the Pune Expressway being great by default – we chose to drive via Pune. It was the longer route, but it was a high speed stress-free drive without any standout points. We snuck into Satara town for some lunch, before starting for Kaas.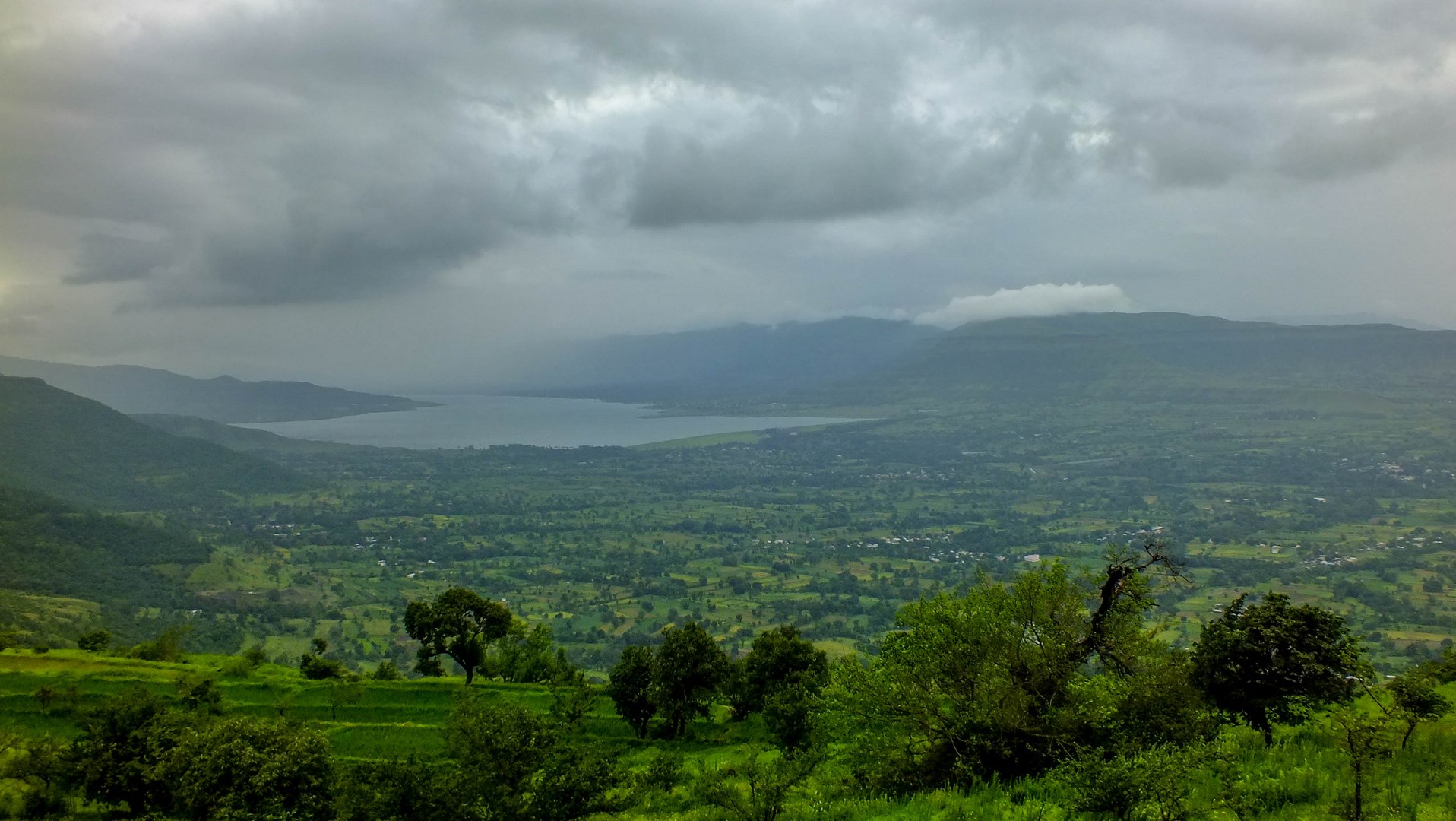 The roads from Satara to Kaas remain gorgeous as ever, like the photo above. Finding Kaas Pathar isn't very difficult. There are enough signboards now – and Google Maps is quite accurate as well. We probably do not credit Google Maps enough here – we use it on every trip of ours and it has almost never failed us. And it is 95% of the times accurate. Anyway, soon we were climbing up towards the Pathar, eager for our first view of the flowers.
However what greeted us was a long traffic jam !
It seems fame of Kaas Pathar has spread wide across Maharashtra. A narrow 2 lane road becomes a one lane road- as the other lane is completely used up by parked cars. And the single lane is frequently jammed as sometimes there is no place for oncoming cars to pass outgoing cars. This line of parked cars easily stretched 3-4 km. We took about 30-40 min to navigate this traffic jam in this unlikeliest of places and find a parking spot for ourselves.
Valley of Flowers
In the wake of the Western Ghats biosphere becoming a UNESCO World Heritage site, as well as growing popularity of Kaas Valley of Flowers, there is now some government action at Kaas Pathar. The flower parts of the plateau are being fenced off, with visitors being restricted to a few select walking paths. At the time of our visit, some fences were still being constructed. However, they have erected fences all along the road though, so that no one can get in without a ticket – entry fee is Rs 10 per head (this part of the government was working fine). Also, there was a serious lack of staff as most of them were hard pressed to control the traffic. Overall the area was quite crowded, so if possible, a weekday visit would be much better.
As we were a week late, the wild flowers were spread in patches instead of fully covering the ground. But it was still amazingly pretty to see pink/purple, blue and yellow flowers cover huge areas together. The pictures will provide a better view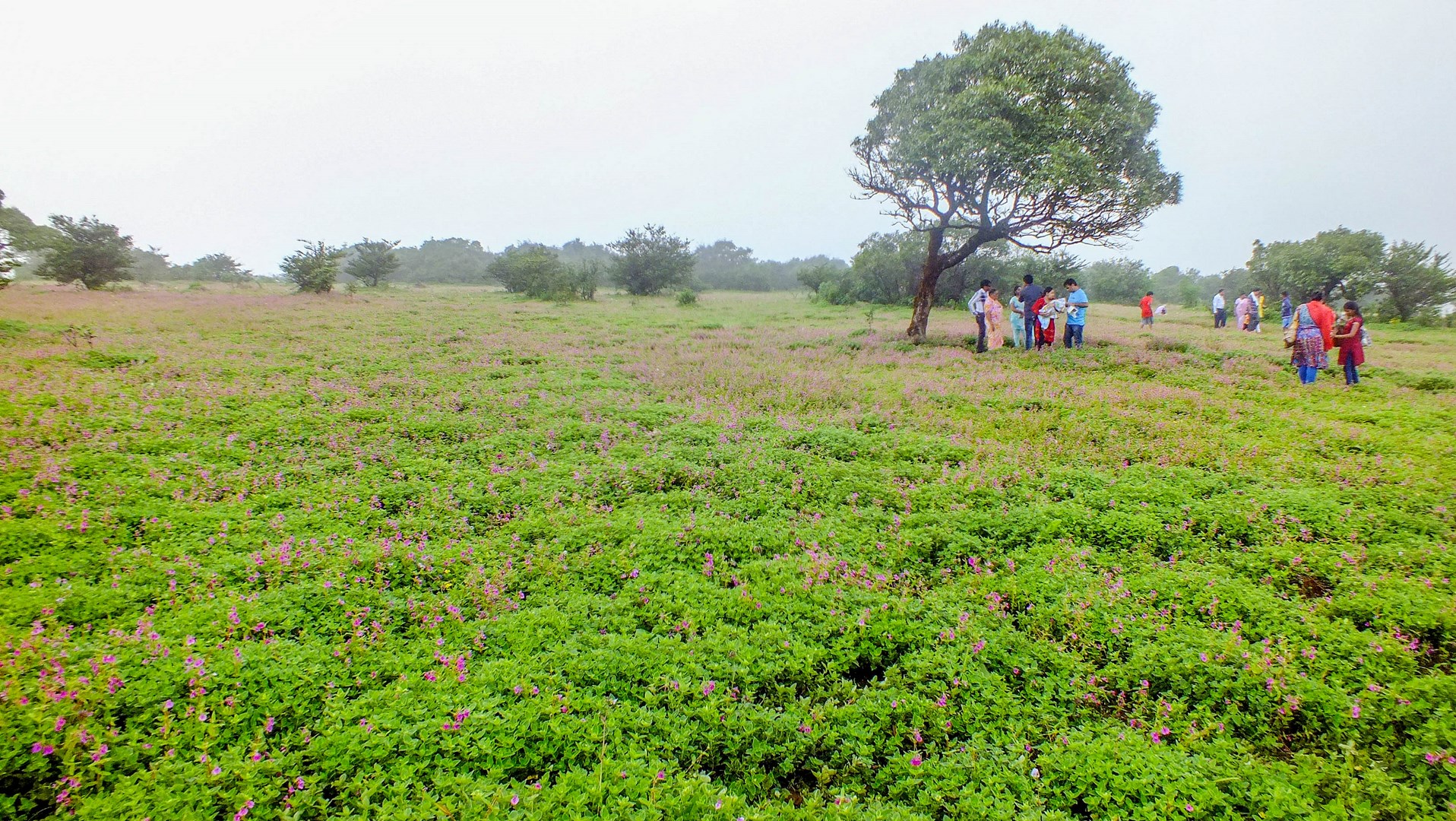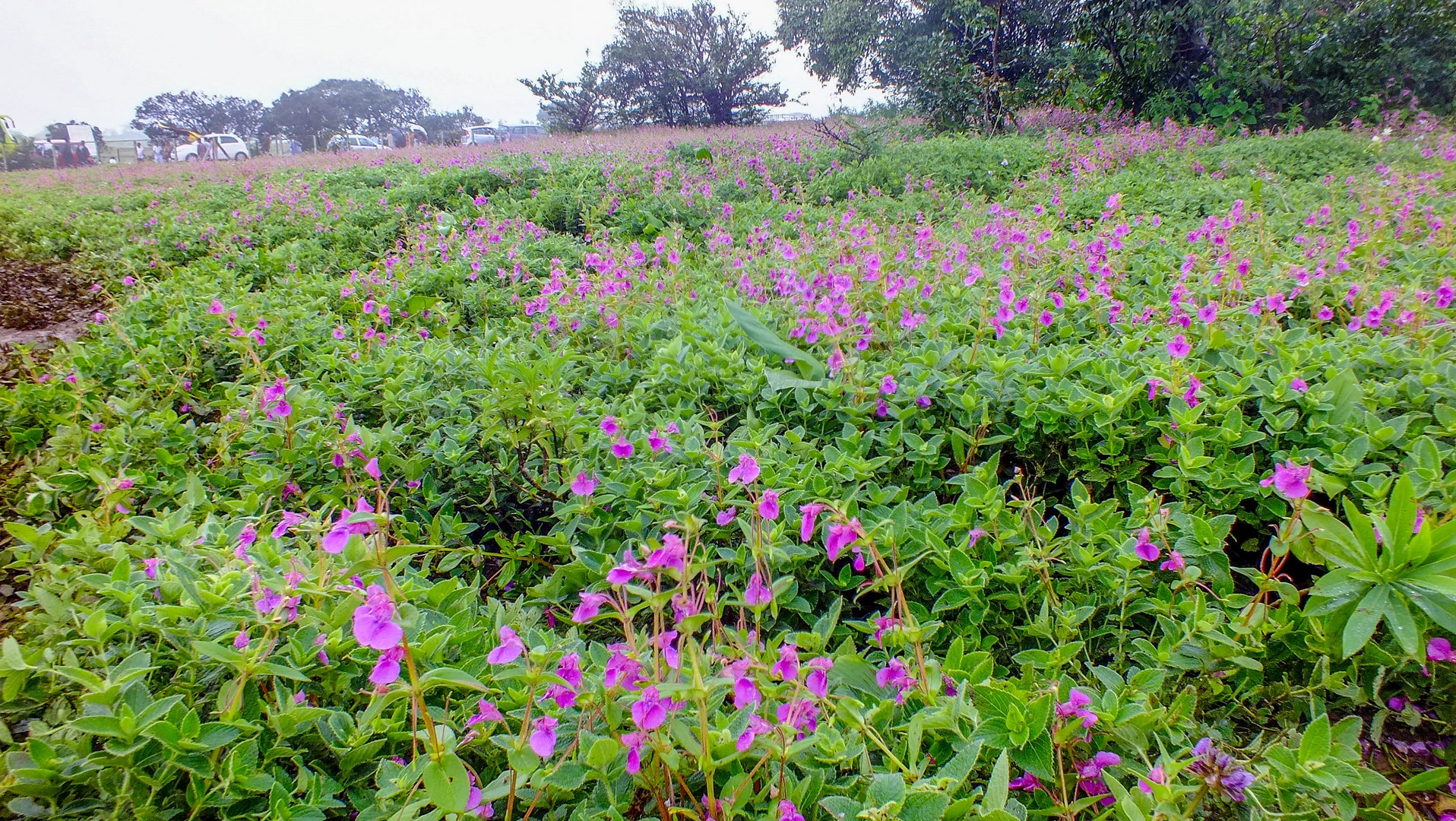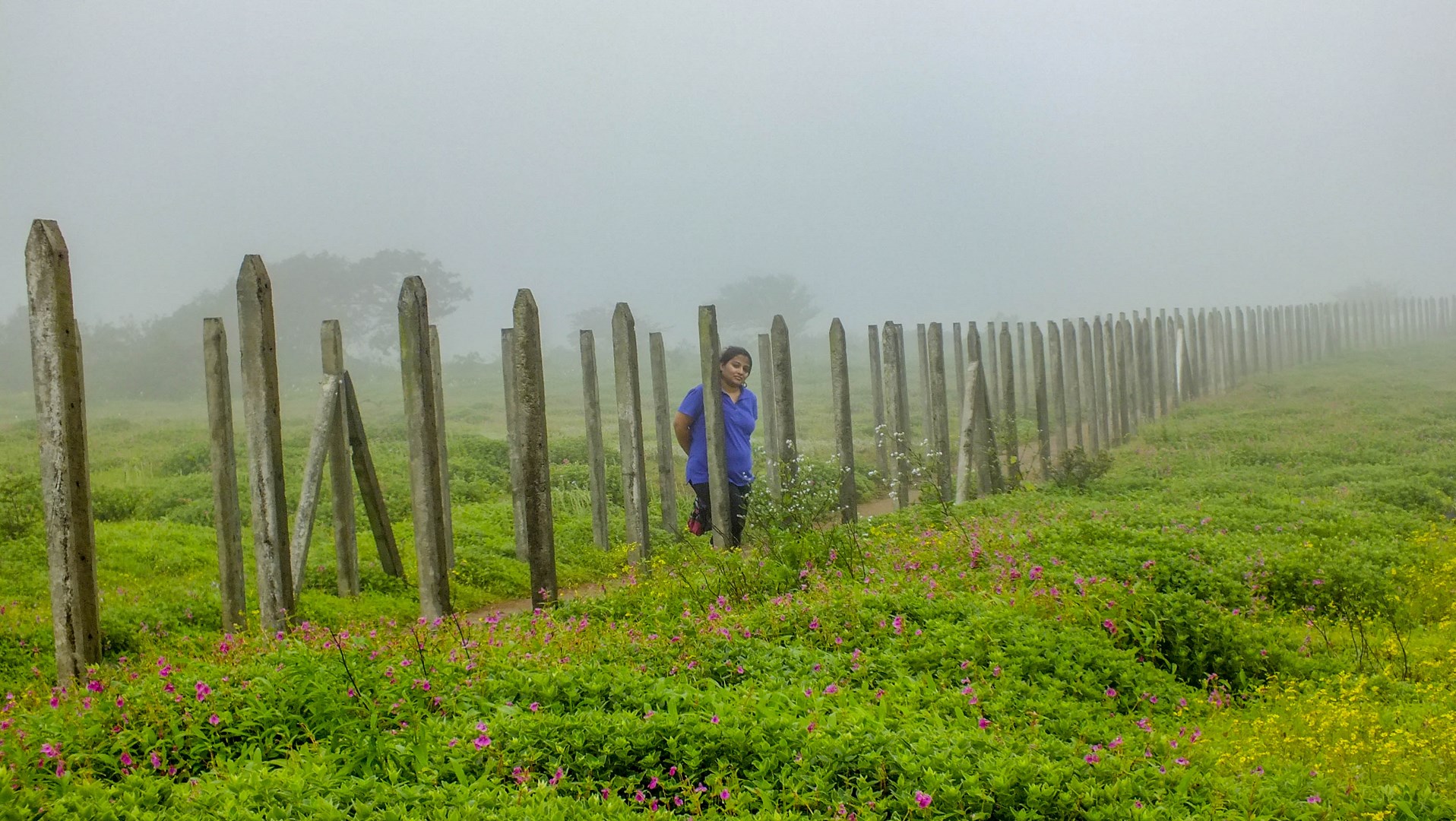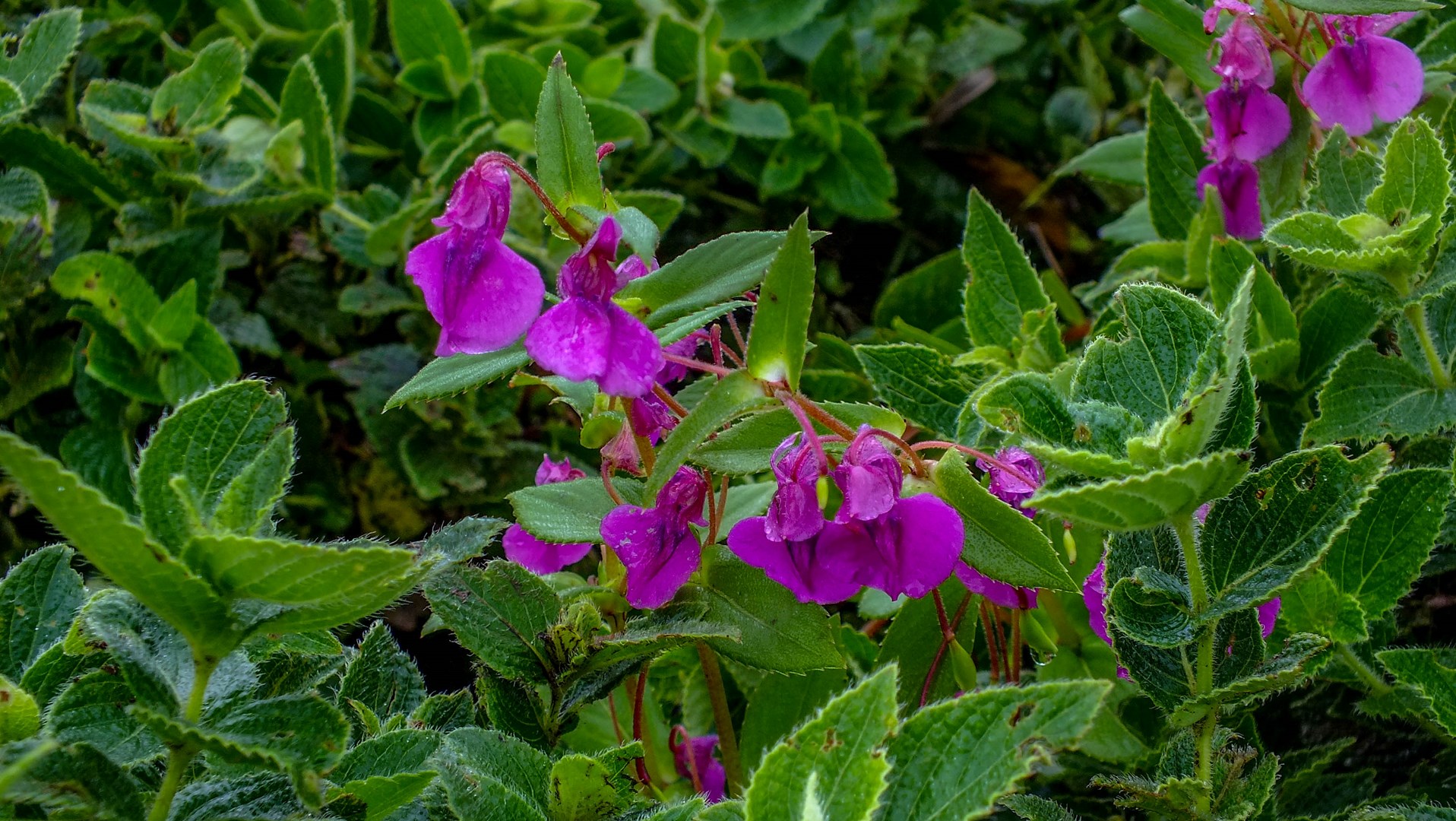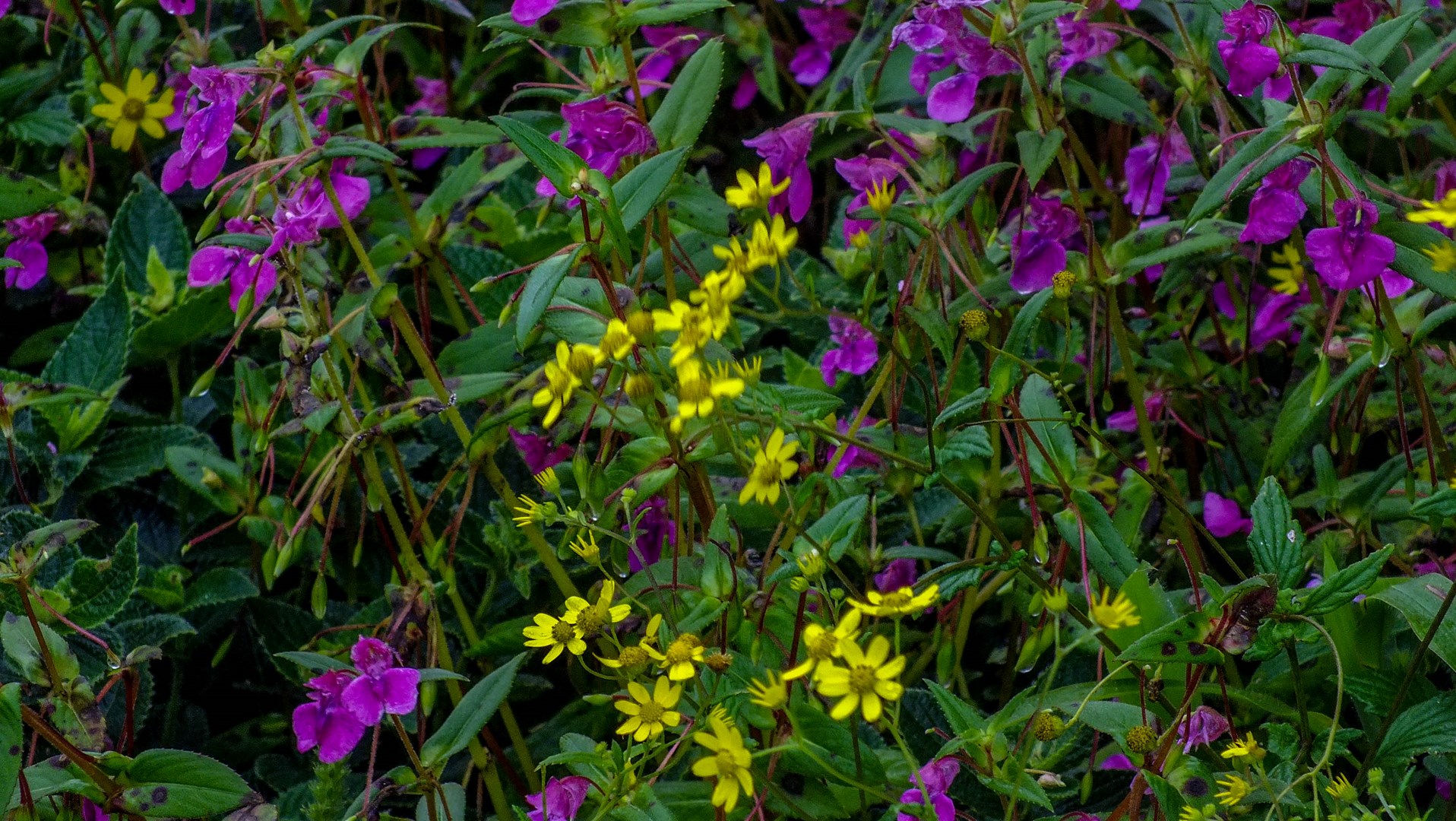 We spent the few remaining daylight hours walking around the plateau – although we did not cover even half the plateau. Once it started to get darker, we left Kaas Pathar and started towards Mahabaleshwar. Kaas Pathar is midway between town of Satara and Mahabaleshwar. Given the trouble we had at finding accommodation last time, we avoided Satara and booked rooms in Mahabaleshwar this time. It is only 40 km from Kaas to Mahabaleshwar, but it is a hilly ghat road which on hindsight, is probably better not done after dark.
As soon as it became dark, the fog/clouds rolled in. And the road was hemmed in by the jungle on both sides – and it kept climbing up and down like a hilly road – with blind corners and everything. And to top it all, it wasn't a well maintained road. Most of the way we were in the second gear, trying to squint into the gloom ahead, looking for broken roads or corners – or the inexplicable two wheeler running without any lights. But overall there are very FEW vehicles on that road after dark – in the 40 km we did not come across more than 10 vehicles. And it took us about 90 min to reach Mahabaleshwar from Kaas.
There was one really creepy point at the road, close to Mahabaleshwar, where in the middle of pitch dark forest on both sides of the road, we spot a lighted up area, only to realize it is a graveyard. In the middle of a pitch-dark foggy fucking forest, the only well-lit place was a graveyard! Needless to say, we left very quickly, all the while checking our rearview mirrors carefully.
The town of Mahabaleshwar at 8pm was quite dead, and it was difficult to find people to ask directions. We found our way to our hotel, Saj Resort, without much more drama. And we were shown into two huge spacious rooms. Dinner was a buffet – quite reasonable – or maybe we were just too hungry to care. The resort was huge, and Rs 3,800 was a fair price for the big rooms we got.
Tableland, Panchgani
Since our friends hadn't seen Panchgani before, we decided to visit the Tableland in Panchgani on our way back to Mumbai. Checking out of our hotel after a late breakfast, we stopped at Mapro gardens first. Getting our usual pick of jams and fruit jellies, we headed to Panchgani. Going to Panchgani turned out to be a great idea actually. The day was very clear, without rain or fog – which allowed us to see the Krishna river in full glory. The Tableland wasn't crowded like Kaas was, letting us wander around in leisure. We took a lot of beautiful photographs as the conditions and views were ideal.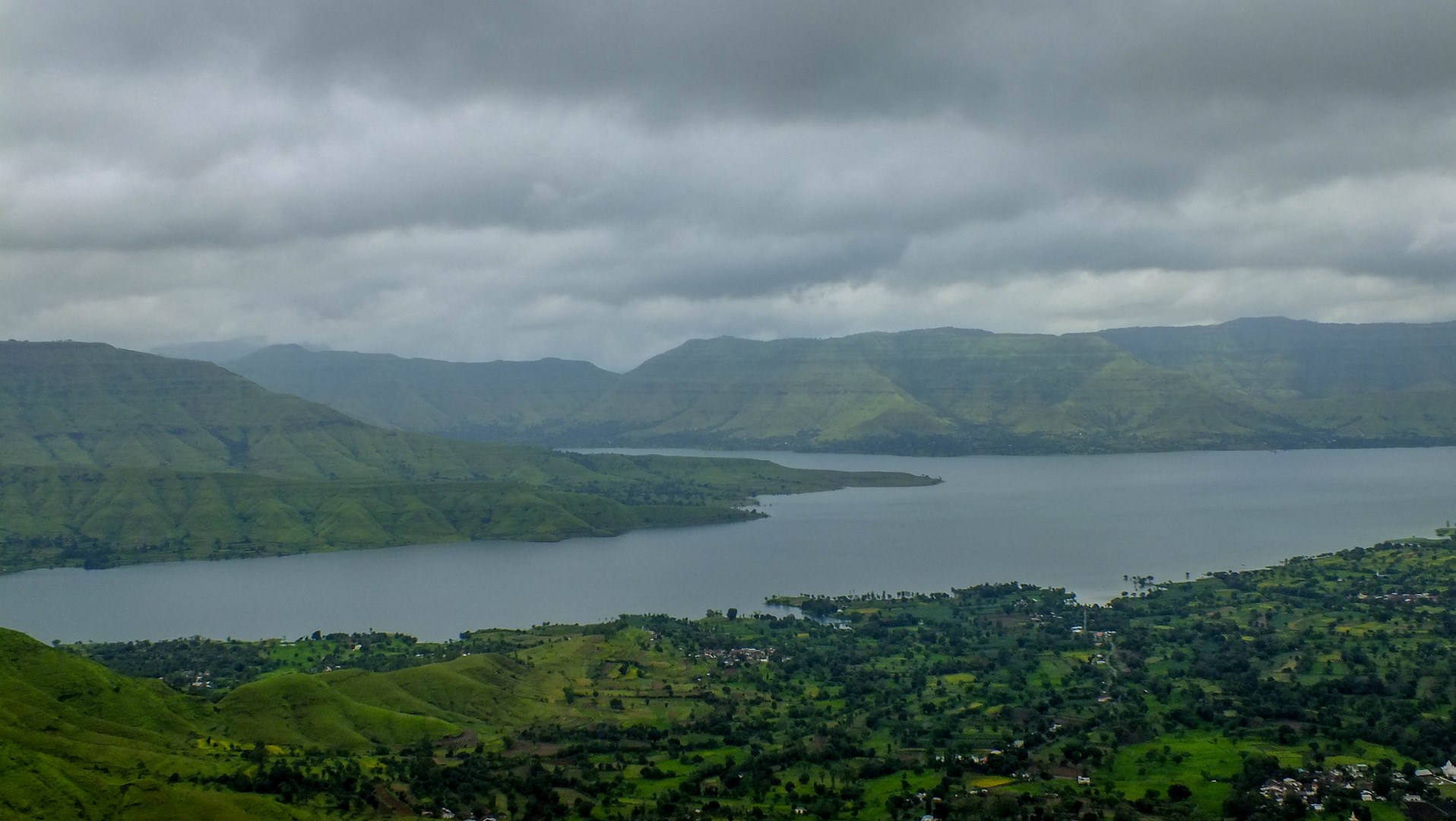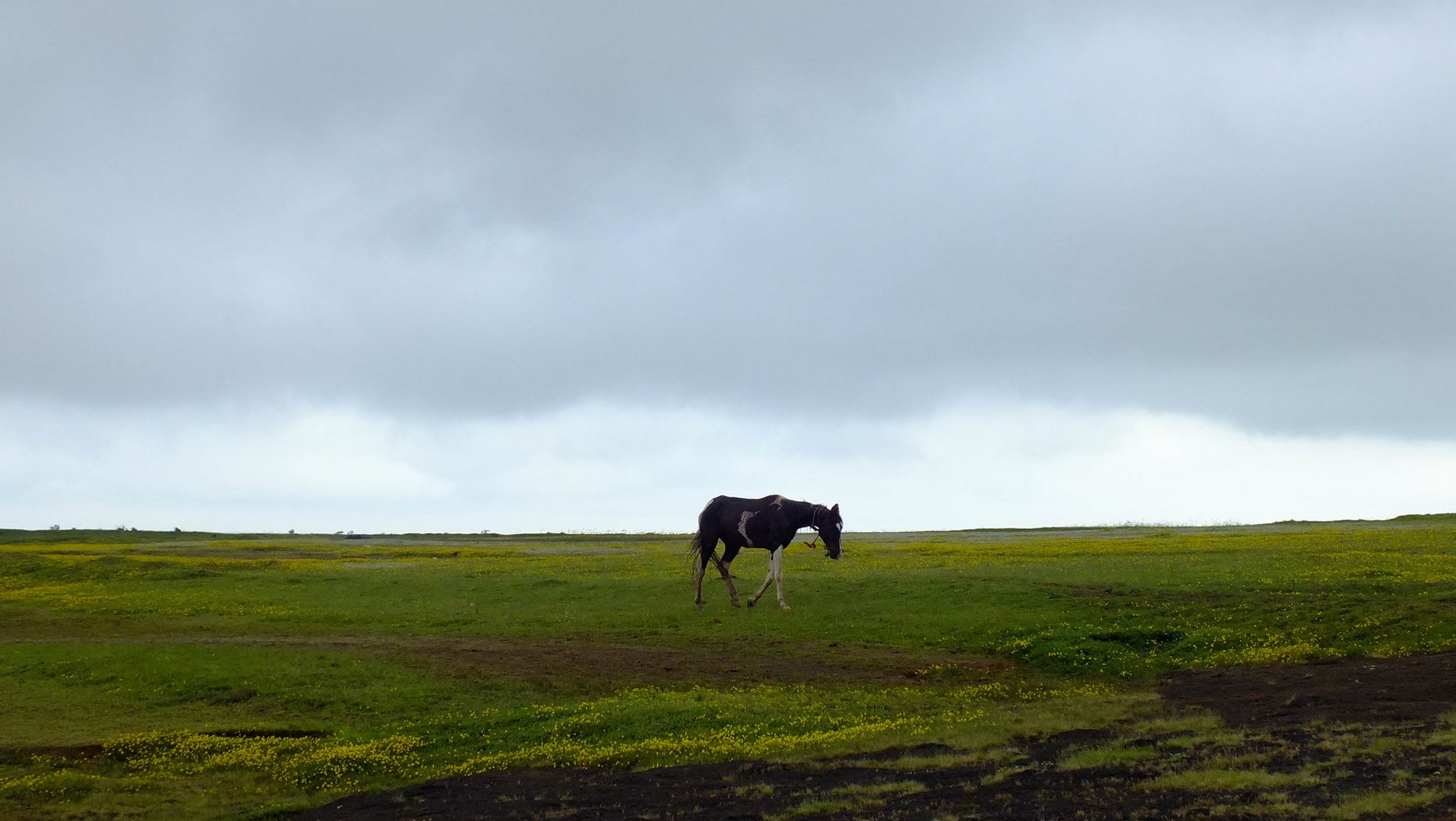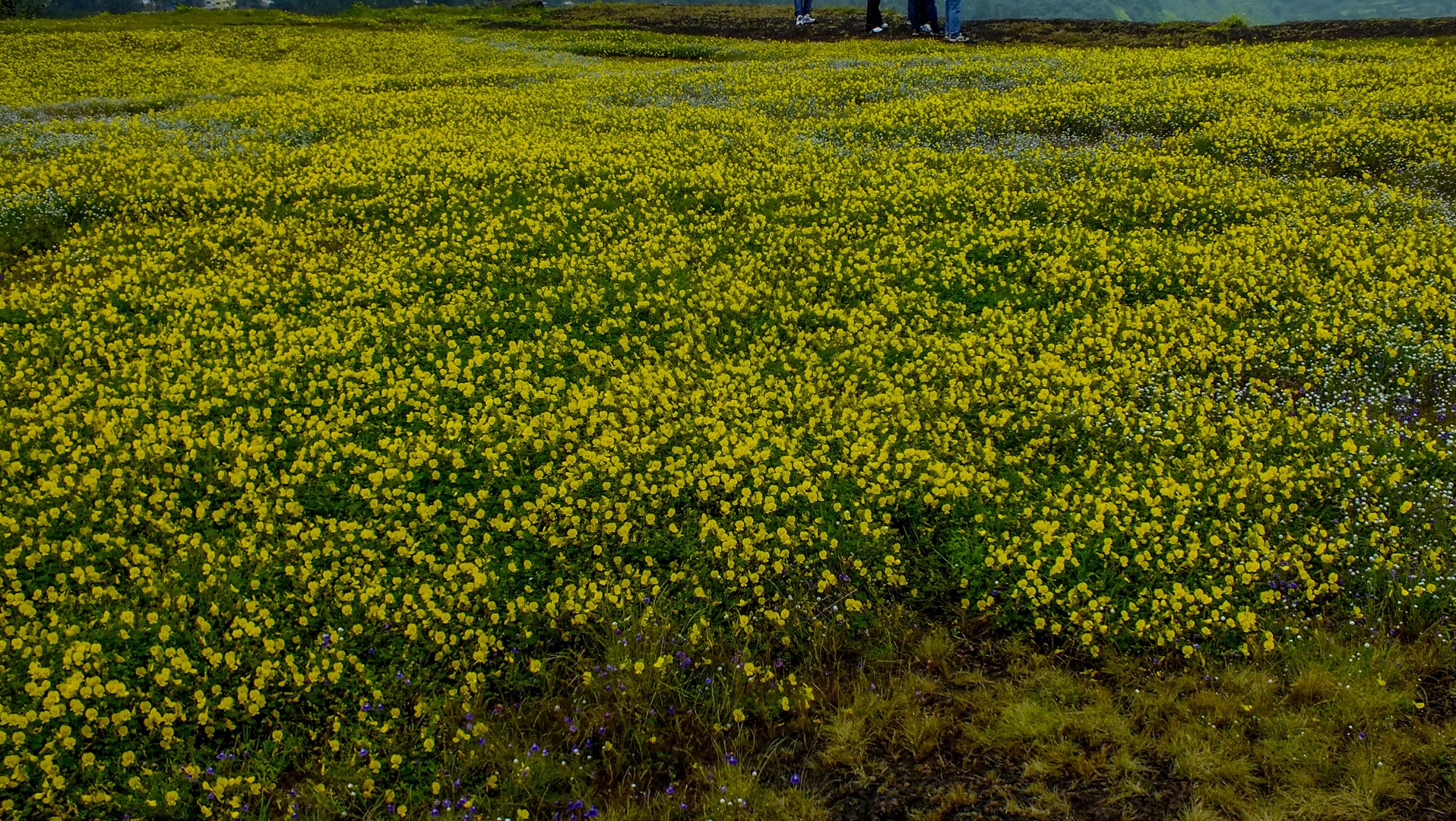 We started back from Panchgani towards Mumbai around 3.30 pm. We decided to try the NH17 (Goa highway) on our way back instead of repeating NH4 and Pune Expressway. Turned out to be a less than ideal choice as the road from Mahabaleshwar to Mahad wasn't the best. And even NH17, which is being widened into 4 lanes, was very erratic with some portions under construction. It was a tiring 220 km drive, which finished at 8 pm .