The Atacama desert was our final destination in Chile, as we completed our south-to-north traverse of the country. The Atacama is famous for being one of the driest places in the world, with some locales not recording a single drop of rain since weather stations were set up! On average, the whole region receives only 1.5 cm of rain every year. But it was just luck that our visit in Feb 2019 coincided with historic flooding in the Atacama, resulting in 6 deaths and hundreds of homes destroyed.
Our trip to the Atacama was centred around the town of San Pedro de Atacama (SPdA). Originally a mining town, it has transformed into a bustling cluster of cafes, restaurants, guesthouses, shops and tour agencies. The town lies within driving distance from some stunning natural attractions – the multi-coloured altiplanic lagoons, steaming geysers, snow-capped volcanoes, endless salt flats and otherworldly (lunar) valleys. For stargazers, SPdA has some of the clearest skies in the world and world-class observatories. And the town offers good food/drinks and decent wifi too!
Reaching San Pedro de Atacama
The nearest airport is in the town of Calama, 100km away. For some reason, there are no car rental agencies in SPdA – none of the well-known ones. Hence rental cars have to be picked up in Calama itself. Since we had to rejig our itinerary to avoid the worst of the floods, we had to find a new rental car at the proverbial last minute. With SUVs being scarce and expensive, we chose a 4×2 pickup from Budget Rentals. It turned out to be a bright red Nissan NP300 (Frontier) truck and even better – they gave us a 4WD! It cost us USD 80 per day – and though the price was high, it proved worth every dollar in the next 5 days.
Having owned and driven only smaller cars, climbing into the high cabin and getting used to the Nissan's bulk took some adjustments. Pradosh stalled the engine twice when leaving the airport, but within the hour he was comfortably cruising at 120 kmph.
The road from Calama to SPdA (Chile's Ruta 23) is arrow-straight for 60% of the distance and fully tarmac. We saw some dried-up mud flows and small gullies on the side of the road, but nothing scary. Just before reaching SPdA, we stopped at the Sal Cordillera Mirador, to gaze at the rocky landscape of lurid browns & white – which is said to resemble the surface of the moon. The nearby Valle de Marte (Mars Valley) was closed and we could see water collected in large pools at the entrance. With multiple stops for pictures, we spent 2 hours covering the 110km to SPdA.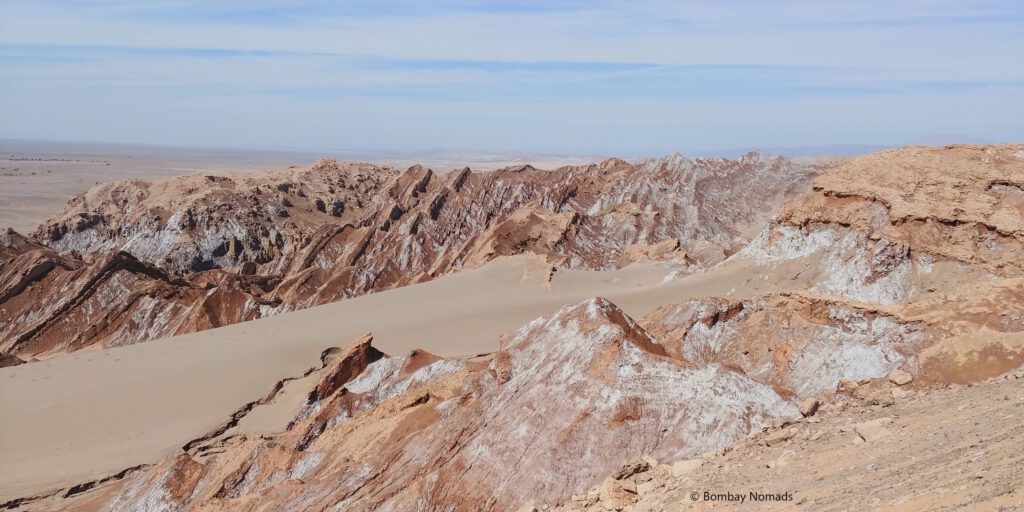 When we finally hit the SPdA, we hit it literally! The roads in the town aren't paved, and were covered with muddy water everywhere. The murky brown water hid some giant craters, which we crashed into. Our big red Nissan, with its hefty build and mile-high clearance, rode through the craters like a champion – and I am pretty sure those craters would have swallowed wheels of a small car without a burp!
Our hotel, La Cochera, was a stone throw away from the main Calle Caracoles and we didn't have any trouble finding our way. However, the hotel front desk confirmed the bad news – every single tourist attraction around SPdA was currently closed to tourists, because of flooding on the roads.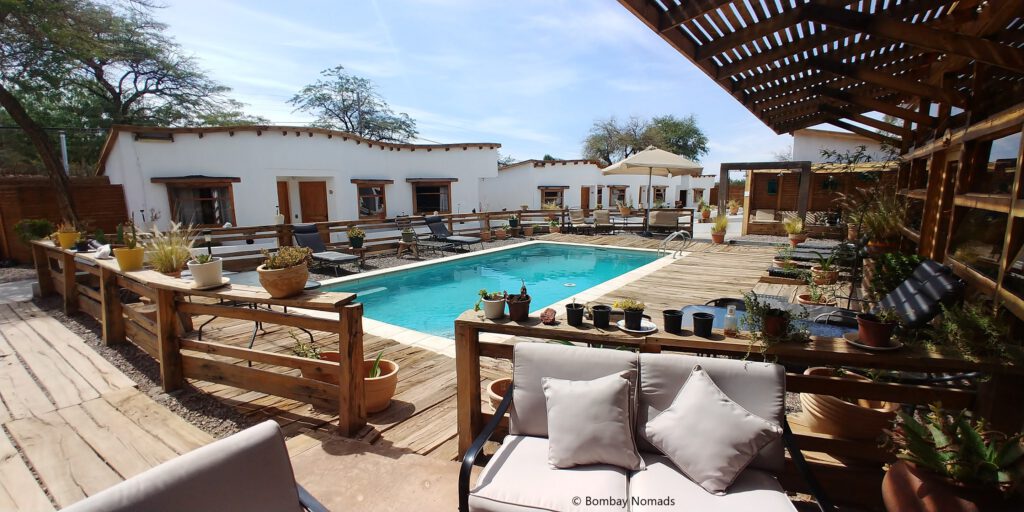 Valle de Marte (Valley of Mars)
While having lunch at a nearby restaurant, we read news on twitter about Valle de La Luna (Moon Valley), Valle de Marte and Geyser El Tatio opening for tourists. We checked at the first travel agency we came across and booked a tour* to El Tatio for the next morning. Then we climbed into our truck and drove to Valle de la Luna, only to find that private vehicles (even bicycles) weren't allowed into the valley yet. Only accredited tours were allowed, keeping safety of tourists in mind.
* Apparently, the geysers are stronger during the night and hence are best viewed at daybreak. So it is recommended to join a tour group to El Tatio, rather than drive on dirt roads in the dark.
We were really pissed at not being able to enter Valle de la Luna on our own, because we were looking forward to exploring it at our own pace – instead of having to stick to the guide's schedule. Having to pay for a tour, even though we had our own vehicle, was doubly irritating.
Resigning ourselves to fate, we headed to Valle de Marte, only to find it still closed. Luckily, a group of cyclists told us about another entrance to Mars Valley 3km away. A scruffy dirt road led off from Ruta 23 and it wasn't a track where a sedan or hatchback would have gone comfortably. Needless to mention, our big ol' Nissan merrily trundled along for almost a kilometre, till we reached a locked gate.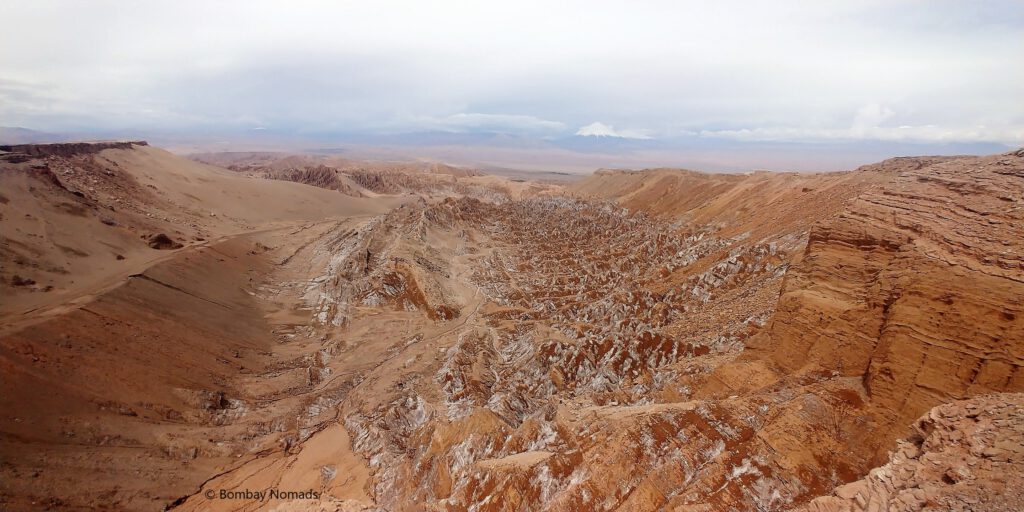 A small hut was visible on a hill above the gate, and a signboard pointed at it saying Mirador. The climb was short but steep and we were rewarded with a surreal view of an arid valley in shades of red, orange and white –wholly living up to its Martian name. The Mars Valley is sometimes referred to as Valle de la Muerte (Valley of Death) – but it could just be a linguistic distortion (Marte/Muerte). During our 5 day stay in SPdA, Valle de Marte did not open for tourists, so we never got a chance to try sandboarding down the sand dunes or hiking in the valley itself. But given the circumstances, we were thrilled to have gotten at least one glance at the incredible Martian landscape.
El Tatio Geyser
As our luck would have it, throughout our time in South America, we would always be the first ones to be picked up on every tour! At 04:30 in the morning, we got picked up from our hotel by a Mercedes Sprinter minibus and then spent the next 45 min lurching, juddering and crashing into the craters on the roads of SPdA, till the bus was full. Once we left SPdA, the roads were better and we were able to nap for a while.
At the entrance to El Tatio geyser field, we had to get down to buy our tickets (and use the restroom). We realized there were a lot of vans and minibuses parked in a football-field-sized ground. The dark landscape was lit only with the headlights of vehicles. And it was surprisingly cold, much more than SPdA. We quickly donned our caps and gloves, and hurried back to our seats.
The buses were allowed to enter El Tatio in a single file around 06:30 and unlike India, everyone drove in an orderly fashion. It was a dirt road with some broken patches, but nothing like the craters in SPdA. It was still dark, but there was a faint glow in the horizon as daybreak approached. We drove into a valley surrounded by snow-covered Andes peaks. The valley seemed to be covered in a haze, which on closer inspection, was smoke spewing out of numerous fumaroles on the ground. Most of the steam vents were small, some just a little larger than tea kettles – though to us, some were uncomfortably close to the road itself.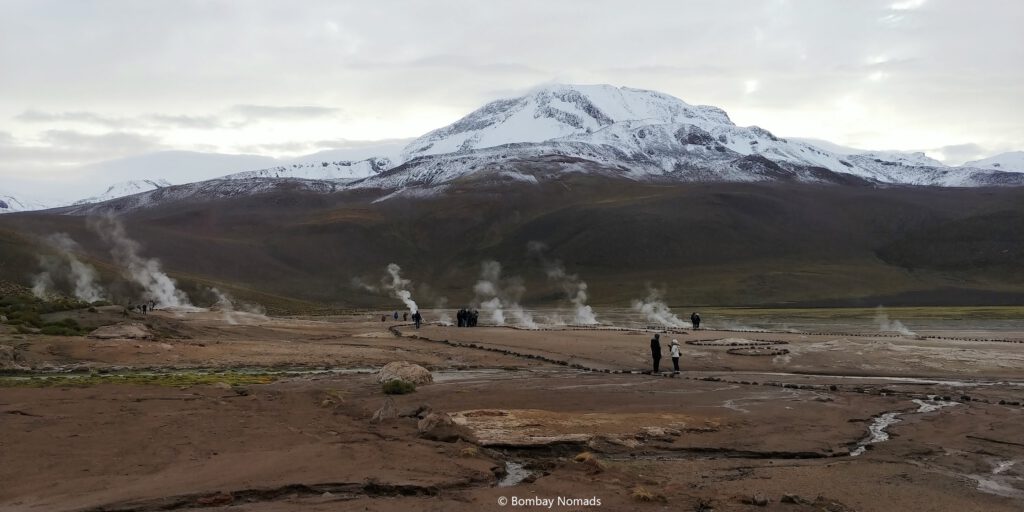 Our guide was named Juan Pablo and he started our tour sharply at 07:00 from the parking lot. Juan explained about geothermal phenomena in the region and their different forms – geysers, steam vents, hot water springs etc – as we walked from one feature to another. One interesting tidbit – because of the 4000m+ elevation of El Tatio, water there evaporates at only 86 °C. The elevation, coupled with the winds made it freezing, despite our jackets and winterwear. After removing gloves to take photographs, we would feel as if our fingers have turned into popsicles!
The geysers in El Tatio weren't too impressive – there are 7-8 spouts spread in the valley and highest among them was a measly 2m high. However, what is incomparable is the setting of this geyser field. At 4,000m, El Tatio is the highest geyser field in the world. Surrounded by the magnificent snow-covered Andes mountains, the barren reddish-brown valley emits smoke from hundreds of small vents – as if the entire earth was steaming. The white smoke, the green surrounding slopes with hints of ice and the first rays of the sun make a spellbinding combination.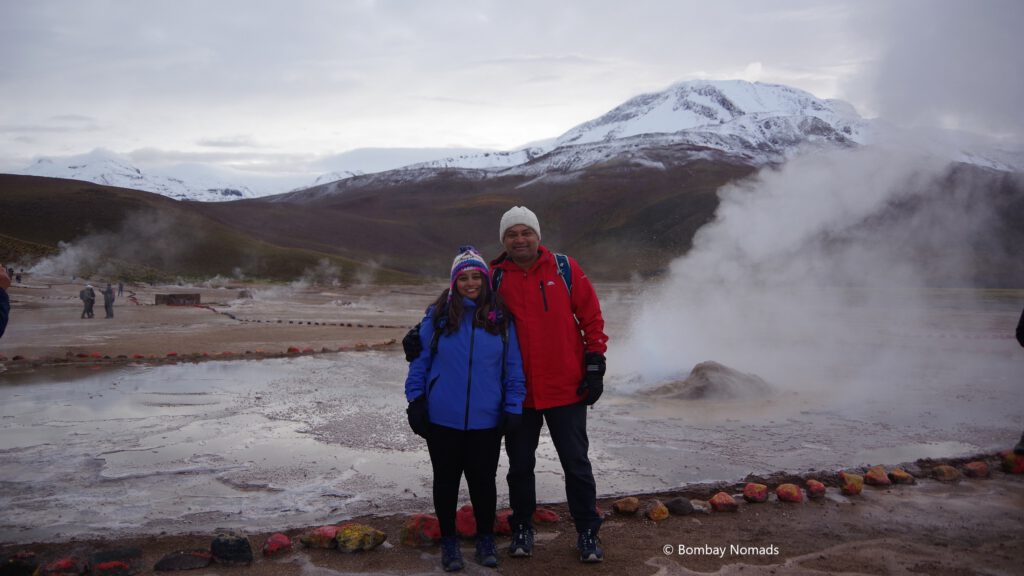 The guided walk lasted for an hour. And even though it kept getting brighter, it seemed to grow colder. The cold wind forced us to keep our gloved hands tightly inside our jacket pockets – the steaming geysers providing only but an illusion of heat. When we got back to our bus, our driver and Pablo laid out breakfast for us on a picnic table. Scrambled eggs were cooked on a small portable stove, and were had with bread, coffee, cheese and cold cuts. In the chilling wind, the hot coffee and the eggs felt absolutely heavenly!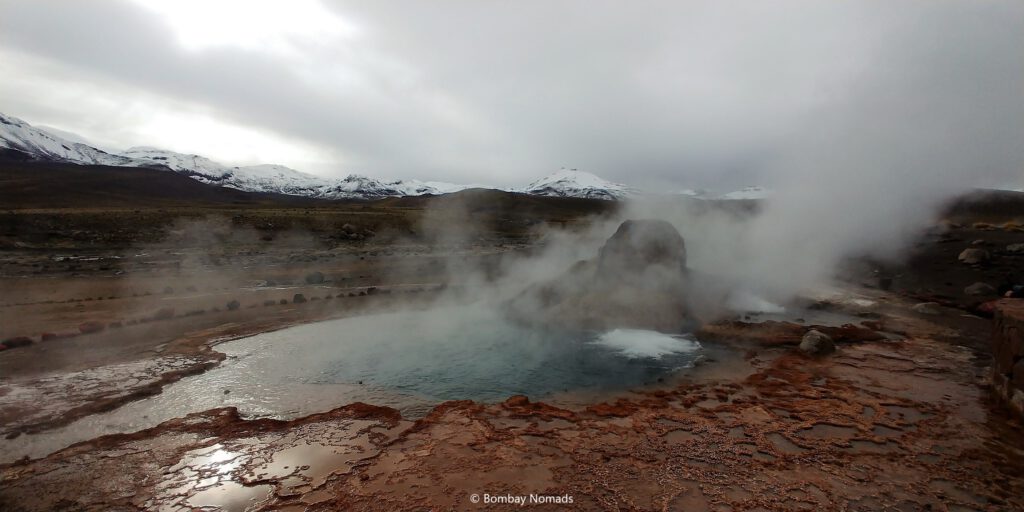 After breakfast, we boarded the bus and drove to the hot springs complex – a short distance away in the valley. There is a smallish natural pool fed by a hot spring. It is not a commercial operation, but there are 8 changing rooms built close to the pool. The pool is completely open and when we reached, there were more onlookers than people in the water – as the cold winds clearly deterred most of them. We were given half an hour, to either spend in the pool, or to explore nearby geysers and steam vents. Suchitra decided to take a dip in the pool and Pradosh preferred to stay dry and warm.
Pradosh spent the time photographing geysers, with less crowds and better light. Meanwhile in the hot pool, things were getting chaotic. The number of people – both inside and outside the pool – quadrupled in the half an hour we were there. The water in the pool was lukewarm except for the immediate vicinity of the hot vent. But the teeming crowds somewhat spoilt the experience. By the time Suchitra got out, queues of shivering people were starting to form at the changing rooms. Some did not bother waiting for the rooms and changed in the open with towels. Suchitra just managed to beat the crowds to the changing room and emerged on time. Still she was glad to have done it – and Pradosh was equally glad not to have done it 😊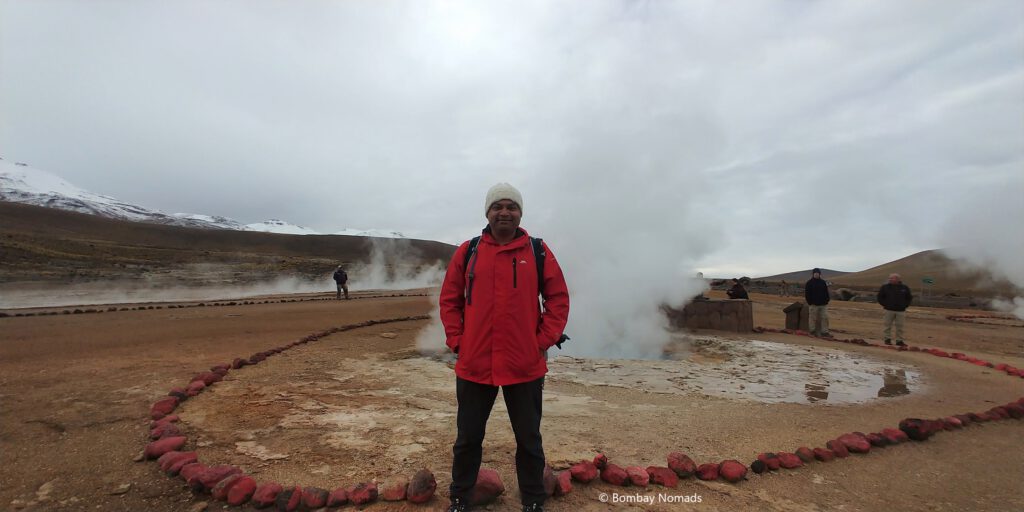 On our way back to SPdA, our guide offered to skip the tourist trap of Mechuka, and all of us gladly agreed. Instead we stopped at Vado Rio Putana nearby for some wildlife viewing. While we didn't see any birds except for couple of flamingos, we did see a family of vicuñas grazing in the wetlands.
Our final stop was Quebrada Jorquencal, a narrow canyon formed by the Puritama river. The reddish brown canyon was dramatic and really photogenic – and there are organized canyon walks available for those so inclined.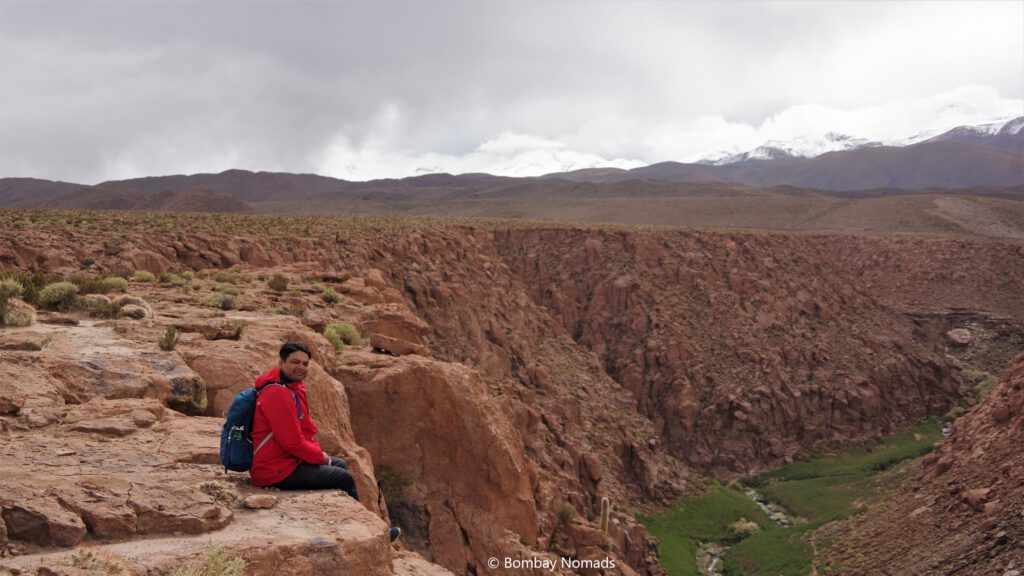 Back in SPdA, we were dropped off in the same order that we were picked, so we had to endure another 45 min of jarring and lurching again before we were dropped off at our hotel around 12:00.
Valle de la Luna
On our way back from El Tatio, we decided to explore Valle de la Luna on the same day. Desert Adventures was the tour agency closest to our hotel and they happened to have a tour available at 14:00 – which we gladly took.
After a hurried shower and lunch, we boarded a minibus for Lunar Valley around 14:00. Thankfully this bus headed straight from Desert Adventures to the valley, instead of picking up passengers all over SPdA. Valle de la Luna is just 3km out of SPdA, so the bus ride was mercifully quick.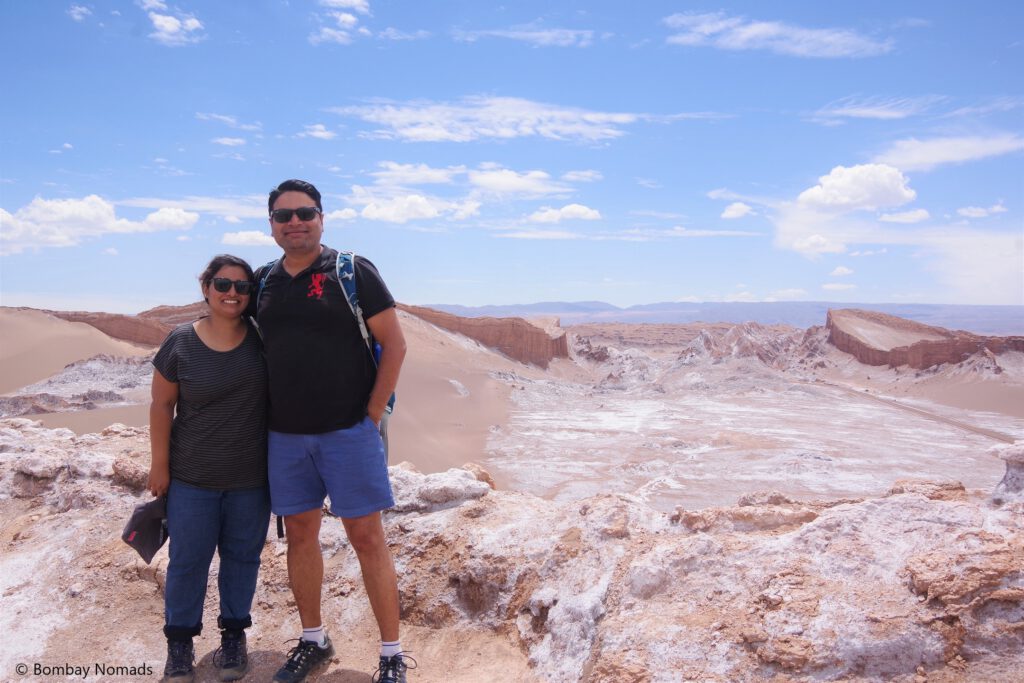 Our guide, Marco, started from the biggest dune in the area. Climbing up the sand dune, with its shifting sands, was very challenging. But once we reached the top, the view was astounding. The sand covered an entire mountain ridge, with only the tops peeking out – like the backbone of some giant beast sleeping under the earth. The landscape was a mix of stark white and browns – explaining the name of the place.
What looked amazing, had an even more unbelievable explanation. The mountain range is called the Salt Range, because it is made out completely of crystalline salt!! There is a layer of dirt/clay on top which gives it the orange-brown colour. When any rain falls, the salt dissolves in the water, and when it evaporates, it leaves behind thin deposits of white crystalline salt. Over decades and centuries, this salt forms clumps over the clay, resulting in the weird white-orange coloured rocks.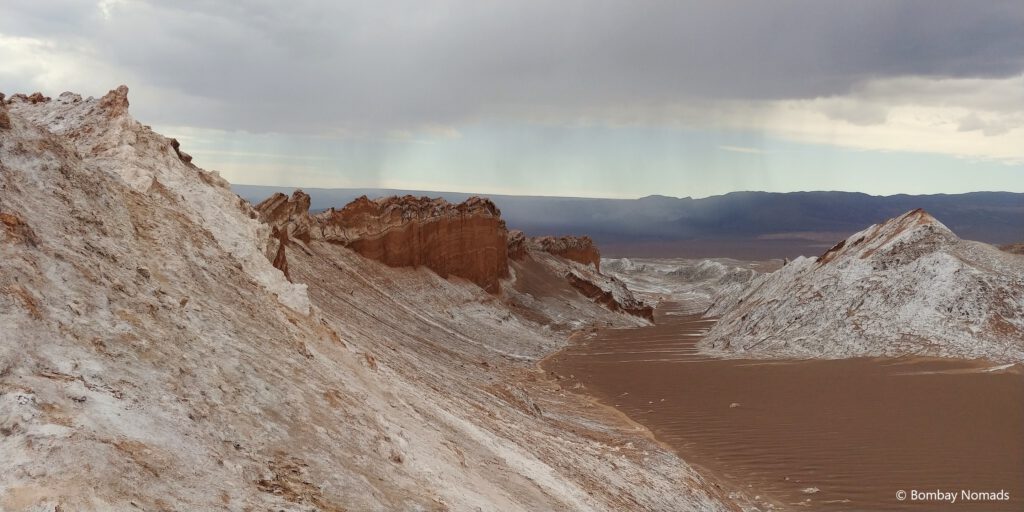 We had trouble believing that a whole mountain can be made of salt, till Marco took us to an abandoned salt mine. In a hole cut into the side of the mountain, we could see for ourselves. The "rock wall" was actually translucent in colour, streaked with channels carved by rains. It was crystalline salt! You can break off a small piece and taste it – pure salt. It is still incredible to think that an entire mountain range is made of nothing but salt!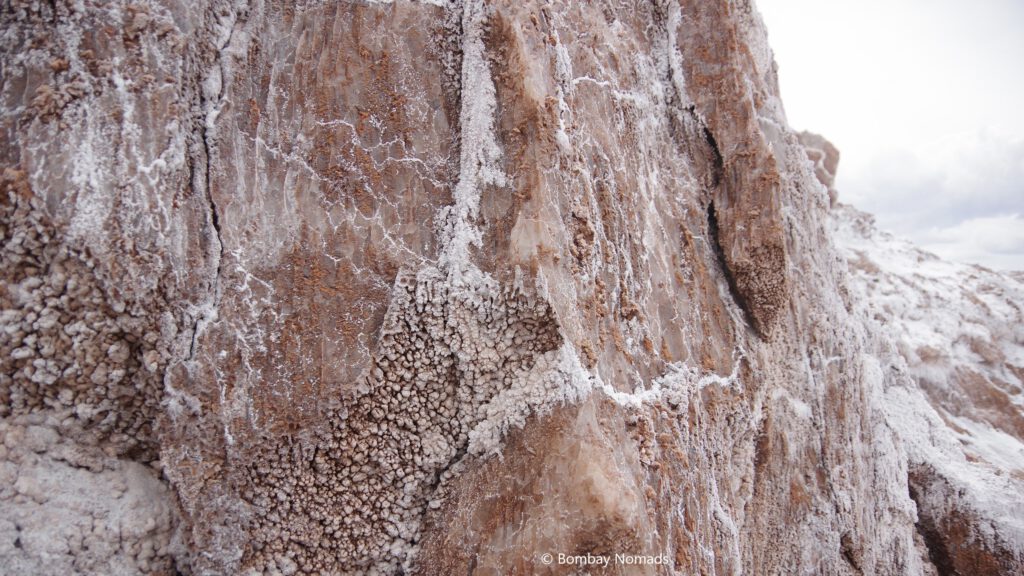 We passed by ruins of a salt mining operation, which was abandoned around the 1930s. Apart from some rusted machinery, there were crumbling worker houses, made with bricks of solid salt! Marco took us to various miradors in the park, but around 17:00, the sky began to darken threateningly and we could see heavy rain and lightning at a distance. Wary of getting caught in heavy rains in the open, we abandoned plans of watching the sun set and headed back to SPdA.
Ruta 27 & Los Flamencos National Reserve
By our third day in SPdA, we had become familiar with Sernatur, the Chilean tourism office. We would start each day by visiting the Sernatur office in the town square, and enquiring about the reopening of tourist attractions.
And like every previous day, we got a "unchanged" reply from the harried folks at Sernatur. With regular attractions still closed, we decided to just drive on Ruta 27 towards Laguna Negra and Salar de Loyoques in Los Flamencos National Reserve (following Google Maps). Ruta 27 connects SPdA to the Argentine border post at Jama Pass. We figured if Ruta 27 wasn't blocked, then we could view these lakes from the road itself.
The start on Ruta 27 wasn't encouraging, with flat, dry and dusty landscape outside of SPdA. But after 15km, the road started to climb higher and the views got much better. Half an hour after leaving SPdA, the road passes close to Mt Licancabur and there are enough rest areas on the road to stop and gawk at the mountain. The 5,900m high, perfectly conical volcano stands on the Chile-Bolivia border, and seems within shouting distance from Ruta 27.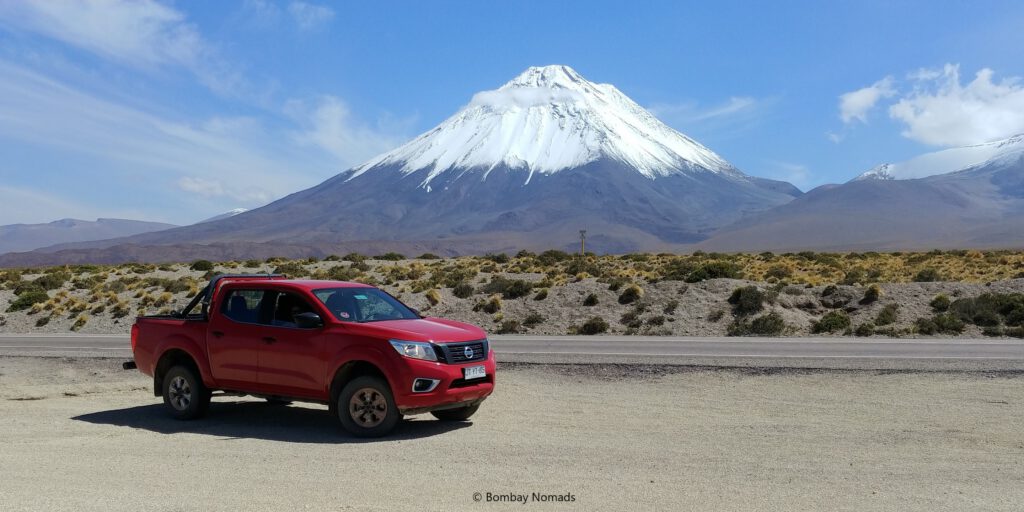 Driving through the Atacama isn't a vast expanse of nothingness, like we imagine deserts to be. There are no sand dunes, though the landscape is mostly dry and barren – in colours of yellow, orange and brick red. There was almost no traffic on the roads, but the roads were in excellent condition and there was no evidence of floods here. In some areas, there would be patches of shrubs, which would make the green contrast sharply with the rest of the desert. In the distance, the snow-covered Andes peaks kept us company. At many places, we spotted vicuñas grazing. Some even crossed the highway in front of us, although they always kept at a good distance.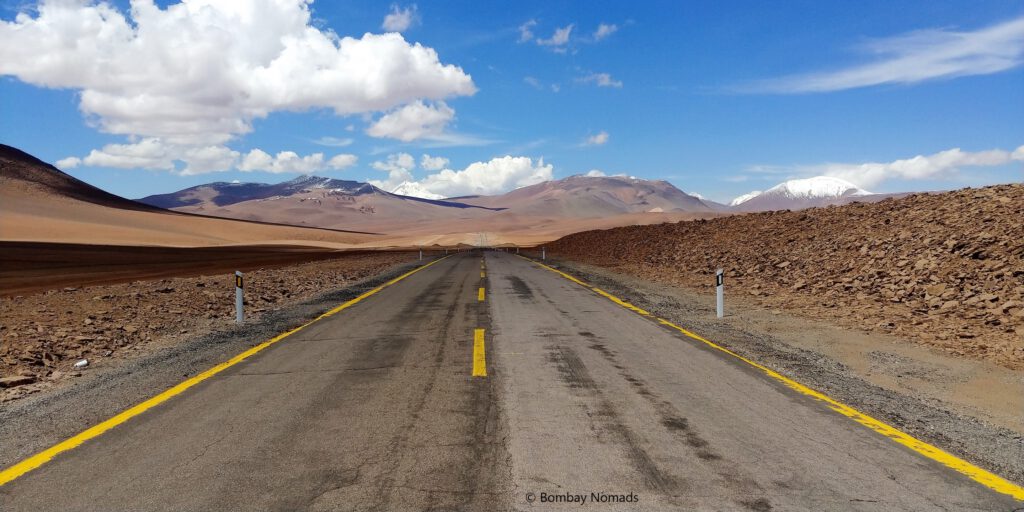 Around the 40km mark, we passed the turnoff for Paso Hito Cajon to Bolivia. We would be taking that road in a few days when we travel to Bolivia.
Around 80km from SPdA, the view changed abruptly and the road started running next to a small stream. The bright green patch of wetland around the stream contrasted sharply with the surrounding sand dunes and distant snow-capped peaks. Mirador Quebrada Quepiaco, as it is called, is gorgeous, and also a good place to spot flamingos and vicuñas. A few km ahead, we could see white expanse of Salar de Pujsa on our right. But we did not feel confident about the dirt road heading towards the Salar. In our experience, salt flats tend to be marshy and bog down vehicles.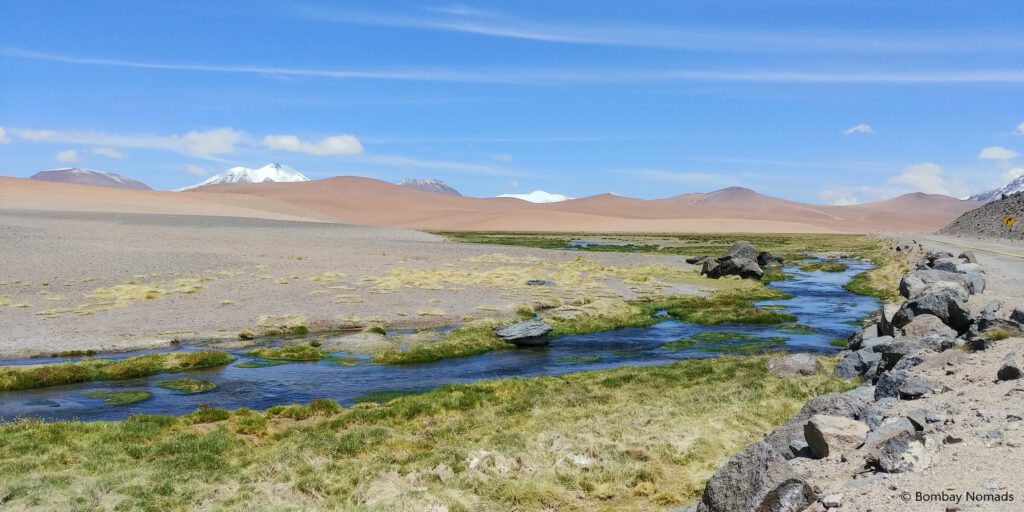 From Salar de Pujsa, the road climbs even further and reaches the maximum of 4,800m near Monjes de la Pacana – a series of bizarrely huge stone pillars standing upright, seemingly strewn randomly. We debated stopping, but then decided to continue towards the lakes.
Laguna Negra is a bright blue lake, at a distance of about 115km from SPdA. Located right next to Ruta 27, it has a large, elaborate mirador for itself. Behind Laguna Negra, there is a small salar, containing another larger lake. This lake is pale bluish-green in colour and the contrast between the two lakes couldn't have been starker. According to Google Maps, it is part of the larger Salar de Tara, but it was one of the closed attractions. We spotted a few vicunas grazing near the lake too. When we tried walking along the lake waters, the effects of high altitude made their presence felt. Just a few steps made us breathless and tired – and we had to sit for 10-15 minutes to recover our breath.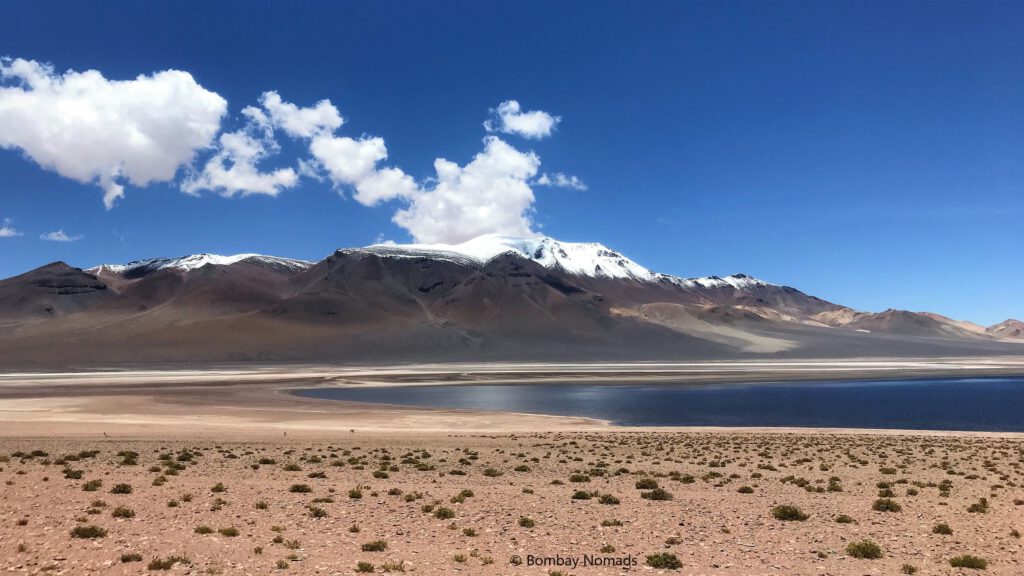 From Laguna Negra, we drove on to our final destination for the day – Salar de Loyoques. It is a shallow lake next to Ruta 27, around 130km from SPdA. We could not see any white salt flats from the road. The Salar initially appeared to be just another shallow lake, with muddy shores. But we were lucky to witness one special moment, when the winds died down and the lake became a giant mirror, producing a magical horizon-less vista.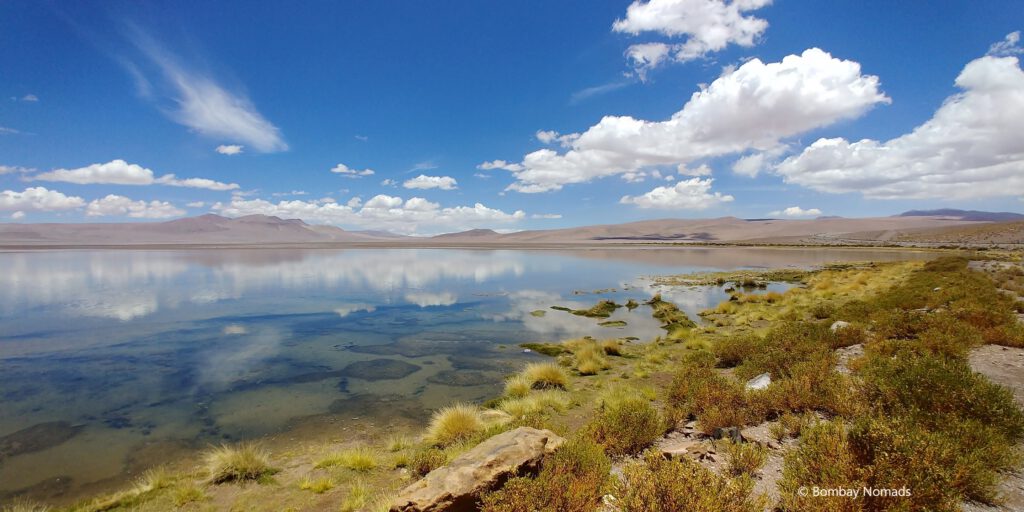 We had a quick meal of fruits & snacks in our car, before starting on our way back. At this point, we were a mere 10-15 km from the international border with Argentina.
On our way back, we decided to have a closer look at Monjes de la Pacanas (Pecan Monks). The unnaturally upright stones did seem very mysterious. We spotted a dirt track heading towards the rocks and followed it. The track climbed down sharply from the highway, into a small dry valley before climbing up again. Once down in the valley, the upward trail seemed very steep and Pradosh decided to continue the rest of the distance on foot.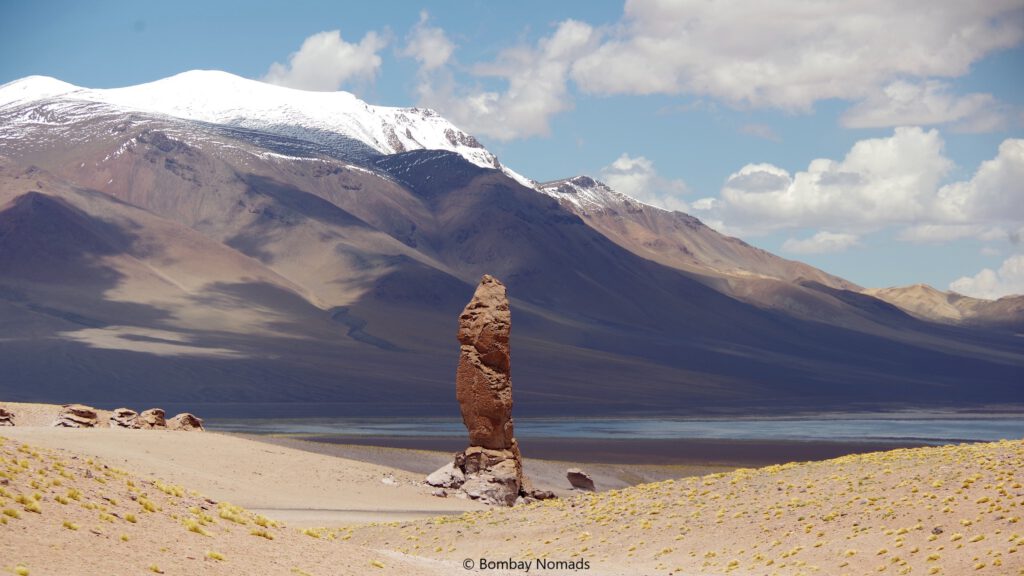 The sky had become a bit overcast and the wind had picked up. Walking up the steep slope was a lot of exertion and Pradosh was left breathless as he neared the giant rock columns. These stone spires are as high as a three storey building! There were many such rocks peppered all around and are apparently formed by volcanic activity.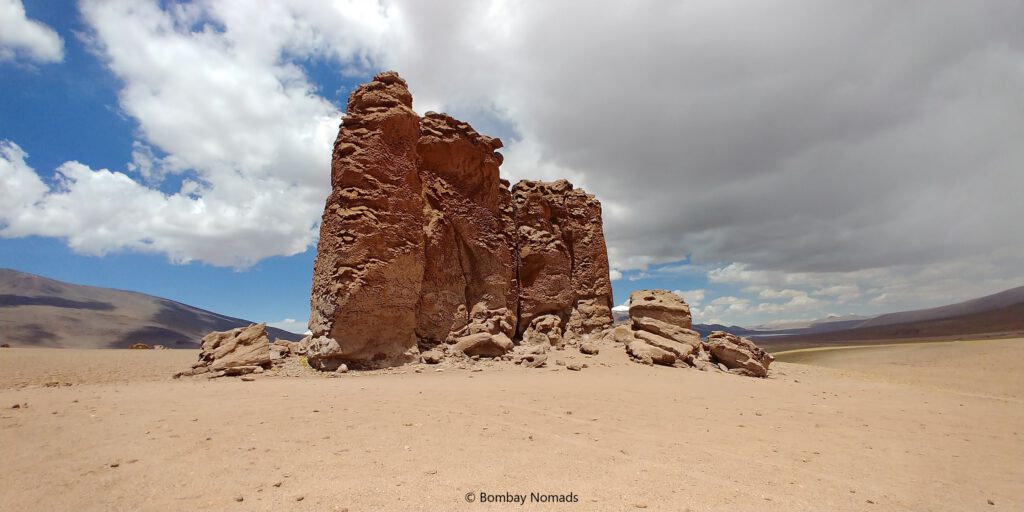 We didn't know it, but our trip was going to become a lot more exciting. Once Pradosh had caught his breath, we headed back to the highway, only to get stuck on the steep incline. Our truck just kept stalling! We let it roll back to flat ground and on our next attempt tried to get some momentum before tackling the slope – it climbed a couple of metres and stalled again. No amount of throttle or dumping the clutch seemed to move the vehicle forward.
By now Pradosh was a bit concerned. Maybe the altitude had robbed the engine of its power and it would not climb out on its own. We fleetingly considered calling for rescue, but there was no cellular signal. We were also a bit afraid of being found in a location which was off-limits for tourists.
Thankfully, the patron saint of tourists (if there is one) was watching over us and Pradosh spotted the 4WD knob. Simple 4WD did not make much difference to our predicament. But with 4WD LO engaged, magic happened and the truck climbed up the steep slope and we popped back on to the highway.
We parked on the side of the road for a few minutes to calm our nerves, before continuing back to SPdA. We have never understood the use of 4WD better, than on that day. We kept discussing how lucky we were to have gotten that red 4WD truck from our rental, even though we did not pay for all-wheel drive.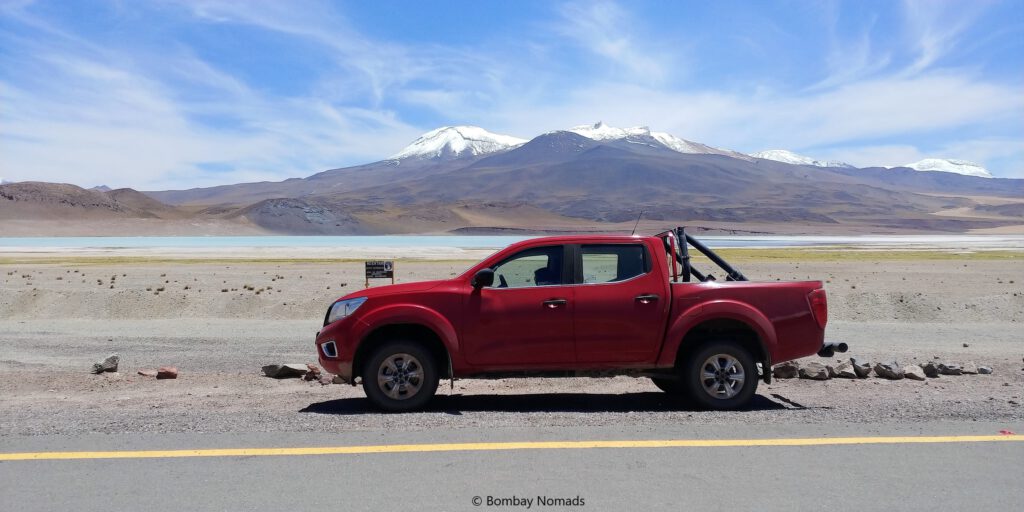 The drive back to SPdA was uneventful, though we weren't done for the day yet.
Stargazing
Among other things, SPdA is home to a number of astronomical observatories like at Elqui Valley and is a stargazer's mecca. There are a lot of guided tours for tourists/amateurs and SPACE tours are the most well known in SPdA. We happened to pass their office on our way back and noticed it had opened for the first time in 3 days. To our surprise, they said tours were running and could accommodate us on their 23:00 tour.
The pickup was supposed to happen near the SPACE office at 23:00, but it was delayed by almost half an hour. We have a feeling we were bundled off to another tour agency instead of one run by SPACE, but no major complaints on that. The observatory we visited was just 15-20 min outside of SPdA, off Ruta 27. But it might have been a 100km away, because the darkness was overwhelming. In the observatory grounds, lights were kept to a very minimal, to preserve our night vision. Even our van was fitted with auxiliary lights which threw a special kind of low power beam.
The stargazing tour was an open air one and the entire area was pitch black, except for the special kind of torches carried by our guides. We started off with discussion of the basic differences between northern and southern hemisphere skies, followed by naked-eye gazing at stars and constellations in the sky. But the best part was looking at stars through the dozen odd telescopes set up. The telescopes ranged from just 4 ft high, to 12-14 ft high, with metal stairs affixed to them.
Some telescopes were set to look at individual stars, while others were looking at whole galaxies. It was our first introduction to the wonders of stargazing with telescopes and we were absolutely thrilled with the visuals of celestial bodies. We even managed a long-exposure photo of the Milky Way!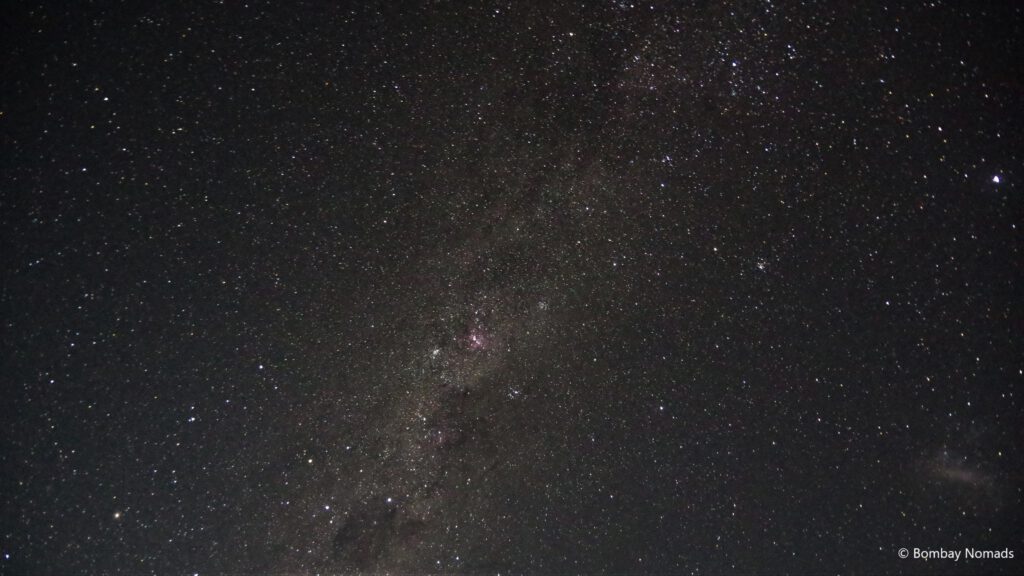 The tour was rounded off with a Q&A with the astronomers on site. We were back at our hotel only around 02:00.
Yerbas Buenas
After our usual morning visit to Sernatur (no updates), we got into our truck and headed towards Valle de Jere (Quebrada de Jerez), to try out our luck. However, we got only as far as the town of Tocanao, as the road to Valle de Jere was closed. We tried our luck similarly at Laguna Chaxa, but the road was closed there as well. Seeing Ruta 23 closed for traffic (a mistake we would correct the next day), we headed back towards SPdA to explore the petroglyphs (rock art) at Yerbas Buenas.
Yerbas Buenas is about 25 km from SPdA, off the Calama-SPdA road. There was no flood damage to this road and we reached the visitor centre with ease. There were only two other vehicles in the car park when we visited. We paid an entrance fee of 3,000 CLP per head and the old lady at the visitor centre advised us to follow the red arrow signs to the petroglyphs. The sun was already high up in the sky and it was shaping up to be a hot afternoon.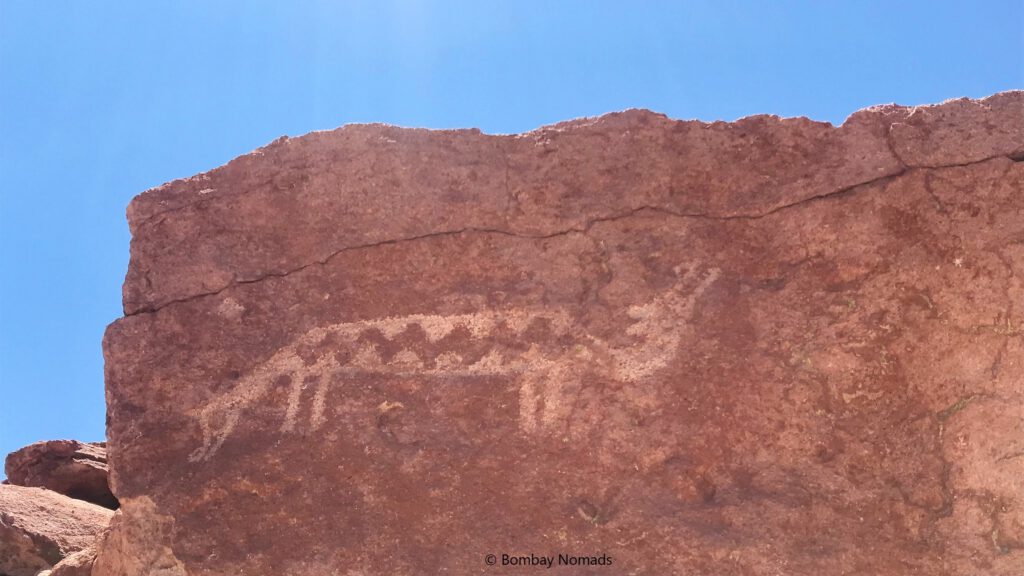 The starting point is a outcrop of reddish-brown rock behind the visitor centre. A young family with 3 kids arrived at the same time as we did and we explored the rock outcrop together, spotting petroglyphs. The drawings were scratched onto the red rock and mainly depicted llamas, with an occasional human, reptile or feline figure. Spotting the drawings would have been difficult without the red arrows pointing in direction of the drawings.
From the rock outcrop, the arrows led us to a long rocky wall, which had more petroglyphs hidden in it. We had to clamber into shallow caves to look at some of these, and the natural wall stretches for almost half a km. The petroglyphs were crowded towards the beginning and were all depicting llamas. Overall, the art in Yerbas Buenas is very primitive and without a guide explaining the nuances and significance of the drawings, any visit isn't going to be a satisfactory experience.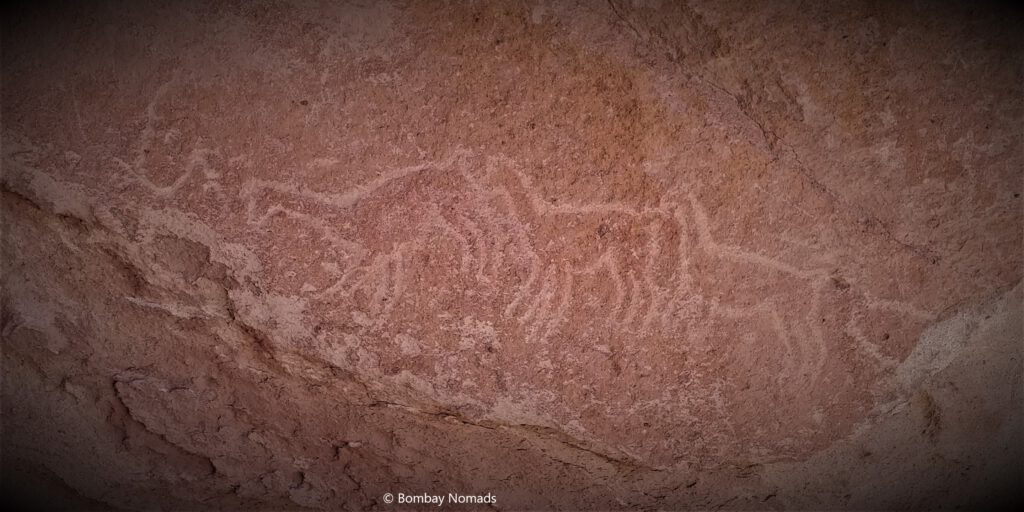 Maps.me indicated that there was a site B of petroglyphs across the valley, which looked too far away to walk in the heat. Trusting our new found 4WD ability, we fetched our truck and tried driving to site B, only to come across a lake where the road was supposed to be ! Apparently all the rainwater had collected in the shallow area, and because of a small ridge, the lake wasn't visible at all from site A! It was quite freaky to crest a ridge and apply emergency brakes, because of a huge lake right in front of us!
We thought of trying our luck with the Valle del Arcoiris (Rainbow Valley), since it was just 5 km away. However, at the turnoff for Rainbow Valley, we just couldn't find any road where maps said it was supposed to be! It seemed the Rio Negro had completely washed away what was once a road. We parked by the side of the road and walked for a while along the river, to see if we could pick up the road again, but after half a km, we didn't see any way forward and we turned back.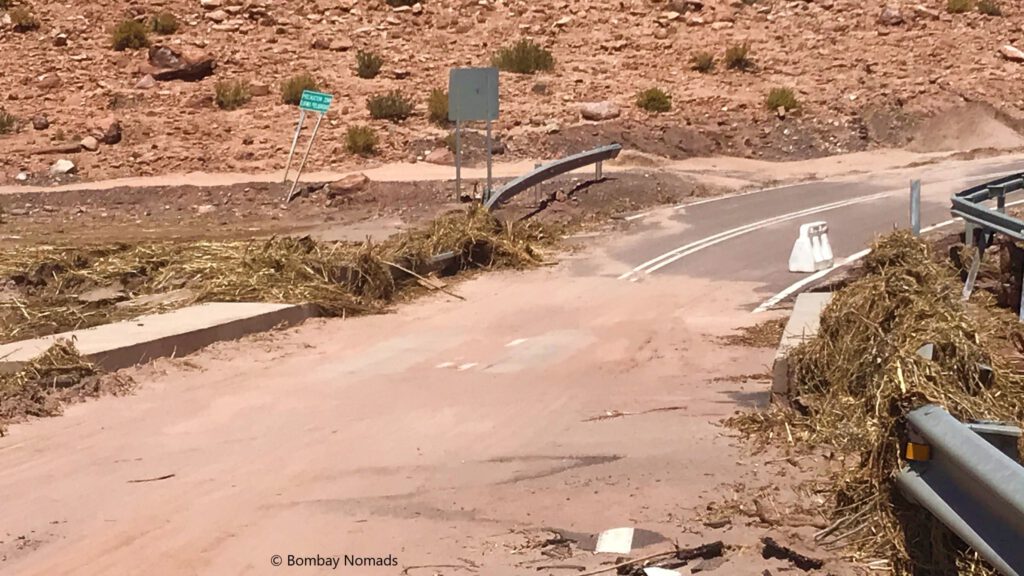 At Yerbas Buenas we happened to chat with a French couple, who mentioned that the road to Sociare was open via a diversion on Ruta 23. We hadn't seen any such diversion, but it gave us hope that the Altiplanic Lagoons on Ruta 23 could be accessible. Back in SPdA, we spotted a travel agency who was advertising a tour to Piedra Riojas. He also insisted that Ruta 23 was definitely open and so was Piedra Riojas. That helped finalize our itinerary for the next day – we were heading for the Altiplanic lagoons and Piedra Riojas.
Ruta 23 & Altiplanic Lagoons
Chile's Ruta 23 starts from Calama and connects to SPdA and goes onto Paso Sico on the Argentina border.
On the now-familiar Ruta 23, Tocanao was reached in less than an 30 min. Ruta 23 till Tocanao runs through barren desert, parallel to a low hill range and looks very dreary. After crossing Tocanao, we could see the highway breached, and flood waters had washed away part of the road. However, we spotted a "Desvio" (diversion) sign by the road which we had missed the day before. The small diversion took us a little distance off the highway and across a shallow stream before rejoining the highway again. It was evident it was the same stream of water which had swollen with rainwater and had washed away the road. But right now it was just a couple of inches of water and easily crossed.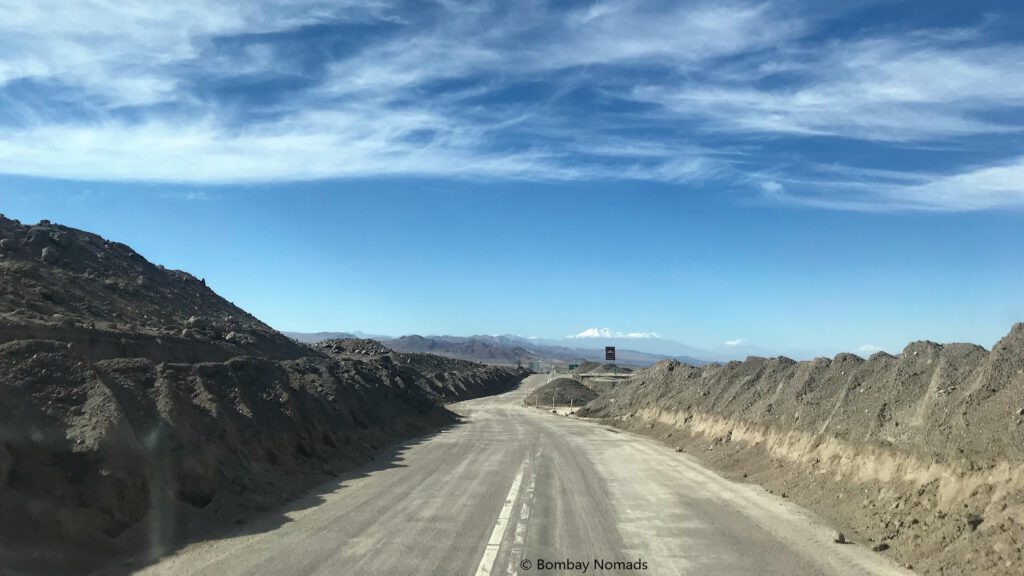 Further ahead on the road, at 3-4 places we saw mud piled on both sides of the highway, which had been cleared by earthmovers. We also crossed another such stream, deviating off the highway, before we reached Socaire. The flood damage seemed to be minimal post Socaire and we could cruise at our normal speeds. Slowly, the flat landscape around Ruta 23 started changing into hills, with snow capped mountains appearing on the horizon. Around us were low shrubs and weeds. With no other vehicle in sight, and bright blue skies, it was a perfect day for a perfect drive (video below).
But things got infinitely better. When we spotted the turn off for Lago Miñiques/Miscanti, we decided to give it a try anyway. And there was no roadblock here, unlike at Valle de Jere and Laguna Chaxa. The dirt road turned out to be an amazing drive, as we found ourselves amidst a huge lava field. The lava flows had solidified into black rocks aeons ago, but there was no mistaking their fiery origins. The molten rock had solidified in myriad different shapes and sizes, with no two rocks looking alike.
When we reached the visitor centre, the drop gate was closed, as we expected – Miñiques/Miscanti hadn't reopened for tourists yet. A CONAF ranger came out and we braced to be shooed away – but instead he opened the drop gates and beckoned us inside. Apparently, Miñiques/Miscanti had been reopened to tourists in the morning – and we were lucky enough to just turn up there on a chance! Happy to get an opportunity to view these lakes, we paid the 3,000 CLP per head entrance fee, while another ranger explained which roads were driveable and which were off limits. She also made it clear we should stick to the miradors and not approach the lakes on foot.
To be honest, we were just so overjoyed to be allowed inside, that we didn't care if we couldn't go inside or near the lakes.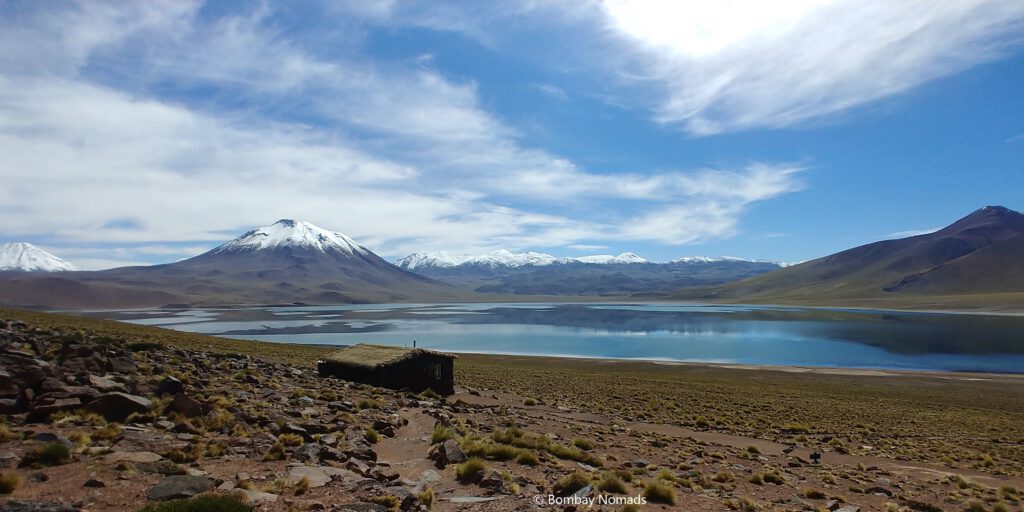 The visitor centre was built on top of a ridge and looked down upon the blue waters of Laguna Miscanti. The drive from the visitor centre to the mirador slopes down steeply and it is a fully dirt track. The lake stands in a shallow depression, surrounded by mountains on all sides – the tallest being the snow-capped Cerro Miscanti right next to the lake. Like all high altitude lakes, Miscanti was stunning – the rarified air, brilliant sunshine and complete solitude made it exceptional.
The road continues over a low ridge to Laguna Miñiques. Miñiques is the smaller of the two lakes, set in a similar depression, and is framed against the snow-capped Cerro Miñiques. The mirador for lake Miñiques is set further away from the lake, but it had a large parking space. We guess tourists park their vehicles at the mirador and hike to the lake shores in normal times.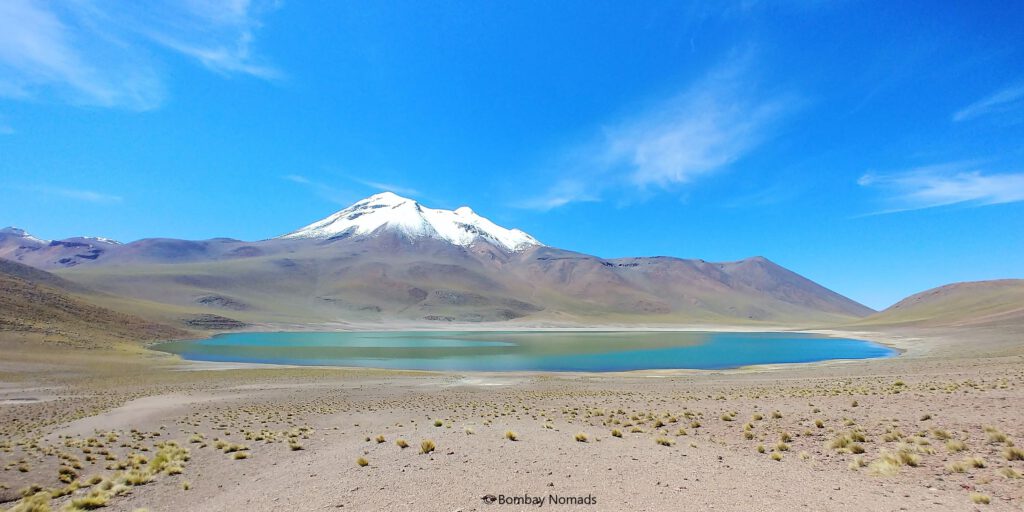 Buoyed by our visit to Miscanti/Miñiques, we headed towards Piedras Rojas, on the banks of Laguna Salar de Talar, about 150 km from SPdA. The road was still completely empty, and we reached by 12:30, only to be told the attraction was still closed for tourists. However, the friendly rangers told us to go check the 'Mirador de Aguas Calientes' a couple of km ahead. It was a small hill, with a couple of vehicles parked below. We followed the trail up the hill, and for our efforts, were granted the most magnificent view of Salar de Talar.
The whitish edges of the lake bled into the pale-blue water in the middle. Couple of streams of fresh water flowed into the Salar, with intense green vegetation along them – giving them an appearance of green-coloured veins. Although only a part of the Salar was visible from the hill, the view in front of us was mesmerizing. We just sat there for a while, after our usual frenzy of photographs, taking in the view.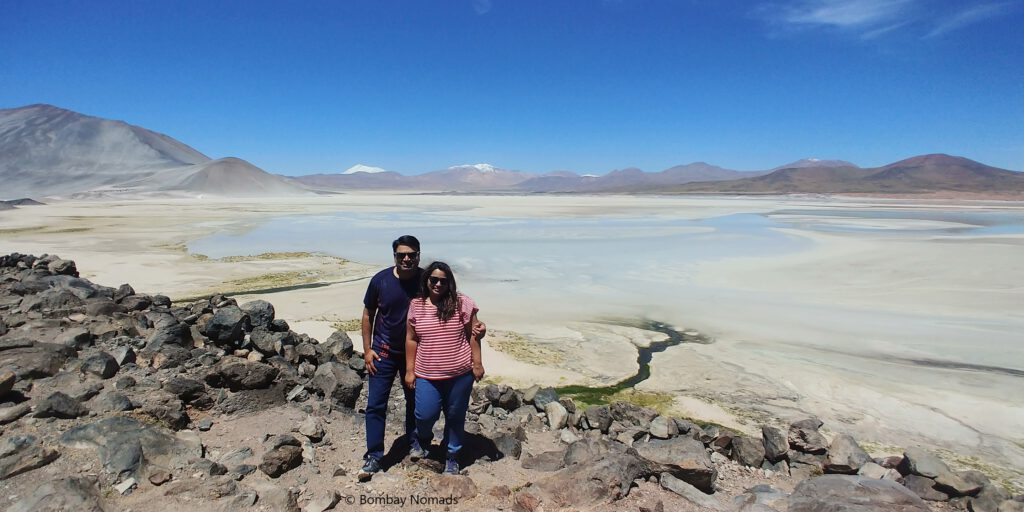 Our final destination was another lake – Laguna Tuyajto, another 7 km away. The teal-coloured lake was equally beautiful. But after having seen three magical lakes already, our appetites were already satiated. With a few hurried photos of Tuyajto, we turned around and began the 166 km drive home.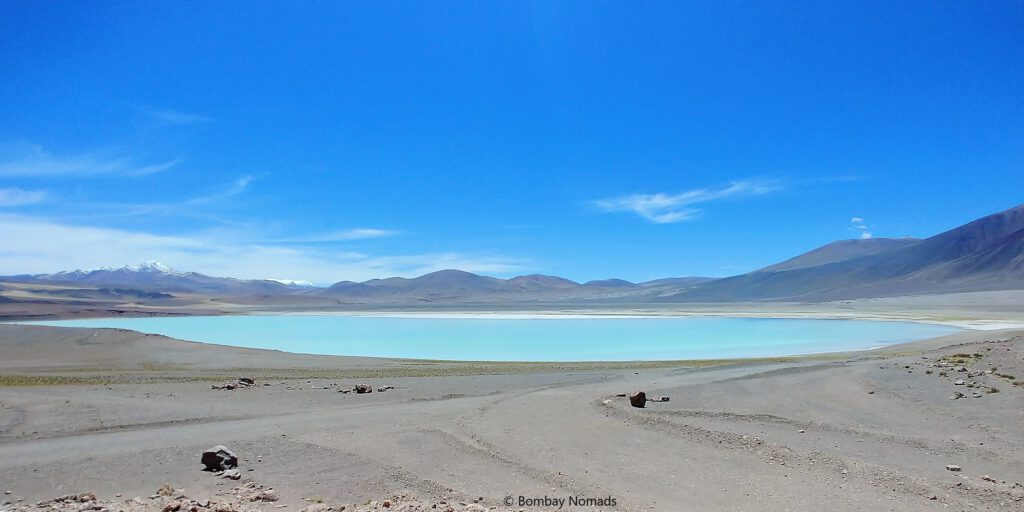 Our drive back was a bit melancholy, with the knowledge that this was our last day in SPdA. Although we were lucky to have seen so much of the amazing Patagonia, SPdA made an equally deep impression on us. We picked up a hitchhiker on our way back, who was an indigenous lady headed to SPdA. We also had a bit of adventure, when a trailer truck got stuck in the stream at the road diversion. While other vehicles waited for the truck to be rescued, we were able to engage 4WD-LO and squeeze past the truck and cross the stream.
Our travel map
Once back in SPdA, we grabbed some shawarma in Caracoles Street, before driving all the way to Calama Airport to return the rental truck. The drive to Calama was completely uneventful, but finding a petrol pump to tank up was another mini adventure. There are no petrol pumps near the airport, so we had to drive into Calama and negotiate crowded roads/intersections before finding a COPEC outlet. It was 17:30 when we parked the Nissan at BudgetCar in the airport and bid farewell to our favorite red truck. We took the shuttle back to SPdA and it cost 12,000 CLP per head. We had to wait for more than an hour, as the incoming flight got delayed. Back in SPdA, we grabbed one last meal at La Estaka and bade goodbye to SPdA early next morning.
Other Useful Information
Accomodation : Because of its remote location and stark surroundings, SPdA is an expensive place – as much (if not more) as Patagonia. And due to our last-minute booking, we had to pay a high USD 105 per day for a triple room at the lovely Hotel La Cochera. The rooms are simple and are set around a small swimming pool, with an expansive wooden deck around it. The hotel was well maintained, it had parking space for our vehicle and it was a stone throw from the main Caracoles street.
Food : SPdA has a lot of restaurants and cafes, serving traditional Chilean food as well as more hipster items. We tasted shawarmas in SPdA for the first time in months! The restaurants that we liked are

Adobe : A large and expensive restaurant on Calle Caracoles, with food matching up to its prices. A live indigenous band played some lovely fusion music with traditional instruments. We would recommend the Kofta de Cordero Patagonico (lamb kofteh) on the menu, which had superb flavouring. For fish lovers, the grilled Merluza fish was fried to crispness.
La Estaka : We discovered La Estaka by chance, when we spotted the word curry on its outdoor menu. Intrigued, we tried out both their chicken curry and vegetarian curry. Both were served in a coconut shell – and both were quite good.

Fuel : There is a single COPEC petrol pump in SPdA. The location is terrible. It is at the end of a dead-end road, preceded by a confusing set of roads. Rains had made the roads bone-jarring, and the approach road was so narrow at places, that vehicles can barely pass each other. Also, the petrol pump is away from the touristy area of SPdA.
Guided Tours : There are tour agencies everywhere in SPdA. Most of them offer the same attractions – Laguna Chaxa, El Tatio, Valle de Luna/Valle de Muerte, Yerbas Buenas, Piedras Riojas etc. There are also treks, bicycling and sand boarding for the more adventure inclined. We tried two different agencies, just walking in from the street and both were satisfactory. For astronomy and stargazing, SPACE tour agency is recommended by most people.
Travel : Apart from Valle de Luna/Valley de Muerte, most other attractions in SPdA are quite far from the town and there is no public transport at all. Having a rental car makes life much more convenient, although there are guided tours available to all the places. Cycling to Lunar/Mars valleys seemed like a popular activity in SPdA.
Swimming in Lakes/Hot Springs : All the altiplanic lagoons around SPdA are salty and hence amazing to take a dip into, because of the buoyancy . However, during our visit, all lakes were off limits to tourists and we count ourselves lucky to see a few of them.
Hot Air Ballooning : For those looking for a 'different' view, there is an option of taking a 1-hr hot air balloon ride over the Valle de la Luna and Valle de Marte regions. We did not try it though.
Salar de Uyuni : A lot of people hop over to Bolivia to visit Salar de Uyuni, during their stay at SPdA. If you have the time and the visa, we would highly recommend doing the 3 day tour which spends time in the Edward Avaroa National Park in Bolivia. The Altiplanic beauty of SPdA is the proverbial trailer – Bolivia is the main thing.