As with the Indian wine market, Sula Vineyard near Nasik has the top-of-the-mind recall for winery visits if you are from Bombay. In fact, quite a few people struggle to name Indian wine labels apart from Sula, given how ubiquitous it has become. However, there are smaller, newer winemakers who think they can do a better job than Sula, at coaxing good wines out of the harsh Indian climate.
Vallonne is one such new brand that has impressed us lately. And the other is Fratelli.
While most wine makers – old stalwarts like Chateau Indage and Sula, as well as newer entrants Zampa and Vallonne – have made the valleys surrounding Nasik their base, Fratelli has chosen to set up its vineyard near the town of Akhluj, in Sholapur district. Best way to describe its location is midway between Pune and Sholapur.
We had heard from acquaintances that its guesthouse and winery are top notch, but it is too far from Bombay. We took the chance and checked if the guesthouse was available on the Ganesh Chaturthi weekend – and god bless the distance from Bombay to Akhluj, they did have rooms free. The distance, 350 km one way, did seem a bit on the higher side, but we had done Ajanta Ellora before – it was a similar distance. And the weather in the first week of September seemed great for a drive.
The Drive
On Saturday morning, we could only get out by 8.15 am. We headed towards Vashi and via Palm Beach Road towards the Expressway. We encountered a wee bit of traffic from CBD Belapur to Kalamboli, as no doubt a lot of Mumbaikars had a same bright idea about utilizing the long weekend. McDonalds Kalamboli was packed with revellers, although getting a seat inside was easier than getting parking outside.
Once on the Expressway, things quickened considerably and it was a non-stop 120kmph run till Pune – save the Khandala ghat section, of course. The weather was beautiful with clouds in the sky not letting the sun out in full strength – yet it wasnt dark enough for rain. Once we reached the end of expressway at Pune, we byepassed the city using the NH4 towards Kondwa. We stayed on NH4 for 30 odd km before taking a left after Shirval towards Lonand.
Soon after taking the left, we started spotting a lake. Turns out, the road accompanies the waters of the Veer dam and with the dam full after monsoons, the lake was looking beautiful. We stopped multiple times in the first half an hour, trying to capture the beauty of the road with the lake and blue skies with clouds. Picture perfect! But what looks to good to be true, is usually too good to be true. Just after we passed the gates of the dam itself, the 4 lane perfectly paved road shrunk into a broken SINGLE lane road!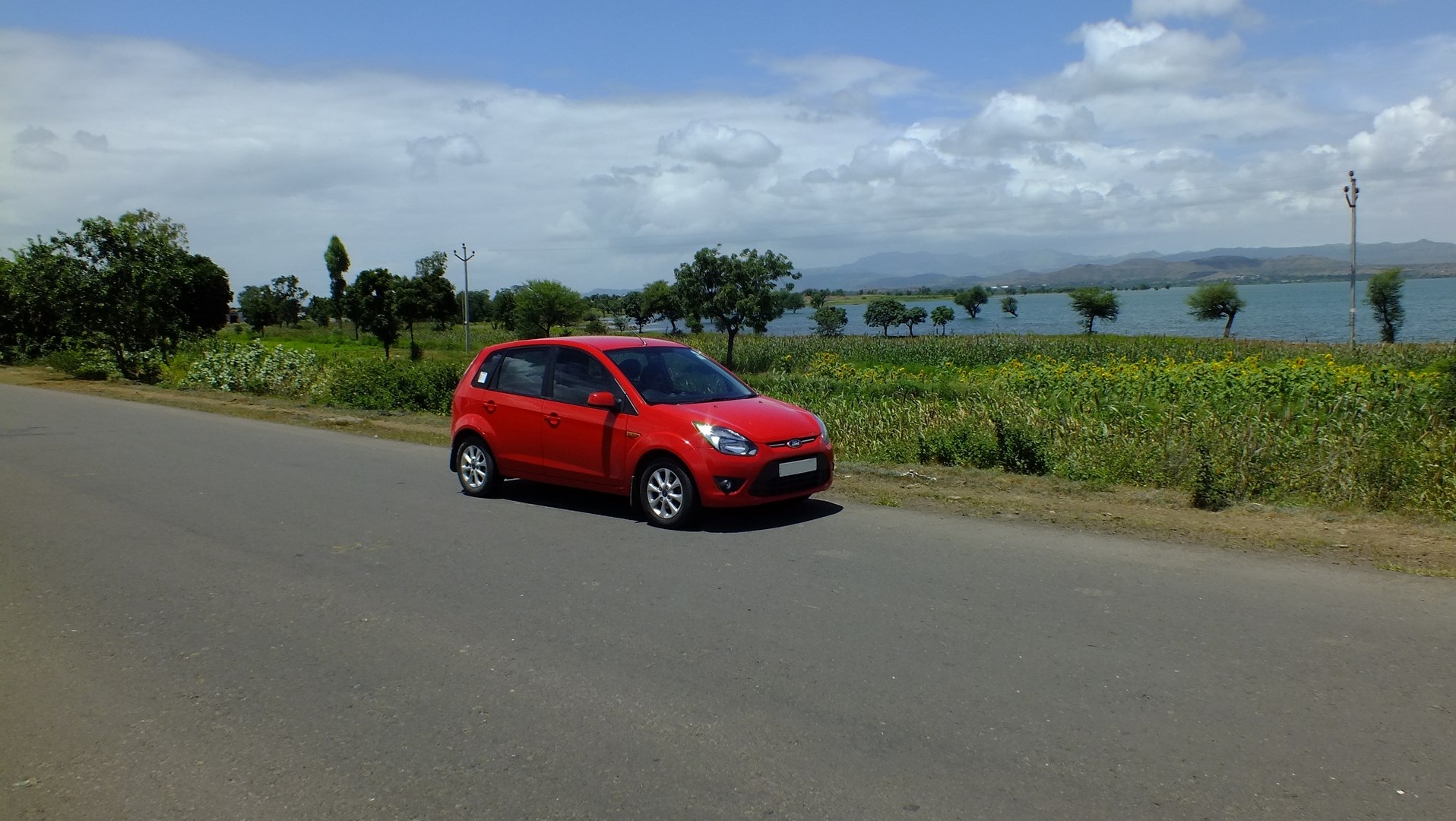 Resigned to a slow drive on the backroads, within 10 min,the single lane road grew back into a 4 lane road. We sped on, wary of the single lane mode returning and soon enough, the whole charade played out again. And again. And again. We switched between 4 lane driving bliss and broken single lane road at least 8-9 times in the 100 km on that road. There was one particularly bad 8-10 km stretch which was an unfinished road. Meaning the road was composed of big gravel stones packed into the earth – we were fearful of one of the sharp edges piercing the tires!
Thankfully everything went off without a hitch,and at Malshiras we turned right towards the Fratelli Winery (Fratelli has thankfully marked their location on Google Maps and they send it as a link when you make a reservation with them – along with detailed driving directions too). After a 15 min ride over really small village roads – including an unnecessary offroad dirt-track excursion because Google Maps said so – we arrived at Fratelli Winery in 7 hours. Excluding the 30 min for breakfast, it took 6.5 hours of non-stop driving.
The Winery
However, one look at our accomodations in the guesthouse and all fatigue was forgotten – as we were handed a welcome glass of rose wine. Fratelli's guesthouse has just 4 rooms, situated right across the winery itself. Constructed in a ultra modern glass and steel frame, and finished completely in white, the exterior is undeniably classy. Each of the 4 rooms are furnished very tastefully – with a colour theme. Our room was in green. It had a king size bed – and enough space to accomodate another full kingsize bed and then some! But what made the deal awesome was the common area or the lounge. Furnished with a very comfy (and large) sofa on one corner facing a 50in LCD, a pool table on another corner, a 4-seater coffee table in one corner and a huge 10 seater dining table in the remaining corner. The hall had an open kitchen (top-of-the-line modular one) and a well stocked fridge – including bottles of Fratelli Wines should you feel like some wine.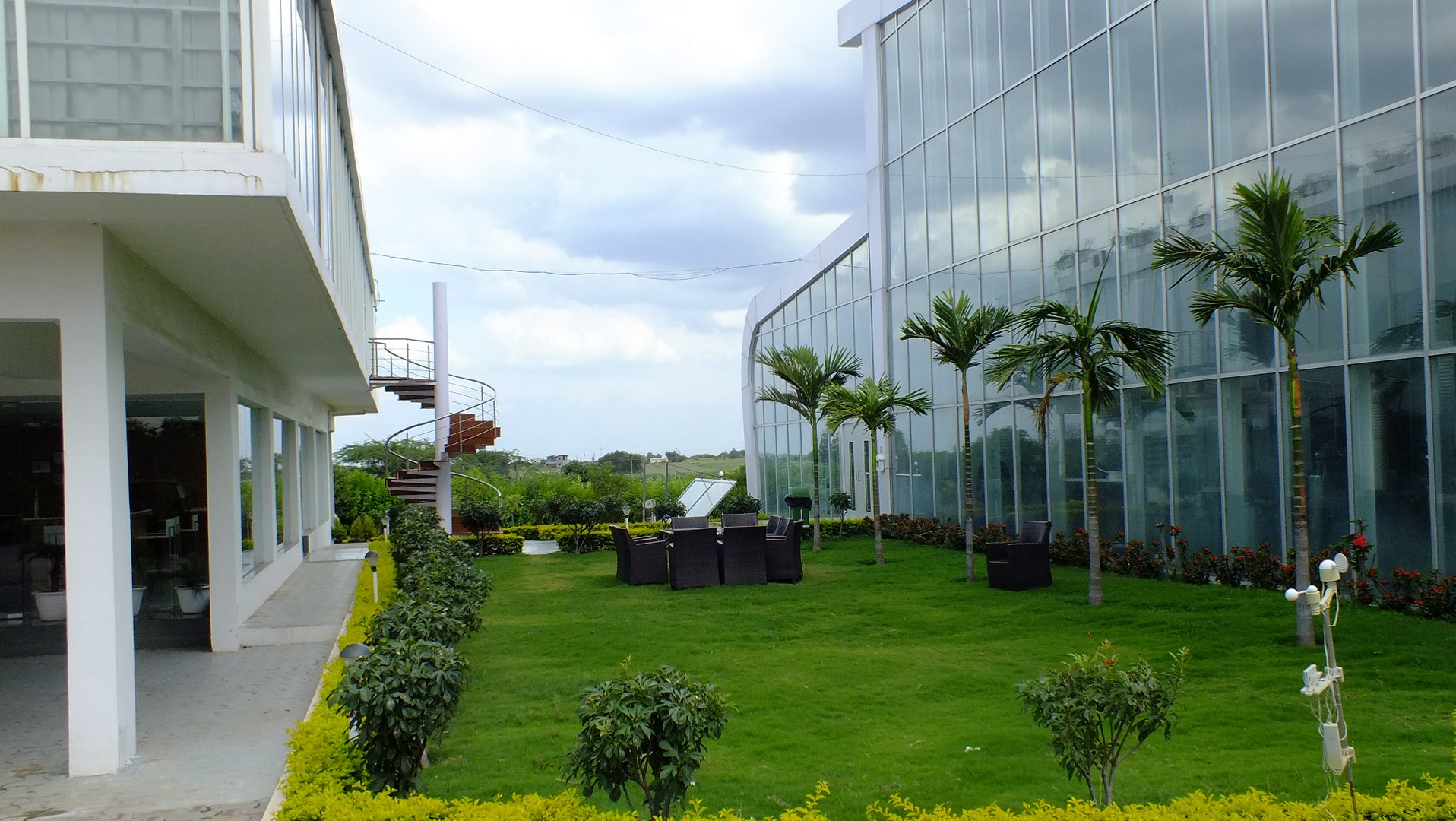 The guesthouse has been finished only a year back – so everything in it – the pool table, the TV, the sofas – everything is very new. There is a TT table, a carrom table and a foosball table on the ground floor. If outdoors are your interest, there are bicycles for all sizes – and ATVs for you to potter around the adjoining vineyard. And if you ask nicely enough, they will even let you drive the military-styled open-top Jeep too.
We took a quick nap, after which we had our winery tour and wine-tasting session in the evening. The winery looks more impressive than Sulas (it is the only other winery we have seen). The steel vats which hold the wines look really high tech, the sparkling wine machine sounded very high tech (the room was freezing so we didnt hang around longer) and even the grape crusher was very impressive. All machinery in the plant were Italian imports.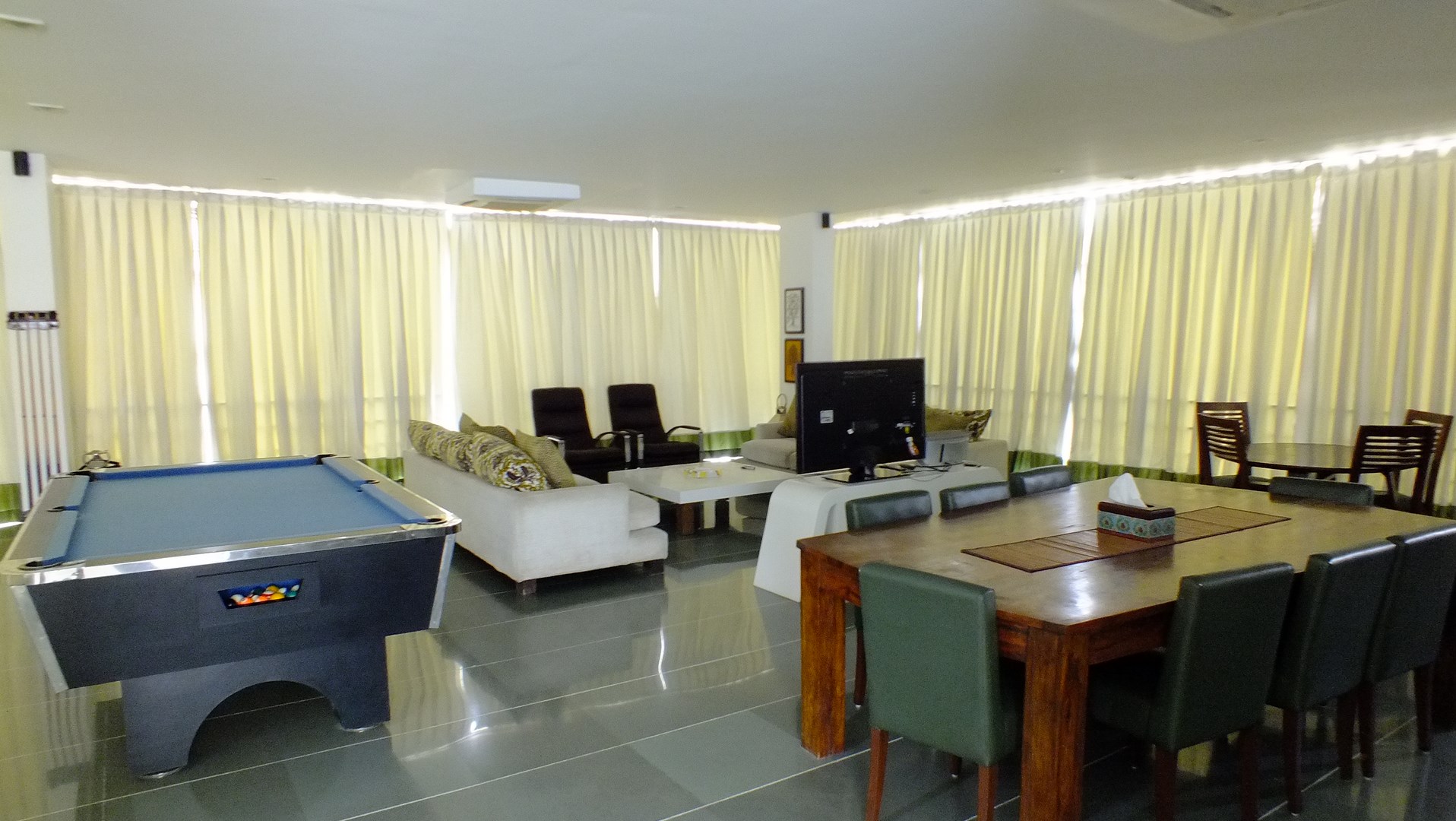 The wine-tasting followed the usual route. We saw a dvd of how the promoters came together to form the Fratelli (means brothers in italian), how the site was chosen, how their chief winemaker Piero Masi (his name comes up in every alternate line) has his ideas clear about what he wanted in his wines etc. The actual tasting went quite well. Apart from one red which did not seem good, we liked all the other 5 varieties. Their Classic Shiraz and Classic Chenin Blancs were the sweetest wines we remember drinking
After wine tasting, we retired to the lounge to play some pool, followed by some book reading and some dinner. Lunch and dinner is currently brought by order from the nearby dhaba. Although Amol – the attendant – can make a decent pasta if asked. We had a bottle of Fratelli's Sangiovese for dinner, and it was a very nice wine indeed.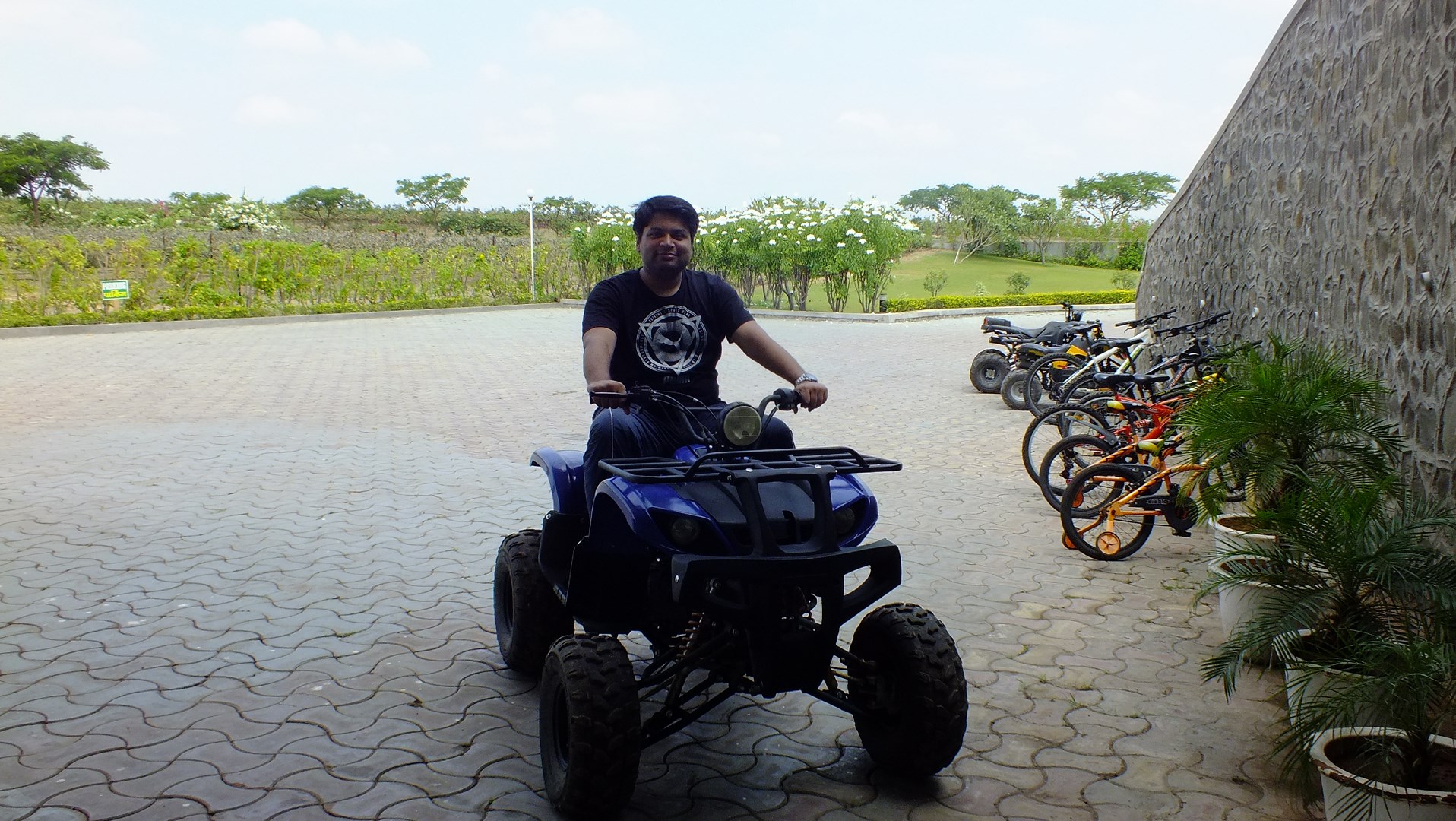 Next day morning, after a late, lazy english breakfast, we fooled around with the ATVs a bit before we headed out for lunch. Amol had prepared a linguini arabiatta for us, and he drove us in the Jeep to the actual vineyards in Garwad, some 15 km away. Fratelli has build a very cute picnic hut on top of the hill in the middlle of the rolling vineyards. There is a beautiful breeze blowing and you can enjoy your lunch along with a bottle of your favorite Fratelli – which Amol will bring in a icebox. We sat there for more than an hour, enjoying the food, wine and the peace, with a very playful local dog for company.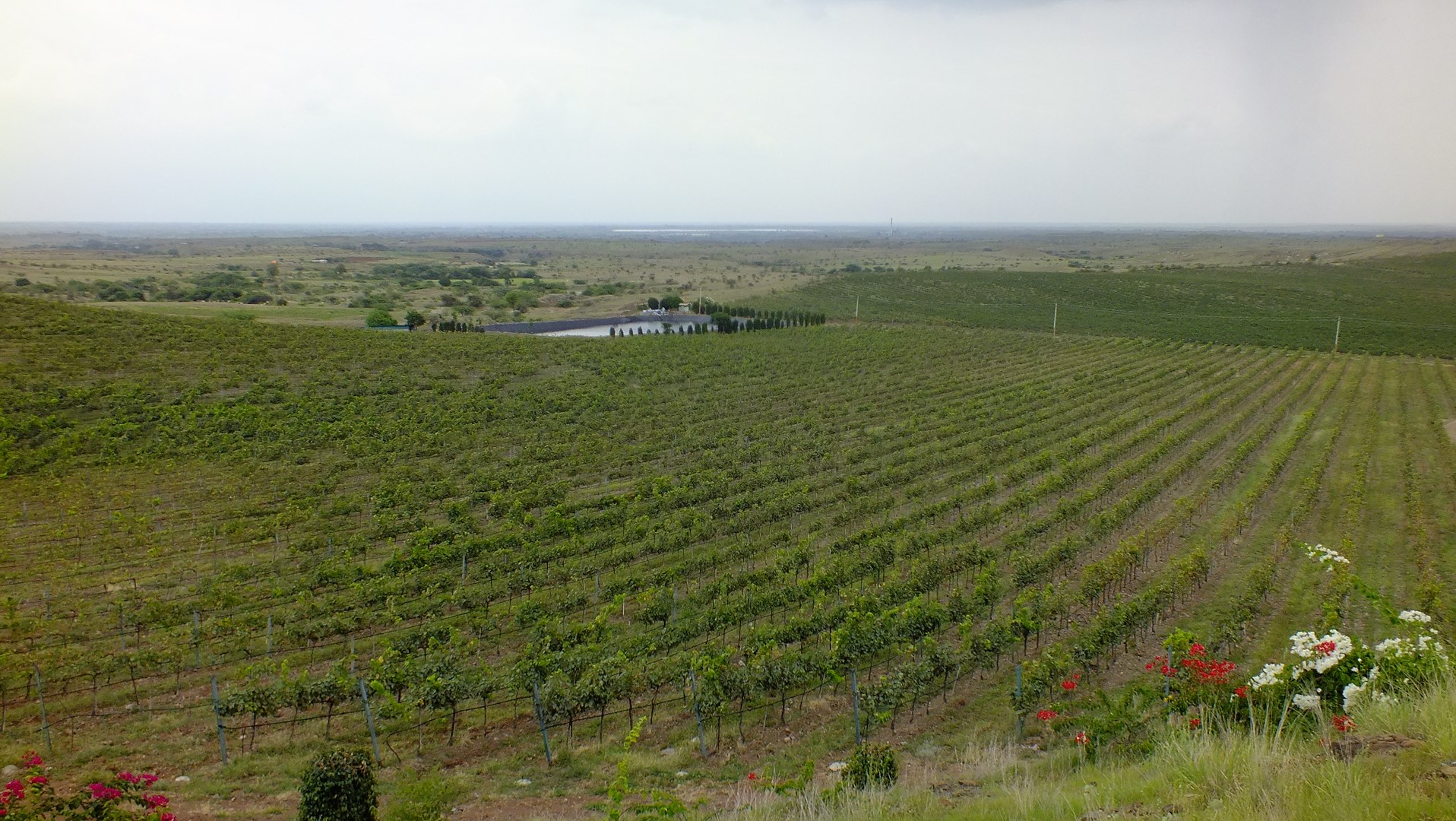 The Drive Back
Back at the winery, we bought a couple of bottles to carry with us before we started back for Bombay. Since the roads hadnt been very good on our onward journey, we thought we would try Fratelli's suggested route instead. Turns out, their route via Pune-Sholapur highway was a million times better. It is a newly laid 4 lane highway which we joined at Indapur – with clearly marked intersections and a service road on the side. However, the road does go through habitated areas for most of its length, hence there are crossings every 5 km or so – and enough commercial traffic to slow you down very frequently. So we would drive at 120 for empty stretches, till we came across a truck overtaking another slower truck. A few km later, another truck would be overtaking another and so on.
Once we approached Pune outskirts , the city traffic became very high and it started resembling the crawl during office hours on the Western Express Highway in Mumbai . Concerned that it would take us more than two hours to cross the whole of Pune city before we could rejoin the Expressway, we tried byepassing Pune by turning off at Hadapsar and trying to join NH4. However this move too wasnt very helpful because while the road had much less traffic, it was completely broken (think Sakinaka). One hour after we entered Pune outskirts, we finally managed to get ourselves on NH4. But it was another half an hour before we got on the Expressway.
It was full dark when we started on the Expressway. Thankfully it did not rain, and hence it was easy to maintain 120 again for the whole stretch of the Expressway again. We stopped at the Food Mall for a fastfood dinner before the drive back home. Thankfully, traffic was less than normal in Navi Mumbai and Sion – and we reached home 8 hours after we started from Fratelli.
The Deal
The current package includes all food, 1 night stay, wine tasting, winery tour, all recreational facilities at the guesthouse and two complementary bottles of wine – for Rs 7,000 per couple. We think it can be best described as very value-for-money luxury. The guesthouse is exceptionally well suited for a being fully booked by a group of friends – or 4 couples for that matter . You can find their contact details at their website www.fratelliwines.in . To make a reservation, they ask you to transfer half the amount to their bank account.