Like everyone else out there, we also have a list of places in the world we wish to see with our own eyes – mix of common and not-so-common locations. And while most of those locations will very likely remain dreams, we were able to fulfil one of our desires – when we went to see Angkor Wat in Cambodia this June
For those who can't quite place the name, Angkor Wat is the largest temple in the world (by area) and is considered by many to be one of the seven wonders of the world. Like some Inca and Aztec cities, the place was forgotten and covered up by the jungle, till French explorers rediscovered the place in the 1860s. Then Pol Pot and the civil war kept Cambodia out of bounds for the rest of the world till the 1990s. The temple and the adjoining capital city of Angkor Thom was built by the Khmer kings of Cambodia. Their style of architecture borrows a lot from South India and depicts mythology from Hinduism and Buddhism.
How to get there
The most convenient way to reach Siem Reap (that's the town where all the temples are) from India is flying Air Asia (through Kuala Lumpur). Bombay to KL costs around Rs 6,000 and from KL to Siem Reap another Rs 3,000 one way. Air Asia has flights to KL from Bangalore, Chennai & Calcutta too. The flight timings from Bombay are such that you have to spend the night in Kuala Lumpur – the Bombay flight arrives at 9pm and Siem Reap flight departs at 7am. For the overnight stay, Tune Hotel is highly recommended, because it is within walking distance from the LCC Terminal and costs around US$40 a night. Or you can try spending the night inside the terminal itself, but be warned, the LCC Terminal is not a very comfortable place – it reminded us of a railway station rather than an airport. But most importantly, irrespective of whether you are catching a connecting flight or stepping into Malaysia, you have to take a Malaysian visa if you are flying Air Asia – because there is no transit option at LCCT. As far as could see, all arrivals have to go through immigration and out of the terminal before they enter the departure section. But given the time taken to go through immigration on arrival, a quick dinner and again checking in atleast 2 hours before the 7 am flight, it is economical to stay over at the airport itself. We stayed at the Empress Sepang Hotel, which is the next closest hotel to the airport after Tune Hotel (a good 30 min drive away – midway between the airport and KL)
(Like Bombay, Kuala Lumpur airport has two terminals – KLIA, which is the plush international terminal and LCCT, which is the Air Asia terminal. In case you are flying some other airline, you have to take a bus/taxi between these two terminals – there is no inter-terminal shuttle service within the airport. But there are a lot of city buses to be found at the airport which charge just RM 2.50 to go from one terminal to the other)
Tip: Malaysian visa costs Rs 750 and takes 3 working days to process. You need to get it done through an agent who will probably charge you extra. We got ours done for Rs 1,200 each.
An alternative way of reaching Siem Reap is through Thailand – flying into Bangkok and then driving overland into Cambodia. There is a quite a bit of information about that route available on the net, if you wish to enjoy Thailand instead of Malaysia.
Cambodia very helpfully provides visa-on-arrival to almost all countries (including India). All you need is one passport size photo (35mm x 45mm, white background) and $20 per head. There are a lot of counters and the entire process takes not more than 5 minutes. Once outside, if you do not have an airport pickup, just hail a tuktuk – a contraption that can be described as a rickshaw pulled by the step-thru motorcycle. Airport to Siem Reap is usually $5, so bargain if quoted anything higher. Like India, bargaining works pretty well out there. And don't bother changing into local Cambodian currency – everything is transacted in dollars. Credit cards will work only in hotels and posh restaurants, so carry couple of hundred dollars with you at the minimum.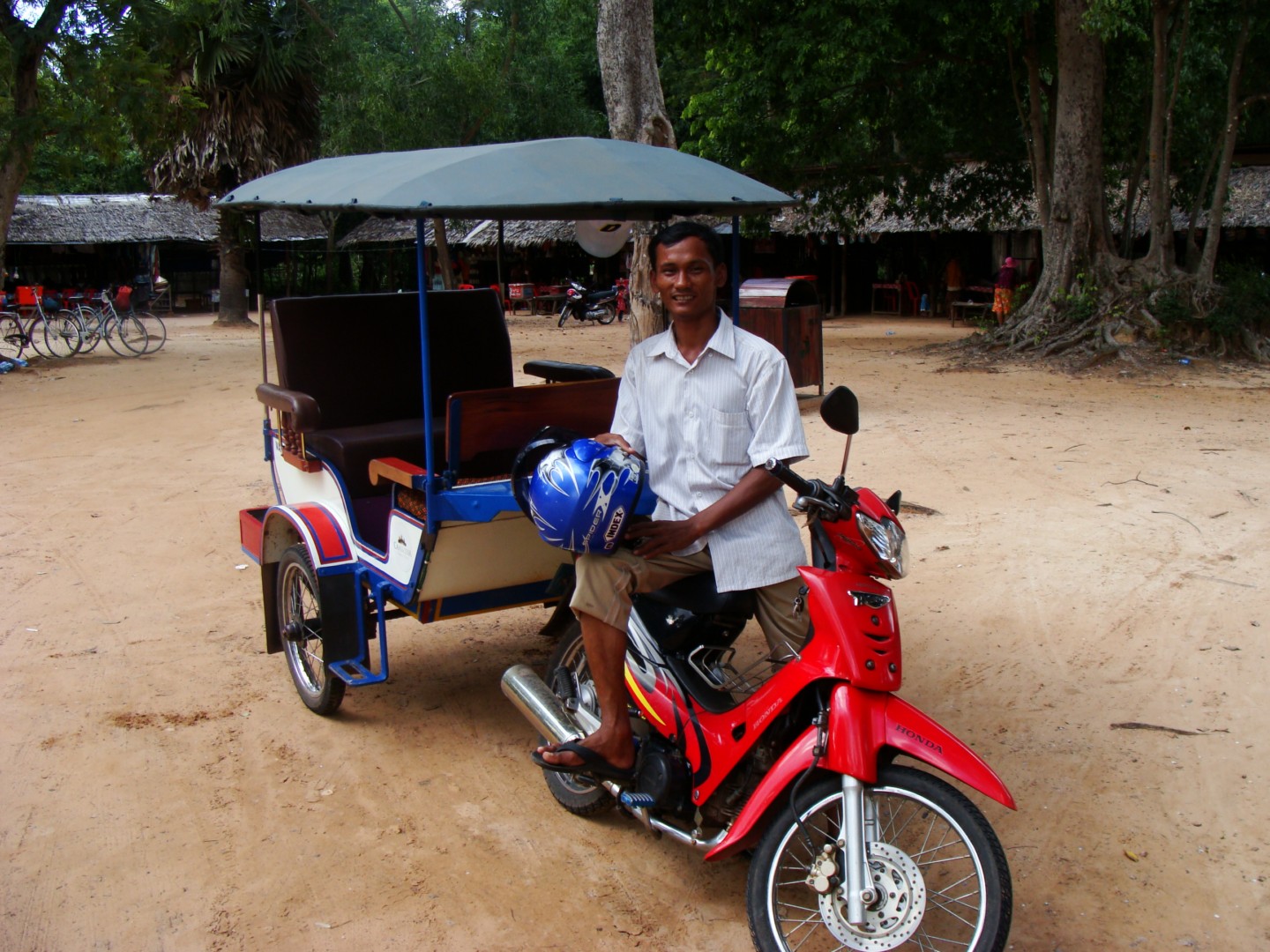 (Our tuktuk driver Mr Kai. Very hardworking and we would gladly recommended him. You can reach him at +855-12-790-111 or 012-790-111 inside Cambodia)
What to do
Angkor Wat is the most famous monument in the area, but the nearby citadel of Angkor Thom (with the fabulous Bayon temple at its center) and the further out Ta Prohm and Ta Keo temples are magnificent in their own right. Apart from these we also saw Preah Khan, Bantaey Kdei, East Mebon, Pre Rup, Bantaey Srei, Kbal Spean, Prasat Kravan, Thommanom and Chau Say Tevoda temples. Each temple has its own unique facets and if you have all the time in the world, you could spend a week here looking at the temples, but three days should be optimum to cover the area and in a cinch, you can do Angkor Wat in two days.
Note that there is a pass to be bought for the Angkor region which is $20 for a day or $40 for 3 days. There is a 7-day option as well. You need to keep the pass with you at all times – they ask for it at most of the temple entrances
Here is a list of the must-see temples we saw in and around Siem Reap
Angkor Wat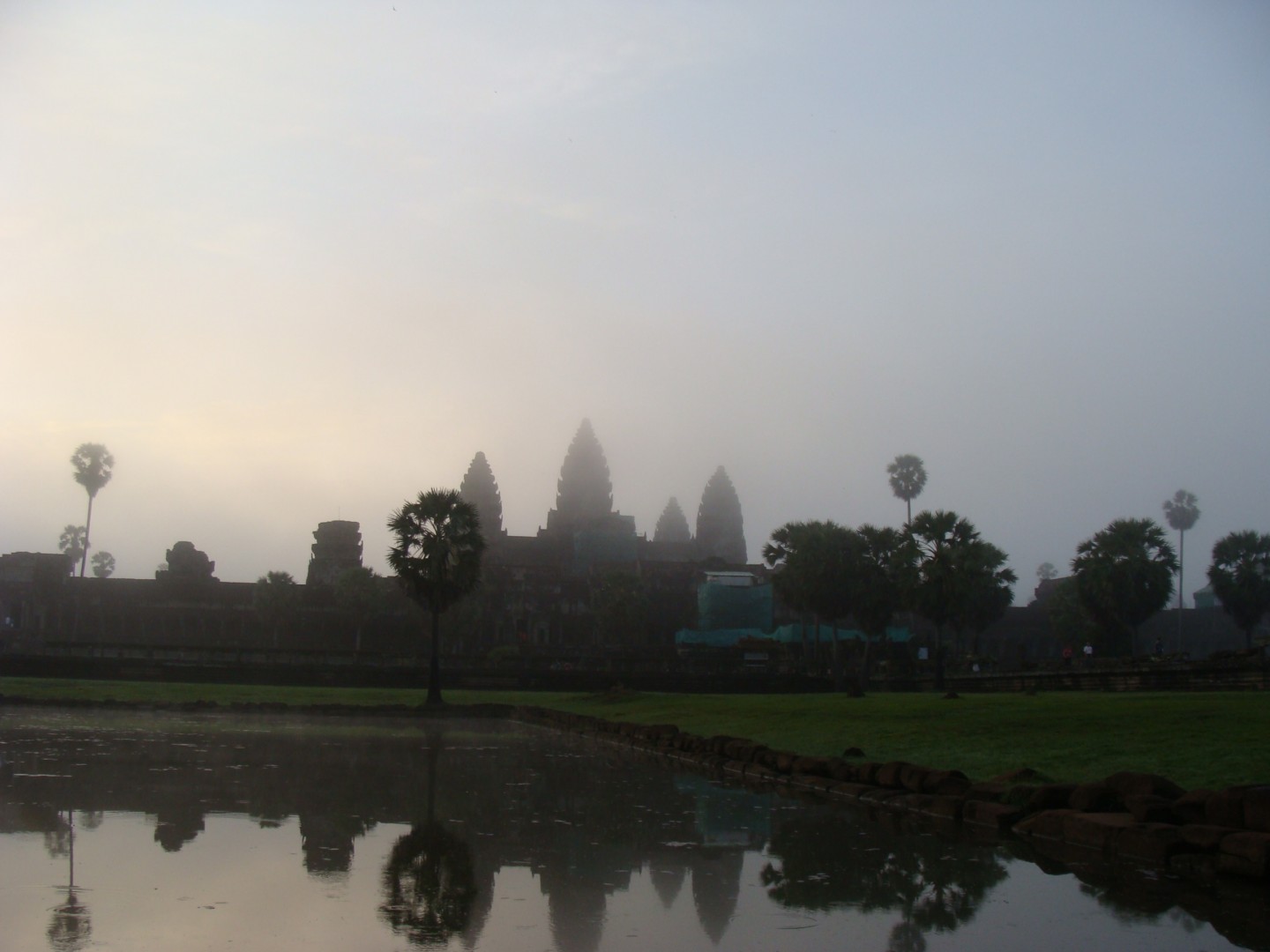 These can be covered in two days comfortably – you can try for special viewings such as sunrise at Angkor Wat or hot air balloon viewing of the Angkor area. The hot air balloon costs $15 per head for 15 minutes – but gives great views of the entire area apparently.
Also sunset viewing at Phnom Bakheng is considered pretty good, but since it is situated on top of a natural hill, reaching there needs about 30-40 min of climbing (at the end of the day, after all the walking around). Alternatively, you can take an elephant ride which charges US$45 per person to-and-fro. We didn't do this. Instead we watched the sunset at Srah Sreang, a lake in front of the Bantaey Kdei temple.
For the third day, you can fit in additional temples such as Banteay Srei (which is 37 km or a good 60 min drive from Siem Reap), Pre Rup, East Mebon, Prasat Kravan etc which form the outer circuit of temples. Of these, Banteay Srei is definitely worth a visit for two reasons – the drive is over really wonderful roads and through very pretty Cambodian countryside, and Banteay Srei has the best carvings among all the Angkor temples. Close to Banteay Srei (half an hour away) is Kbal Spean where there is a small stream with some 1,000 lingas carved into the bed of the stream and some other carvings. However, the site involves a 1.5km trek through the forest (most of it uphill) which took us about 45mins. The carvings really aren't worth the hike and the stream is really tiny, but it was nice to walk through the forest, so you can do it if you feel up for a trek.
Apart from the Angkor temples, the other attraction in Siem Reap is the Tonle Sap lake. The Tonle Sap lake is a large & shallow fresh water lake close to Siem Reap and is a site of a fully floating village. Lot of reviews describe their aquatic life as very interesting, but we gave it a miss. The Tonle Sap lake is notable because in the rainy season, it expands to four times its size due to the waters of Tonle Sap river flowing back into it. This happens because of the high levels of the Mekong river from the melting Himalayan snow.
If you have enough stamina, you could finish most of the temples (including Banteay Srei) in two days, but you will probably be miserable from all the trudging around. Most of Angkor temples are temple-mountains i.e. they are designed to represent Mount Meru and hence there is a lot of climbing to be done. And the ones which are not temple-mountains, have huge boundaries, so you would have to walk a lot to reach the temples. So in our opinion, Angkor Wat as a destination might not be suitable for the families with grandparents or really young kids etc.
Tip: A good guidebook is almost mandatory to enjoy the temples. Do not bother buying one at the airport or in the hotel bookshops. Reach Angkor Wat and you will find little children outside peddling guidebooks from Lonely Planet etc. – and very good quality ones. Bargain down to $1 for the book – and you won't regret it.
Lodging & Food
The Siem Reap town has become a tourist hub only in the last 10-15 years, so all the hotels in the region are comparatively new. There is a slew of new 3-4 star hotels in the town outskirts, on the airport road – for very reasonable prices. Transport is easy to get in form of tuk-tuks, which charge from $1 to $4 depending how far you want to go. Siem Reap town proper has quite a few hotels & resorts at various prices – we found one which was impeccably located and was very good value for money. The Royal Bay Inn Angkor Resort cost just Rs 2,500 a night (though it was off season rates)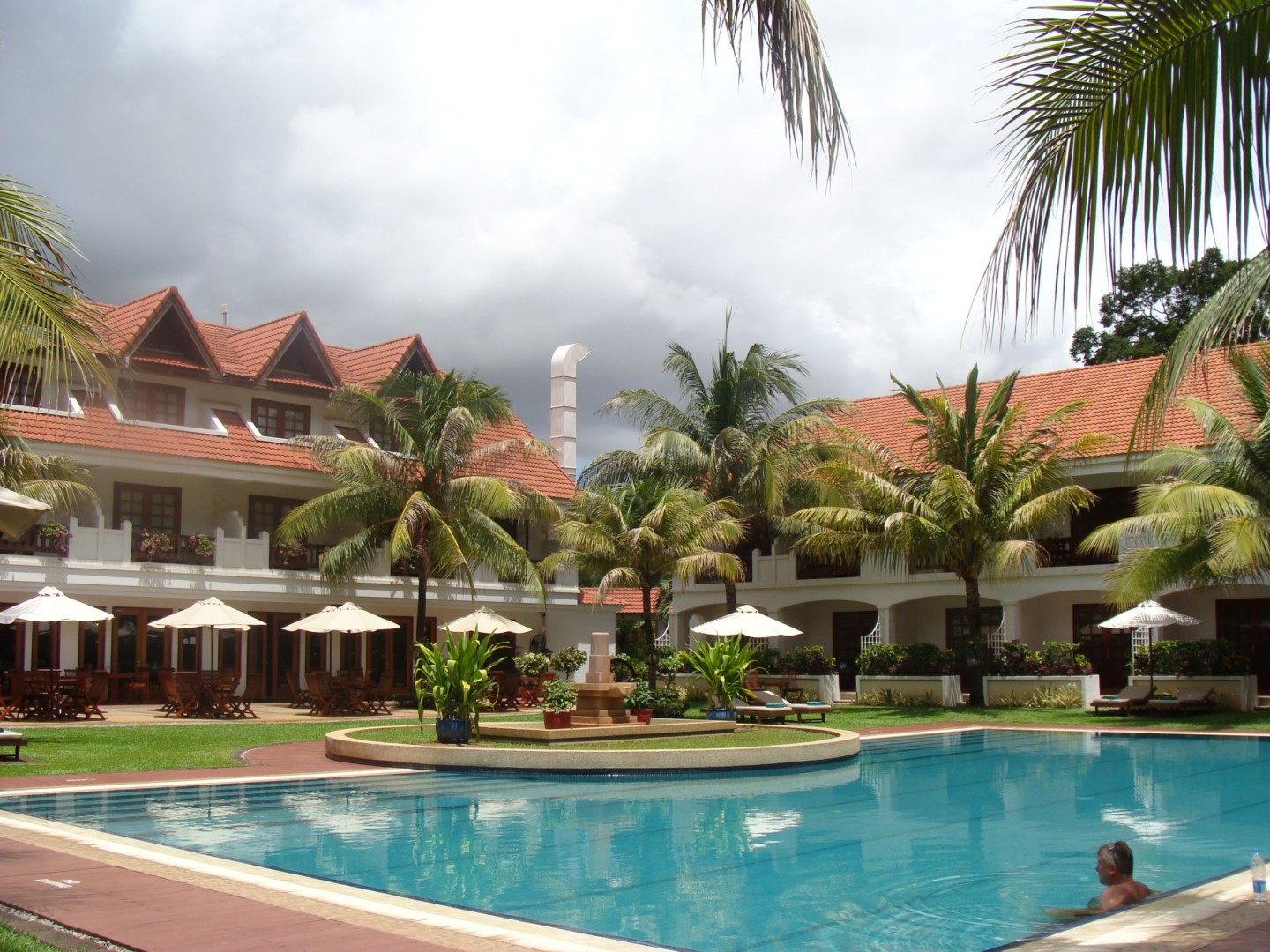 If you are looking for still cheaper accommodation inside the town, Steung Siemreap is the option to go for.
Eating options abound in Siem Reap – with many good stand alone (but expensive) restaurants such as the FCC and Cafe Moi Moi. But really good and cheap eating places are to be found in Pub Street – a road dedicated to pubs and restaurants. Beer is $0.50 a mug in almost all of Pub Street and it's a great place to try out local Khmer cuisine – or stick to favourites such as as Mexican, Continental etc. Food is priced really low at Pub Street – a meal for two with two pints beer each wouldnt be more than $10-12 at most places. Try the Temple Club for free Apsara dances during your dinner. Pub Street is almost completely overrun with foreign tourists and is open till at least midnight.
Tip: Try staying in a hotel INSIDE Siem Reap town, so that you can walk to Pub Street for all your meals – like we did. If you are staying in the outer hotels, tuktuks would charge $6 for to and fro.
Tip: Do try the local Khmer cuisine. Khmer curries are quite similar to Thai ones, so its very palatable to us Indians. Especially do try Amok, a fabulous chicken dish.
Transport
The most common (and pleasurable) travelling option was the tuktuk. For viewing temples, the usual way is to engage a tuktuk for a whole day. The inner circuit – Angkor Wat, Angkor Thom & Ta Prohm – usually costs $15 for the day. It's better to spell out your entire itinerary (including lunch breaks or sunrise visits etc) at the beginning so that there is no confusion. Single temple visits cost between $6-$10. For the outer circuit temples – Pre Rup, East Mebon, Prasat Kravan – the charges go up to $18 for the day. If you include Banteay Srei and/or Kbal Spean, which are much farther off, cost goes up to $22-$25 for the day.
If you visit during the summer months, taking an AC car might be a better option. Cars are priced higher of course – the inner circuit will cost you $25-$30 for the day. We had mixed experiences with a guide. While he did know a lot of interesting trivia about the monuments which no guidebook will tell you – it's much more fun to explore a ruined temple on your own. So we employed a guide only on our first day – and the other two days we wandered alone.
Tip: If you are fit enough (which we Indians usually aren't, but just in case), a good way to see the temples is on a bicycle. Bicycles cost $2-$5 a day. The to and fro for the inner circuit would be around 15km, which is the right amount to pedal around in a day. The roads in the Angkor region are good and there is good tree cover on both sides of the road, giving you shade for the break whenever you want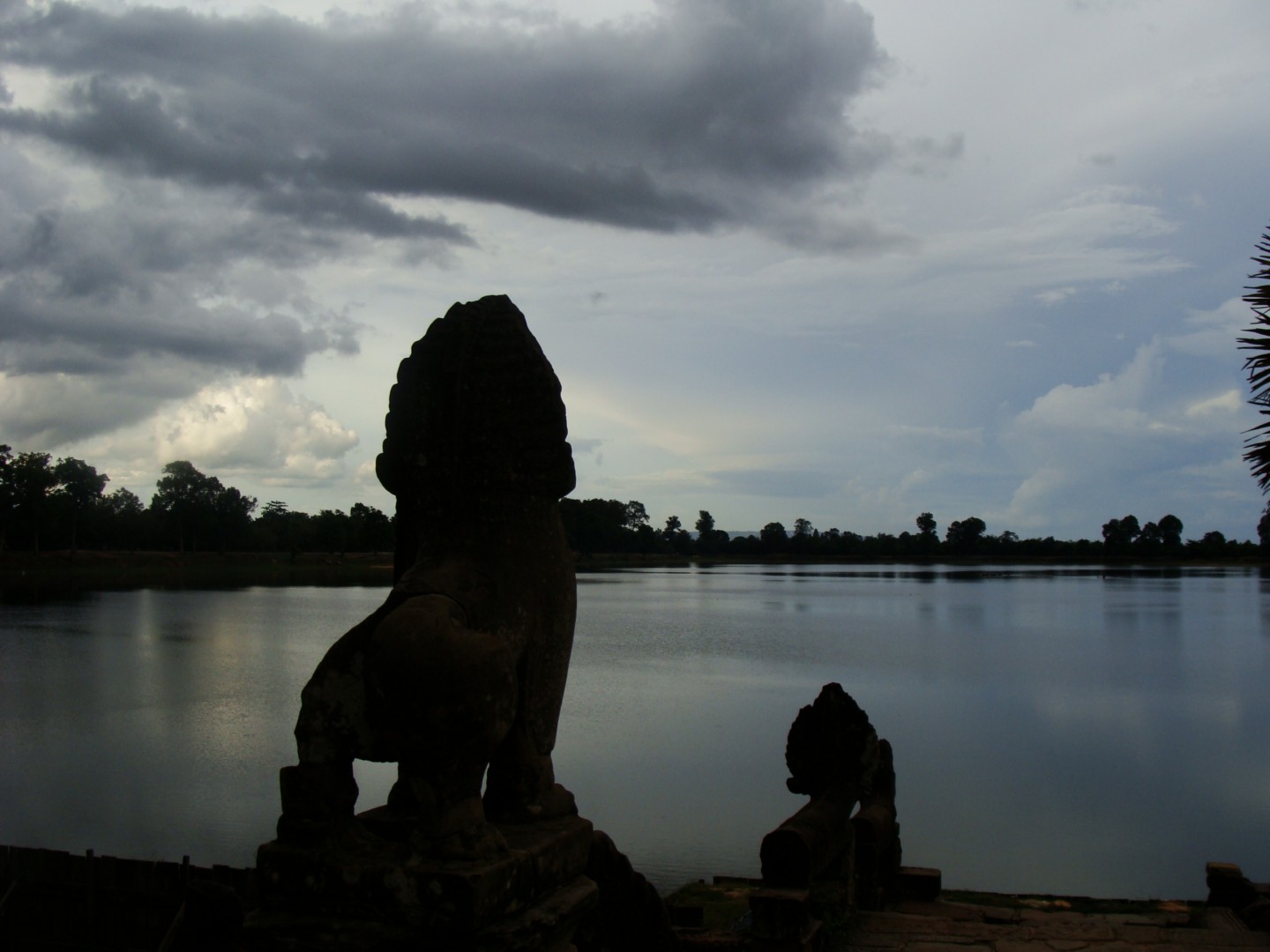 Miscellaneous
Do remember to take a universal adapter. South East Asia used the Type G plugs (horizontal flat pin), which are different from our round pin and the American Type A (vertical flat pin) system. Without an adapter, your phone chargers, laptop, camera charger nothing will work
Roaming charges are pretty high, so if you are planning for a longer visit, maybe you should think about taking a local sim. We didnt try it, so cant help you there
Weather in the last week of June was humid, but not quite as bad as Bombay. It was very pleasant to sit in the tuktuk when it was moving, but walking etc would get you sweating. It would rain in the evenings
Sun is stronger there, so take a sunscreen along
There is a airport departure tax of $25 per head, so save some of those dollars till the end of the trip