After feasting our eyes on the magnificent Angkor Wat ruins, we joined another couple friend in Langkawi, Malaysia to enjoy a few days of azure seas and white sand beaches. Unfortunately, our timing wasn't the best and our visit coincided with the rainy season there. However, the island itself looked very green and beautiful – and the smaller islands around Langkawi lived up to their reputation of spectacular beaches and enchanting seas.
How to Get There
Langkawi is quite well connected to Kuala Lumpur (7-8 flights a day) as well as Singapore. We flew in on Air Asia from Kuala Lumpur, where the trip was an hour long and tickets for the round trip cost just Rs 3,000. The airport is small but very nice – and the runway lies right next to the sea, making for a very beautiful landing. At the airport, there are the usual regular duty free shops and Starbucks – and more importantly, car rental firms. The island is about 320 sq km, which is less than the size of Greater Mumbai (437 sq km), but large enough to make traveling around a pain. If you have a license and can drive, it is incredibly convenient to take a car on hire and drive around the island. Indian driving licenses work just fine and you can get a middle aged Proton Wira 1.5L manual (Proton is Malaysian national car company) for about RM 220 for two days. Petrol is really cheap – equivalent of Rs 25 per litre – and the roads are in fabulous shape.
If you don't want to drive on a holiday, black/yellow/purple cabs are easily found in the tourist areas like Pantai Cenang or Kuah town. Or you can always hire a tourist vehicle full-time – though both the options are obviously much pricier.
The other way of reaching Langkawi is to take a ferry from Penang in mainland Malaysia. The ferry terminal is in the town of Kuah, which is the capital of Langkawi and is on the eastern end of the island, while the airport is at the west end of the island. Other than the ferry terminal and a huge eagle statue, Kuah doesnt have much to offer and can be completely left out of your itinerary.
View Larger Map
Tip – Car rental rates are the cheapest in the airport, much cheaper than Pantai Cenang, for example. So if you are taking a rental, take it at the airport itself. Alternatively, you can rent gearless scooters (Honda Activa type, like you can do in Goa) – they are widely available in all the tourist areas.
What to do
Langkawi has a long list of things to see and do, but for us the island of Langkawi didnt meet our expectation on the essentials – great beaches and a happening crowd. There are two public beaches in Langkawi – Pantai Cenang and Tanjung Rhu. Pantai Cenang is the main commercial beach on the island with a lot of shacks and water sports activities – which also means it's not all that clean. Tanjung Rhu, on the other hand, was slightly less crowded. Also, for an island this popular, we had imagined there would be some more beaches. There are a couple of other "beaches" on the island like Pantai Kok, but they weren't really even beaches. Apparently, the only other decent beach is Datai Bay beach in the north of the island, which is a private beach restricted to two luxury resorts.
The crowds were conspicuous by their absence, but among the travelers we met in Langkawi, a significant number were whole Indian joint families. The ratio probably improves in the peak tourist seasons, because – lets face it – Indian joint families are not the fun crowd you want to see on your beach holiday.
Apart from the beaches, Langkawi is actually a mountainous island with a generous green cover. The roads were delightfully empty and the weather was perfect – it was a joy to drive around the place. One of the most publicized things to do in Langkawi is to take the cable car ride up to the hills. Up at the other end of the cable car is a big platform called the Sky Bridge, an S shaped bridge going nowhere. It was the location of the climax of the movie Don (Farhan Akhtar's version). Unfortunately, we couldn't make it to the cable car in time.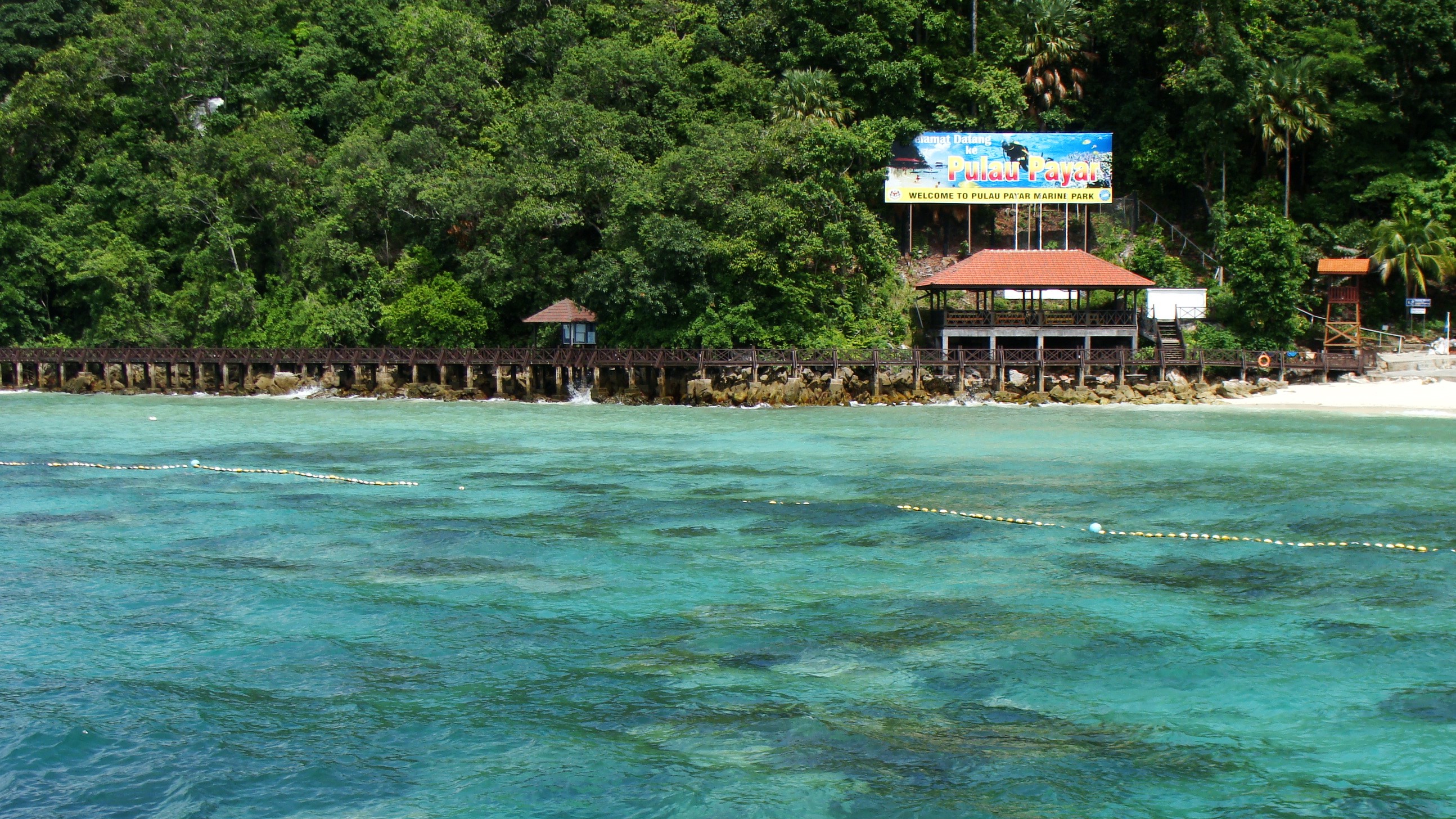 But even with the setbacks, we still had an amazing time in Langkawi, because of its beautiful corals around the Payar Marine National Park. Situated a little more than hour away from the island of Langkawi is the small island of Payar. It is uninhabited and a snorkelling paradise. Surrounded by blue-green seas, we made a beautiful white beach our base and put on our life jackets. Then we waded into the water with our snorkelling gear and within 10m from the shore, there were beautiful coral fish all around us. The most common were the small bright yellow color fish – they were teeming everywhere. But interspersed between the shoals of yellow fish were other fish with such vivid colours that you would wish you could swim like this forever. We spotted a host of colored coral fish that we didn't know the names of – and also some baby sharks/dogfish, a tiny clown fish (Nemo) and a small octopus as well.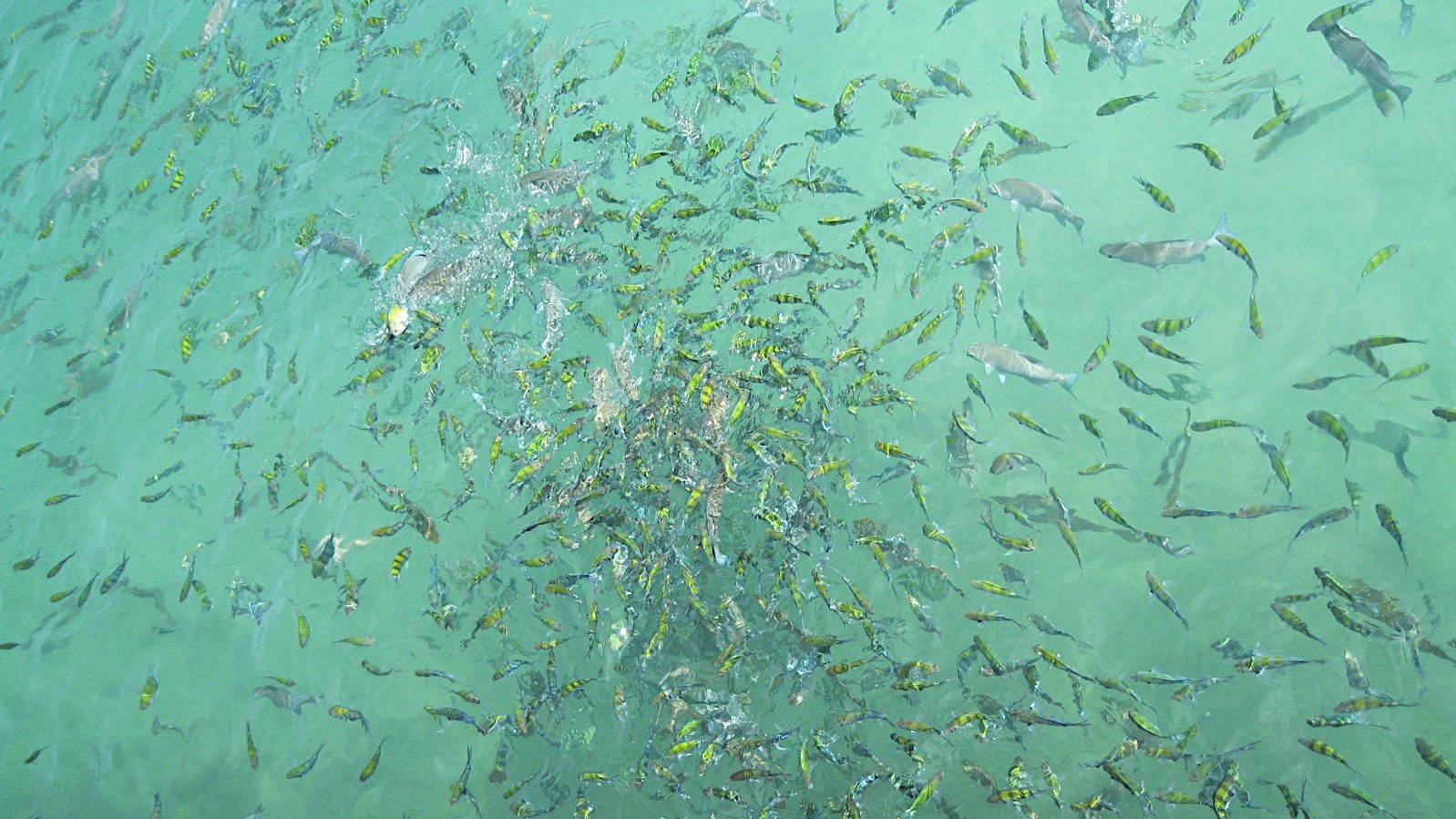 We spent about 5-6 hours on the island, and were served packed lunch as part of the package. The other most popular activity is island hopping. Tour operators take you to 3-4 islands around Langkawi – where you get to enjoy more white sand beaches, swim in an island lake – or just have fun in the high speed ride between the islands. The main attraction in the island hopping the trip is the island of the Pregnant Maiden. Apparently the lake in the island has magical properties which helps females conceive. I will let you ponder about how likely that is. But the lake is picturesque and you can take a swim in it – a lot of people did. Though reaching it needs a bit of climbing – quite a bit of it actually. So it is quite soothing to just sit on the floating platform with your legs in the water after the steep climb down.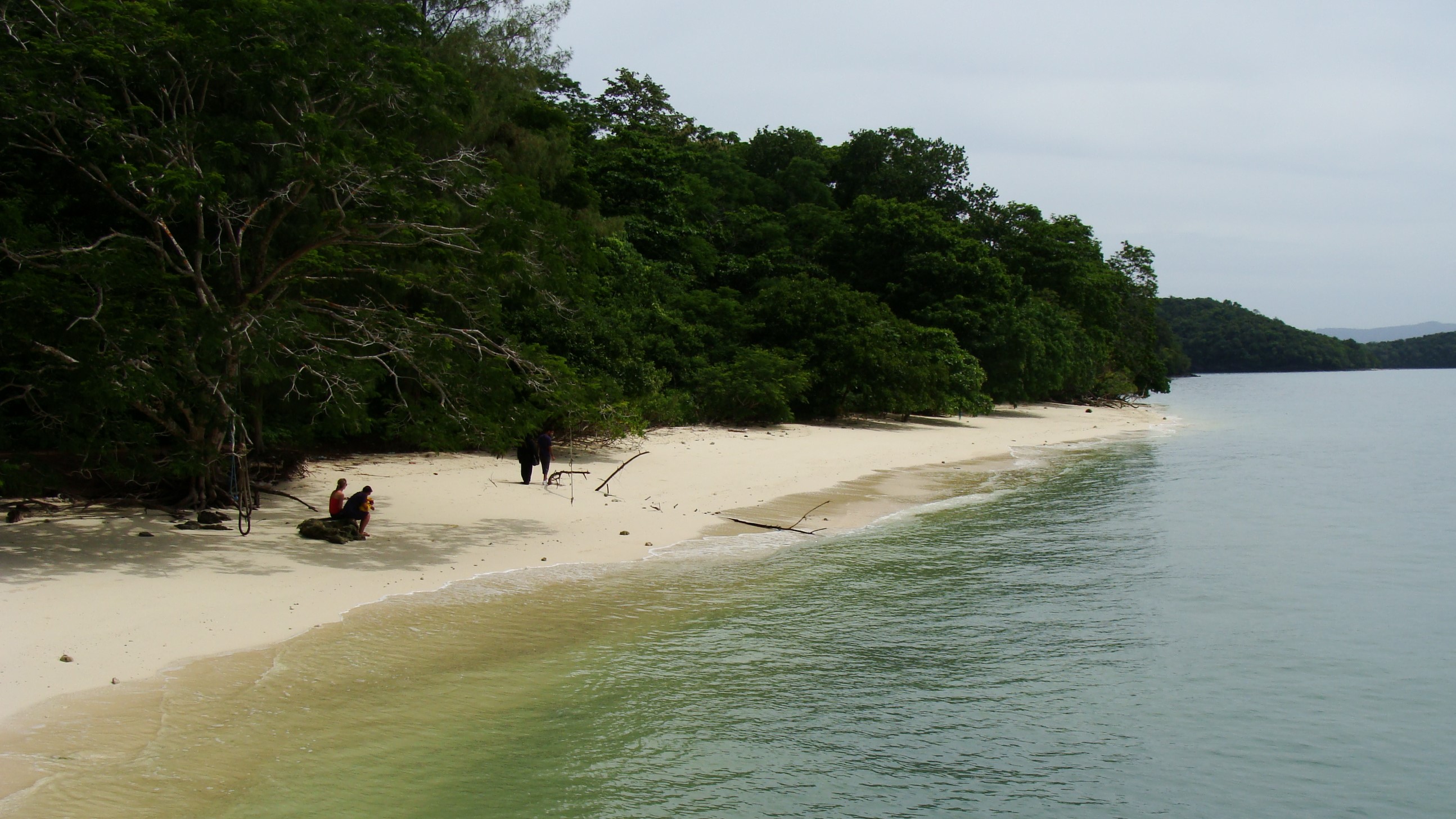 On the same island-hopping trip, next stop is another tiny island in the Langkawi archipelago, which we do not know the name of – but it has same enchanting blue-green waters around it and a beautiful white beach. Almost all the boats make a stop here and swimming is safe, so the beach is really popular. There was a small shack on the beach selling soft drinks etc – didn't try it, so can't be sure. And finally, the trip is rounded off by a visit to yet another island where scraps of meat are thrown into the water and hordes of eagles from nowhere swoop in to snatch them out of the water. It is a fabulous sight to see the majestic eagles swoop in for the kill – and extremely hard to capture any of them on a camera if you do not have a DSLR.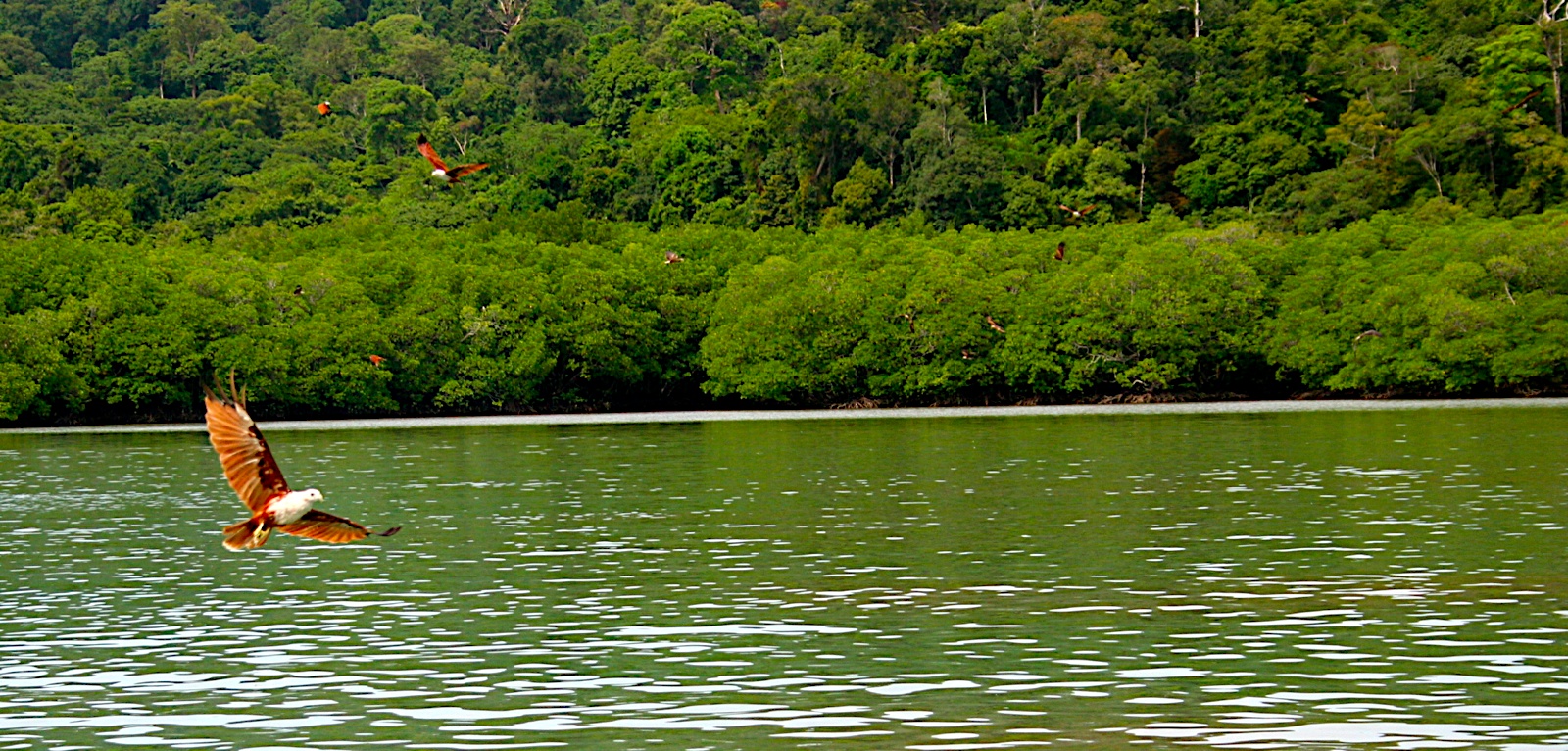 Tip – One of the popular activities in Langkawi is to hire a boat for a dinner cruise/party from Porto Malai at the southern tip of the island. You can go for the private dinner with just your partner on a sailboat – or you could join a bigger group on a motor launch for a party with loud music.
Tip – As you would expect from a tourist island, water sports facilities are pretty decent. Alternatively, Langkawi has a couple of waterfalls worth visiting – and if you are based near Tanjung Rhu, there is a mangrove boat ride at the north end of the island.
Also, stay away from Laman Padi.
Food was a mixed bag. We didn't come across any famous standalone restaurants and overall, and food rates seemed quite pricey in Langkawi – mostly because it is an island and all food to be brought over from the mainland. But on the positive side, we chanced upon the night markets of Langkawi. Held on different locations on the island on different days of the week, it is full of food stalls where food is being cooked. It was very similar to – but in many ways, unlike any Indian bazaar. It was way cleaner than any street market you'd see in India. But the milling crowds and the blend of different smells from cooking seemed very Indian. Sure it is a meat-eaters' paradise – but surprisingly there were quite a few vegetarian options as well. And best of all, it was amazingly cheap!! We bought so much food for 25 RM that four of us couldn't finish it – yet you would probably have to pay that much for a single entree at a restaurant on Pantai Cenang!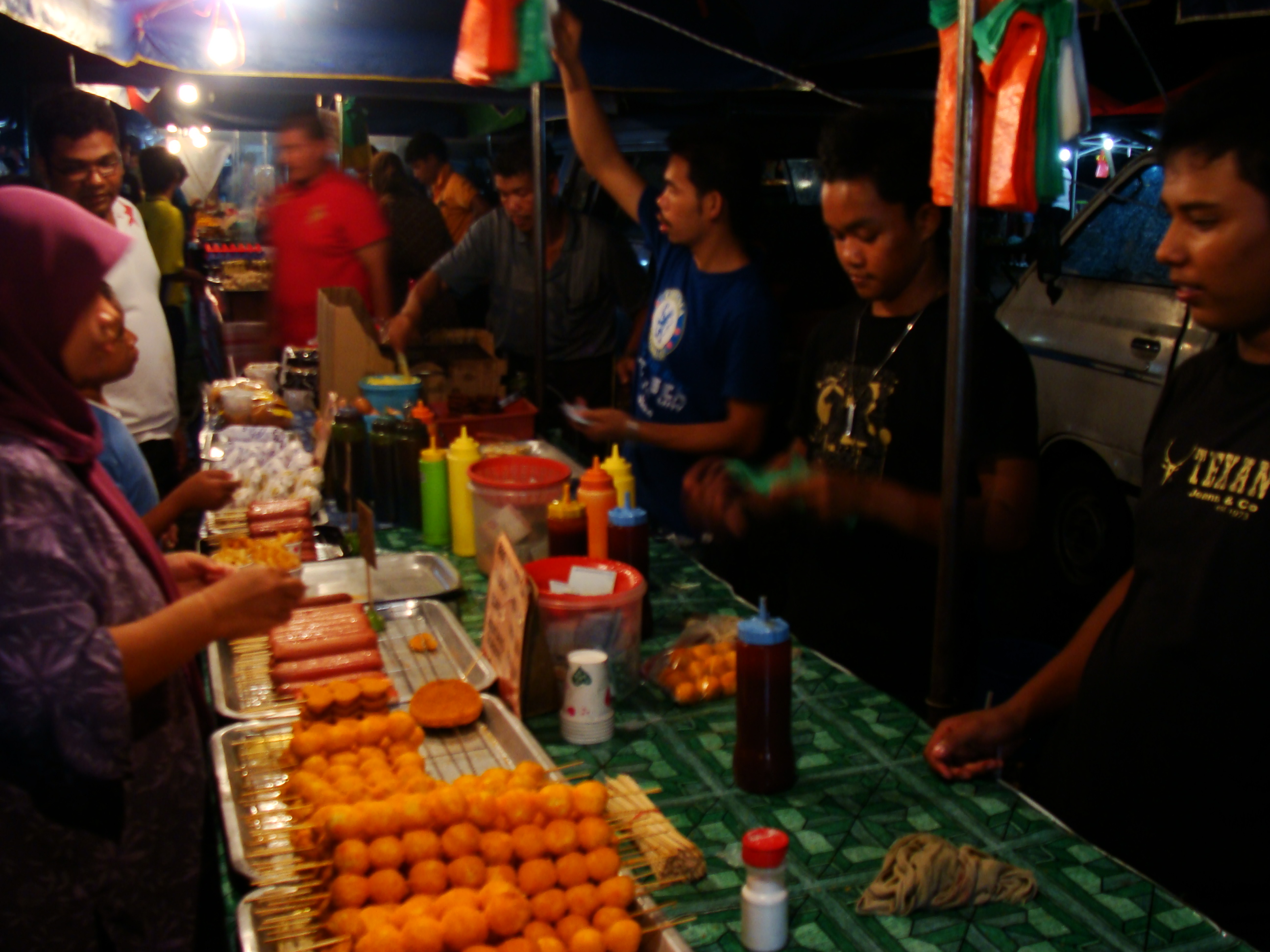 Another popular feature of Langkawi is duty free shopping. Since the entire island was duty free, there are quite a few big departmental stores selling everything from mandatory liquor and chocolates to ladies handbags, apparel and local handicrafts. Pricing wise, they weren't any different from the airport duty free shops – we bought chocolates and liquor mainly. Helped us spend our days in Langkawi in 'high spirits' 😀
Where to Stay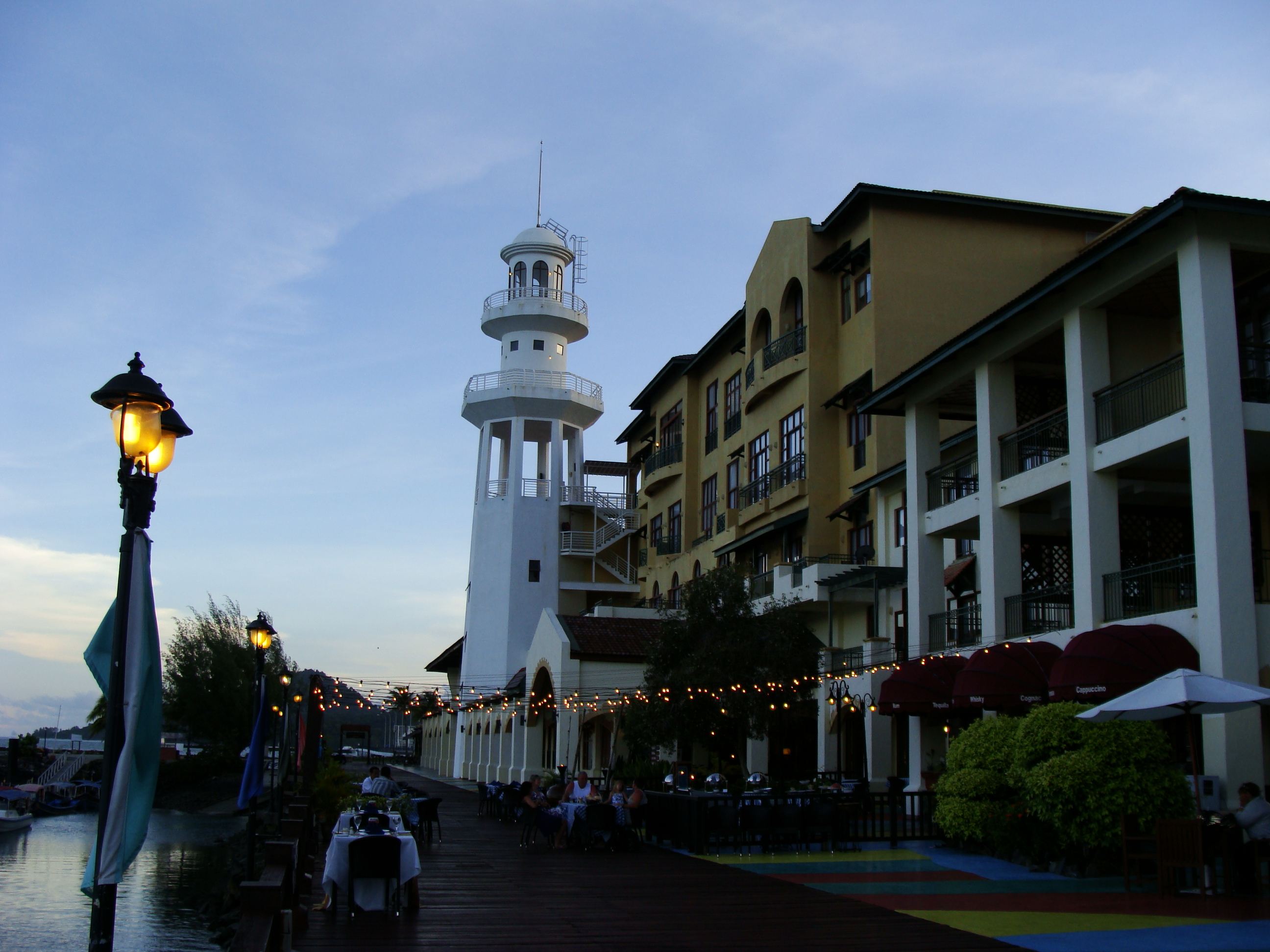 Langkawi is not short on accommodation options – from budget hotels to ultra luxurious Four Seasons resorts, it is all there. However, though there are quite a few hotels which are affordable and luxurious, most of them aren't on a beach. We stayed in one such hotel called Awana Porto Malai (for about Rs 3,000 a night). It is humongous in size, and located at the southern end of the island, with a small marina attached. It's got a fabulous location and great views all around. You can make out it must have been the premier property of Langkawi in its heydays – but those days are gone now and the place looks past its prime.
We had a nice refreshing break in Langkawi, but it did not live up to our expectations of a lively beach destination. It is a beautiful and somewhat affordable beach location for most Indians no doubt, but there was just no "zing" in the place.
(We owe most of the photos that you see here to our friend Shivdat – and his wonderful wife Shammi – with whom we had a blast in Langkawi)