At 55° South, Ushuaia is the southernmost city of the world*, and tags itself "Fin del Mundo" (The World's End). It is situated on the island of Tierra del Fuego, on the Beagle Channel (one of the narrow seaworthy passages at the tip of South American continent, which is shielded from the wild Antarctic winds). Before the Panama canal was built, Ushuaia used to be a major port for ships crossing between the Atlantic and Pacific oceans. Now, Ushuaia has been reborn as the access point to the continent of Antarctica. All visitors/cargo to Antarctica goes through Ushuaia (or Punta Arenas in Chile). Ushuaia is also a port of call for a lot of cruise ships. Visiting the "World's end" has a certain ring to it.
*there is a Chilean town of Puerto Williams across the other side of the Beagle Channel, which claims to be the southernmost habitation in the world, but with a population of <4,000, it is barely a town and definitely not a city. Ushuaia has a population of 50,000, in comparison.
Christmas eve and Christmas in Ushuaia
We reached Ushuaia on the evening of Christmas eve, via a flight from El Calafate. The weather in Ushuaia was much colder, with temperatures around 8°C when we landed. The taxi to our Airbnb apartment was quick, although our apartment was a slight disappointment – the living room was neither as large, nor as well furnished as we had expected. The bedroom upstairs was much better though, and the apartment had a beefy gas heater on each floor to warm things up nicely.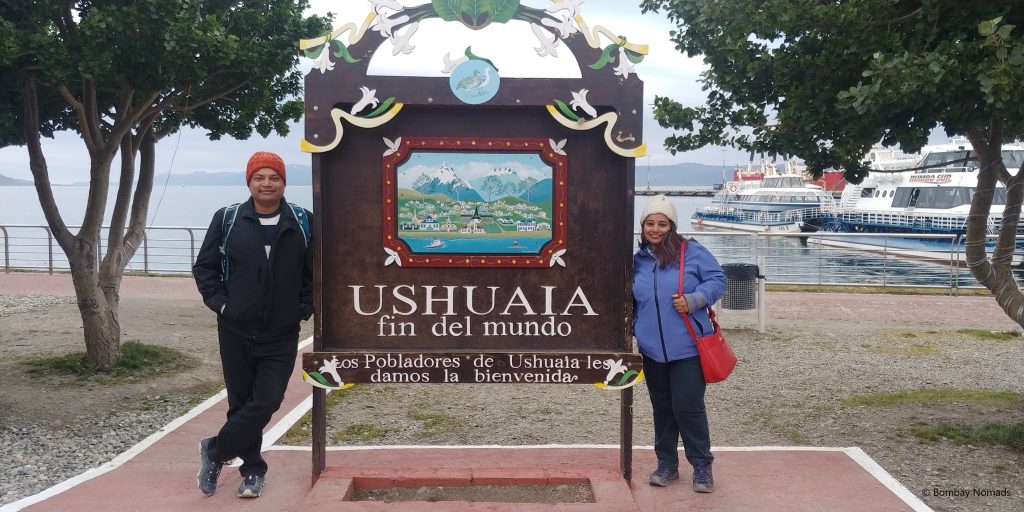 Our Airbnb, while close to the airport, was a bit far from Avenida San Martin, the downtown of Ushuaia. Our neighbourhood was a sleepy residential one, with no good restaurants or pubs within walking distance. In the cold, we did not feel like hunting for groceries and cooking, so we headed out to Avenida San Martin, hoping to grab a quick dinner somewhere. We picked the Hard Rock Café for dinner, assuming it would be easier to get a table there.
Growing up in India, where Christmas is just one of the smaller festivals we have, we never quite realize what a big deal Christmas is for Christian countries. We are being totally honest here, when we say that it did not occur to us to make plans for Christmas Eve. So the shuttered shops with Christmas decorations on Avenida San Martin was the first hint that we might have overlooked this important detail. Not only were all the shops in downtown closed, a few of the restaurants too had their shutters down. Hard Rock Café was thankfully open, but they had a strict reservation policy for Christmas Eve dinner, and all tables were apparently reserved days ago.
And we weren't the only ones negatively surprised. Other tourists kept reaching Hard Rock Café and getting the same bad news. The temperature had fallen to low single digits, and wind had picked up. Everyone was trying their luck at any open restaurant nearby, but every restaurant was full. They weren't even offering any wait times – straight no! By now, any thought of menu or review etc had gone out of our minds, and all we wanted was some hot food – ANY hot food would do!
Thankfully, after being turned down by 6-7 restaurants, we found one small restaurant in a by lane, who said they would give us a table after some waiting. We gladly waited for 10-15 min and got the table. It was a fixed Christmas menu for 650 pesos per head. They had chicken/beef steaks as main course, and the food wasn't too bad. We washed it down with a bottle of Argentine red wine, while others kept waiting outside for a table to become available.
To cap the perfect evening, when we came out of the restaurant at 21:30, it was dark and raining heavily! While we were prepared for the cold, we were not decked out for the rain. But lady luck hadn't abandoned us, and after 10 minutes of waiting, an empty cab came by, taking us to our apartment.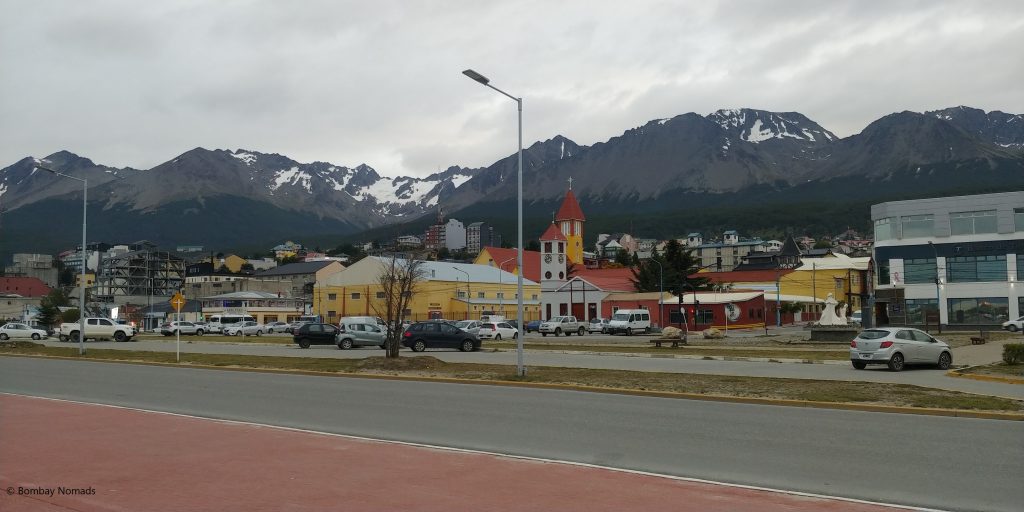 Christmas morning dawned bright and clear in Ushuaia. We had kept it as a rest day, assuming that most tourist attractions and transport would be closed for Christmas. And everything did seem to be closed, when I went out shopping for groceries in the morning. ATMs were out of cash, the two supermarkets closest to our apartment were closed and streets were mostly empty of both people and vehicles. Luckily, one small neighbourhood store was open and I managed to find bread, pasta and other basics.
We spent the rest of the day catching up on chores and just lazing around. For dinner, we tried Hard Rock Café again, and thankfully it was a quiet night and we easily got seats. After the boring parilla food in the past couple of weeks, the Tex Mex spices really stoked our taste buds and whisky/rum felt really good in the chilly weather.
Interestingly, apart from downtown Ushuaia, we didn't see any Christmas decorations or lightnings in homes or shops. It seems like Christmas in Argentina is a religious and family affair, with none of the commercial and showy elements that we have come to expect from Christmas.
Tierra del Fuego National Park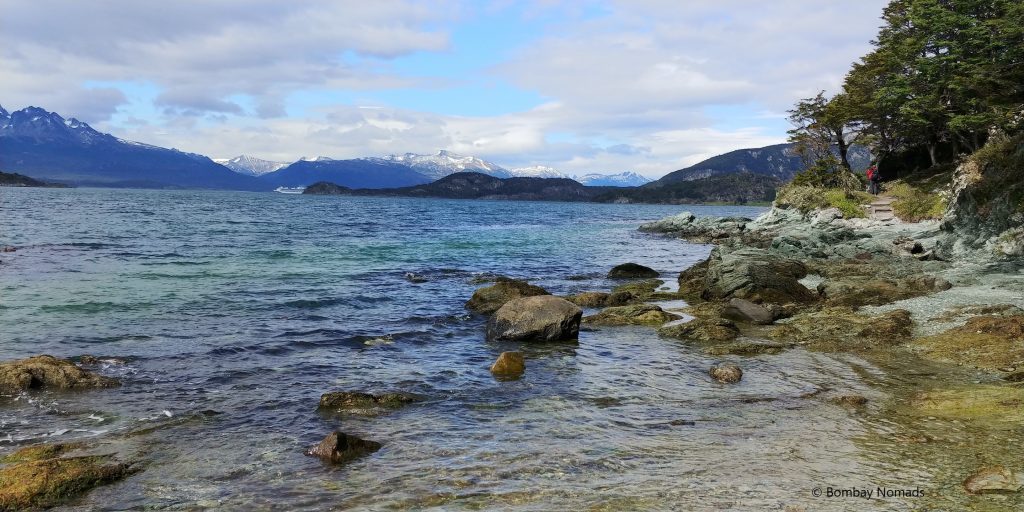 The most famous thing to see in Ushuaia is the Tierra del Fuego (TDF) National Park. Ushuaia was originally a prison colony for Argentina, with prison labour used for cutting timber from the surrounding forest. Now the surrounding forest has been conserved as a National Park.
There are three ways of seeing the National Park
1) a touristy toy train, known as "End of the World" train
2) hiking
3) taking a tourist bus to some of the viewpoints.
We had gotten into the hiking groove by then, and the train sounded too touristy (and expensive), so we skipped the train. The National Park is about 11 km outside of town and there are hourly shuttles ( starting from 08:00 ) from the bus terminal on Avenida Maipu, on the main waterfront of the city. The return trip costs 350 pesos per head. At the terminal, you will find different shuttle companies hawking trips to the National Park. Just note the return timings from your operator – our shuttle bus had return journeys at 16:30 and 18:00.
At the TDF National Park, the entry fee is a separate 490 pesos per head, with a 50% discount for the next day (seems like a standard Argentine policy). Information about TDF National Park hiking trails (in English) was not as easily available online, compared to El Chalten. The shuttle operator on Avenuda Maipu helped us pick the Senda Costera (the coastal road) trail from Zaratiegui Bay to Lapataia Bay. It is a popular hike, 8 km long and rated low difficulty. After hiking in El Chalten, we weren't too concerned about walking 8 km.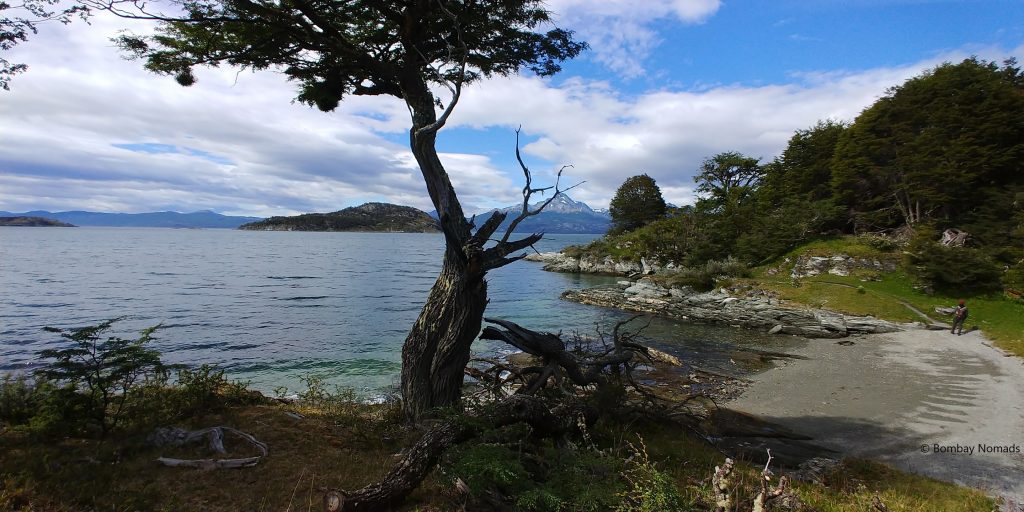 There are other smaller hikes starting from Lapataia Bay itself, which is also reached by the same shuttles. Our plan was to also attempt one or two of these hikes, after we finished Senda Costera. For fans of more serious trekking, there is the Cerro Guanaco trail, which climbs up 3,200 feet on the side of Guanaco mountain.
We caught the 09:00 shuttle from the bus terminal to TDF National Park. The first stop inside the park is for the Tren de Fin del Mundo (End of the world train). The second stop is the pier at Zaratiegui Bay, which is where we got down at around 9:30. Inside a small ramshackle hut on the pier, you can find the 'Post Office at the End of the World'. It is a cheesy place to buy postcards/stamps and other curious, which you can mail it to your friends & family – we both did.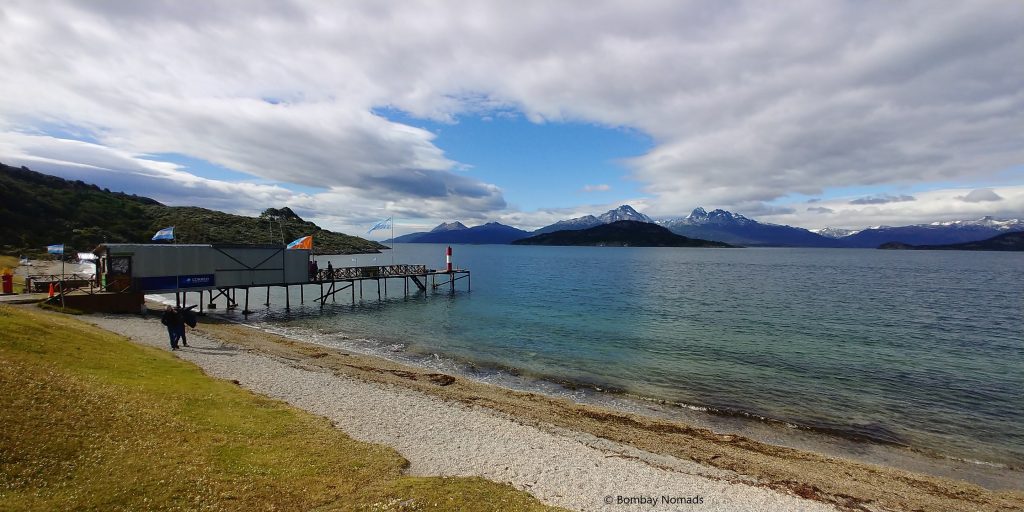 It was a gorgeous morning when we started our hike on Senda Costera, around 09:45. Initially, the trail crossed many tiny coves and inlets, with rocky beaches and very pretty green sea. The views were mesmerising and we even saw an occasional cruise ship in the distance. But after an hour or so, the trail moved a bit inward from the coast, keeping mostly inside the forest and with a few glimpses of the sea between the trees. This section formed a continuous series of climbs and descents, which ended up tiring us out.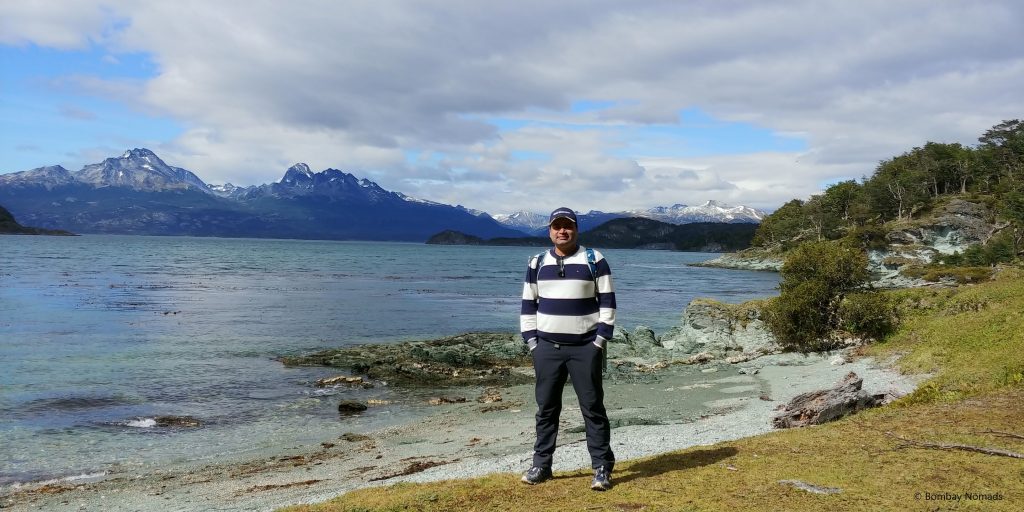 At the halfway point, the trail came to a beautiful resting place on the sea. There were already a few people there, making the most of the very photogenic site. We stayed for 10-15 min and grabbed a quick bite. There were quite a few birds to be seen – ducks with ducklings and pair of geese sunning themselves. There was also a curious brown hawk-like bird that was quite unafraid of humans and was probably looking for food. We would have liked to stay for longer, but the wind got strong out in the open and we were starting to feel chilly.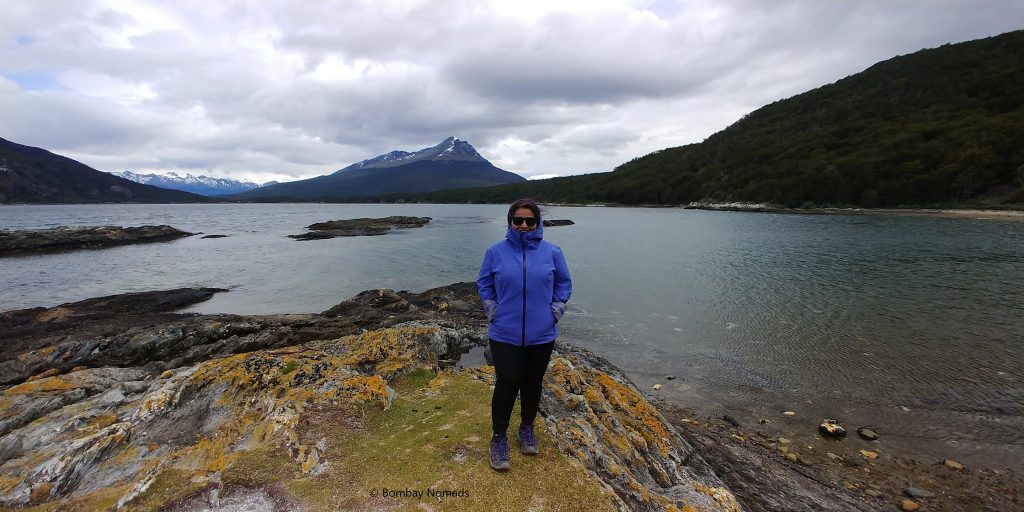 After the stop, the trail turned away from the sea and went completely inland, through the forest. This stretch was very uninteresting and we kept on clambering up and down. The trail ended at the visitor centre of Alakush, but the last kilometre ran next to the main road and we got all of the dust kicked up by buses on the unpaved road. Overall, we would give the trek a thumbs down. Maybe you can do the first two km from Zaratiegui Bay and turn back. Or skip the trek and come directly to Lapataia Bay and do the smaller treks there.
The cafeteria at Alakaush was huge and airy, and to put it succinctly – designed to handle large busloads of people. It had a kitchen and also a large bakery section, where people can pick something ready-to-eat. We were lucky to have reached in the quiet period between buses, and had the luxury of ordering a hot meal. We chose a pasta and a stir fry (optimistically named chop suey) – and they were pretty good compared to the boring Argentine food we had been eating. After the luxurious lunch accompanied by hot chocolate, we headed out to try the smaller treks around Lapataia Bay.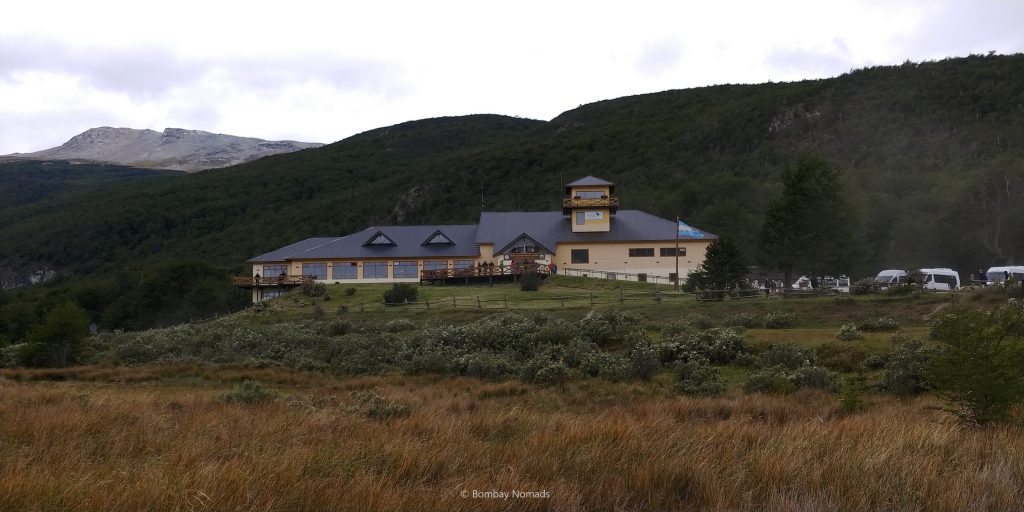 We decided on the Island trail hike, which would lead us to the shuttle bus terminal at Lapatia Bay. The landscape was mostly tidal creeks, with a marshy path and full of moss-covered rocks. It was classified as an easy hike, and though there was no steep climb, it was slow going since it was quite slippery at places. But after a kilometre into the hike, I was quite disillusioned with it. The sky had turned dark, making all the colours very listless and we hadn't seen anything photogenic on the way so far.
With forecast of rain for the afternoon, I convinced Suchitra to abandon this hike and return back to Alakush. Lest we miss the 16:30 shuttle and have to wait in the rain for the 18:00 one. We sat outside Alakush waiting and struck a conversation with two German tourists who were also waiting for their shuttles. Our shuttle was on time and we were back in Ushuaia in 20 minutes.
As it turns out, it did not rain that evening – so on hindsight, we could have continued our afternoon hike. But I don't regret it.
Laguna Esmeralda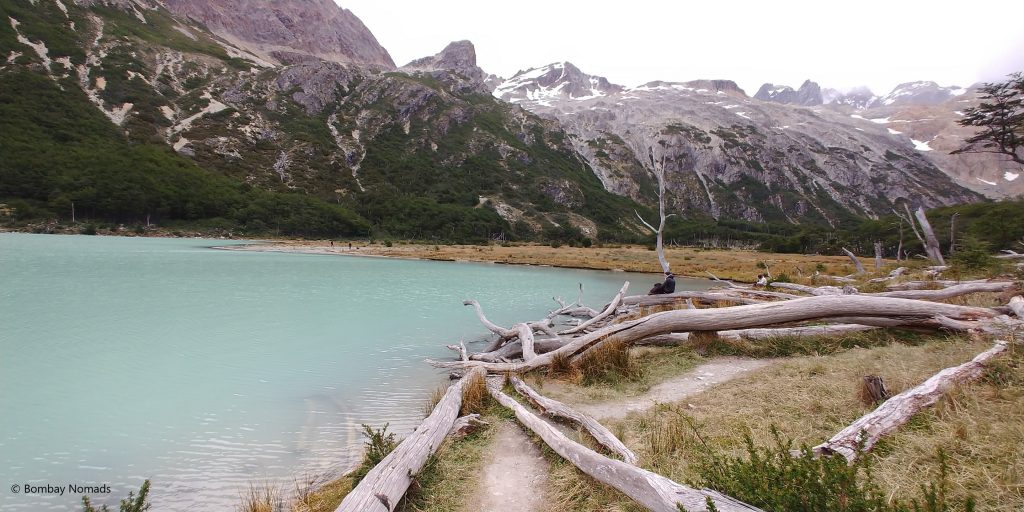 After a slightly ho-hum beginnings, Laguna Esmeralda was our first wow moment in Ushuaia. Esmeralda is a small glacial lake in the mountains surrounding Ushuaia, and is definitely one of the must-visits in Ushuaia. After TDF National Park, we did not want to do another hike on the very next day. But according to Accuweather, it was the only good-weather-day in the coming few days. So off we went to Avenida Maipu again, to find us a shuttle to take us to the start of the trek, about 18 km away from the town.
At 08:45, the bus terminal which was milling with people and backpacks, waiting for their shuttles. However, we were told that there would be no morning bus for Laguna Esmeralda that day, because there were no other tourists for Esmeralda yet. Disheartened, we tried a taxi, only to find out that it would cost 1,800 pesos for a pick up and drop – with full flexibility on timings.
We walked back to the bus terminal hoping to find someone to share the taxi. And to our pleasant surprise, another Asian tourist had arrived and the shuttle bus guys were ready to run the shuttle with 3 people. The shuttle cost 450 pesos per head for the round trip, so we still saved 900 pesos compared to the taxi. The bus departed at about 09:15, by which another 4 more tourists arrived, so it worked out good for everyone. Return was at 15:00, so it gave us 5.5 hours to finish the trek.
The drive to the trailhead was on smooth tarmac, unlike roads to TDF National Park, and by 09:45, we had started the trek. The first kilometre and a half of the trail was flat and through the by-now-common forest of lenga trees. As the internet had helpfully pointed out, the trail did have a few muddy patches, but at most such places, some helpful logs of wood were thrown in. Barring that, the trail is well marked with blue colour, and is a popular trail, so we were always coming across trekkers.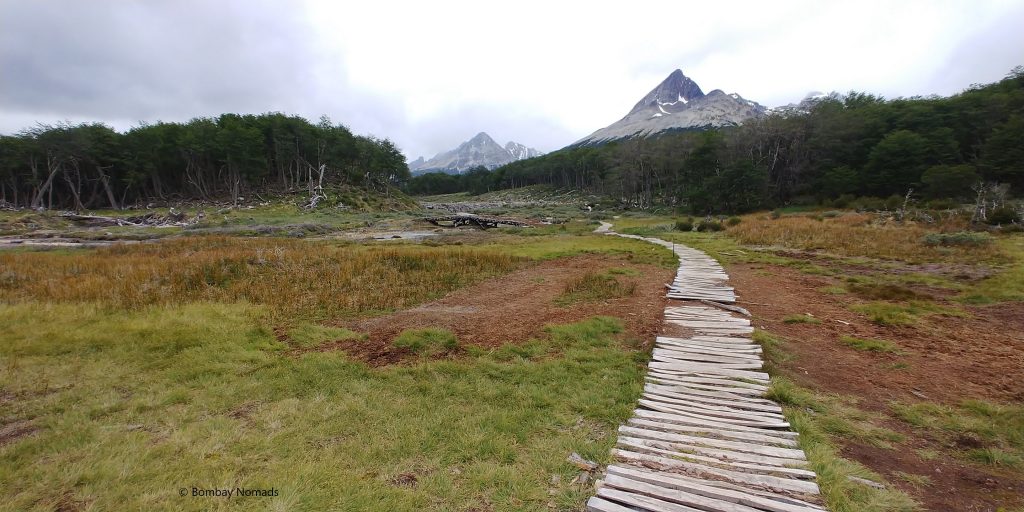 After the 1.5 km mark, the trail suddenly opens up to a wide grass-covered open area, with a wooden walkway laid down. And we saw our first beaver dam, although beavers have been eradicated from this area*. The dam still holds a small lake behind it and upstream another similar dam is visible.
* beavers were introduced in the island of Tierra del Fuego with the aim of commercially trapping them for fur. However, Tierra del Fuego being less cold than the Arctic, the beaver's adapted to a less thick fur, making them useless to fur trappers. And with no natural predators, beavers spread like wildfire in the island, eating up forests, disrupting landscapes with their dams – becoming pests. Argentine and Chilean authorities have taken steps to eradicate the beavers now.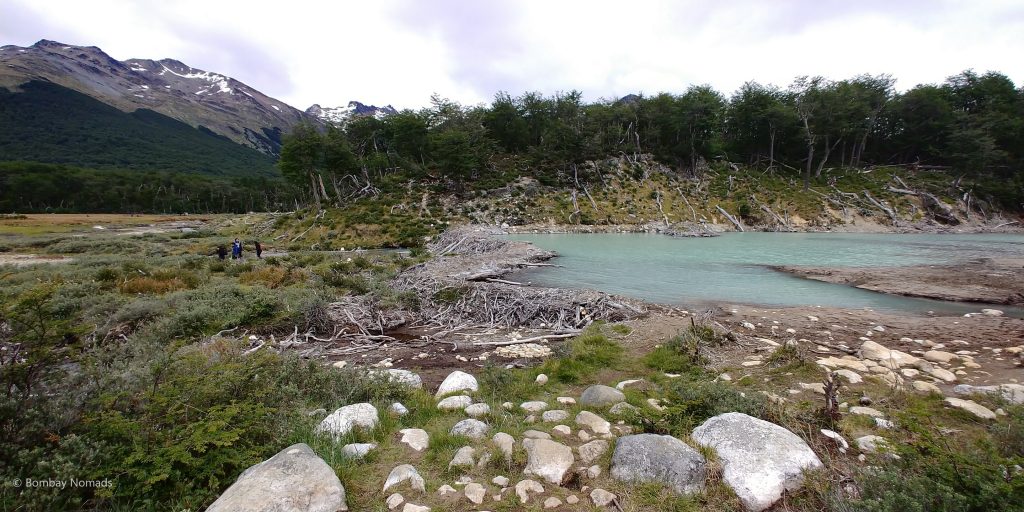 From the open grassland, we re-entered the lenga forests again, where the trail started to slope up. We slowed down a bit for this stretch, as the 12 km of walking on the previous day was having its effect. Soon the trail opened up to another open grassland, which was actually a peat bog. A peat bog is a wetland, where the ground is not composed of soil, but layers of dead plants. It occurs in specific cases when the water is acidic or has low oxygen content, so dead plant matter does not decay fully. As more dead plants accumulate and get compressed, it forms a ground-like surface. But the surface is soft and spongy because it is all dead plants underneath.
Walking on the peat bog was a very unique and fun experience. While some parts of it are wet and muddy, there is usually a dry path to be found. Luckily for us, there were a couple of guided tours also on the trail that day, and we just followed their footsteps.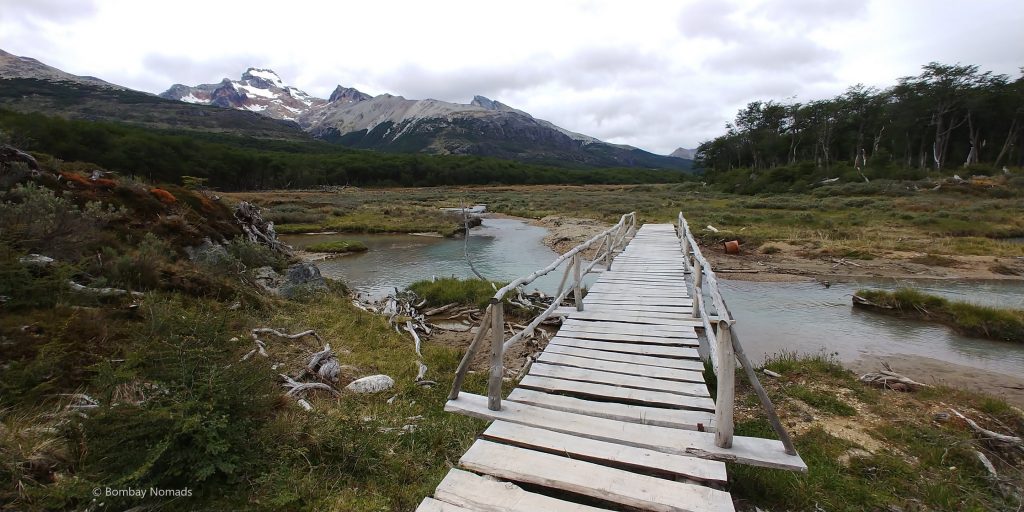 After a total walk of 4.8 km and in a little under 2 hours from start, we topped a crest and found ourselves in front a delightful green coloured lake – Laguna Esmeralda. By now, we know that the blue-green colour is because of the suspended sediments brought down by the glaciers. Behind the lake, a thin hanging glacier could be seen, but the snow-covered peak was covered in clouds.
Next to the path was a small beach and surrounded by a copse of trees, where we took a break and ate our packed sandwiches. And as has been the case on most of our treks so far in Argentina, the moment we sat down, the wind picked up and we started feeling uncontrollably cold. Midway through our meal, we had to pause to wear our jackets. Thankfully there was no sand or grit flying like in Laguna de Los Tres.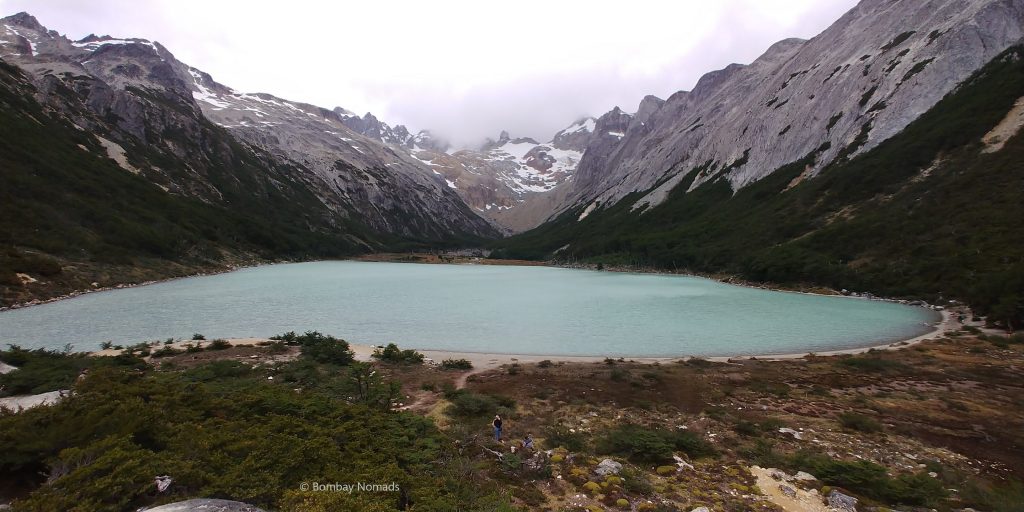 There is a well-marked trail on the right (anticlockwise) side of the lake, and we saw other hikers heading for it, so we followed it too. It was a nice walk, allowing us to see the lake from different angles. After about half a kilometre, the trail branched off from the lakeshore and disappeared into a forest. We checked with the other hikers, who said there wasn't much more ahead, so we didn't press any more.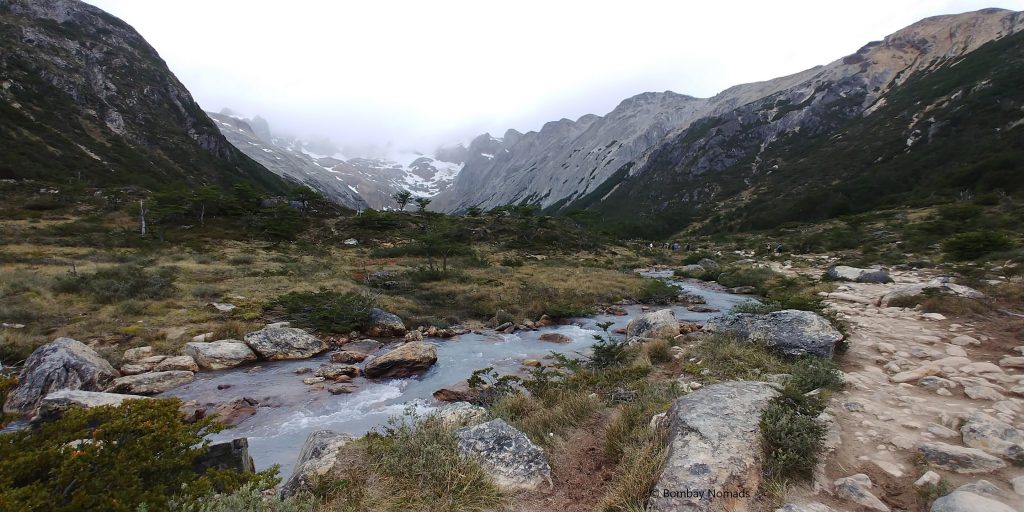 After we started back, it was a simpler task of retracing our steps. Since the trail was inclining down, we did not take any breaks, and we were back at the trailhead by 14:30. A lot of other hikers were already there, waiting for their respective shuttle buses. And there was definitely a shortage of seating areas there – as in there was nothing – no bench or log or even a large flat stone. So, people parked their bottoms on whatever they could find. Some log benches need to be added.
Thankfully our bus came by 14:50 and we reached Ushuaia in half an hour, where we headed to the marina.
Beagle Channel Cruise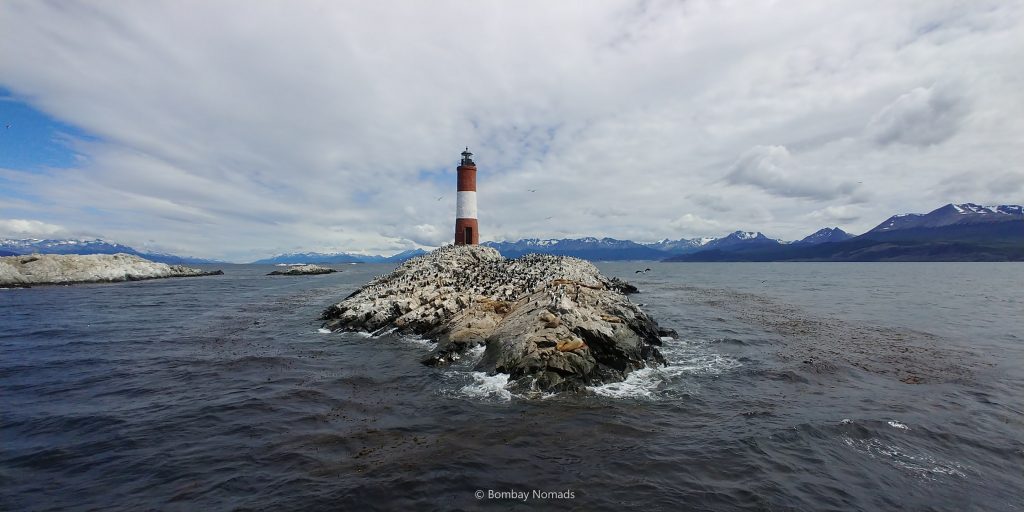 Apart from Laguna Esmeralda, the other recommended activity* in Ushuaia is the Beagle Channel cruise. There is a cluster of tour operators on the marina, couple of blocks away from the bus terminal on Avenida Maipu, all offering similar tours at similar price. We chose one of the operators at random – Patagonia Adventures – since they seemed helpful and informative. The tickets cost us 1,800 pesos per head. They promised us a smaller yacht, which would enable us to get really close to the islands.
* There is also a penguin cruise, check details in 'Useful Information' section below
Despite rain being forecast later, the day was looking good as we reached the marina about 30 min before departure. We checked in with our tour operator, and proceeded to pay the port fees of 20 pesos to the port authorities (mandatory for all cruises). Thankfully there was no queue and the fee payment was done in a jiffy.
Our boat was a small yacht, smaller than other catamarans, but not by much (as explained by the tour operator, it was a good thing as the guide would be able to give more personal attention and the shallow draft of the boat would allow us to get really close to the islands during the cruise). Our tour had about 20 people, including a group of 9 from China, whom we befriended later. Our guide was very friendly and he repeated everything in both Spanish and English for the group.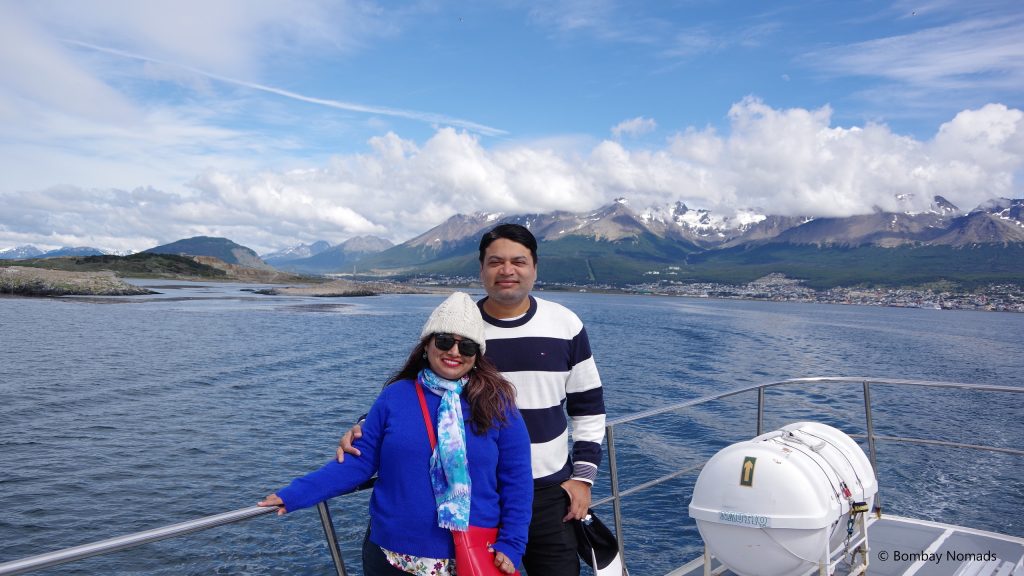 We started the cruise sharp at 10:00, and we enjoyed the scenic view of Ushuaia harbour from the boat. Our boat had comfortable seating for all of us and it had 2 decks – one in the front and one on the top – so everyone had a comfortable space to take pictures from. But the wind in the open sea was much stronger and everyone soon retreated back to the warmth of the cabin.
Our first stop was at the islands of cormorants. These black and white birds were nesting on a small rocky outcrop (I do not think it even had a name), covering almost the entire island with their nests. According to the guide, these cormorants are local and do not migrate in winter. But they do change their island every couple of years when the island becomes covered in bird poop. This current island must have been a new nesting site, because it did not look dirty and neither did it smell bad.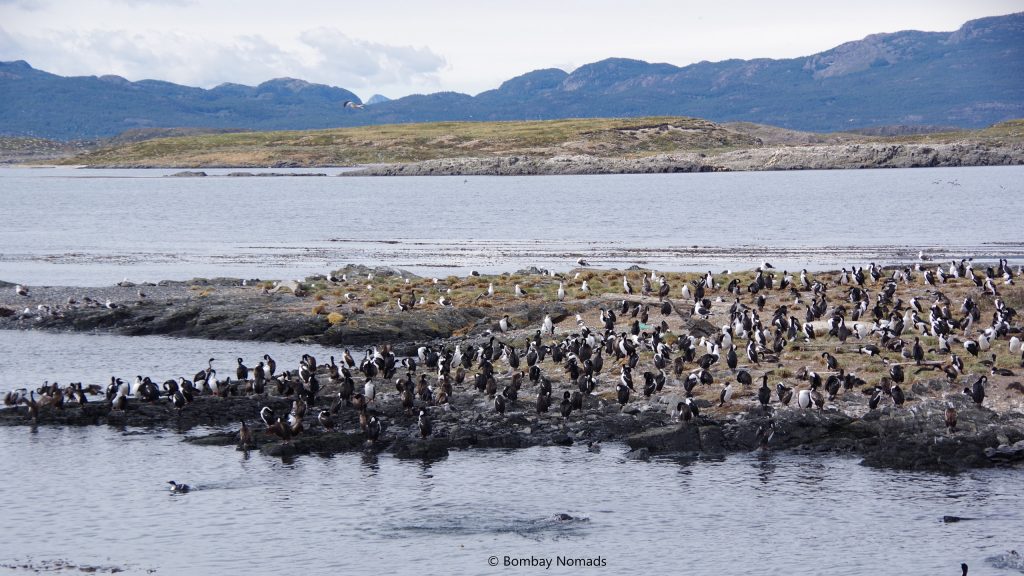 Our next stop another small rocky island, which was home to a colony of sea lions. It was headed by a giant bull sea lion and composed of females and pups. Most of the sea lions were lazing in the sun and seemed to be unconcerned with humans or boats coming very close. Our boat was able to approach really close to the island and everyone on the boat got a chance to photograph them to their heart's content. On the downside, we discovered that seals can smell really horrible.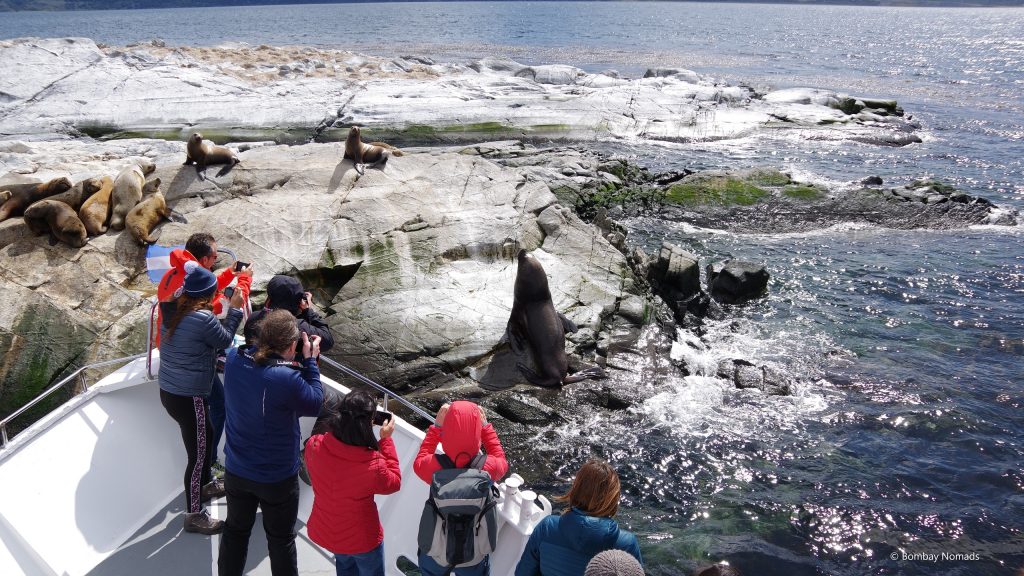 The third stop was the lighthouse on Les Eclaireurs island. A small lighthouse 11m high, stands on the island, which is also home to cormorants and seals. The red and white unmanned lighthouse looks particularly photogenic against the blue sea and the sky. There are other small islands surrounding the lighthouse, which have become white in colour because of bird poop, no doubt they being former nesting sites of the cormorants we saw earlier. They smelled awful too.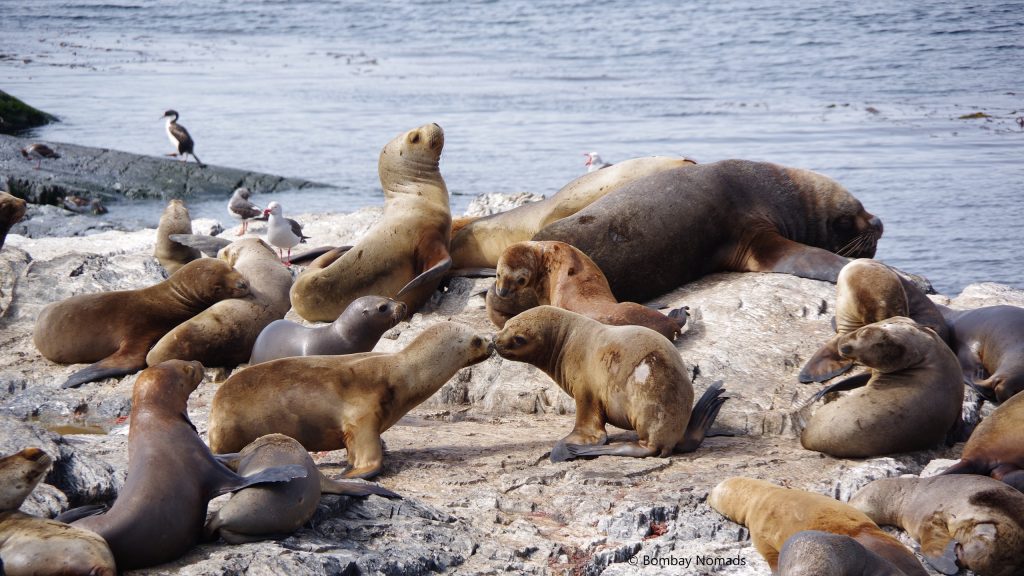 The lighthouse was the easternmost point in our trip, and from here we turned around and headed back west. Thoroughly chilled by the cold winds in the sea, we came back into the cabin to find tea, coffee and hot chocolate laid out for us by the crew, along with cookies. While sipping our hot chocolate, our guide explained about the indigenous Yaghan/Yamana tribe who lived in Tierra del Fuego for thousands of years before the arrival of the Europeans. They were able to survive the extreme cold without the need for any clothing apparently.
In a tale replayed everywhere in South America, the indigenous people were killed or they died of diseases. Currently there is one last true-blooded native Yaghan alive, a 90 year old granny named Christina Calderon, who lives on the other side of Beagle Channel in Puerto Williams in Chile.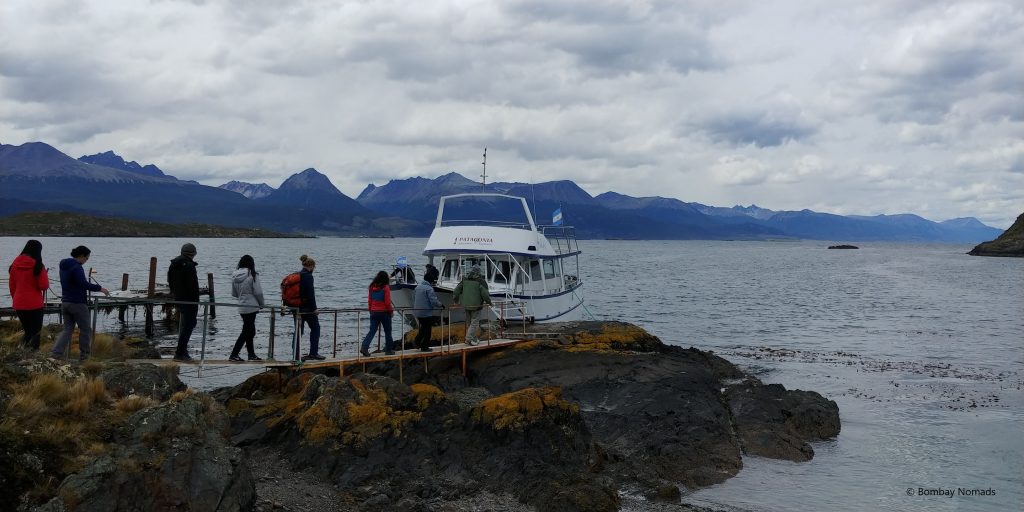 Our final stop of the day was Bridges Island, the largest island in Beagle Channel. It is the only island where we could go ashore. It is also a historic Yaghan site, where they built their circular huts over shallow pits. One such pit has been left for visitors to see – although there isn't much to see in the shallow depression except crushed shellfish. Yaghan's main source of food and warmth were seals – though their technique of stealthily approaching seals and clubbing them on their head with rocks, wasn't really the best if you ask us.
The island has another interesting denizen called the Yareta (pronounced 'jareta') – or the cushion plant. It resembles a green moss-covered rock, but it is a complete plant instead, in the shape of a rock. This tightly packed plant grows very slowly, less than an inch every year, and some of the larger specimens on the island might be 400-500 years old, predating Columbus!
There is a narrow trail which climbs up to a small viewpoint, which was a terrific place for photos. With the bright day and the blue Beagle Channel around us, it was a stunning backdrop. After spending about 40 min on the island, we headed back to our boat and then back to Ushuaia. On the way back to Ushuaia, our guide organized a round of shots with a homemade coffee liqueur which was pretty nice. Overall the trip was 4 hours long and recommended to anyone who visits Ushuaia.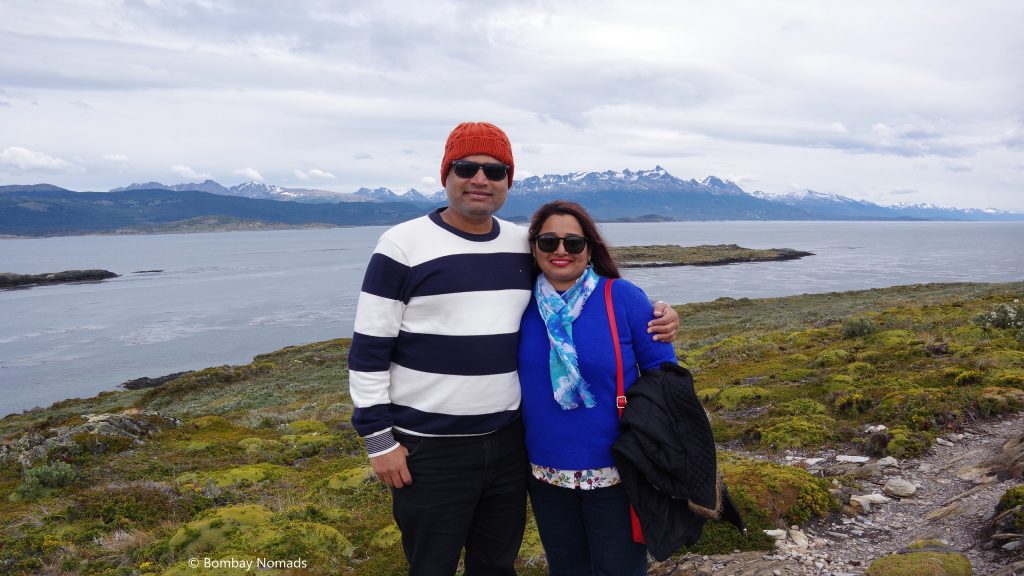 Our new Chinese acquaintances on the boat had recommended a Chinese restaurant in Ushuaia called Bamboo. So that is where we headed for lunch. It was a buffet with a mix of Argentine grill and common Chinese dishes. We did not touch the grilled meat, but really hogged on the Chinese food – noodles, fried rice, stir-fry chicken, spring rolls and some other deep-fried things. The buffet cost 650 pesos per head.
Useful information
How to Reach:

Ushuaia has direct flights from Buenos Aires and El Calafate. Tickets are usually expensive, like everything else in Patagonia
There is no direct road from mainland Argentina to Ushuaia. The only road to Ushuaia goes through Chile (and a ferry crossing over Magellan Strait). There is a bus service from Punta Arenas in Chile, which takes about 10 hours.

El Tren del Fin del Mundo – The train at the end of the world – is a narrow gauge tourist train, like the Darjeeling Himalayan Railway, from Ushuaia to the Tierra del Fuego National Park. The round trip takes 1 hour 40 min, and the cheapest ticket is 1,500 pesos per person.
There is a 4 day cruise option from Ushuaia to Punta Arenas by the cruise line Australis, which seems stunning and we really considered booking it. It explores the fjords of Tierra Del Fuego, including the legendary Cape Horn. It is expensive though, with the cheapest tickets costing USD 2000.
There is a Magellanic penguin colony in Isla Martillo near Ushuaia, which is a popular destination for tourists. Tickets for tours can be bought from the same marina as the Beagle Channel cruise. We skipped it, as we were planning on seeing penguins in Punta Arenas
There are plenty of restaurants in and around Avenida San Martin in Ushuaia – including a Hard Rock Café. The area is also likely to be full of day trippers from the cruise ships.