Patagonia is the southern part of the South American continent, encompassing broadly the lower halves of Chile and Argentina. It is a wind-swept land, with extremely unpredictable weather, and scarce or no human habitation. It is also one of the most beautiful regions we have visited, EVER! When we started planning for our South America trip, we had planned for only a couple of weeks in Patagonia. But as we read more about it, it quickly became the highlight of our trip and we eventually spent 1.5 months in Patagonia. Expect this post (and the others about Patagonia) to have a lot of superlatives.
Our point of entry to Patagonia was the town of El Calafate in Argentina. We flew in to El Calafate from Salta (with a stopover at Cordoba). The El Calafate airport ranks near the top of the most scenic airports we have been to. It is situated on the shores of Lago Argentina, which has the most blindingly-beautiful aquamarine colour. Unfortunately, we had seats on the wrong side of the flight, so we did not have direct view of the lake while landing. But based what we saw from across the aisle, we can't think of too many prettier landings. The taxi to town seems to be a fixed rate of 750 pesos (Dec 2018). It is 22km away from town, and takes about half an hour.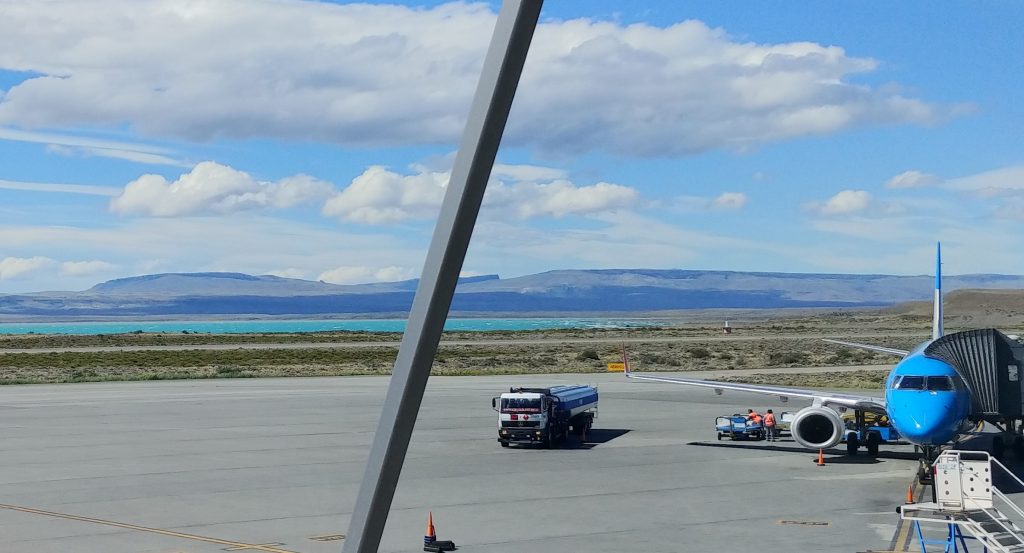 Tip: If you are taking a flight to El Calafate, while checking-in, choose seats which are on the right side of the flight, that is seats C-D, instead of A-B
* A word about the Embraer 190 jets used by Aerolineas Argentina. We flew them twice during our travels in Argentina, and in 2+2 configuration, they are the most spacious and comfortable economy seats we have personally flown in. We wish some Indian airlines used Embraer 190s too.
El Calafate is a charming and prosperous little town, more resembling an Alpine town in Europe rather than Argentina. Roses have been planted everywhere on the sidewalks as well as individual gardens – and in summer flowers of all kinds are in full bloom. The streets have wide sidewalks and almost all houses/structures are made of wood, with sloping roofs. We had booked a 1 bedroom apartment on Airbnb for our 4 day stay in El Calafate. The apartment was spacious yet cozy, and very close to the main road. Our Airbnb host lived right next door to our apartment and he showed us in.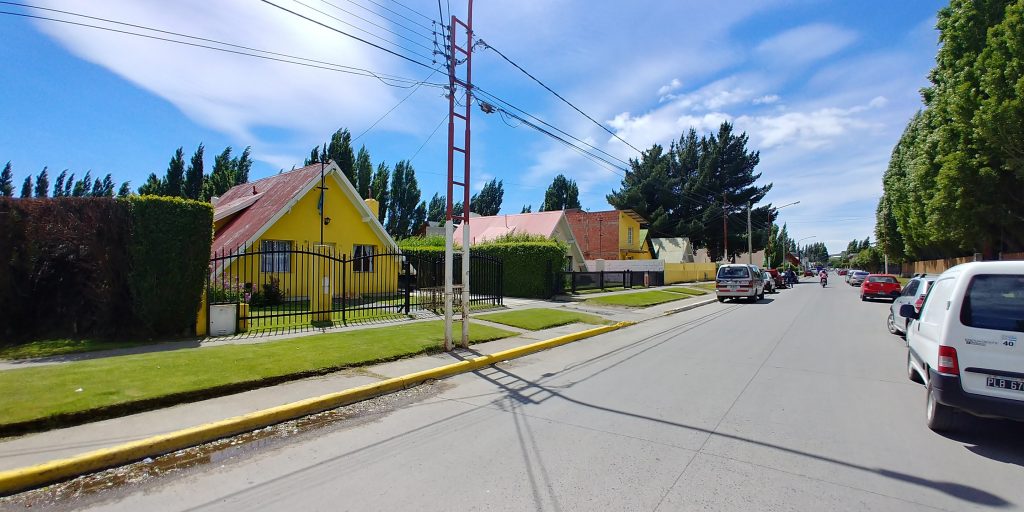 Our plan in El Calafate was to see the Perito Moreno, Upsala and Spegazzini glaciers. We also had a couple of rest days built in, as we had been on the road for more than 2 weeks by then.
Perito Moreno glacier
The Perito Moreno glacier is one of the highlights of any trip to Patagonia. Situated in Los Glaciares National Park, it is a huge tourist attraction – primarily because of its ease of access. Glaciers are typically hard to reach, usually needing treks of several kilometres in the mountains before reaching the face of the glacier. But not Perito Moreno, where it is possible to just drive up to the glacier. And unlike most glaciers around the world that are retreating, Perito Moreno is actually increasing in size. Currently, the glacier has a fabulous 5 km long face, like a vertical wall of ice 40-60 m in height.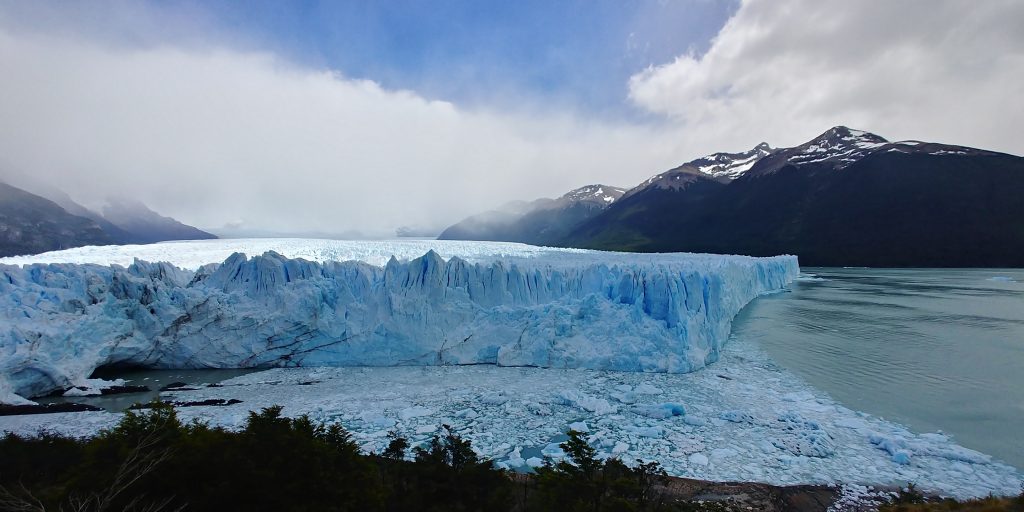 The Los Glaciares National Park is about 90 km away from El Calafate. We had booked a full-day tour to the glacier with Patagonia Dreams, which included pickup and transport to the National Park, as well as an hour-long boat navigation in front of the glacier. We had made the booking through Viator and it cost us USD 70 per person. Not included in the prices are the park entrance costs, which were 700 pesos per head, and any food. The park has a central food court, as well as couple of other restaurants, so finding food isn't a problem. Or carrying your own lunch is always an option – most hotels in the region offer this option to their guests.
Tip : Tickets for the National Park can only be bought with cash, so remember to carry enough cash. The restaurants accepted credit cards.
Pickup for the tour was at 08:00 and the bus took about 45 mins picking up people from different points in the town (typical for such tours). From the town, the bus ride takes 90 min to reach the glacier without any stops. However, the tour stopped once to purchase tickets for everyone at the park gates. And then a second time at a viewpoint for photos & coffee / tea. We reached the boat dock inside the park at about 11:00 am. Our yacht ride was on the North face of the glacier, while the other yachts are on the South side. There is no preferred side – both sides are equally dramatic. But ours was the only yacht on the North side, so if you want to take photos of other yachts in front of the glacier, maybe find something on the South side. Splitting hair mostly.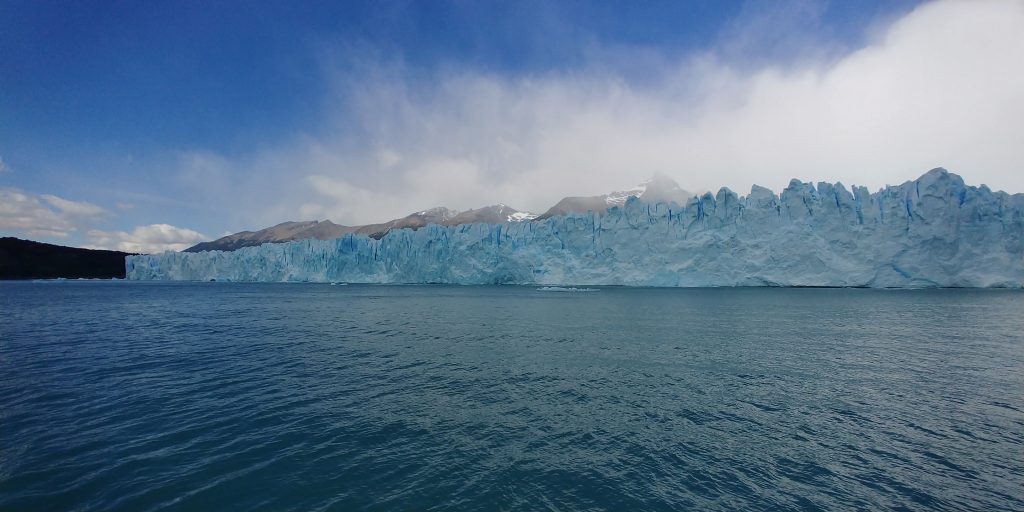 The yacht ride is slow and it makes multiple passes in front of the glacier terminal, allowing everyone on the yacht enough chances to take their photos. There was a mad rush at the beginning of the ride, as everyone wanted to take photos of that amazing view. Although it was summer in Argentina, it was a cloudy day and the strong wind was making it feel much colder than it probably was. After 20-30 min, most the crowd was back downstairs, to escape the cold. We were able to take more photos leisurely. The yacht ride lasted for about an hour.
After the yacht ride, the plan was to have lunch at the central restaurant and then we were to walk to the face of the glacier. But we both misheard the tour guide and ended up going to the restaurant near the docks, instead of getting on the bus. The bus left without us, while we were happily eating lunch and enjoying the gorgeous view of the glacier. By the time we figured out that none of our tour group was with us and started getting a bit worried, our guide came back looking for us and it was all sorted out. Phew!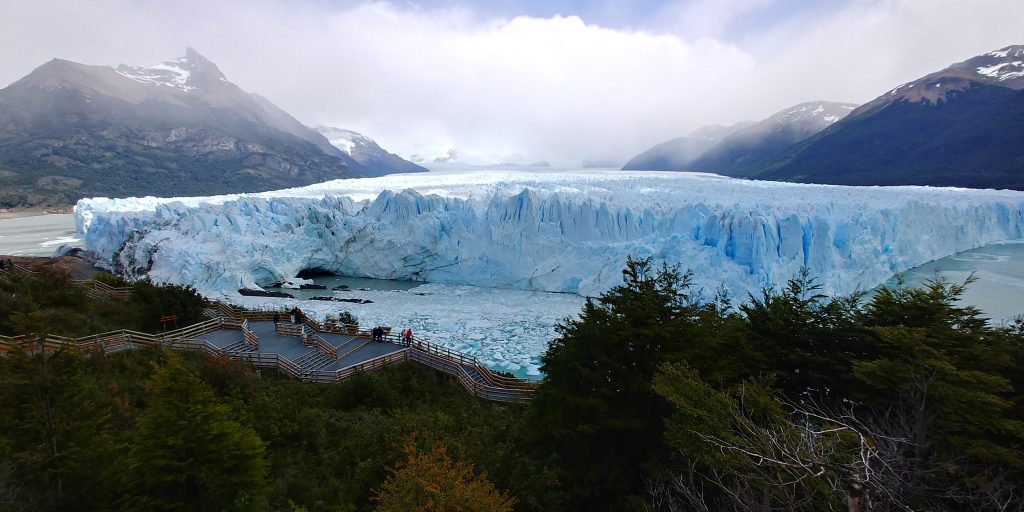 At the entrance of the balconies/walkways, our guide gave us a map and some basic instructions, and told us to be back by 15:30. We liked the fact that we could explore around on our own and were not shunted around in a large group, in spite of it being a tour. The walkways to view the glacier are split into red, green, yellow and blue circuits. We walked on the red, green and yellow circuits in about 1.5 hours, at a slow pace and with many, many photo stops. Among the three, we personally loved the views of the from the red circuit.
Each circuit has multiple 'balconies' where you can take photos, rest for a while on the benches and wait for the next calving. The glacier reliably breaks off chunks of ice (calving), multiple times a day, into Lago Argentino, which then float as icebergs. Some of them can be as big as 2-3 times the size of a bus. Too bad we didn't see that big a chunk, though we did see 4-5 small calvings. There is some stair climbing to be done on the walkways, but nothing too strenuous, as was evident with the large proportion of senior citizens in the tour groups. We skipped the blue circuit as it was the longest and we had lost some time with our lunch misunderstanding.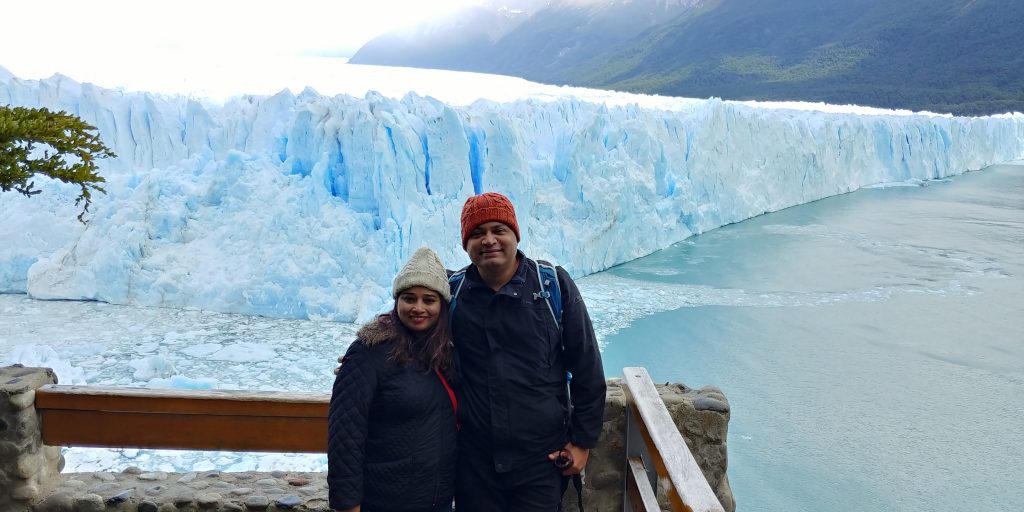 After the walk, we came back to the central restaurant to be picked up by the bus. We were back in El Calafate by 17:00.
Lago Argentino and Laguna Nimez Natural Reserve
We were really enamoured by the blue colour of Lago Argentino that we had seen while landing down in El Calafate and so far, we had not managed to take good photos of the lake. So we decided to go on a walk along the shores of Lago Argentino on one of our rest days. As luck would have it, it was cloudy when we started, but as we walked along the shore, the sun came out from behind the clouds and we were able to photograph it in its glorious colours.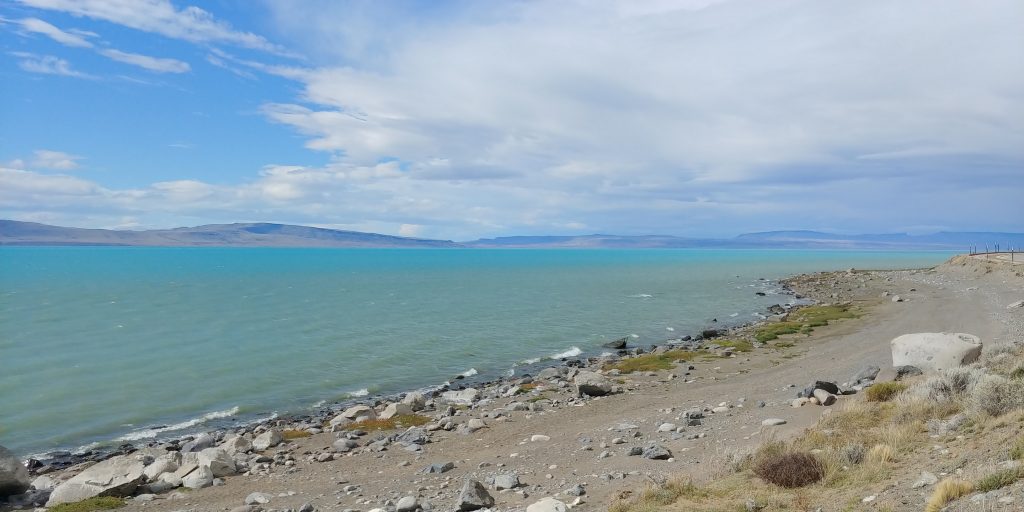 Laguna Nimez Natural Reserve is a shallow part of Lago Argentino extending into a marshy area that has been cordoned off to protect the birds. It's just a couple of kms walking distance from the main street of El Calafate and there are helpful information boards on the streets pointing to the direction of the reserve. Though there are many varieties of resident and migratory birds in the reserve, the flamingos are the major draw for most tourists. There are walkways around the lagoons with signs and pictures of birds which you can cover in about 1 hour. We tried to take pictures of flamingos but they were too far off to really spot well without binoculars. We didn't spend a lot of time here as it looked like it was going to rain and we had not come prepared for it. Of course, if you are a keen bird watcher with a binocular, you can spend a lot more time.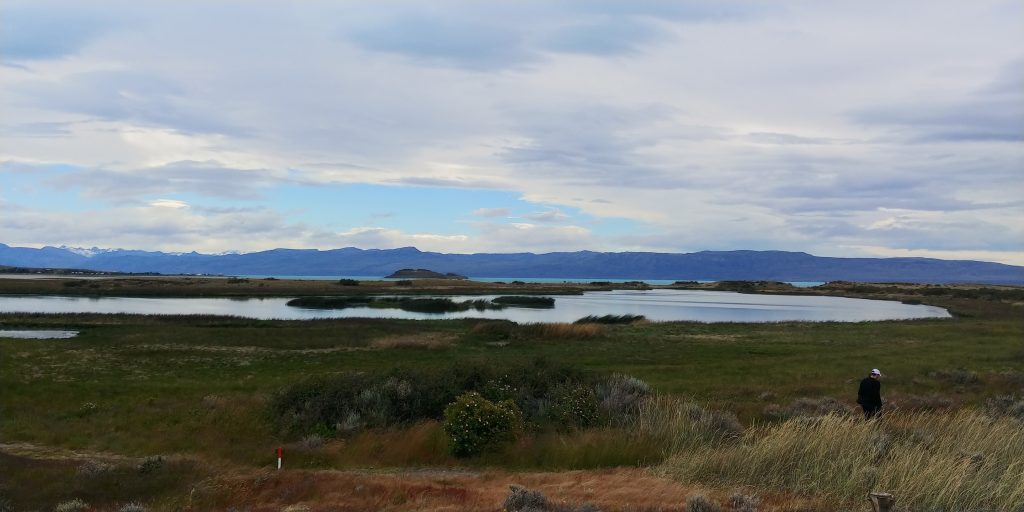 Upsala & Spegazzini glaciers
There are a lot of operators offering tours to Upsala Glacier, but most of them included Estancia Cristina in the itinerary and skip the Spegazzini glacier. Estancias (estates) are large farms in Argentina, mostly for animal rearing. There are many estancias in Patagonia that offer packaged experiences to tourists – most of them have some sort of history and half of them claim to be the first in something or the other. The estancias offer horseback riding, traditional grills and even overnight stays, and are quite a draw among the tourists. But these kinds of experiences packaged specifically for tourists don't interest us at all – so we didn't really want to go to Estancia Cristina. Instead, we wanted to do a tour which went to both Upsala and Spegazzini glaciers.
After a bit of searching online and some phone calls, we were booked on a Upsala & Spegazzini Glacier tour, which cost us 160 USD per head.
The bus picked us up from our Airbnb at 07:00 and we reached the dock at Puerto Bandera by 08:15. We had to again buy entry tickets into Los Glaciares National Park again at 700 pesos per head and then get on the yacht. Multiple tour buses offloaded their passengers at the dock and the cruise eventually started at 09:00. Unlike Perito Moreno glacier, where each tour bus used a single yacht, here in Puerto Bandera, the yachts were larger and fewer, so multiple tour operators combined into a single yacht.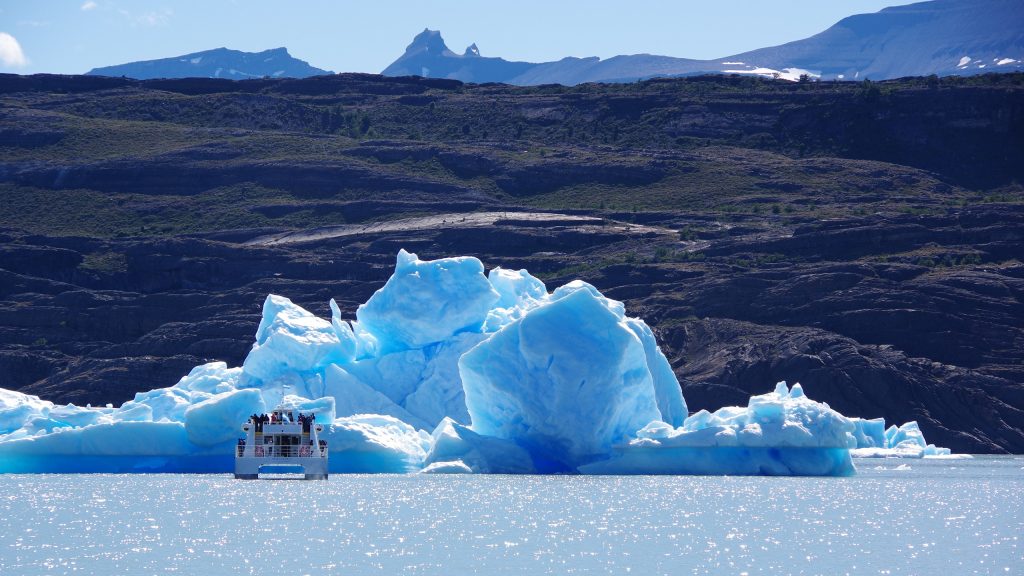 Tip: If you are planning to enter the Los Glaciares National Park on two consecutive days, then you can avail 50% discount on the ticket price on the second day. This is applicable if you are visiting Perito Moreno on day one and Upsala on day two. However, let them know at the ticket counter on day one that you are coming back the next day – they mark something on the tickets.
It was a fairly large yacht with multiple decks and it was quite crowded. As usual, there was a rush in the beginning to take photos from all the decks, especially the bow of the yacht. However it was quite windy (like always in Patagonia) and hair was flying around like crazy, so multiple photos were needed to get some decent shots of ourselves. The yacht had a small refreshment counter and we got ourselves some choco calientes (hot chocolates).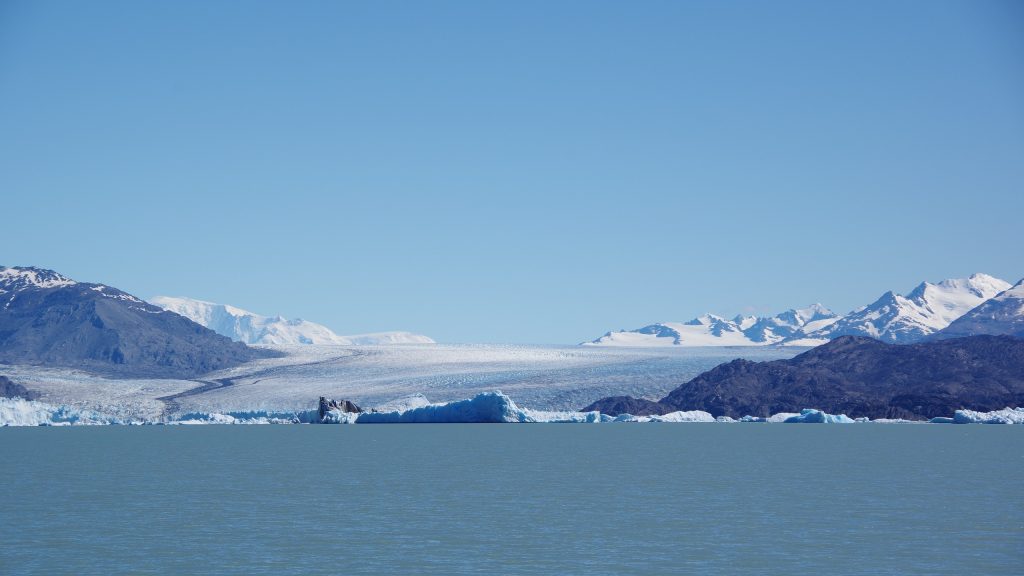 The yacht first cruises up to take a view of Upsala glacier. The Upsala glacier is supposed to be quite active in terms of calvings, which creates large icebergs and ripples in the lake. Hence yachts are not allowed to go very close to the glacier and we had to view the glacier from far. Honestly, the view from that distance was not that impressive. The way to see Upsala glacier up close is by docking at the Estancia Cristina and walking a few kms to watch it from the side. But that wasn't part of our tour and we started wondering if we had done a mistake by choosing this tour. The yacht did go close to a couple of large icebergs which were floating a little distance away from the glacier edge. That was quite good, but we couldn't get good pictures from the bow of the yacht since it was occupied by the official photographers of the tour operators, who were taking paid photographs. We didn't want to pay for the photos, especially since they only offered physical prints. So, we had to struggle to get good shots of the iceberg.
Then the yacht backed away from Upsala glacier and entered a different part of the lake towards Spegazzini glacier. Since it was at least another hour away, we decided to go buy some sandwiches or whatever the cafeteria offered. Everyone else had the same idea of course, and so by the time we got our turn, all the sandwiches / pizzas were over. We bought some biscuits and another round of hot chocolates to tide us over till we got back to El Calafate.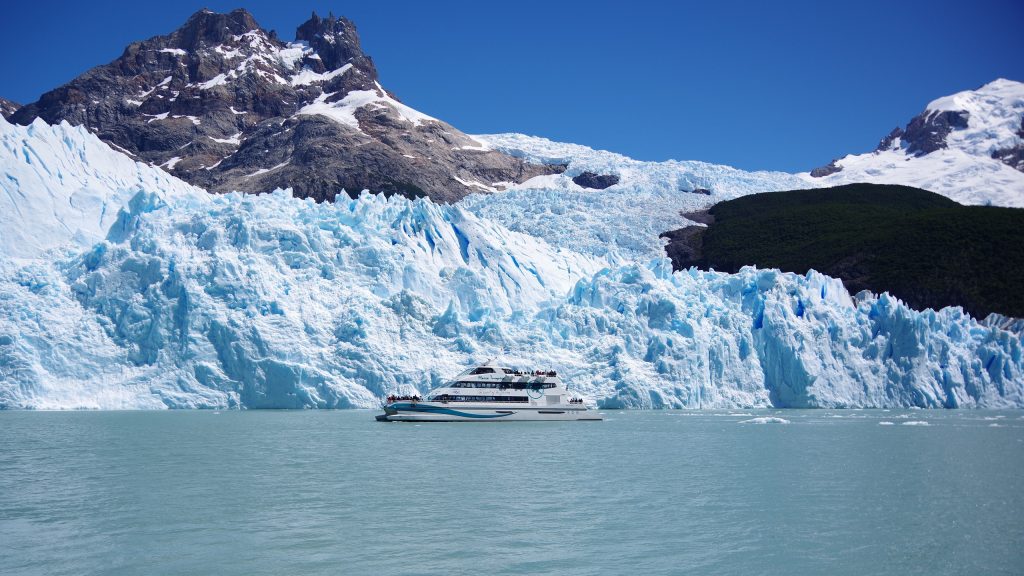 Once we reached Spegazzini glacier, our misgivings about our choice of tour vanished. At the terminus, Spegazzini is taller than both Upsala and Perito Moreno, with ice face height of 100m (though Upsala is larger in terms of overall volume), and was very impressive. The yacht did get quite close to Spegazzini glacier, since it is not as active as Upsala glacier. Our captain made many passes along the length of the glacier terminus and we all got opportunities to click photos. We saw quite a few medium-sized calvings as well, though it's extremely difficult to capture them on camera. One the way back from Spegazzini glacier, the tour guide pointed out quite a few retreating glaciers which no longer reached the lake and finished midway on the mountains.
There was some confusion about what time the tour ends and we needed to be sure, because we had to take a bus to the town of El Chalten the same evening. The entry on Viator said it ends at 16:30. When we called the tour operator a day before, their call centre insisted the tour ends at 14:00, which did not make sense since the yacht ride itself was supposed to be for 5 hours. We checked twice with them about the timings and booked a bus at 16:30 to El Chalten, keeping our fingers crossed. It turns out the yacht ride was supposed to end at 14:00, after which the drop back to town could take another 1.5 hours. And since things don't run exactly on time in Argentina (similar to India), by the time the yacht docked and we disembarked, it was past 14:30. We kept our fingers crossed for making it to the bus terminal in time. Thankfully our driver made good time on the way back. We were back in our Airbnb at 15:15, giving us enough time to check out, reach the bus terminal, grab a quick lunch and still have time to spare before the bus departed.
Useful information
How to reach:

There are direct flights to El Calafate from Buenos Aires, Cordoba, Bariloche and Ushuaia. The tickets can get sold out or become very expensive in the peak tourist season, so it is better to book in advance
Despite the huge size of the country, Argentina has a thriving bus transport network, with long distance buses connecting major towns. However, since El Calafate is in the extreme south of the country, bus journey from anywhere would be more than 24 hours.

It is possible to visit Perito Moreno from El Calafate without a tour by using public transport

Several bus operators such as Cal Tur and Taqsa Marga run buses. The buses leave El Calafate around 08:30 / 09:00 and drop you back in El Calafate at 16:00. Since the drive is 1.5 hours one-way, you get about 4-4.5 hours in Pertio Moreno.
Ticket cost for a round trip by bus is 800 pesos (~USD 22). We paid about USD 70 for the pickup & drop, yacht ride, guide and coffee / tea, of which the yacht ride itself cost USD 40. So we did not really overpay for the convenience of going on a full-day tour and pick-up / drop from hotel.
You can book the bus tickets at the bus terminal or online on https://www.plataforma10.com.ar and https://www.ticketonline.com.ar/ . If you're booking online, remember to choose Glaciar Perito Moreno as the destination and not Perito Moreno, which is a town more than 600 kms away.

If this is your first time visiting a glacier, then we highly recommend going for a glacier trek. There are two options in Perito Moreno – the "Big ice" trek which is a 4-hour trek offered by Hielo y Aventura (only company as far as we know) or mini ice treks (1.5 hours) which is offered by many companies. The Big ice trek gets sold out quite often, so make sure you book it in advance if you're interested. Since we had already done a glacier hike in Iceland (here), we skipped doing it here. The glacier treks are quite expensive, but then every "experience" and day tour in South America is quite expensive.
There are many blogposts out there dedicated to what to wear in Patagonia, depending on the season. So, we will not go into details but will reiterate that it is necessary to wear layers and have an outer water-proof / wind-proof layer with a hoodie even in summers. The layers are important because it can go from sunny to cloudy to bone-chilling windy in a matter of minutes. While woollens & fleece can keep you warm, they are no good in keeping off the biting wind and your outermost layer needs to be synthetic. An inner fleece layer with an outer water-proof / wind-proof layer served us well for most of the trip. We did not need thermals even though we were carrying them. Sunglasses, good sunscreen (SPF 50 & above) and comfortable fully-covered shoes are musts, whether you are hiking or not. If you want to hike, then water-proof shoes, water-proof gloves and water-proof pants are also recommended.
How to book for day trips / guided tours (applies to Argentina & Chile):

Day trips that you book on international travel websites such as viator, tripadvisor and getyourguide may have a 10-20% price premium over actual prices. That is premium you pay is for the convenience to book online in advance , and pay with a credit card.
You can bypass these websites and book directly with the tour operator themselves, but you are likely to face a couple of challenges. Speaking on the phone can be an issue if you don't speak Spanish. If you resort to emails (using google translate), you would face a lot of delays because they reply to emails only during office hours on weekdays, while you might be on the road or otherwise without any internet connectivity. Some operators insist on a pre-payment, and that can be onerous too. You have to either (1) print, sign, scan and then send back a credit card authorization form or (2) do a bank transfer (quite difficult to transfer from a non-Argentinian / non-Chilean bank account). It is extremely difficult to do when you are already on the road.
You can also visit the offices of tour operators in person to book the tours but that would mean you would need to have spare days to go visit them. Also, many times, the popular tours were sold out on specific days. You don't want to go all the way there to find out you can't do something because you didn't want to pay a small premium!
So, it's a trade-off of time, money and convenience and choose based on what your priorities are. We ourselves ended up using all these options during our 3.5 month trip.

A couple of recommended restaurants in El Calafate:

Sushi Bar was heaven-sent for us as we were craving for flavourful food, which mostly means any sort of Asian food in Argentina. It is run by what seems like Japanese proprietors – they stock sake and Asahi beers, and their wasabi is legit and strong! The restaurant is tiny, with just 4 tables. They open only for dinner from 20:00 onwards and seem very popular with Chinese and Japanese tourists. We had a great meal, accompanied by honest-to-goodness miso soup and sake.
Quidu is situated on the outskirts of the town, a couple of kms from our Airbnb, and we walked to and from the restaurant as it was one of our rest days. The restaurant has very nice views of the lake from the large glass windows on the first floor. We wanted to drink whiskey, given the chilly weather, but Argentinians (and Chileans as we learnt later) are not really whiskey drinkers. Only whiskeys on offer were Red label and some local whiskey whose name we did not understand. We tried both. The food was better than we had had so far in El Calafate and the lamb stew especially was really good. As we found out later, Patagonia is really known for its lamb and we were not disappointed by any of the lamb dishes that we tried in the region.