(part of our Madhya Pradesh roadtrip)
Indore is sometimes called the "Bombay" of Central India – on account of being the largest city in Madhya Pradesh and its commercial capital. We were using Indore just as a resting point on day 1, but after sampling the amazing food on offer, we think it should be known as the food capital of Central India as well.
Imagine a traditional market area in any Indian city. This one specializes in jewellery – hence the name Sarafa Bazaar. The lanes are narrow, and vehicular traffic isn't allowed inside. The shops themselves are small and aren't too fancy. But once the hustle bustle of the day dies down and the shops close up, a different kind of crowd starts trickling in. By 10 pm, food stalls pop up in front of the jewellery shops – serving different kinds of chats and sweets. And local residents turn out in droves to savour the famous Joshi dahi wada or have a glass of cold sweet thandai – or any of the other chats on display. And the stream of customers stretches upto 3 am in the morning ! (in Bombay everything in shut by 1, in comparison)
Since Indore was only a night halt on day 1 of our Madhya Pradesh drive, we couldn't explore much of the city. But Sarafa Bazaar made sure the most memorable food of the trip was in Indore
The drive from Mumbai to Indore is almost 600 km, but as part of India's golden quadrilateral, the entire stretch is 4 lane and very well maintained. We started around 6 in the morning and were lucky to avoid any traffic jam which usually happens on such long weekends. Our first stop was for breakfast at Vitthal Kamath, around 1.5 hours into the drive. Good dependable south indian breakfast quietened our growling stomachs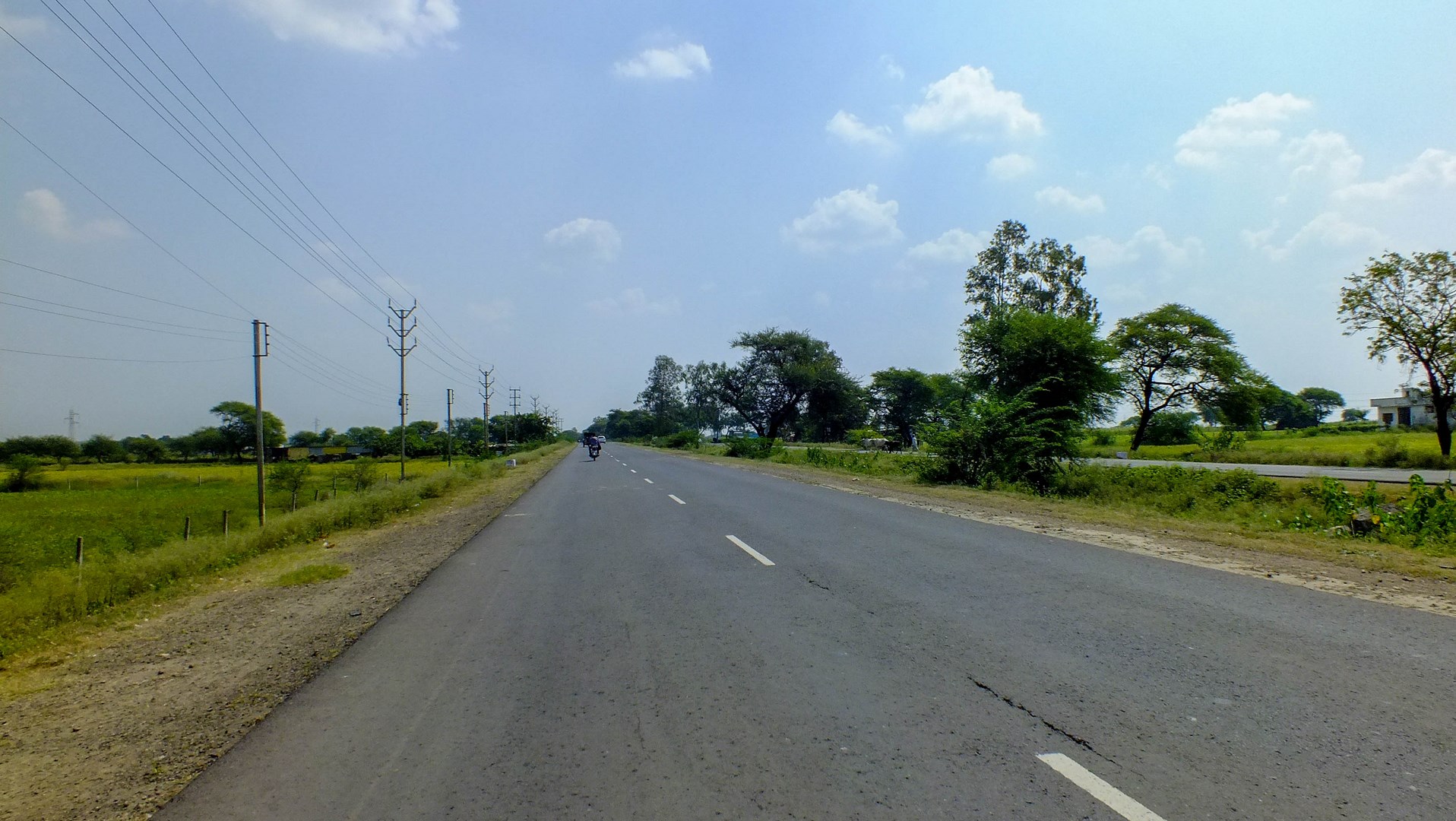 Apart from a few monsoon craters in the Thane-Shahapur stretch, NH3 till Nasik is an exceptional road and even beyond it, till Dhule, it is a very good road. The downside is the toll – 18 to be precise. We paid around Rs 900 on tolls each way. But between bad roads without tolls – and good roads with lots of tolls – we are always going to pick the tolls. After crossing into Madhya Pradesh, the road quality deteriorated just for a little while, maybe 50 km. Still 4 lane, but a bit broken. And we got stuck in a small traffic jam caused by an Ashtami mela at a temple close to the highway.
That was the only blip in the whole drive. The NH3 is designed very well, where any settlement bigger than a large village was bypassed either by a flyover or a byepass road around the town. So we did not slow down for anything apart from tolls, petrol or food. The car was driving like a dream and traffic was very mimimal. We stopped at a nondescript highway dhaba for lunch – the food was super spicy, which was loved by Suchitra, but not so much by me. We stopped exactly twice in the trip – for breakfast and lunch respectively – and filled fuel at a petrol pump once.
We reached Indore around 5pm and our hotel around 6pm. Google maps was super helpful as usual, leading us through Indore's roads up to Hotel Fortune. The hotel was very nice, and we got upgraded to a fancy executive room because the air conditioning in our original room wasn't cooling enough.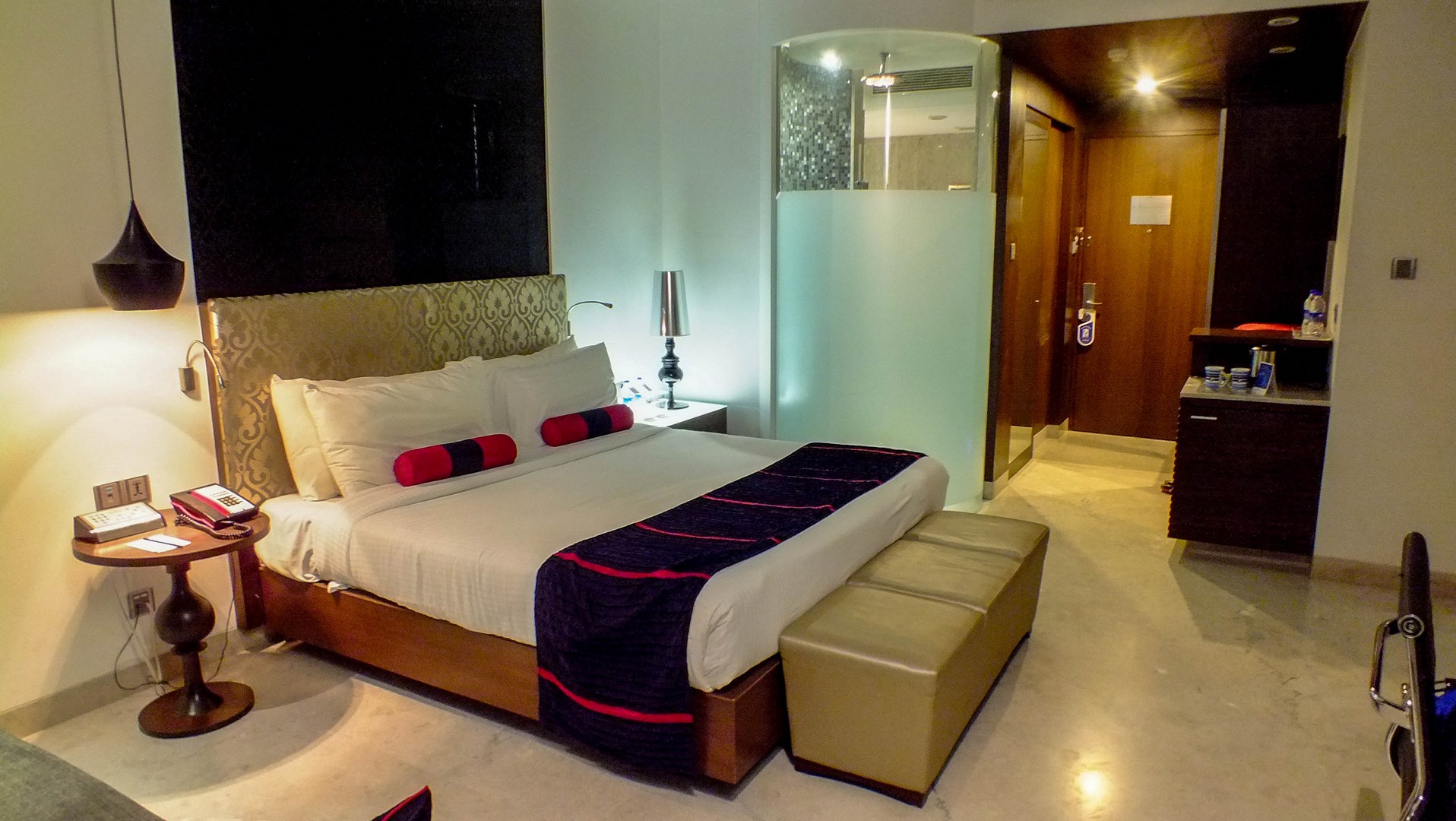 After a small nap to rest the weary bums and leg muscles, we skipped dinner and headed out towards Sarafa Bazaar. With the main lanes closed to vehicular traffic (somewhat like Old Delhi), we navigated to and parked on a lane close to Sarafa bazaar (using Google Maps). We saw the Holkar Rajwada on the way, which looks like a very impressive building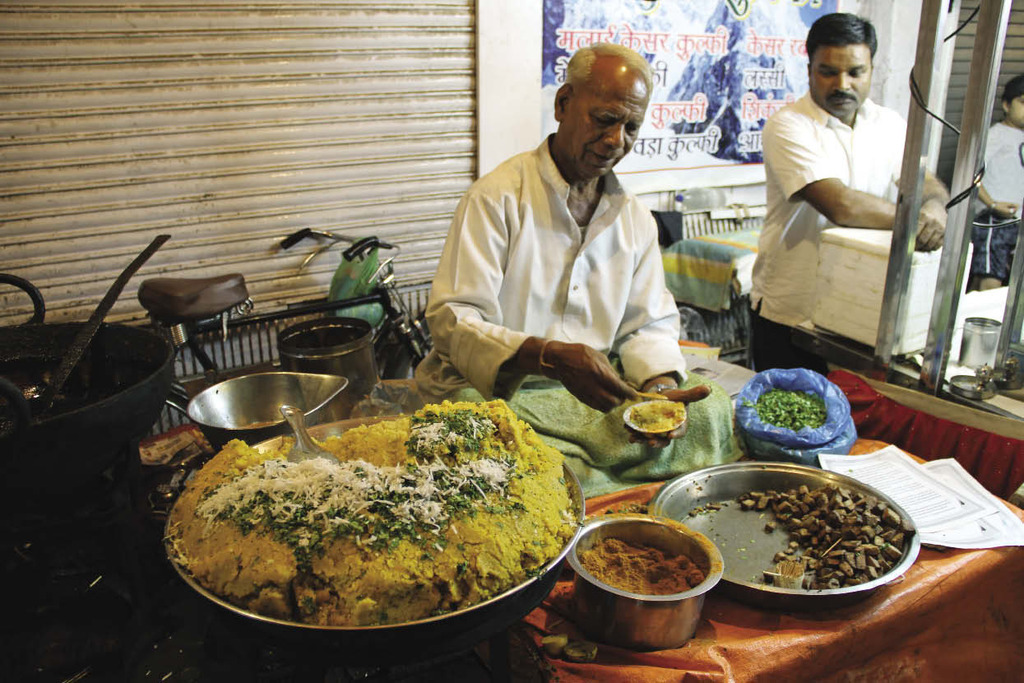 The speciality of Sarafa Bazaar (and Indore in general) is Bhutte Ki Khees (above) – a grated corn dish which looks similar to poha. The khees we had in Sarafa Bazaar – and everything else we tried – was exceptional. The delicate balance of the sweetness of the corn, with dash of lemon and the exact sprinkling of spices and coriander, leaves produces such a light combination of flavours in your mouth that it seems like a work of art. In comparison, most of the chat in Mumbai (or most big cities) seems amateurish and heavy handed
Here is a list of what all we sampled in Sarafa
Bhutte Ki Khees
Chole Samosa
Dahi vada (from Joshi Dahi vada)
Sabudana Wada
Fried Gadalu
Thandai/Rabri
(The fried Gadalu was also something we hadn't had before – yam is boiled a bit, cut into cubes and then deep fried. Served with a dash of lime and sprinkle of masala)
Sarafa Bazaar is one of the few tourist destinations that live up to its name. All the food on offer was delightful and we recommend that you try to fit in Indore in any Madhya Pradesh itinerary solely for this.