Monsoon is here AGAIN !
Like most Bombayites, we were also waiting anxiously for monsoons rains to start – as this has been a long and hot summer. While Bombay takes a turn for the worse once the downpour starts – as roads gets taken over by potholes, traffic slows to a crawl, trains run late and autorickshaws play truant – but the silver lining are the weekend trips. The Sahyadri hills around Bombay, which were dry and brown and quite an eyesore in the summer months – will turn green, sprout waterfalls and have the most pleasant weather possible
Although rains this year were delayed by a week, Gods smiled on us and we had rains for the day before and on our trip. Our destination was Ark Wellness Retreat (www.arkretreat.in), a new weekend getaway property in the hills around Lonavala. This is somewhere between Pavana dam and Mulshi dam, somewhere in Mulshi district. It is exactly a 3 hour drive via the Expressway from Mumbai, so it can be done without a break – but whats a weekend trip without a McDonald's breakfast ?
We were two couples – and one adorable kid – in one car, headed out of Mumbai at 9am on Saturday. We traversed through Palm Beach road, looking forward to piping hot hashbrowns at McDonalds Kalamboli, when we spotted a McDonalds in Belapur, on Palm Beach Road itself. It turned out to be a very good find as Kalamboli isn't the cleanest of McDonalds. The Belapur McDonalds in comparison, was very new and chic, with a McCafe in the premises. Soon hunger pangs were annihilated and we were properly on our way to our destination.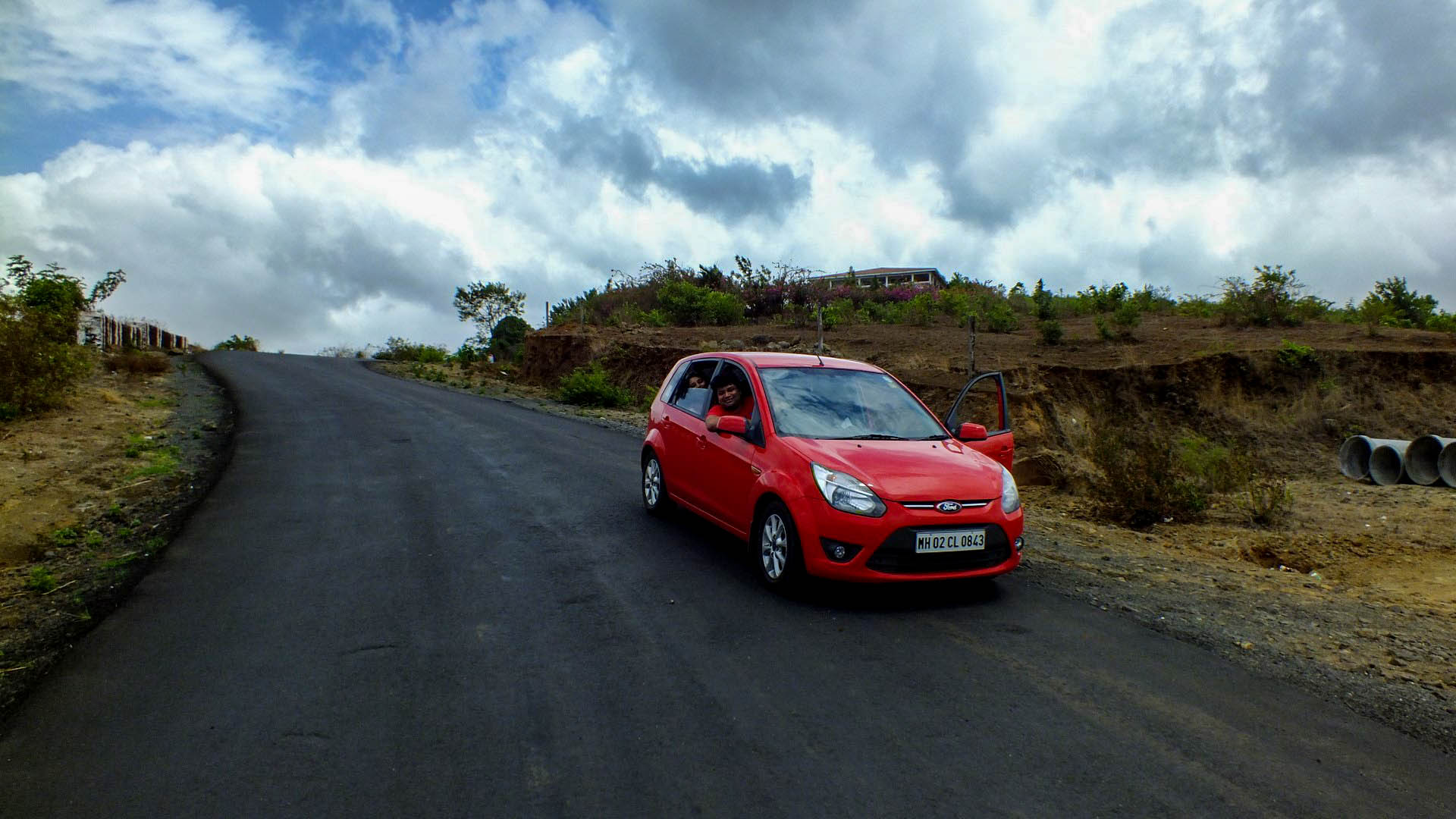 The Expressway section was tackled with the usual efficiency, till we reached Lonavala. In our good mood (music playing, lots of fun conversations), we missed the Kamshet exit of the Expressway. Cursing ourself for not being careful, we were staring at the possibility of driving all the way to Taloja near Pune before being able to take a u turn back. But Google Maps kept insisting that there was another exit.
And it was out lucky day, as we did spot a dirt track, right where Google Maps said it would be. Taking a chance, we revved the car up the dirt track and it delivered us to the exact road we were supposed to be on. Another splendid job by Google Maps, and our high spirits revived while we drove on the narrow state roads for about 30 km. We crossed Pavana Dam, and finally reached Ark Resort within an hour of leaving the Expressway
The Ark Resort is a new property, with 1 big bungalow with 8 rooms, all on the first floor. The ground floor has a small swimming pool in the centre, open to the sky. There are sofas for you to curl up and read a book or just chat around with friends. One corner of the house is the dining area and there is a fantastic wooden deck outside if you feel like dining under the stars. Next to the property is a small seasonal stream which would flow when it rained heavily – but it wasn't full monsoons that weekend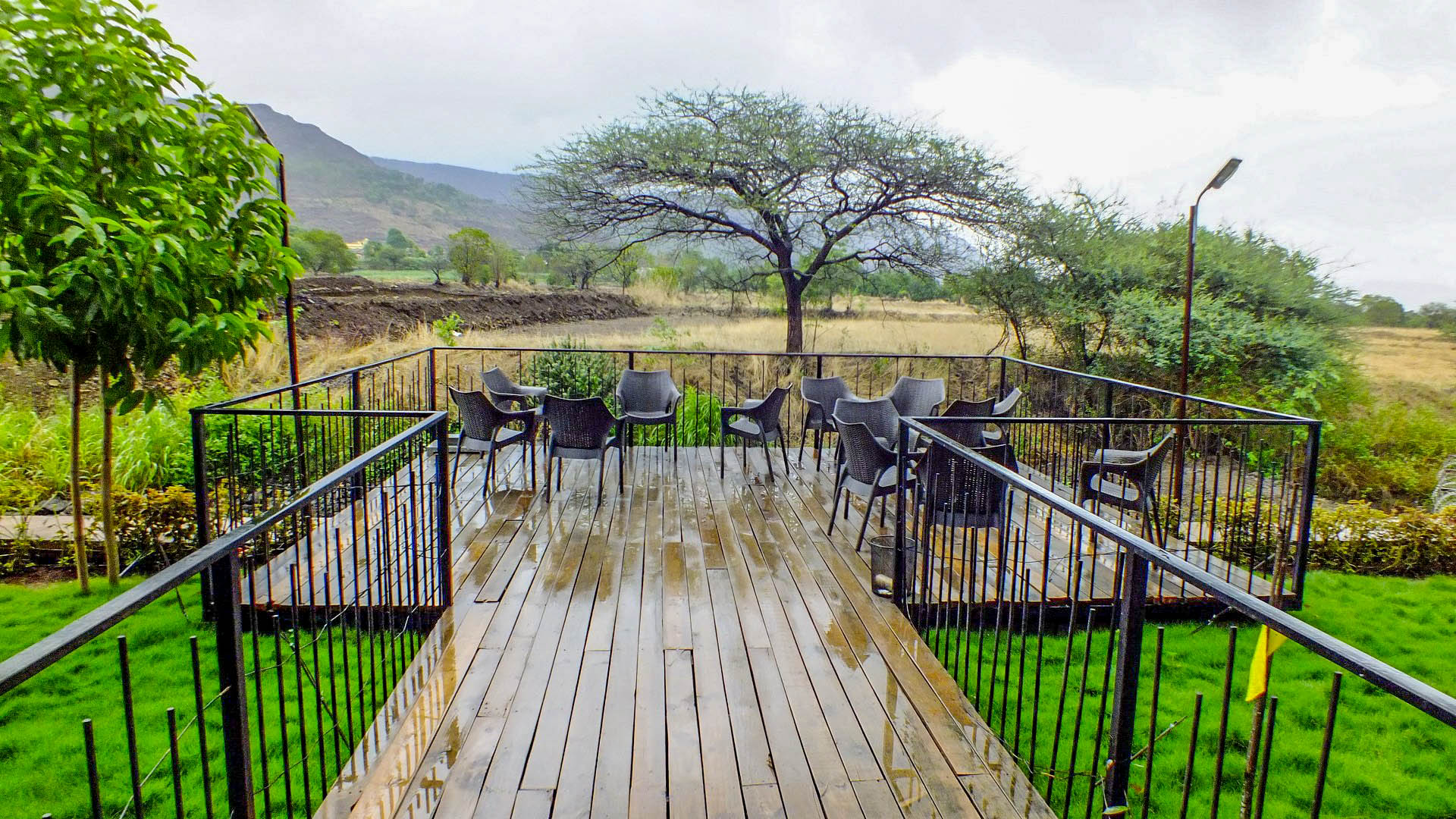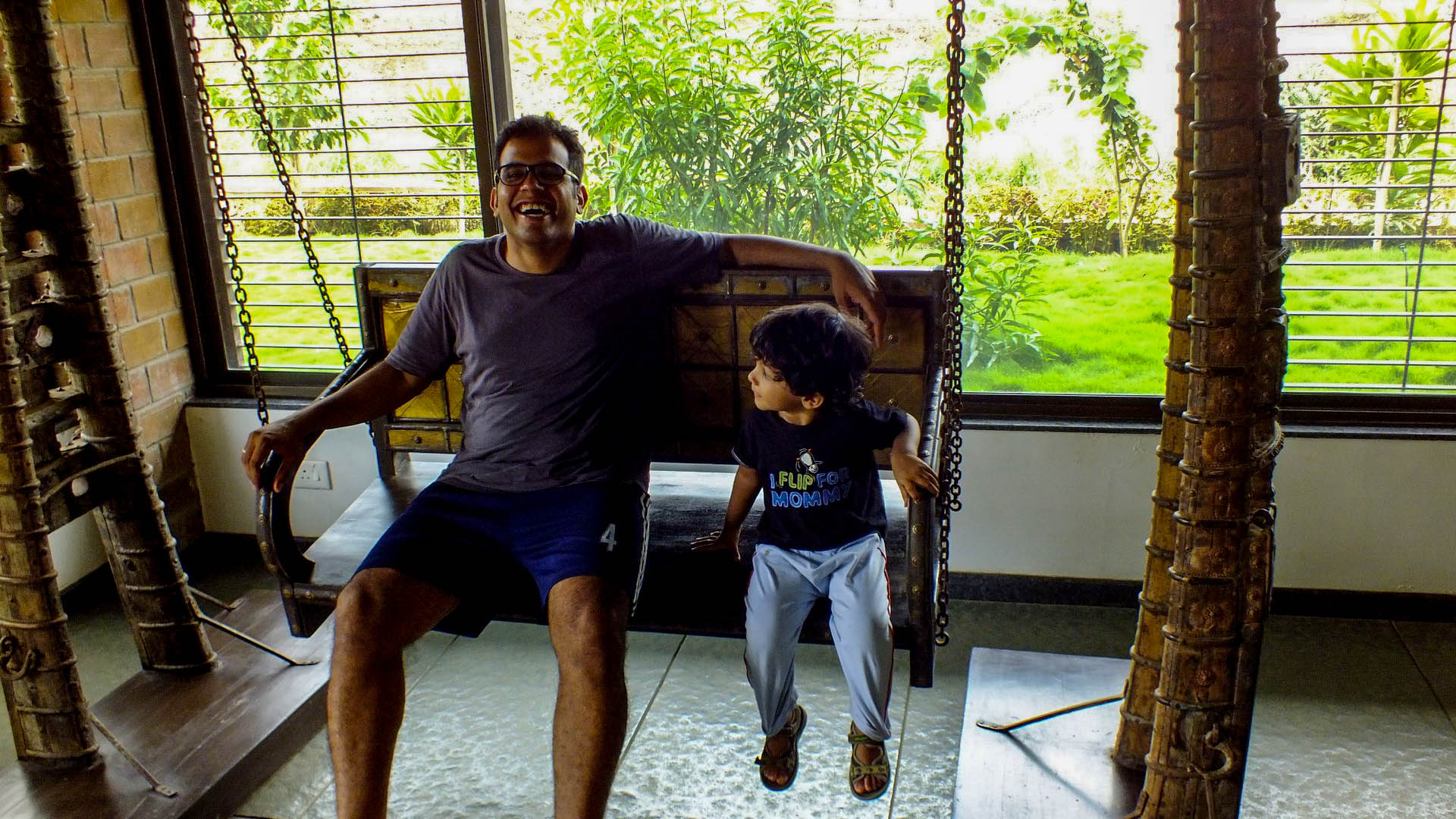 (There are lots of interesting herbs the owners have planted around the house, along with flowers, lawns and an artificial pond as well. Roaming the grounds in the evening is very pleasant, and the Japanese Mint plant among the herbs is very highly recommended – plucking and chewing one raw leaf gives you the same sensation as having a Chlormint!)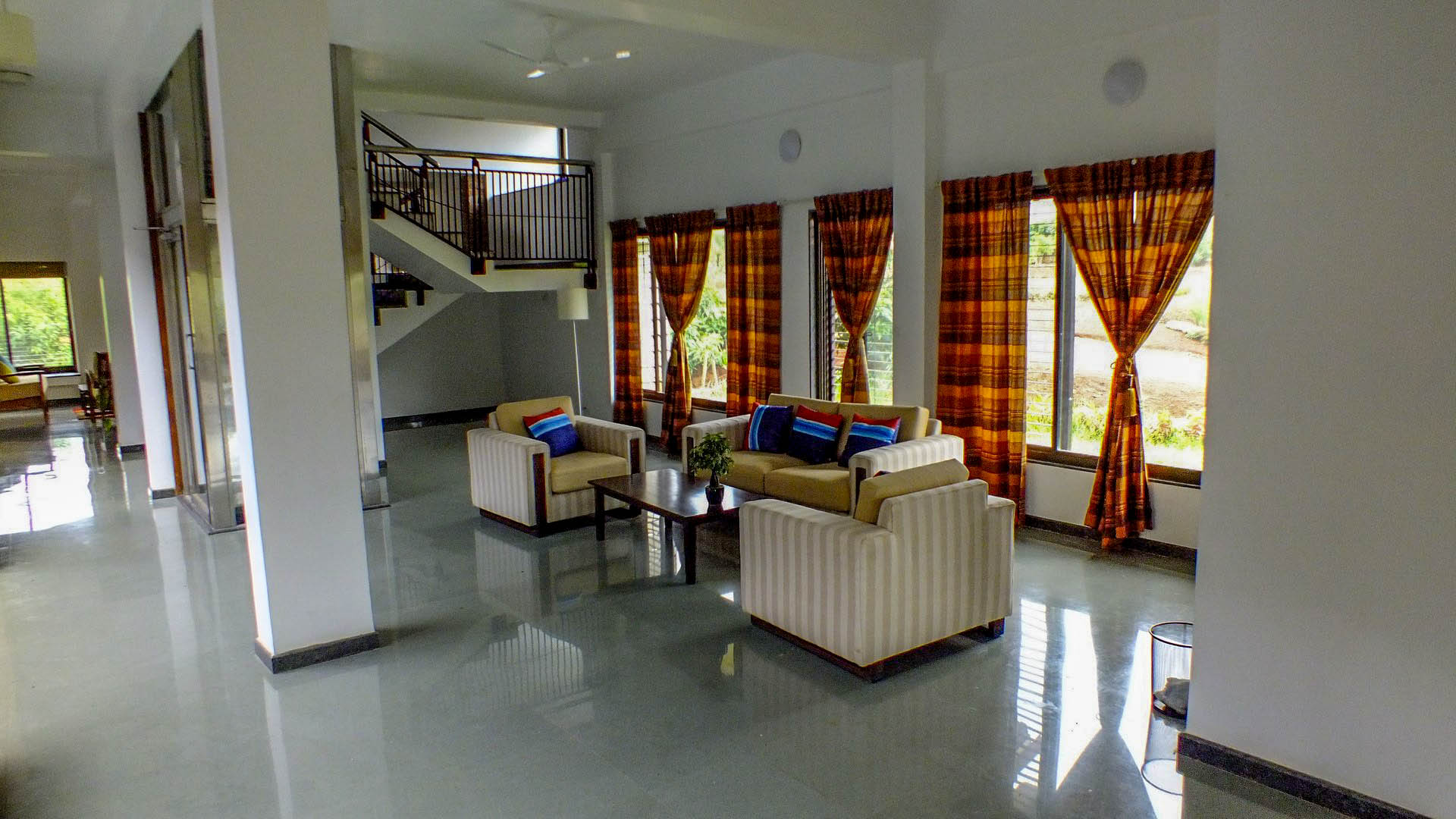 The word "wellness" isn't coincidental in the name of the resort. They have a fully functional spa with two masseuses – one male and female – and a very decent list of therapies from basic massages to scrubs and facials. All four of us signed up for a massage each – and the ladies tried out some scrubs etc. The massage was very nice and prices were a wee bit cheaper than Bombay spa charges. By dinner time, all four of us were quite refreshed after our spa sessions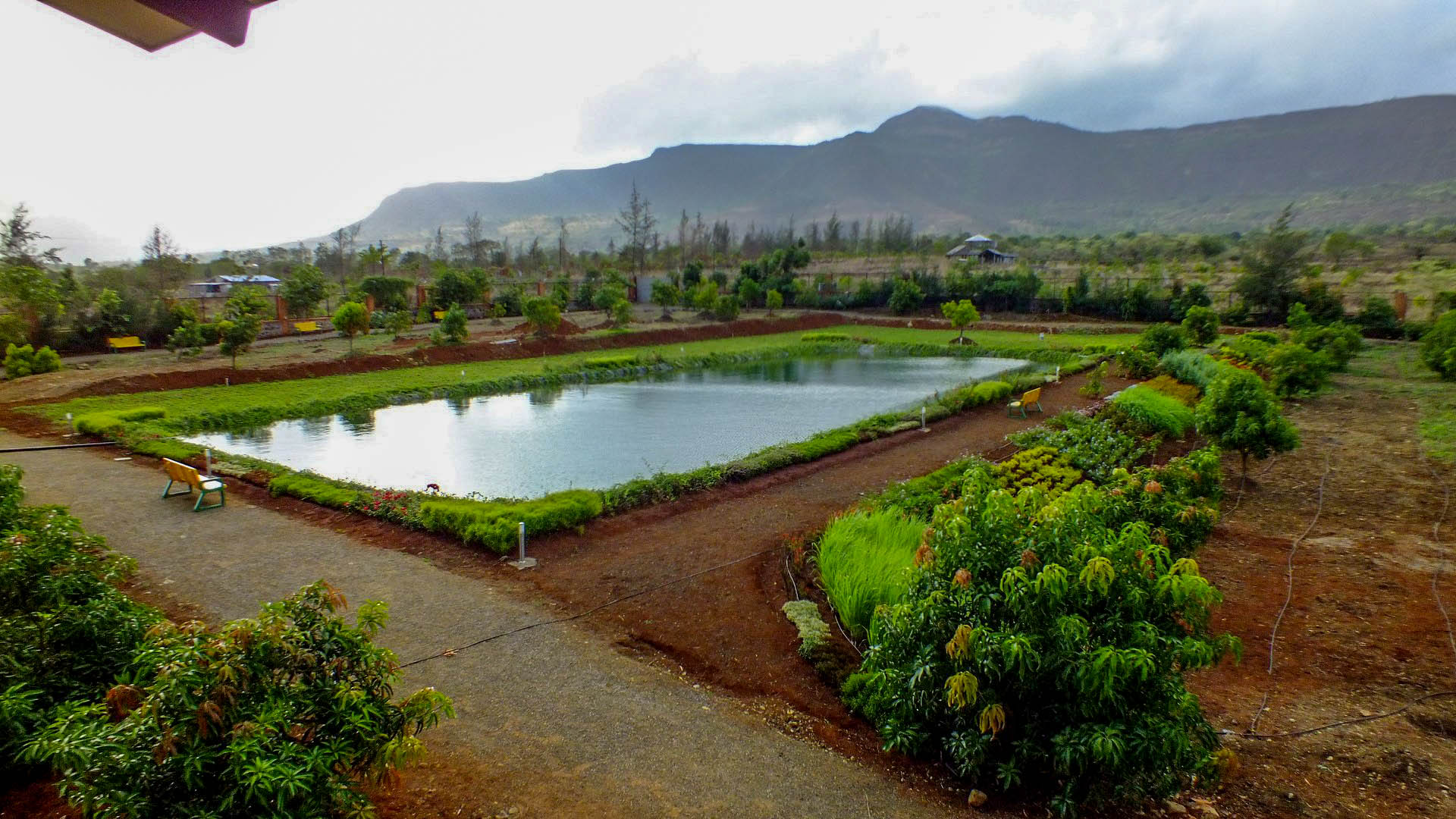 Food is the trump card of this resort. While the kitchen isn't the most organized yet – the head chef Andy – is a wizened old man in a pony tail who churns out finedining food in that little kitchen. Andy loves chatting with the guests – and he has tons of experiences to narrate. For dinner we had some 4 appetizers – the tomato rings (like onion rings, but with tomato slices) with stirfried cashew nuts the highlight of the evening. Main course was tagines – in vegetarian and lamb.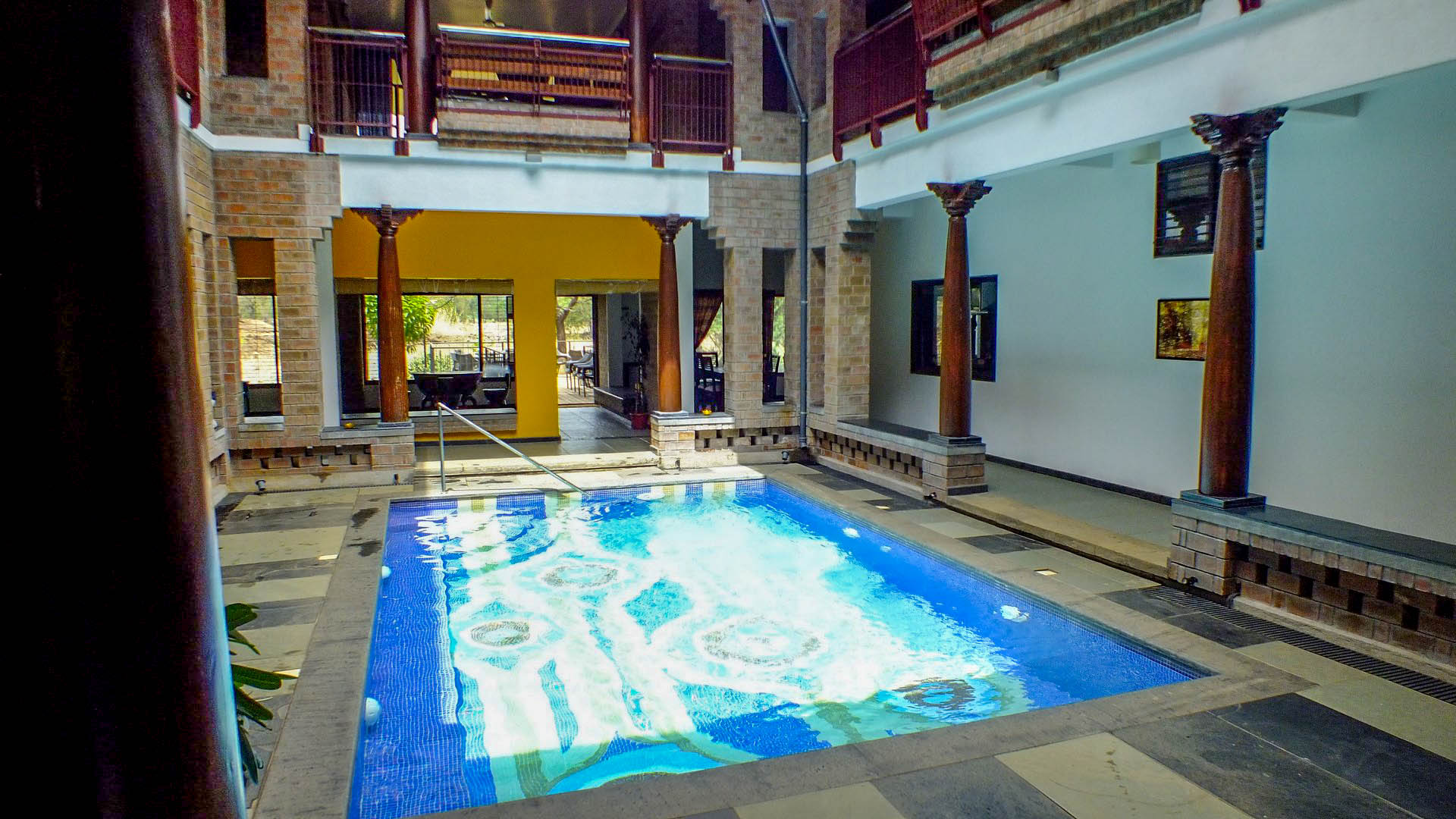 Breakfast was however a letdown with the kitchen not able to cope with guests of all 8 rooms turning up for breakfast together, and there were too many delays. We decided to take a break from breakfast and get into the pool instead. The swimming pool is more for lounging rather than swimming – length being 10m perhaps, and a depth of 4.5 m. But the water is refreshingly clean without a hint of chlorine, and the quasi indoor setup makes it very cozy.
Soon it was noon and it was time to head back to Mumbai. We decided to make a stop at the small Hadashi dam, which we had noticed on our way in. The lake was completely deserted save for some egrets and it was a great spot for some photography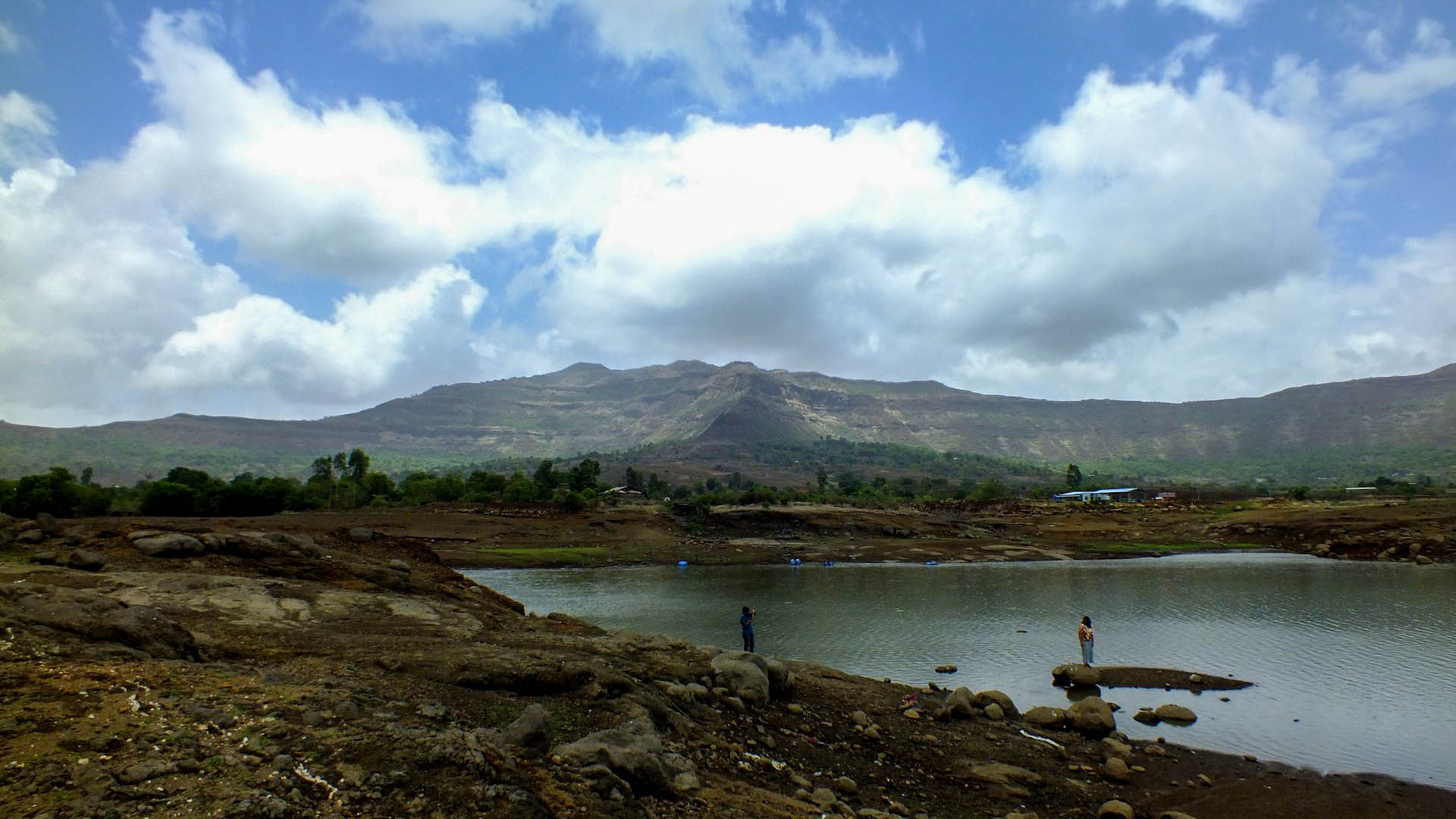 We had lunch at Tony da Dhaba in Lonavala – the experience is better avoided. The return journey was slightly more eventful as traffic was quite erratic – some drivers weaving crazily through traffic, one Scorpio making sudden turns thrice without checking mirrors and almost causing accidents and finally a physical fight between two car drivers as one started slapping the other – on the Expressway. We retraced our route back to the same McDonalds in Belapur and took a coffee break. And then it was back home, taking 3 hours again
Basic info
There are two kinds of rooms on offer at the resort – standard and deluxe. Standard costs Rs 5,000 and Deluxe is Rs 7,000 before taxes. Cost includes all meals.
All rooms are furnished very nicely, befitting a luxury retreat. However the standard rooms are a little small. It is highly recommended that you pick the deluxe one
Their website mentions that they charge Rs 500 for cooling each bottle. But when we were there, it did not look like they implemented it seriously. And the fridge was a small 100 lt one. So please discuss it with the resort guys (manager's name is Michelle) before you make plans. We carried an icebox
They have TV in every room, so you wont miss world cup matches (if you are going in the next three weeks)