It was the first full-family holiday for Pradosh's family – us both, Pradosh's parents and his brother and his wife
Munnar (Day 1)
We caught the Spicejet flight to Kochi from Mumbai, which left at 0830. After landing in Kochi around 11am, we headed off towards Munnar in our vehicle for the trip. The first half of the trip was nothing much to write home about, but once we were closer to Munnar, we were greeted with the first views of the beautiful tea gardens. From afar, Munnar seems like a tiny town, awash in seas of green tea gardens. After checking in, we explored the town on foot. The town center is really small and all we could spot there were hotels, restaurants and spice shops. The weather in Munnar was chilly, but in an invigorating way – probably around 20 deg C at daytime and single digit at night. One could comfortably get away without winterwear during the daytime.
The drive its from Kochi to Munnar took about 5 hours (including the 45 min lunch break), mostly due to the low speeds on the ghat roads
Munnar (Day 2)
We started our exploration of Munnar with a walk up the Erivakulam National Park. Setup before independence by the European tea planters of Munnar, after the Nilgiri Tahr was nearly hunted to extinction, it serves as a home to this rather rare variety of mountain goats. The park is set on mountain slopes surrounding Munnar and requires a decent uphill walk of about 2km. Before you ask whether it is worth huffing and puffing up a mountain to see some old goats, let me tell you that your chances of seeing the Tahr are extremely small. However, the vistas on that walk are to die for and are well worth the effort.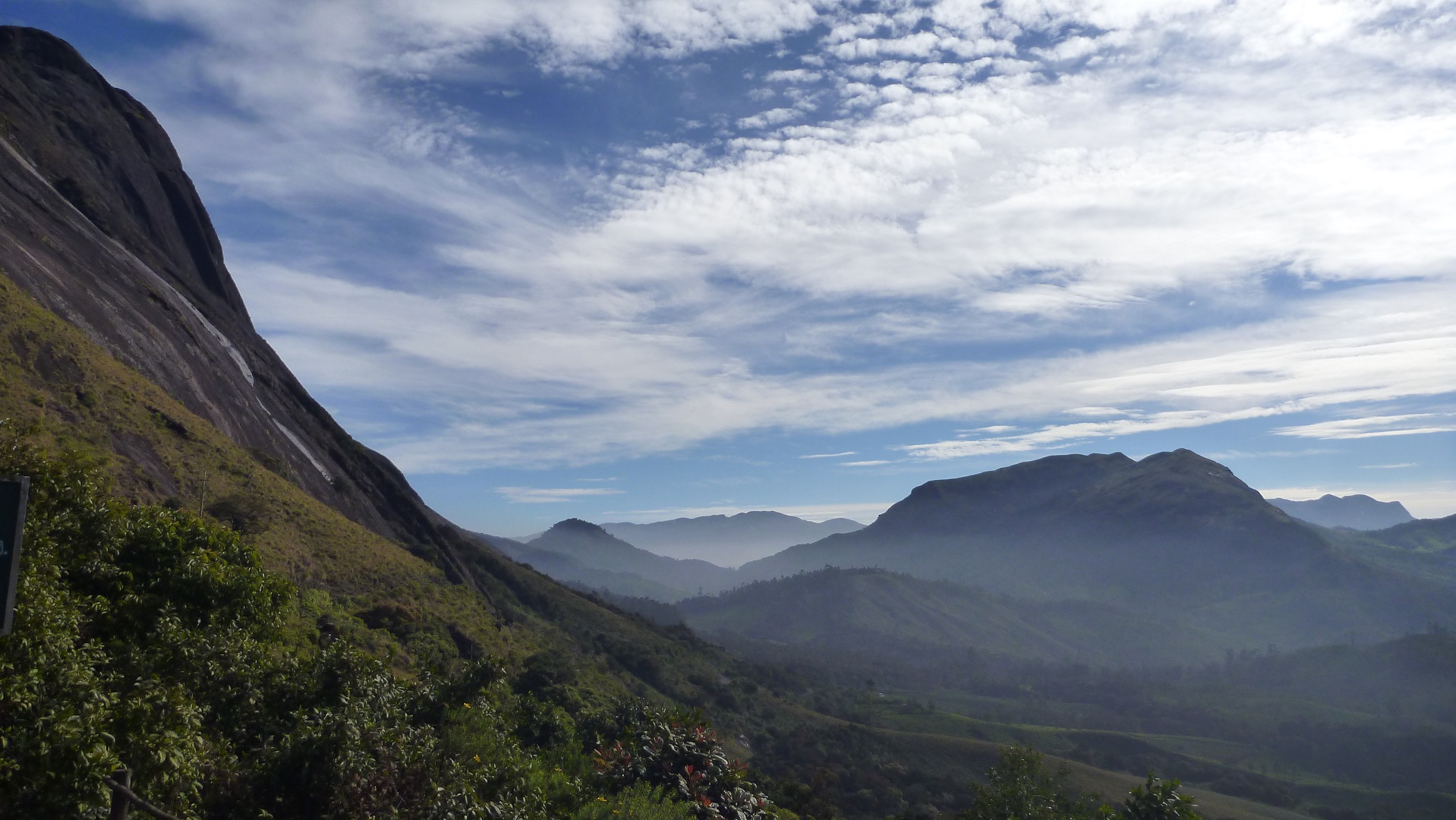 We visited the park about 9am in the morning and were lucky to beat the long queues at the bus counter. From the parking lot, there are park buses which ferry people upto the park gate about 2 km away. The vistas from the bus ride itself are breathtaking, going through lush green tea gardens. In tourist season, because of limited number of buses, long queues are frequent, but once you are inside the park, you can stay as long as long as you wish and can come back by any bus.
Done leisurely (parents are not particularly fond of uphill climbs), the walk takes 30 min and there are beautiful photo opportunities every 100m. If you are armed with good quality binoculars, you can spot the Tahir running around on the higher slopes – we spotted some of them but they were too far away to see very well with naked eyes. The walk ends somewhat prematurely at a sign saying "Stop Here", although the road continues onwards to tribal villages inside the park.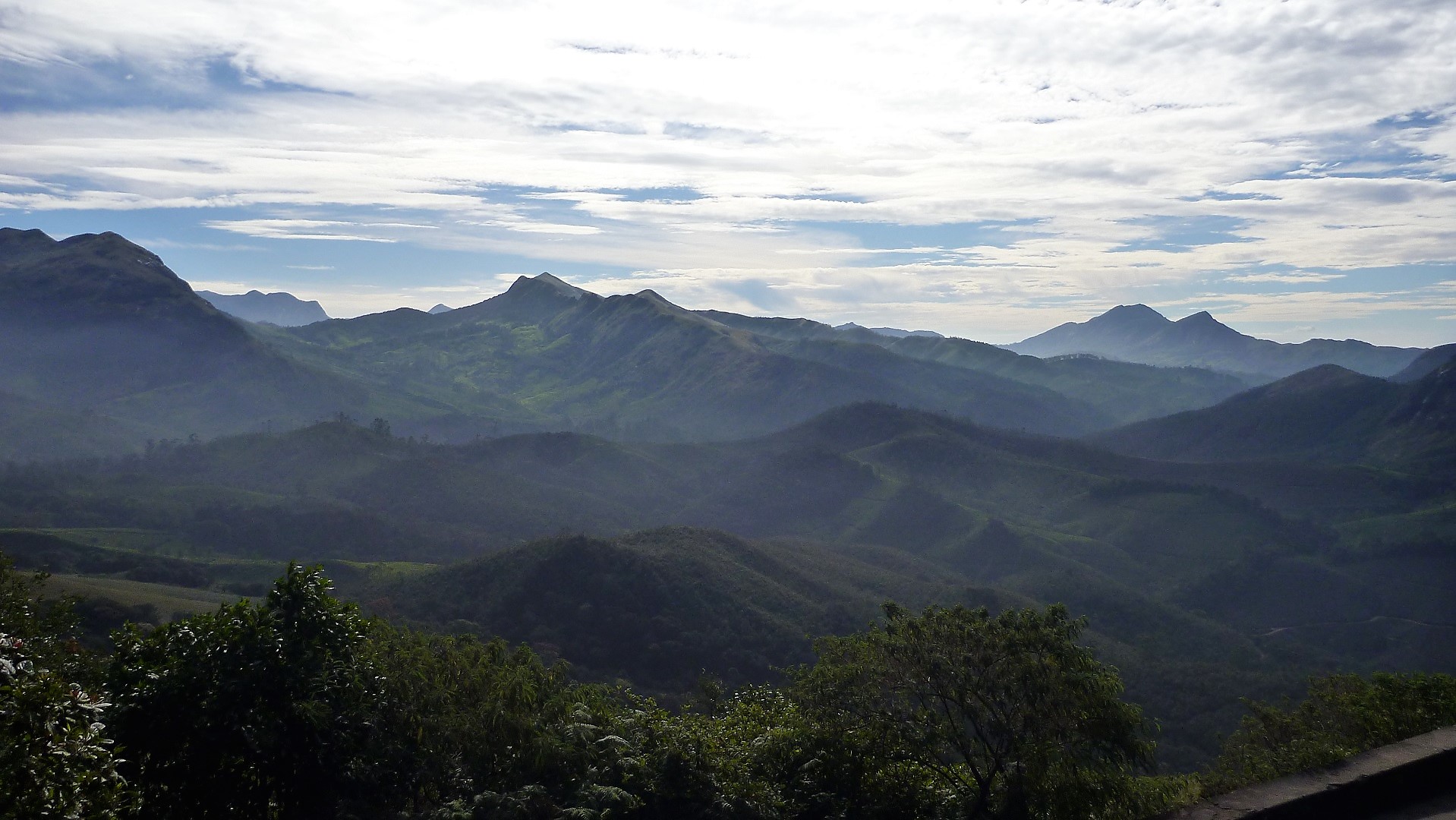 After working up a good appetite, lunch at Saravana Bhavan in Munnar town is highly recommended. Although it suspiciously features Chinese items on its menu, the traditional south indian items are available all day and hit all the right taste buds. Mention must me made of the headwaiter there. A genial old uncle, who serves food with gusto – humming some song inside his head and serving enthusiastically in sync with the beats of the song. A treat to watch along with your lunch
In the second half of the day, worth checking out are the Mattupetty Dam and the Kundala lake. Mattupetty dam is 10km away from Munnar and is a picturesque dam lake, surrounded by green hills, some of it covered by tea plantations while Kundala lake is a further 30 min away, is a little more enchanting as dense forests surround the lake. Both the lakes offer some beautiful tranquil scenery – the kind which makes the big-city-dweller just sit there and take in the surroundings for a while. The road between Mattupetty and Kundala is exceedingly beautiful, following the path of the Mattupetty river amidst the rolling green hills. Also between the two lakes is another stop called Echo Point, popular for paddle boating. However, overrun by tourist shops, we found the place very overrated and not worth stopping. If you are looking to do boating, Kundala lake offers paddle and row boats amidst much more beautiful surroundings. If speed is your thing, then you can do speedboat rides on Madupetty lake (for a Rs 400 for a 15 min ride)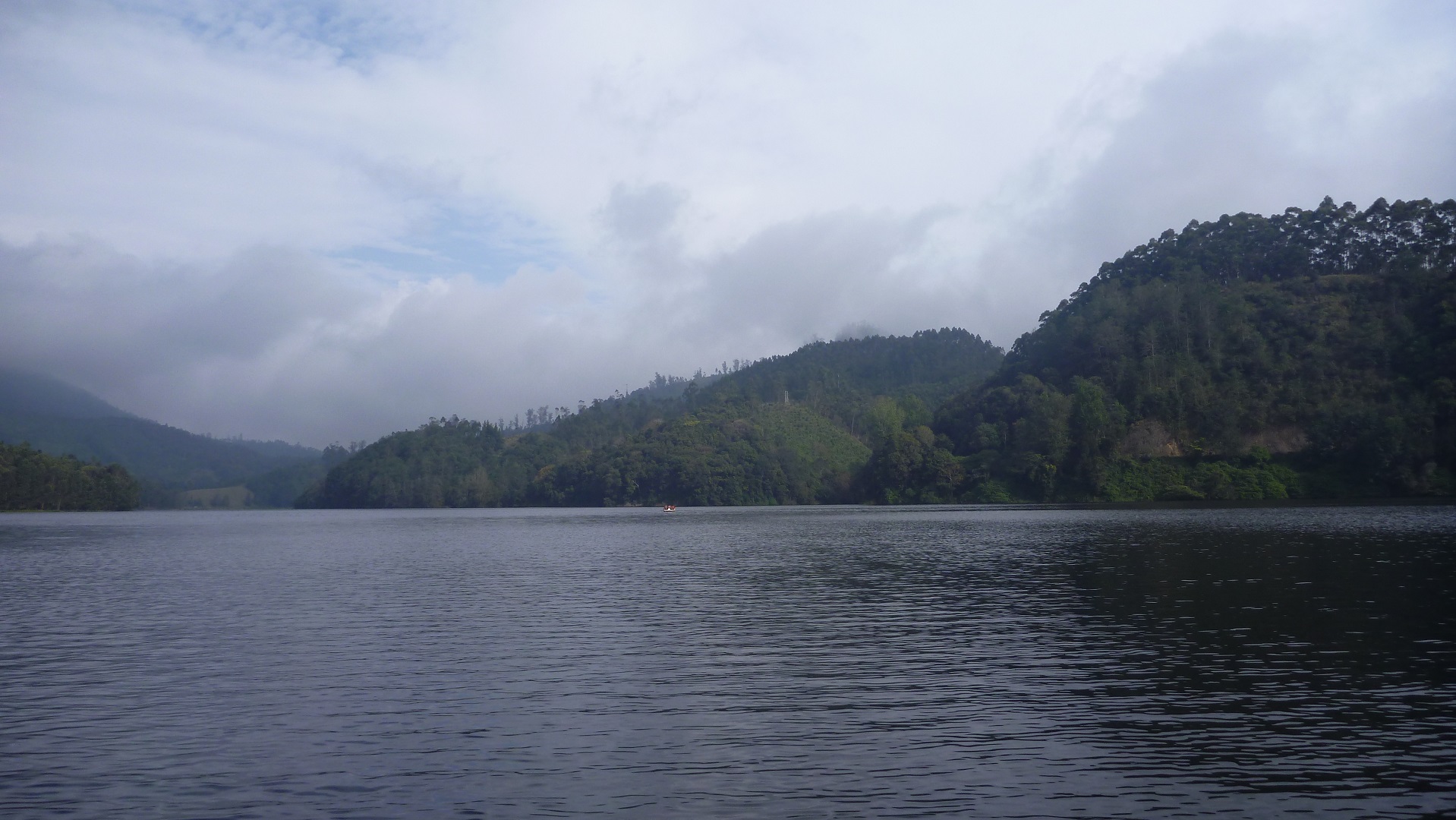 The other most well known tourist destination in Munnar is the Tata Tea Museum. It has a small exhibit showing the founding and growth of Munnar by the first Europeans who wandered into the region. While the exhibits by themselves were somewhat ho-hum, there was a slick 30 min documentary film which covered all those exhibits along with a very informative narrative about Munnar's history. Also on display is a working tea production line with a godawful (and I mean vomit inducing) stench and free tea from a vending machine (the Nescafe kind found in all offices). For all these privileges, the entrance fee is a hefty Rs 75 per head, so unless you are the knowledge sorts, the museum is completely avoidable.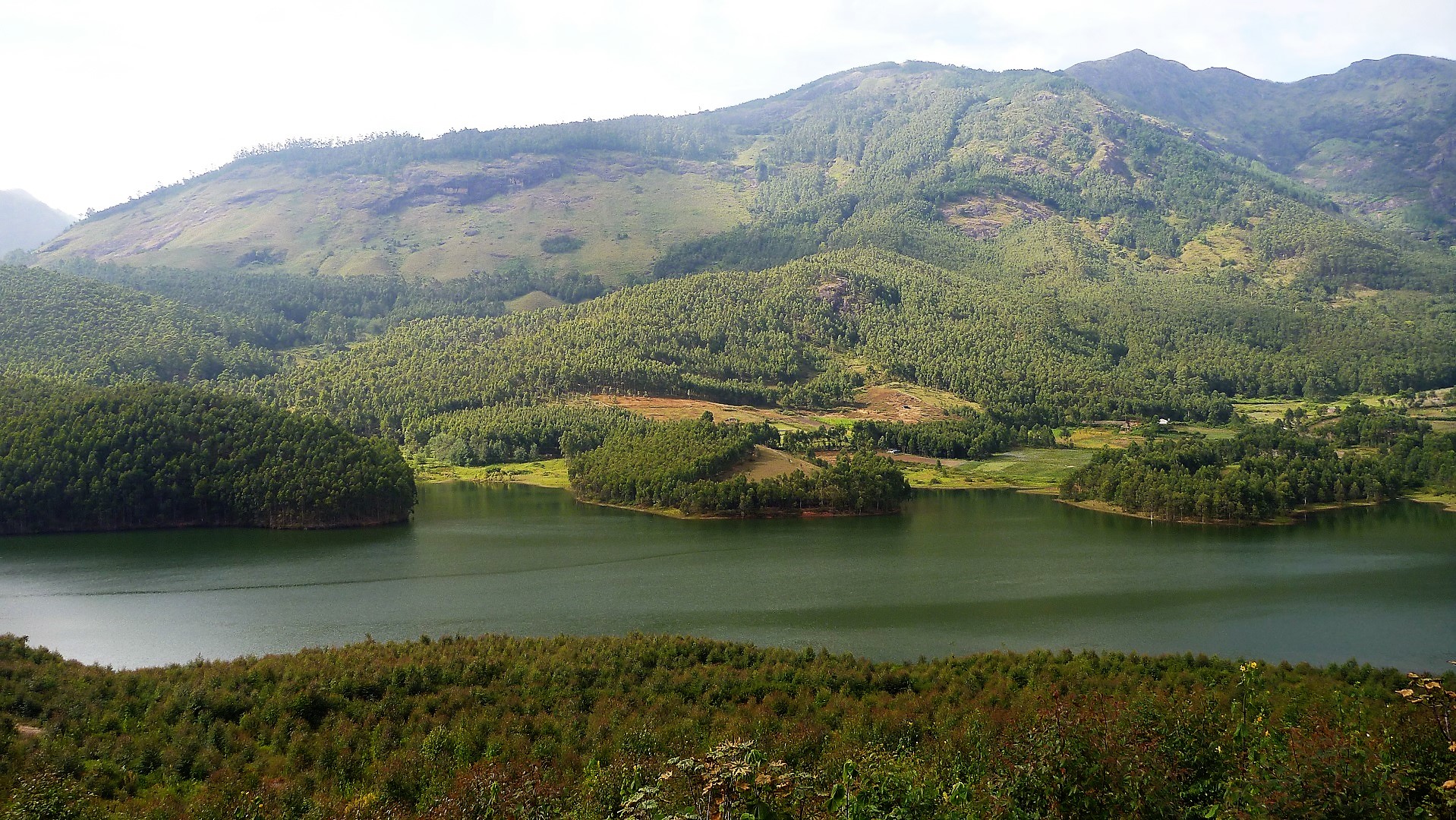 While spices from Kerala are famous worldwide, we stumbled upon something else that's fabulous in Kerala – pineapples. Sold by tribal women at all the tourist locations, they were the sweetest pineapples we had ever eaten. For most of my Kerala stay, instead of a bottle of mineral water, I'd ask for a glass of pineapple juice to go along with my meals. And it was great every time
Thekkady (Day 3)
After breakfast, we checked out of Munnar and drove towards Thekkady. The drive was the most picturesque of the whole trip, with the road winding through interminable green valleys and tea gardens. Near Thekkady, the tea plantations finally vanish and the forest starts getting a little dense. Soon we were in the vicinity of Periyar Tiger Reserve and we are checked into our homestay which was directly overlooking the forest. At night we were visited by boars foraging for food and in the mornings we spotted deer running in the meadow nearby. The drive itself took about 2.5 hours. Weather was again very pleasant as we were still in the hills. While slightly warmer than Munnar, Thekkady was still very enjoyable, especially the nip in the air in the mornings.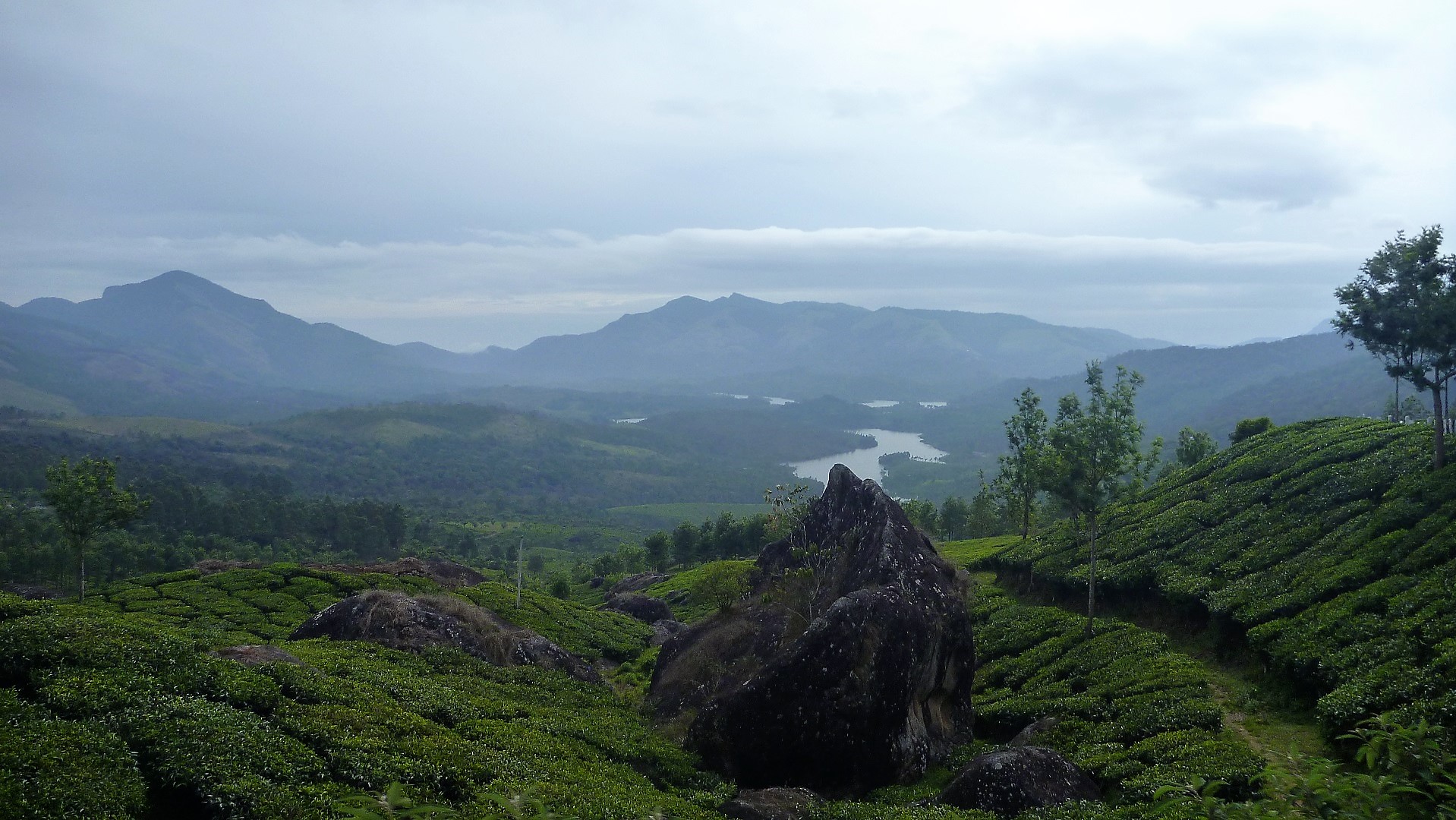 After a slightly late lunch, we headed to the boat docks to try and get tickets for the evening boat ride. KTDC and the Forest department both run 4 boat rides on the Periyar lake everyday starting at 7 in the morning and the last one being at 4pm. Each ride is of 2 hour duration and is supposed to be for spotting wildlife from the sanctuary as they come to the river to drink water. In reality, it is just a pleasant launch ride on the Periyar lake with very little wildlife to be seen. The forest dept guide on the boat himself admitted that in his three years of service, he had seen an elephant only once and never a tiger on the boat rides.
However, it being the most well known tourist activity in Periyar National Park, there is a mad rush for the boat tickets. And most intriguingly, both the KTDC and the Forest Department offer the same ride, but with mindbogglingly different prices of Rs 150 and Rs 40 per head resp. There is no difference in the boats, no difference in the routes, both leave and arrive at the same time, yet the Forest department charges just 1/4th of what KTDC charges. Also, the KTDC allows you to book boat rides online, but at a ridiculous price of Rs 500 per head. While animal sightings are scarce, if you have to take the ride, then the early morning and the evening rides are your best shot at seeing some animals.
Thekkady (Day 4)
Since we couldn't get the evening tickets the previous day, we came in early to the park and got the 7am ride. Spotted only some deer, bison and some wild boar, that too some way off. The good thing about the boat ride was that each passenger HAD to wear a life jacket. Even the paddle boat ride on Kundali Lake in Munnar had us wearing life jackets. While inconvenient, the dedication to safety of tourists was quite heartening to see.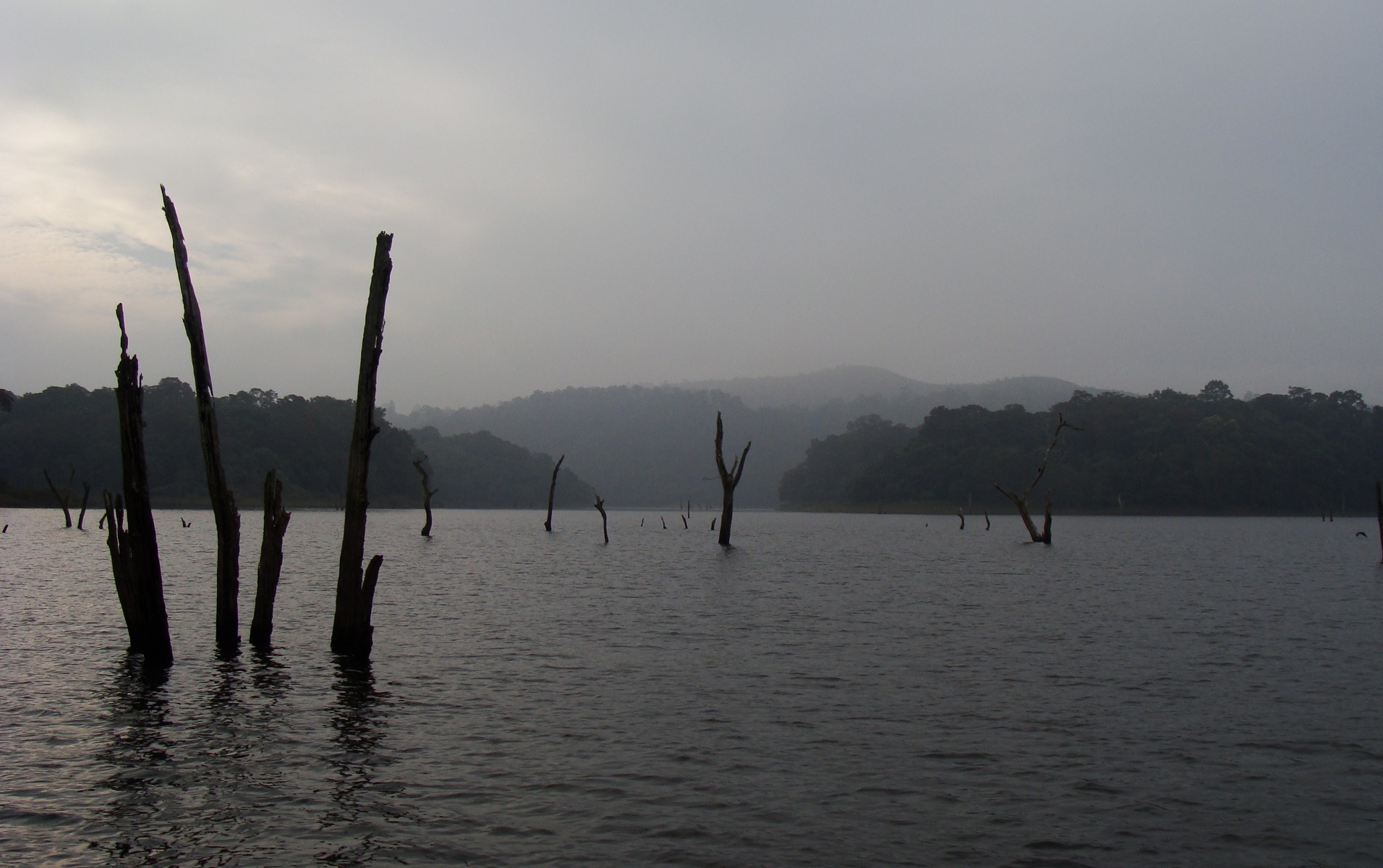 After our morning boat ride, we had scheduled a "Green Walk" tour of the Periyar sanctuary. Periyar is a thick dense forest, where trails are very narrow and jeep safaris non existent. The only way to explore the sanctuary is on foot. We chose a small 5km trek through the forest, with a single forest guide accompanying our party of 6. The Green Walk is a standard trek offered by the Forest Department and cost Rs 200 per head. You have the option of the River Walk too – at same rates. That one sticks closer to the river bank
At the start of our walk, we were given brown cloth socks – more like bags with strings – to wear over our trousers. We were to wear shoes over those socks and tightly tie the strings of our new socks near our knees. The reason were leeches – there were thousands of them on the trail and without this protective gear, they would have crawled right up our legs and sunk in their fangs. Needless to say, shoes are mandatory for these treks.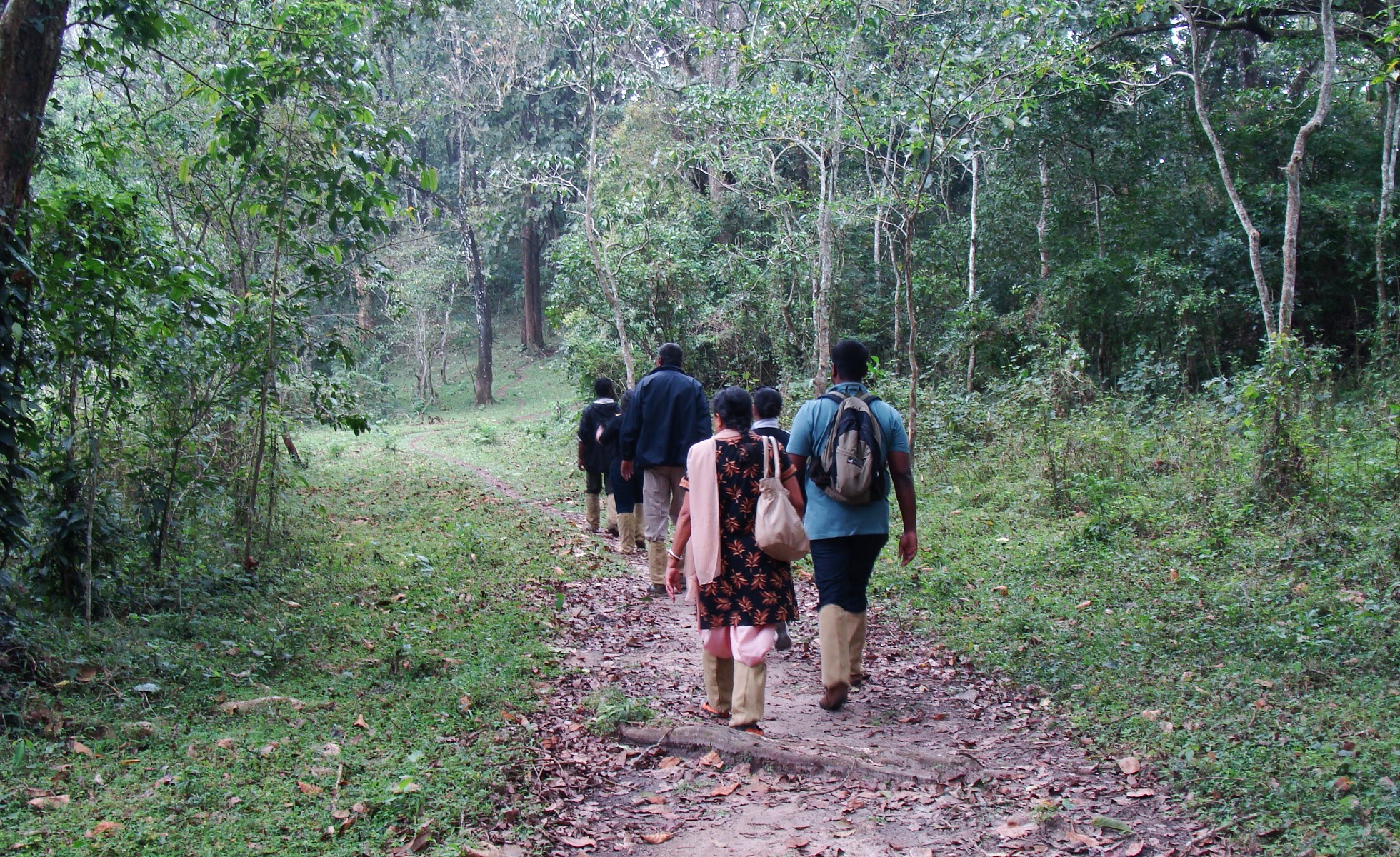 With our feet secure, we trundled into the forest and were soon in dense vegetation. Going was a little slow with parents because the trail was uphill, but we got a chance to look more closely at the forests around us. We spotted pepper plants growing wild in those forests among other things. But we didn't see any animals – till we came across elephant turd – fresh one, that is. Our forest guide was quite interested in it and pronounced that it was a solitary elephant, male, and he had been here less than 24 hours before.
A little further down the trail, we saw some more of elephant gunk and this time the guide immediately asked us to be quiet. After scouting ahead, he motioned us to follow him quietly. We left the trail and moved into dense jungle, with a solitary overhead monkey barking out a warning call. After a good 20 min of walking, were finally able to hear the elephant – noisily chewing on branches. But the forest was so thick that it still wasn't visible. We waited patiently, till it finally graced us with a view and our grins couldn't have been wider. It was so thrilling to track an elephant from half a km away in dense forest and be able to view him in his natural habitat (from a safe distance away, as male tuskers can be erratic)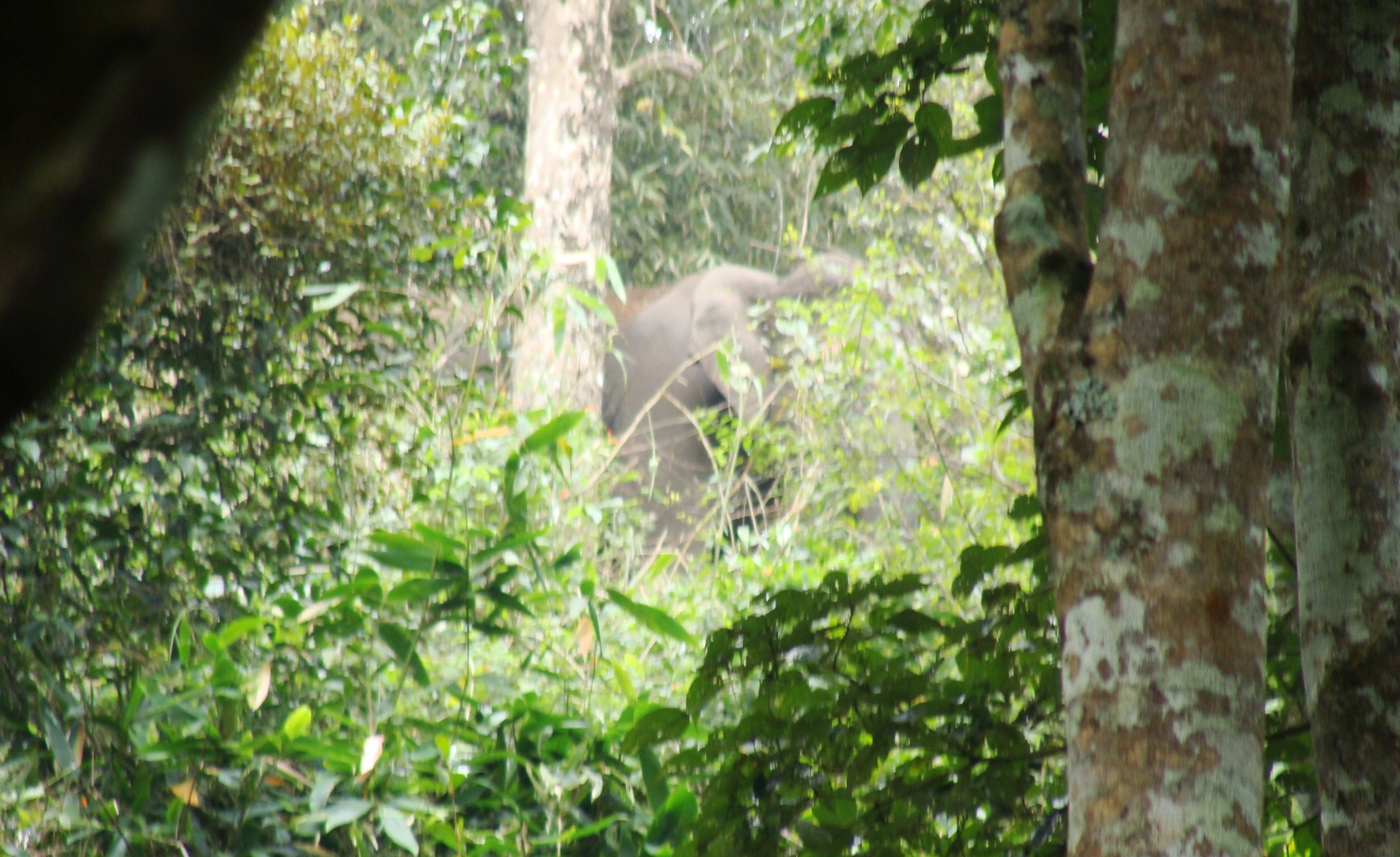 After the elephant sighting, the return trip was a breeze – also because it was all downhill. We stopped every 10 min or so to brush off leeches from our shoes and those brown socks. But the socks were effective and no one got a leech on their legs – except for my poor mother, who got a leech on her stomach (she was wearing a salwar kameez).
After lunch, we took an elephant ride and then to finish the day, a Kerala ayurvedic massage.
Kumarakom (Day 5)
After breakfast, we left Thekkady for Alleppey. It was a 3 hour trip and wasn't much in beauty. We passed through a lot of towns and they all looked the same. At Alleppey, we checked into our houseboat for a backwater cruise to Kumarakom. Alleppey was hot and humid, completely different from the pleasant weather in Munnar and Thekkady – and especially a rude shock to us when we emerged from the comfort of our airconditioned car. But once we climbed aboard our boat and got moving, the tender breeze from the backwaters soothed everyone.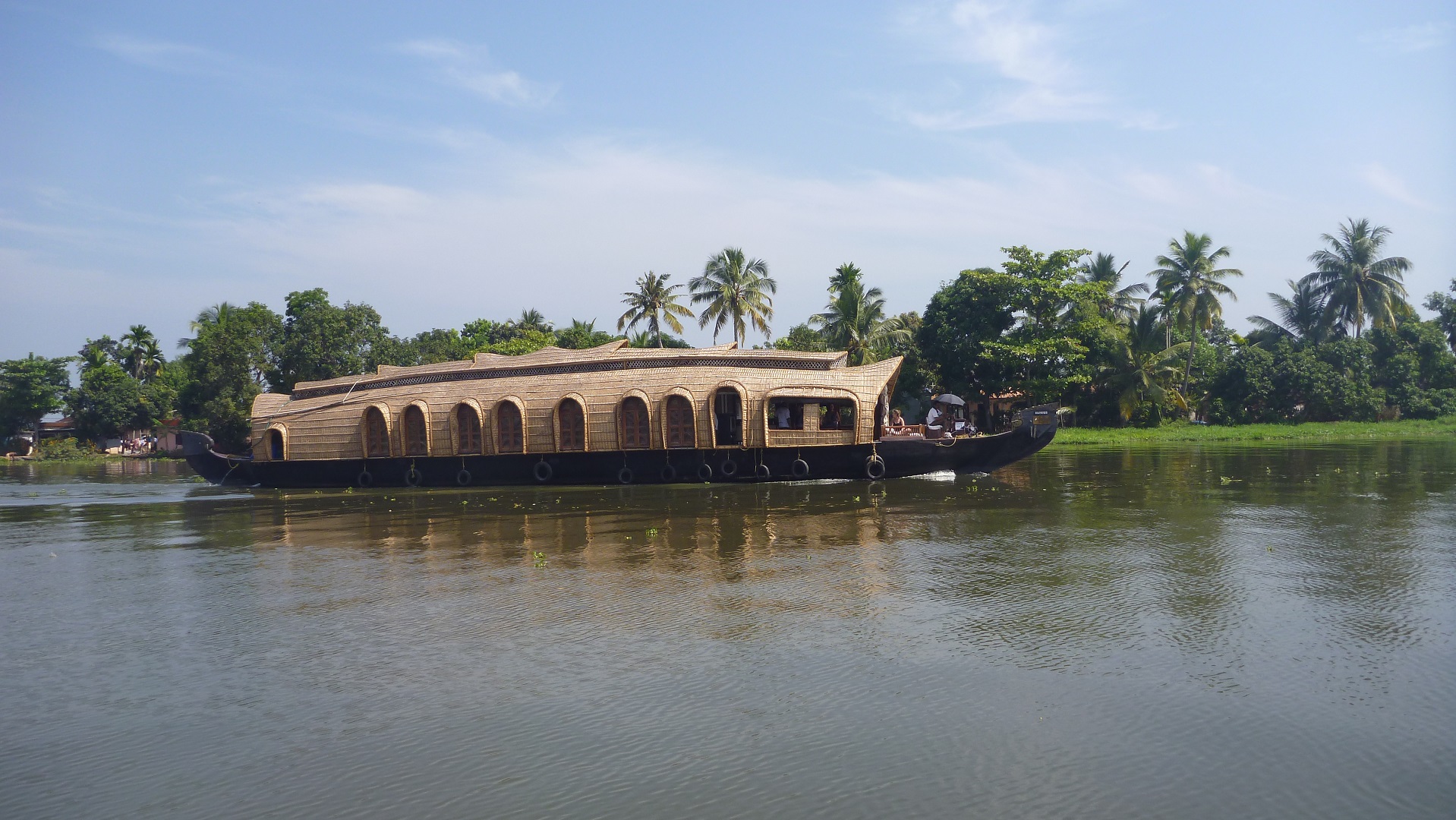 The backwaters themselves measured upto every superlative that has been said about them – they were calm, gorgeously beautiful and very relaxing. The boat itself was better than anything we expected. Very luxuriously done, with the bedrooms easily matching 3/4 star rooms and having all creature comforts from an AC to TVs. In the common area of the boat, there was a dining table, a sofa to lounge on and a big mattress right at the front, behind the boat driver's seat. We spent our time on the boat sprawled on that mattress, while some of us took naps in the rooms. We bought some pomfret from the island market and got it deep fried by the boat cook – really yummy masala on that fried fish.
Lunch served was Keralian style – and it was very good. The only regret was that we didn't spend a night aboard that boat. We reached Kumarakom in the evening and checked into our hotel there.
Kochi (Day 6)
After breakfast, we left for Kochi. About 2.5 hours away by road, we traveled alongside the backwaters and green rice fields this time. It is a different kind of beauty, yet equally engrossing. Once in Kochi, we headed to Fort Kochi. Our first stop was the Synagogue and Jew Street. Honestly, the Synagogue was very disappointing. Neither was it impressive sized, nor was it remarkable inside. The only noteworthy thing there was its presence in Hindu India, so far away from its home in Israel. Jew Street is just an Indian artifacts mall for Europeans. There was nothing there for Indians. I mean who in their right minds would buy Pashmina shawls in Kerala ??
Matancherry Palace closeby was our next stop. While the building is more a haveli than a palace and again very unremarkable looking from outside, it houses a museum-like exhibition inside about the Kochi royal family. While the first couple of rooms are informative, soon it becomes repetitive with pictures and description of each and every member of the Kochi royal family who ever lived ! Especially for a line of kings who were installed by, and lived under Dutch patronage. But the saving grace of the palace are the murals – elaborate paintings done directly on the walls itself.
The theme is Indian mythology and the work is both large and intricate. I haven't heard of many Indian murals apart from the Ajanta paintings and hence I was suitably surprised and impressed. Workmanship was fabulous and there is not an inch of the painting left plain. The murals are in three rooms, with one room at a lower level filled with more sensuous paintings. Unfortunately, photographs are not allowed inside the palace.
After the palace, it was St Xaviers church. Again, a plain looking, albeit old church, with no decorations inside or outside. Was left wondering what the fuss was about. Final stop was for the Chinese fishing nets. While they were pretty, the fishy smell near them was decidedly not. There were a lot of shops selling fresh fish, and they had some interesting stuff on display – like hammer head sharks. But they were very expensive (even by Bombay standards).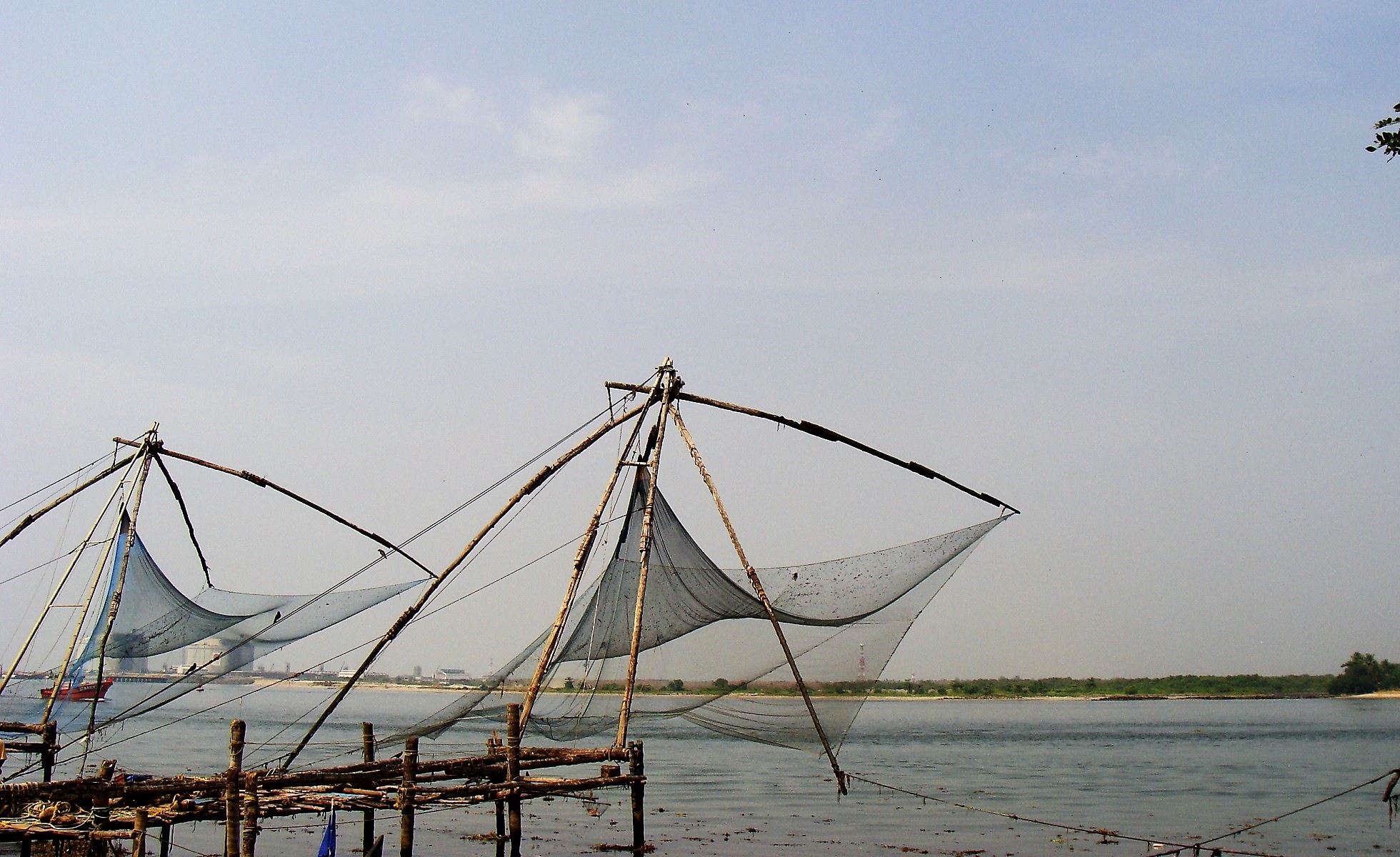 Overall, we wrapped up all the famous tourist destinations in Kochi in less than 2 hours and nothing impressed us at all (except for the palace). We were left ruing our decision to spend a full day in Kochi, as half a day would have more than sufficed.
In the evening, we took a stroll on Marine Drive (yes there is one in Kochi as well) and then a sunset cruise around the harbour. Against expectation, it turned out to be a very pleasant experience with a nice breeze blowing and we witnessed a beautiful sunset.
Kochi (Day 7)
Nothing much in the morning. Did some shopping and then caught the noon flight back to Bombay