(This is the first in our series of posts from South America)
Buenos Aires was our entry into Argentina and to the continent of South America. It is a large, spread-out city with a decidedly European feel to it. It doesn't give an immediate buzzing metropolitan vibe – but don't let that fool you, it is a huge city of 14 million people and it offers a unique mix of European and Latin American experiences.
The first thing that hits you in Buenos Aires is the spaciousness – how broad the roads are, how wide the sidewalks are and how uncluttered everything in the city seems to be. While all cities are usually less crowded on the outskirts, in Buenos Aires, even when you are well inside the city limits, there is no sense of the urban congestion that is true for most of the world's metropolises.
After the long 14 hour flight from London, we didn't really have much enthusiasm to spend the rest of day exploring the city. Plus, our body clocks had gone for a toss. However, our Airbnb check-in was three hours away, so we had some time to kill. We grabbed a really late breakfast in a nearby café. It was our first encounter with a traditional Buenos Aires café. Turns out, cappuccinos are almost an elaborate dessert, in tall mugs with whipped cream and wafers on top. After breakfast, we got ourselves local SIMs from Claro (we could not see a mobile operator selling SIMs at the airport) before crashing at our apartment for the rest of the day.
For the next three days, we used the itinerary and self-guided walking tours described on the Sol Salute blog https://www.solsalute.com/3-days-in-buenos-aires-itinerary/ as our guide to explore Buenos Aires. Among the online sources we saw, her posts are very well written and cover most of the well-known landmarks of the city. In fact, her blog is a very helpful resource for anyone planning to travel to Argentina overall.
Day 1: La Boca, Puerto Madero and San Telmo market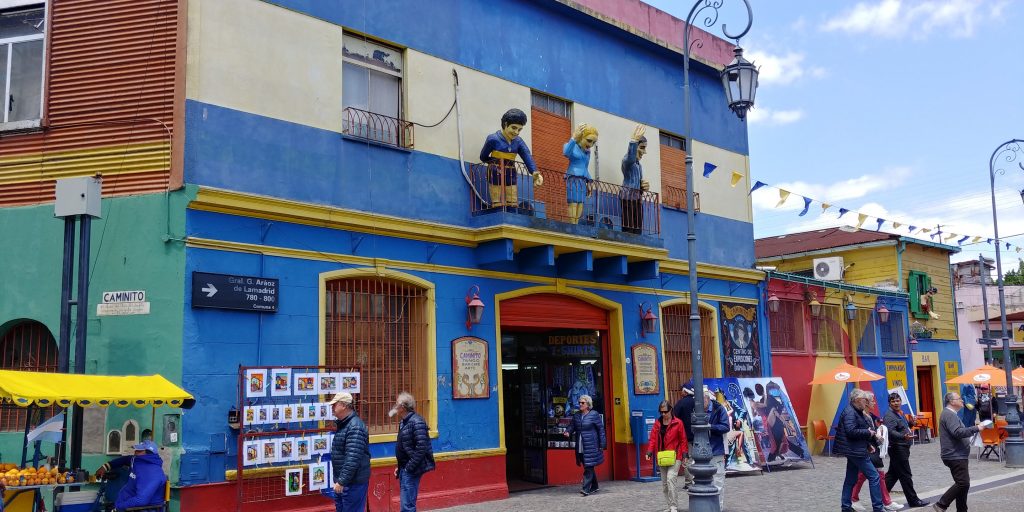 On our first proper day in Buenos Aires, we started in La Boca, one of the more colourful neighbourhoods in Buenos Aires. La Boca is the opposite of Palermo (where we were based) in terms of prosperity – the houses seem more ramshackle, streets narrower, and full of interesting graffiti. In fact, it is recommended that tourists avoid La Boca at night. But in the daytime, El Caminito in La Boca was bustling with tourists. Streets are lined with stores pushing trinkets, homemade dulce le leche and photo-ops in tango costumes to tourists. We did not explore too deep – we walked around a bit, admired the colourful houses, the street art and peeked into a few of the stores. We retired to lunch at one of the road-side cafes, along with a bottle of Argentine Malbec and people watched for a bit.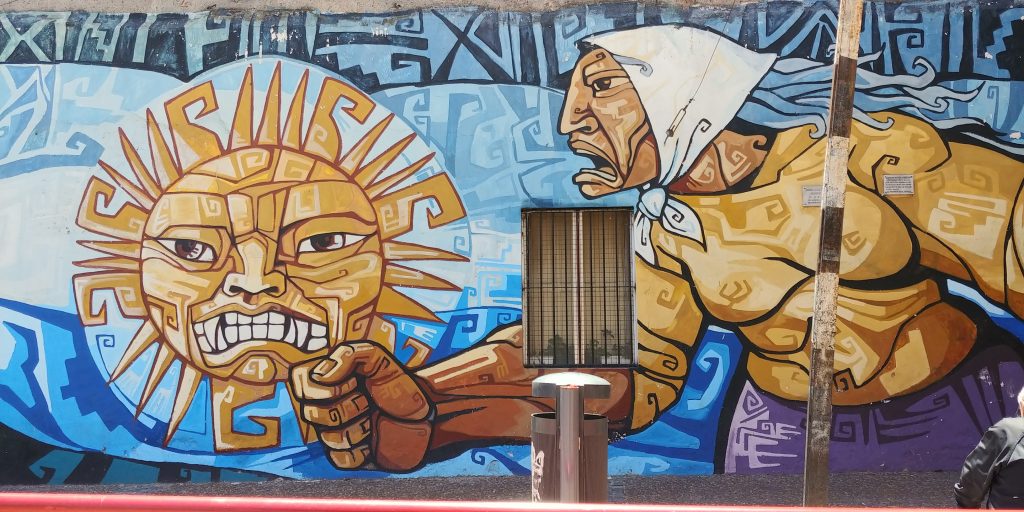 After La Boca, we headed to the more upmarket Puerto Madero. Puerto Madero is a beautiful urban renewal story that deserves a mention. Built as a canal/channel for ships to dock in the 1890s, it fell into disuse by mid-20th century, once cargo ships became larger. The area on both sides is composed of warehouses, silos and cranes. From the 1990s, the area was redeveloped, with a lot of the warehouses refurbished to become houses, offices and restaurants. Some buildings were torn down and replaced by skyscrapers and now Puerto Madero is the central business district of Buenos Aires. The waterfront is full of parks, restaurants, hotels, museums etc. A lot of the large industrial cranes have been left in place, making it a unique combination of the new and the old.
There are also two old sailing ships of the Argentinian Navy moored there, converted to floating museums. And the modern pedestrian bridge – Puente de la Mujer (Women's Bridge) – is an attraction by itself.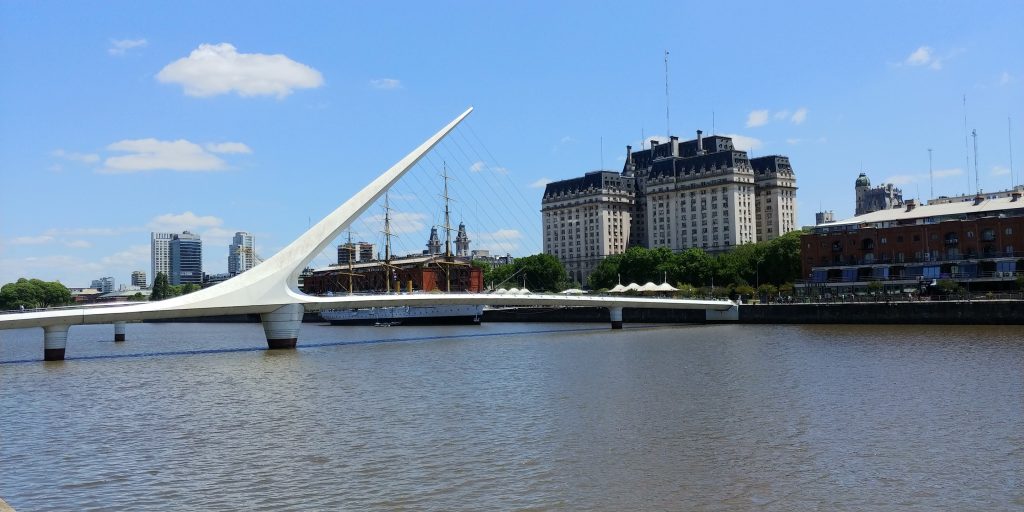 The final destination of the day was the San Telmo market. There is a weekly market held on Sundays, where most of the stuff is for tourists – but the trinkets, antiques and handicrafts on sale are very different from what we are used to in Asia or even Europe. We were quite interested in buying a few knick-knacks, but with almost 3 months of travelling still to go, we just did not have any spare space in our bags. Every Sunday, in the evening there is tango dancing on the streets (free, but you can give tips). We caught one such performance – our first look at tango in Argentina and we were quite impressed, especially because one of the female dancers was heavily pregnant but still danced as gracefully as the others.
Day 2: Recoleta and Tango performance
We spent the day in the upmarket district of Recoleta. The borough is home to uber rich porteños (that's what Buenos Aires locals refer to themselves) as well as lot of parks, museums, universities, embassies and the famous Recoleta cemetery.
* Bombayites would probably compare it with Colaba + Malabar Hill.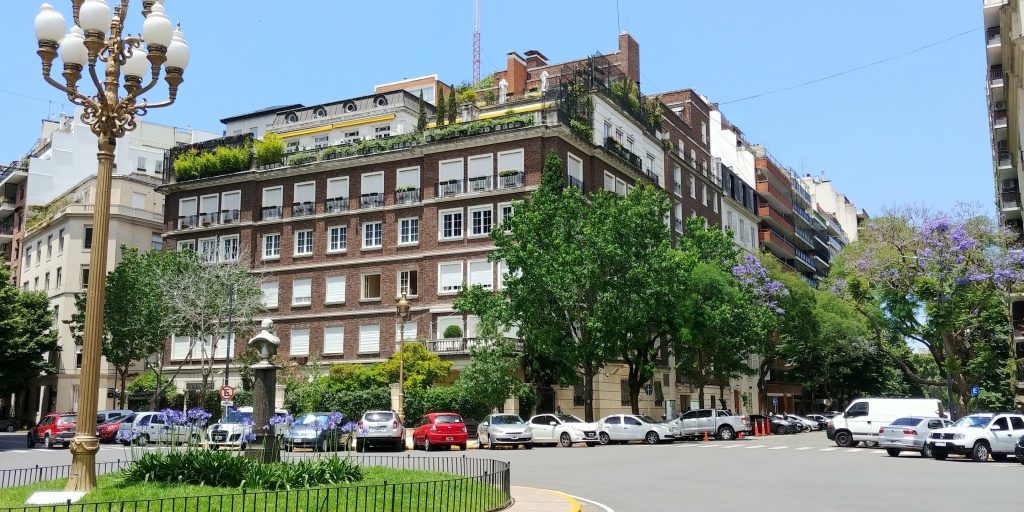 It was a warm day, but the tree-lined roads made the walking comfortable. We started near the British Embassy and walked to Floralis Generalis, a massive metal flower sculpture, which opens at 8 am every day and closes at sundown. Nearby is the Universidad de Buenos Aires, with massive Grecian columns. Don't miss the pedestrian bridge next to the University, from where some beautiful photos can be taken.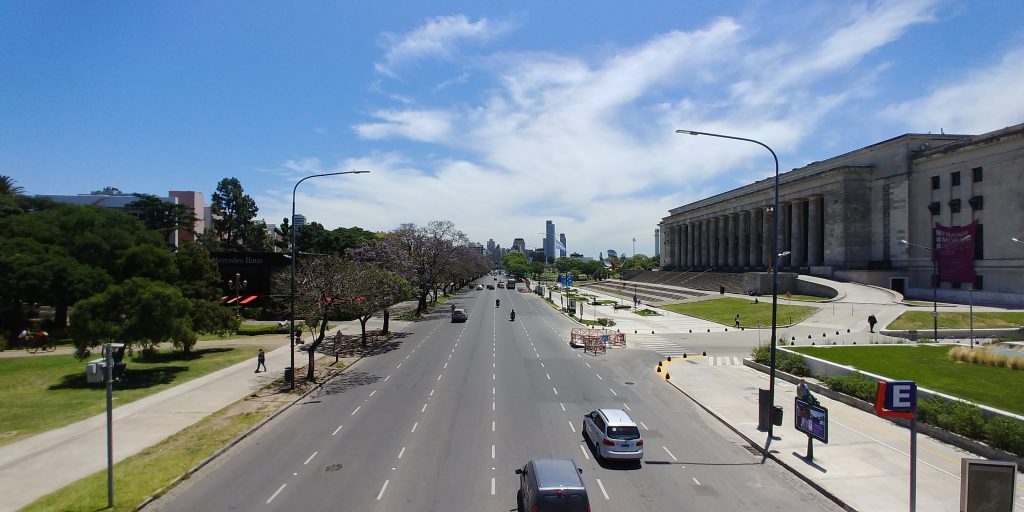 Next stop of the day was the Recoleta Cemetery, where all the famous people of Argentina are interred. The cemetery has scores of trees providing shade from the strong afternoon sun, which was a welcome respite as we rested our legs on a bench. The architecture of some of the tombs were very ornate and no two tombs looked alike. Hunting for tombs of famous people can be a good game – lot of Argentine presidents, Nobel Prize winners and Evita Peron are among the more famous denizens there.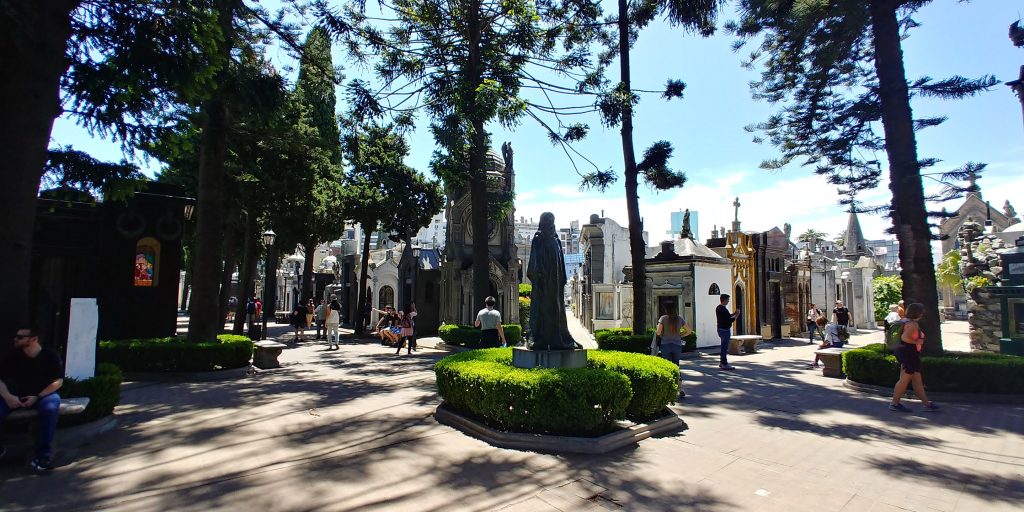 But the best of Buenos Aires was about to come. One of the must dos in Buenos Aires is watching a tango performance. And there are tons of options to watch tango – but they broadly fall into two groups 1) milongas and 2) shows. The locals prefer the milongas, which are large halls where regular people go for dancing. You can go and watch, but what you get to see can vary widely, as the same set of people do not come to the same milonga every day. And there probably would be language issues, with our almost non-existent Spanish.
The shows are more like Broadway productions for tourists. There is a wide range of prices and quality – and we can't really give any authoritative advice on picking one over the other. We read the reviews on tripadvisor / viator like everyone else, compared prices, locations and duration before making our call. We shortlisted El Querandi and Tango Porteno as they suited our preferences and finally settled on Tango Porteno. We were very happy with our choice as the show was absolutely stunning and sensual. We loved every minute of the 75 minute performance.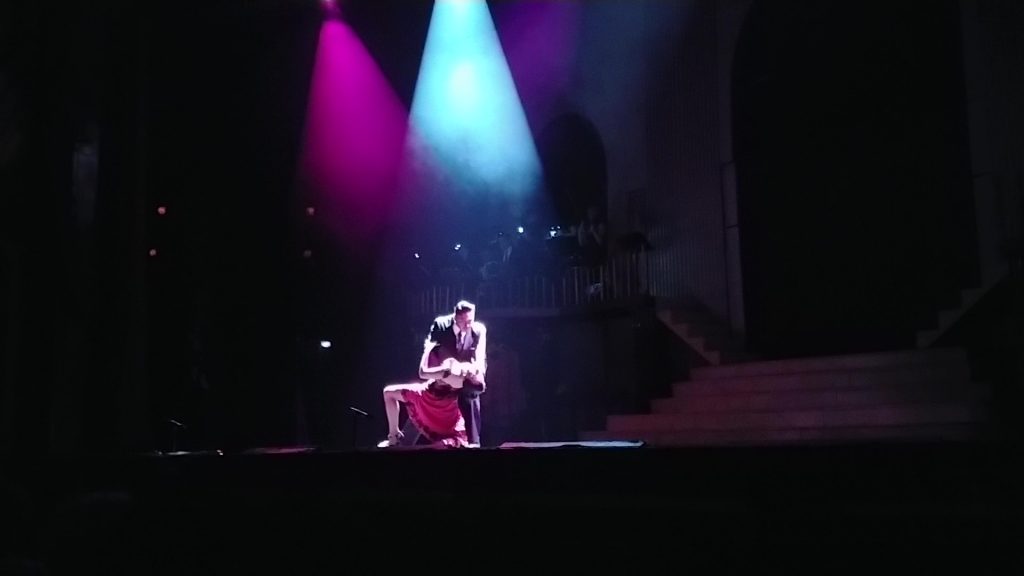 Tip: The tango show can be combined with a meal and/or a hotel drop. We picked neither since we knew our way around the city by then and the food did not have great reviews. The tickets cost us USD 27 per head. Reach the place at least 45 mins before the performance starts to get decent viewing seats as it is first come first serve.
Tip: Also pay attention to the duration of the show. We saw quite a few reviews of some 4-hr long shows complaining about lot of talking in Spanish between the dancing.
Day 3: Avenida de Mayo and Palacio Paz
Today was the day for checking all the impressive capital buildings in Buenos Aires, concentrated on Avenida de Mayo and Plazo de Mayo.
We started at the imposing Argentine National Congress building. The building seems to draw influences from a bunch of famous European buildings, but we aren't architecturally inclined enough to recognize exactly which ones. The Plaza del Congreso square, in front of the Congress, is the zero kilometre marker for the country – all highways start measuring distance from here. There is even a replica of the famous statue, 'The Thinker', in the park.
From the opposite end of the square, starts the Avenida de Mayo, which is the road all new Argentine presidents take after being sworn in at the Congress. The avenue is lined with impressive looking buildings and we followed it till we came to Avenida 9 de Julio.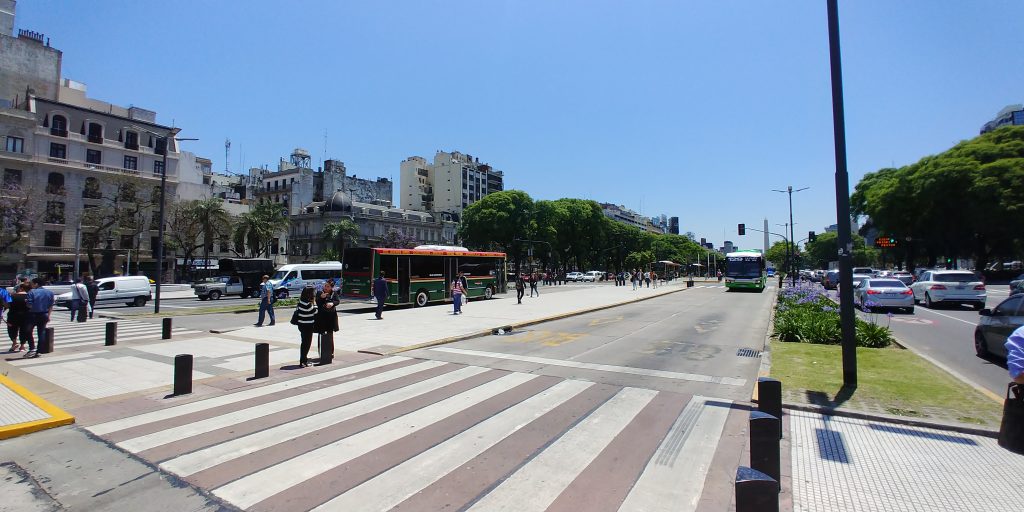 Avenida 9 de Julio is one of those places which will remain in your memory for a while. It is the second widest street in the world – and it is really difficult to describe the scale of it all. There are 7 lanes of regular traffic plus 2 service lanes on each side and dedicated bus lanes in the middle. There are parks in the medians dividing the traffic. The street is the width of a whole city block and runs for 3 miles. It usually takes 2-3 traffic signals for pedestrians to cross the entire street. There is even a huge obelisk in the middle of the street
Continuing on Avenida de Mayo, we stopped at the famous Cafe Tortoni, to try their famous churros and hot chocolate. The café has been in business since 1858 and walking into the cafe transports you to a different era. There was a small queue at the door, but the place is quite big, so the wait was for only about 5 minutes. The churros and hot chocolate were quite good, and gave us a nice break from the walking.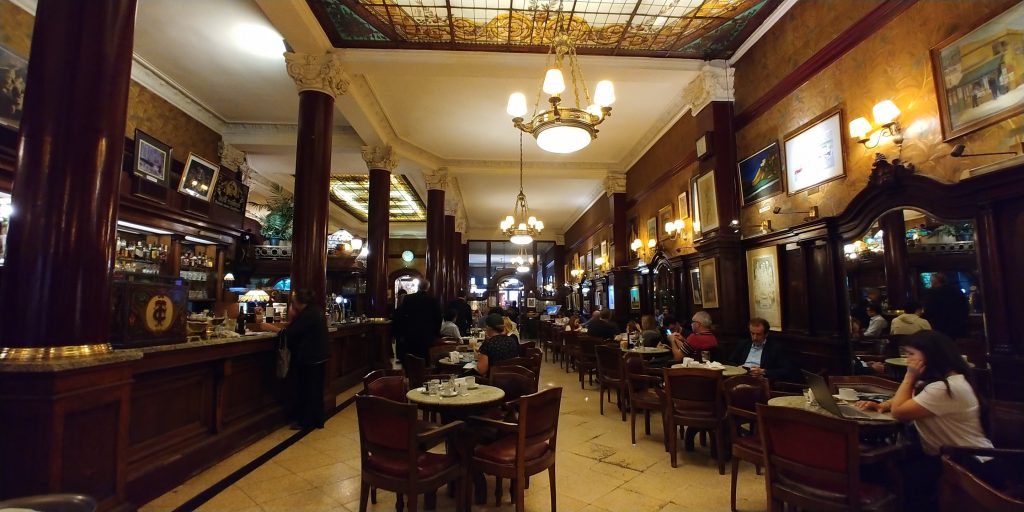 Soon we arrived at Plaza de Mayo, around which the city of Buenos Aires was formed. At one end is Casa Rosada, the pink coloured office of the Argentine president. Around the plaza are the Metropolitan Cathedral (head of Catholic Church in Argentina) and the Argentine National Bank headquarters, among other famous buildings.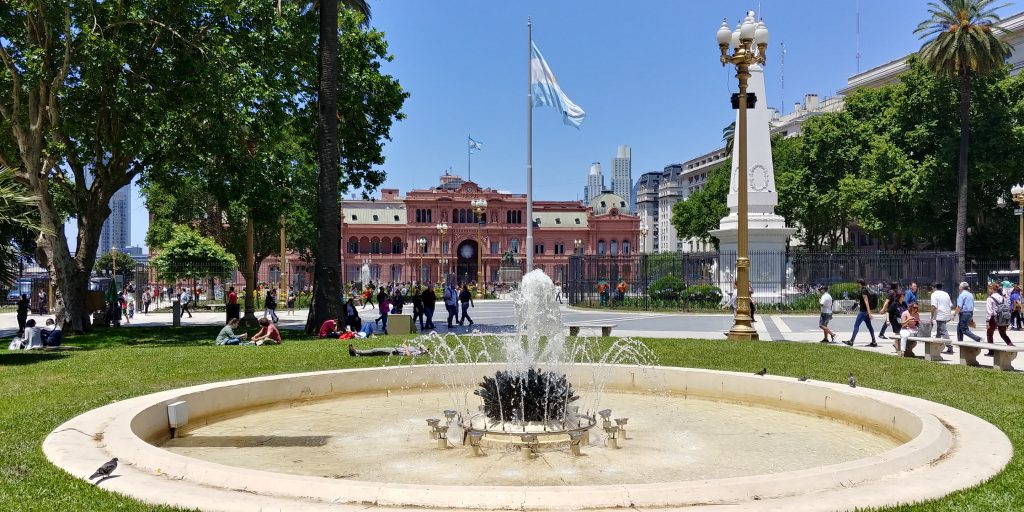 After resting for a bit in Plaza de Mayo, we decided to visit Palacio San Martin and Palacio Paz, which are a couple of kilometres away. We chose to walk through Avenida Florida, and we were lucky with our choice – it turned out to be a pedestrian-only street lined with shops on either side. It was weekday and lunch hour – the street was full of office people out at lunch time. We enjoyed walking among real "porteños" going about their normal day – and it was the only time in Buenos Aires that we thought of the city as a busy one.
Palacio San Martin is not open to visitors and can only be seen from outside. Palacio Paz is partially open to visitors but the only way to see it is through guided tours offered few times a week. There was no English tour on Tuesday (when we were visiting). But we joined the Spanish language tour anyway and to be fair, the guide made her best effort to make us and a few other English-only tourists understand. You can check the timings of the guided tours online – the tours cost 350 pesos per head. The palace was a private residence of a super wealthy family, built in the early 20th century. The palace is really ornate and quite well-preserved. Description of the family's living style gave us full Downton Abbey vibes.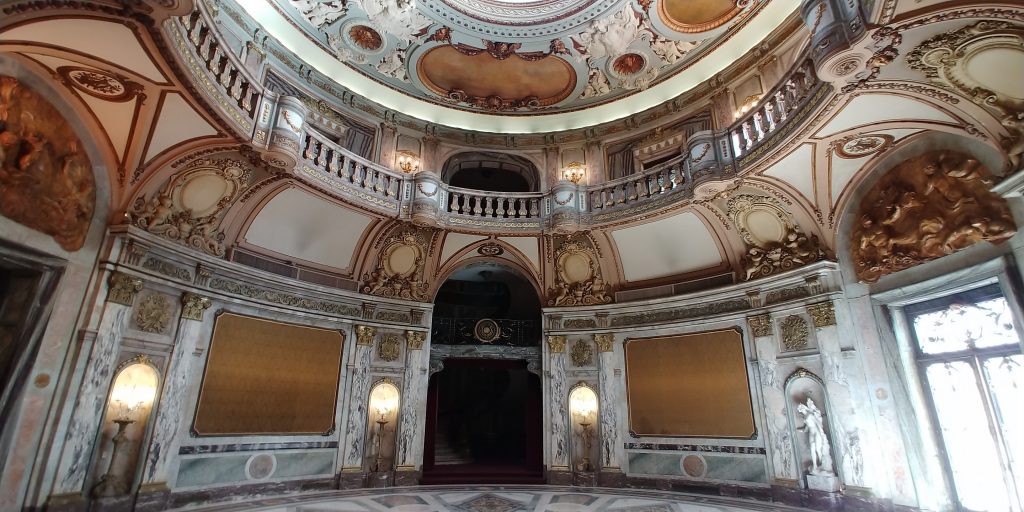 Our final stop of the day was Teatro Colón, the main opera house of Buenos Aires. It is a very impressive building and apparently ranked as one of the best opera houses in the world. There are regular tours inside the theatre, but on that day, there was some maintenance scheduled and the stage lights weren't operational. We headed to the beautiful park behind the Teatro Colón and spent our last evening in Buenos Aires among everyday porteños.
Useful information about Buenos Aires (and Argentina in general)
Spanish is the lingua franca and at least a bit of it is required to get around. English is not spoken widely. We scraped through with a couple of weeks of practice on Duolingo and using Google Translate extensively.
Withdrawing money from ATMs is a hassle. The withdrawal limit per attempt for foreign debit cards seems to be at 2,000 pesos (about 50 USD) for most ATMs, with a rare few ATMs in Buenos Aires dispensing 5,000 pesos at one go. (The 5,000 option doesn't appear in the menu, you have to choose "Other Amount" and manually enter it. A couple of ATMs had a 3,000 peso limit).
Withdrawing money from ATM is not just a hassle but an expensive one at that. For our Hong Kong bank accounts, for each withdrawal, a flat fee of 234 pesos was charged. That's 11.7% fee on a 2,000 peso withdrawal. And beware, Santander ATMs charge a flat 386 pesos fee instead!
Credit cards are not accepted everywhere, even in the capital city. A lot of places are debit card only or sometimes Visa-only. American Express has almost no acceptance. So carrying cash at all times is a necessity.
Buenos Aires, and it seems the whole country of Argentina, loves staying up late. Restaurants start serving dinner only after 20:00 and are open till 01:00-02:00 in the night. It was very common for families with kids to walk into a restaurant for dinner at 23:00 when we would be finishing ours. How they get children up for school on time – or do schools start late too – is a mystery we are yet to solve.
Traditional Argentine restaurant/cuisine largely consists of parrilla ('parriya'), which comprises grilled meat mainly. There is no spice or marinade involved – and there is no cooked sauce/curry served on the side. The usual accompaniment of the meal is chimichurri – a uncooked sauce/chutney made with olive oil and chopped parsley/garlic and vinegar.
Argentine locals seem to not like spices or chilli. So Argentine food lacks any strong flavours. Although, there is a decent chilli sauce made of "Aji Picante" (spicy chilli) which can be widely found.
The other common foods available in restaurants are pizzas and sandwiches. The Argentine version of the pizza is very heavy on cheese – we like to think there is an unwritten rule that each pizza has to have half a kilo of cheese at least.
Empanadas are the national snack and are available literally everywhere. The common fillings are – carne (meat), jamon (ham), queso (cheese) and pollo (chicken). I have become a fan of empanadas by now – especially pollo and jamon versions.
Get used to long delays between ordering and receiving food in restaurants. Typical lunch / dinner duration for us was ~1.5 hours, which was a bit annoying initially when you just want to grab a quick bite. But we soon started budgeting that in our plans and we would even carry our reading devices to pass the time during meals.
Tap water is safe to drink. However, restaurants do not offer it automatically, unless you specifically ask for "agua del grifo". If you just ask for agua they will bring you bottled water.
Argentinians have an amazing sweet tooth. Breakfast buffets in most hotels are full of sweet breads and cakes and even peanuts sold on the street are caramelized. And the one thing Argentina just can't have enough of is 'dulce de leche' – a thick concentrated condensed milk with caramel like taste and consistency. Every dessert seems to contain dulce de leche and you can see bottles being sold everywhere.
In toilets, the bidet is used everywhere. We found it singularly inconvenient, but it's the way in Argentina.
Subway system in Buenos Aires is called Subte, but there is no easy way for tourists to get a subway card made. So, we used taxis during our stay, which are plentiful and cheap. We also used Uber a couple of times and it was reliable.
4G service is widely available in Buenos Aires, and picking up a prepago (prepaid) SIM is very easy. However, avoid taking a Claro SIM, if you are visiting other parts of the country, as Claro is missing coverage in some big regions of the country – we barely got any mobile internet in the Salta and Patagonia region, outside of the big cities. Movistar or Personal are the other cellular operators and one of the locals recommended using Personal.
We were based in an Airbnb just outside Palermo Soho during our 4 day stay in Buenos Aires. Palermo Soho is a nice upscale, expat-populated area of Buenos Aires – comparable to Bandra West in Mumbai or Koramangala in Bangalore.
For a country of Messi and Maradona, we didn't see too many children playing football anywhere. Maybe we were in the wrong part of town, but for example, kids playing cricket is a very common sight in India.