(part of our Madhya Pradesh roadtrip)
Mandu is called India's best preserved medieval city, and justifiably so. Built by the Malwa governor Dilawar Khan in 1400, Mandu had an interesting 300 years of existence before it ceased being a capital and then was abandoned due to plague. Mandu is very similar to Hampi in the sense that they are both medieval cities spread over a huge area, abandoned after a couple of centuries of prosperity. Hampi is set along the Tungabhadra river, while Mandu is set amidst beautiful lakes. The difference is that Hampi is set in a dry area of the Deccan region while Mandu is covered in greenery.
(Bhopal to Mandu is about 300 km, most of it on the NH3, which continues to be a charming road. From Mhow, we had to branch off on a small two lane road which heads towards Mandu. Here we had another Google Maps error – chose the wrong road – which wasn't as bad as the Vidisha road, but was about 25 min of broken road. After we rejoined the correct road, the road started climbing onto the Malwa plateau and soon we arrived in Mandu)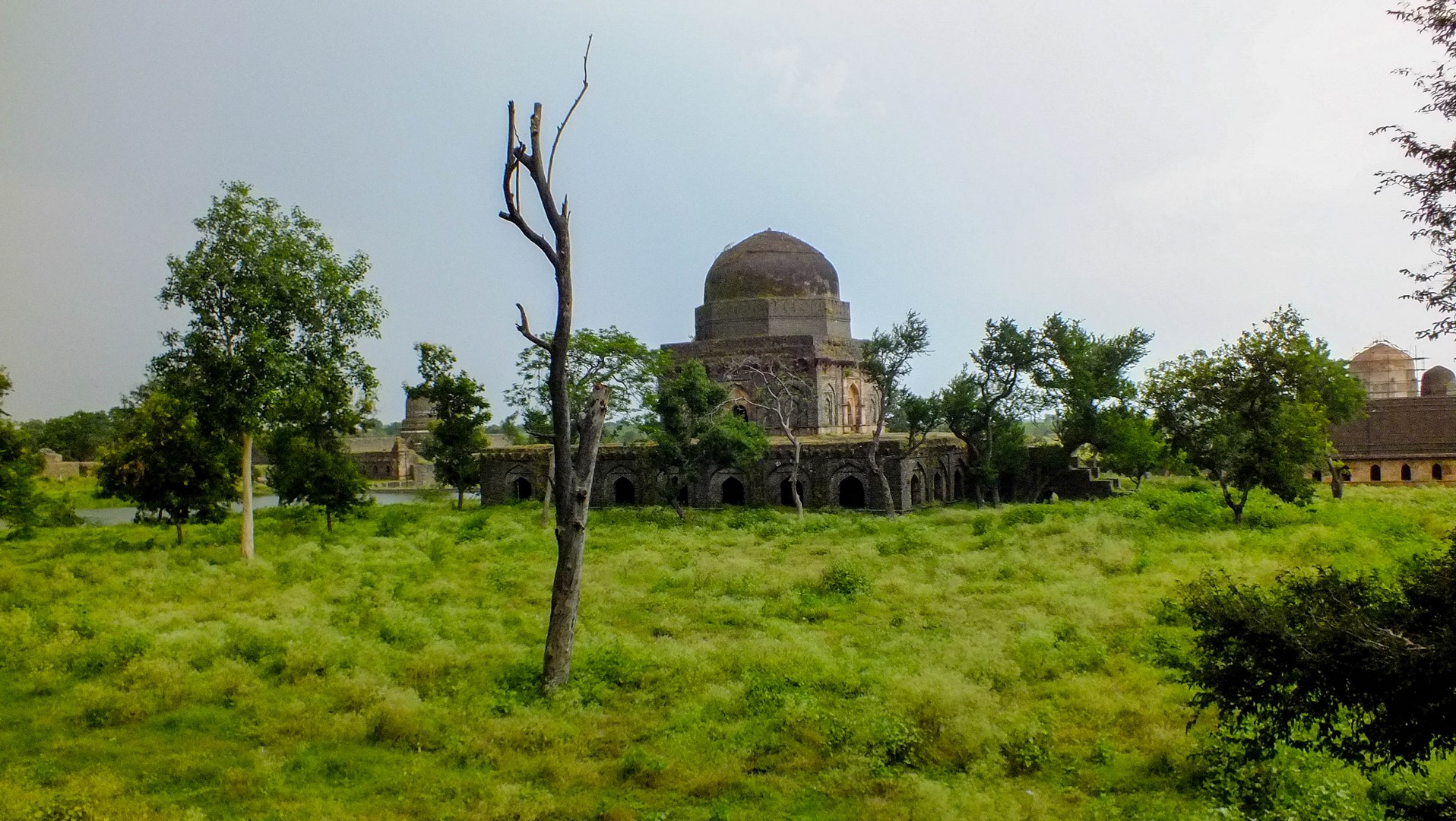 When we were there in October, ground still wet with light showers and lakes brimming with water. That particular evening, the sky was a beautifully overcast, pregnant with rain. It blessed the entire landscape with a softness – the kind that you can see after a light shower during monsoons – when everything seems to be fresh and glowing. For two travel weary people on the 4th day on the road, the weather and the beauty of Mandu was like instant rejuvenation.
After checking into the MPTDC hotel (where we had chosen swiss tents overlooking valleys), we headed back to Jama Masjid, which is the centre of town. All the guides, touristy stalls etc are to be found here – where we picked up our guide as well.
Mandu is a ruined city of predominantly muslim architecture, spread over 20sq km, interspersed with thinly forested areas, fields and lakes. In the rains, the beautiful domed structures standing amidst the greenery look very romantic – and entire of Mandu seems to be a celebration of Rupmati & Baz Bahadur's love story. Baz Bahadur was the ruler of Malwa in 1550, and a patron of arts. According to Malwa legend, Rupmati was a singer par excellence and Baz Bahadur was enamored by her voice. Desperately in love, he beseeched Rupmati to marry him and move with him to Mandu. Rupmati apparently was a worshipper of Narmada (the river) and Mandu is at some distance from the river. So Baz Bahadur constructed a building specifically for her at the edge of the plateau, from where, in the vast plains, the river Narmada is visible. This building is called Rupmati's pavilion, and it is an enchanting place to be at sunset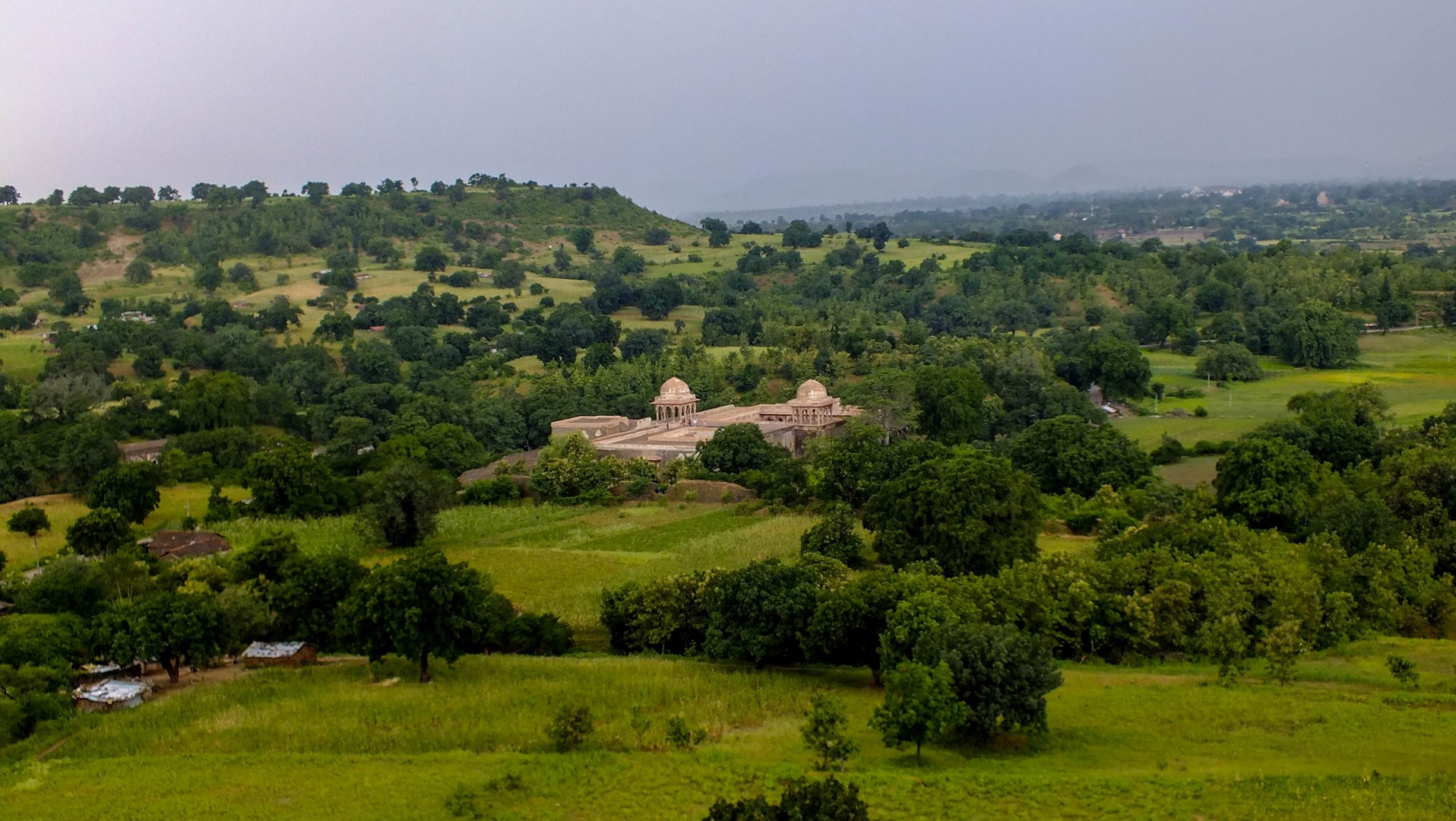 So Rupmati moved into Mandu, a muslim king and a hindu singer. It is not very clear whether they were married, but their love story was one for the ages it seems. Unfortunately for them, tales of Rupmati's beauty had reached Adham Khan, Akbar's military commander. He attacked Malwa in 1561, and defeated Baz Bahadur. Rupmati consumed poison and thus ended the most famous love story of Malwa. But when you stand on Rupmati's pavilion and gaze to Baz Bahadur's palace (pic above), you can imagine centuries before, Rupmati doing the same.
There are several iconic buildings in Mandu. At the town centre is Jama Masjid. Modelled on the famous Great Mosque of Damascus, it is grand building with a huge pillared hall and huge courtyard. There is also a throne in the middle of the hall, so it is not clear whether it was a mosque or was it converted into a durbar for the king.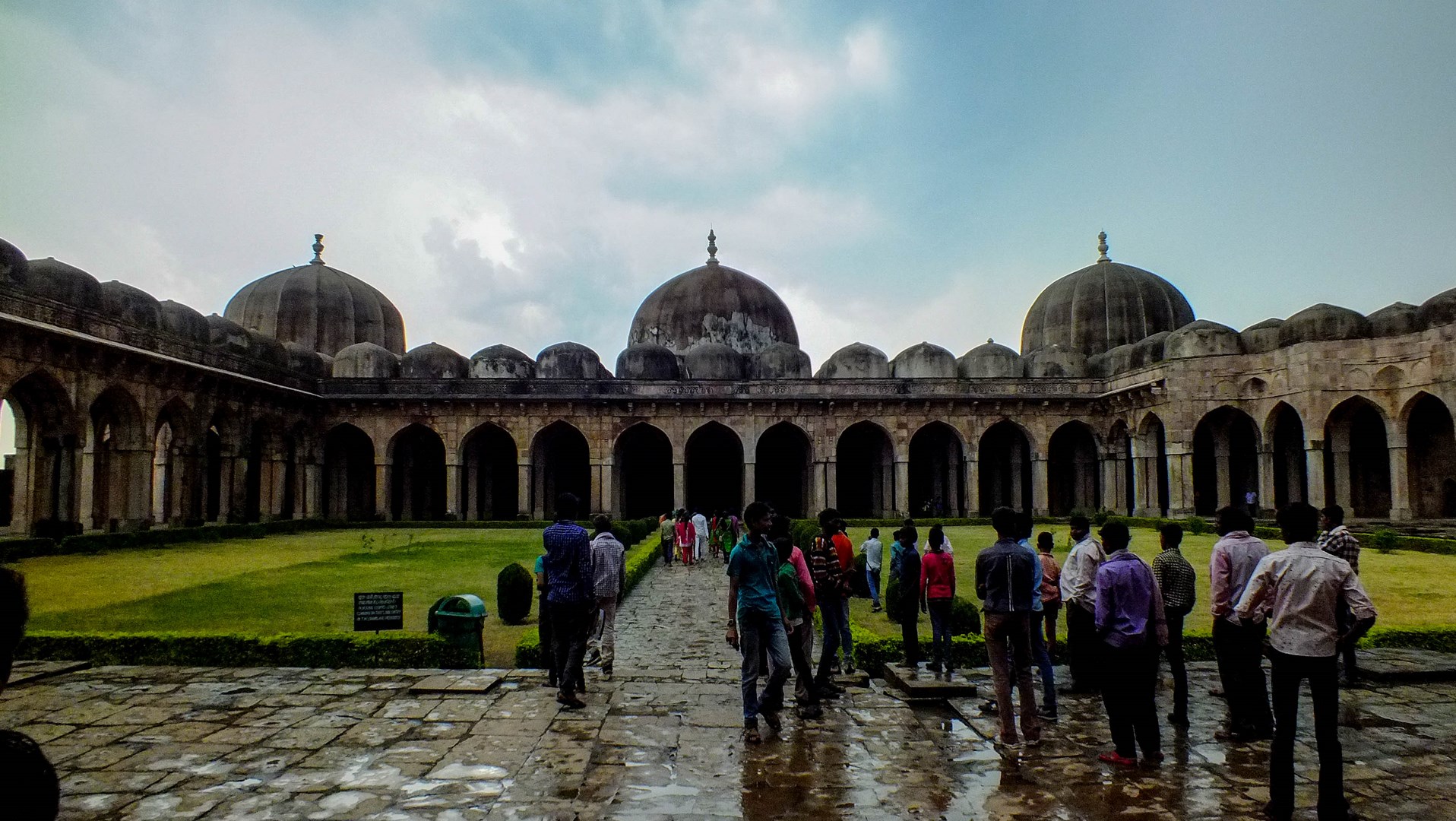 Behind the mosque is Hoshang Shah's tomb (pic below). By itself it isn't a very grand building. But when you realize it is India's first white marble structure and it has more than a passing resemblance to the Taj Mahal, you find out that it served as the inspiration for the Taj. Shah Jahan apparently sent his sculptors to Mandu to study this building. The scale and finish is nothing in comparison to Taj, but in grayish-white, it stands out in vivid contrast to the staid construction of the rest of Mandu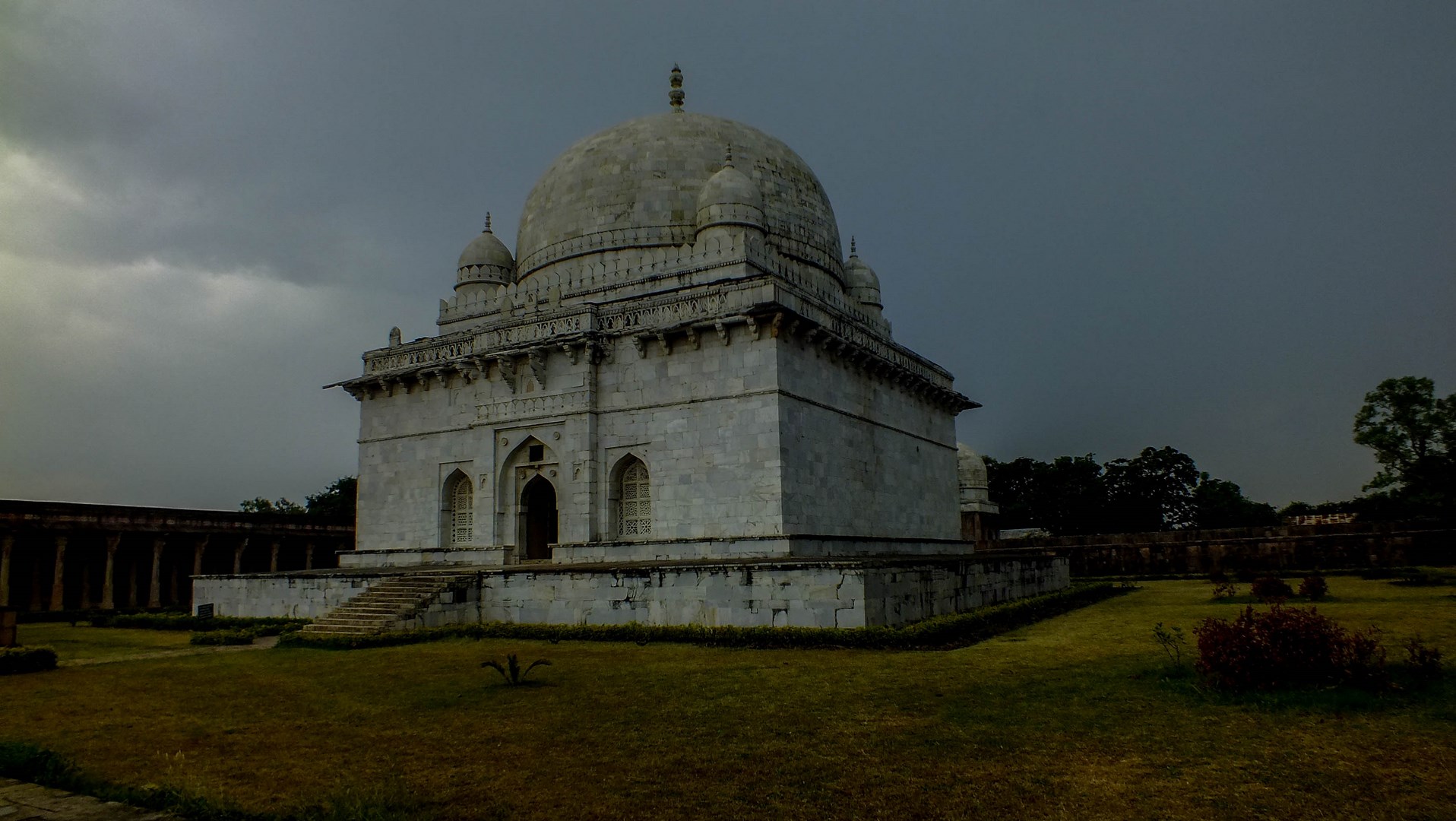 The construction of Mandu is big & solid – not given much to fine carvings like Hindu temples. All the beauty of their buildings is in their architectural design. It is nowhere more visible than the striking Jahaz Mahal. Built on a strip of land between two lakes to simulate a ship in the water, it was built as a pleasure palace of one of the more pleasure-loving kings of the Khilji dynasty. Ghiyas-ud-din supposedly had upto 10,000 women in this harem. Jahaz Mahal is open, airy, with lots of terraces and 2 separate pleasure pools. In the setting sun, it is a photographer's delight as the reflection of the building shimmers in the waters of the lake.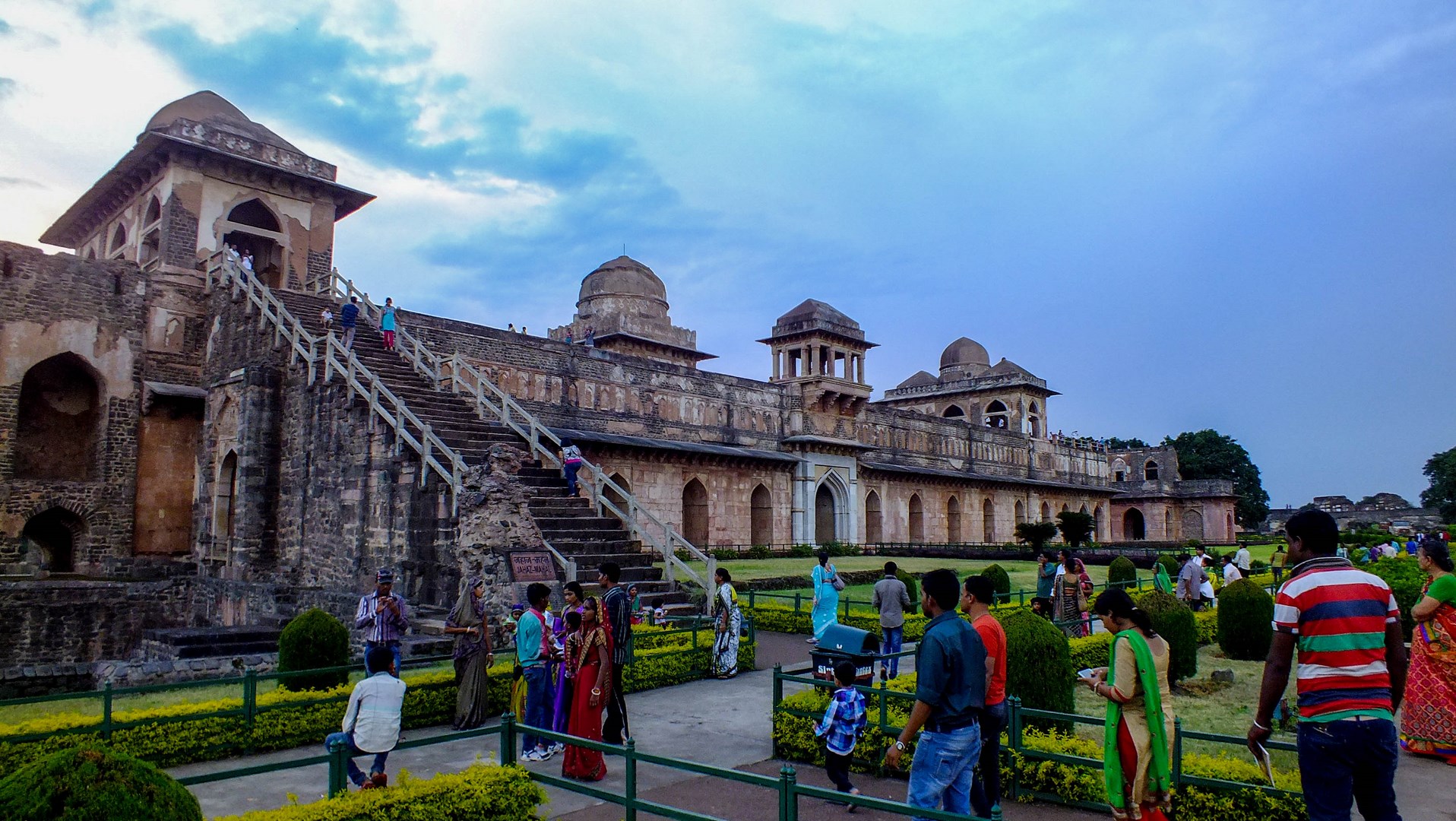 Jahaz Mahal is a part of the Royal Enclave buildings. The main palace is spread over a large area, with fortified walls and a nifty water based cooling system for the lower palace rooms. There is a lot of ground to cover in the palace, including a small hamam with star shaped openings in the roof. But two main buildings are the Hindola Mahal and the Jal Mahal.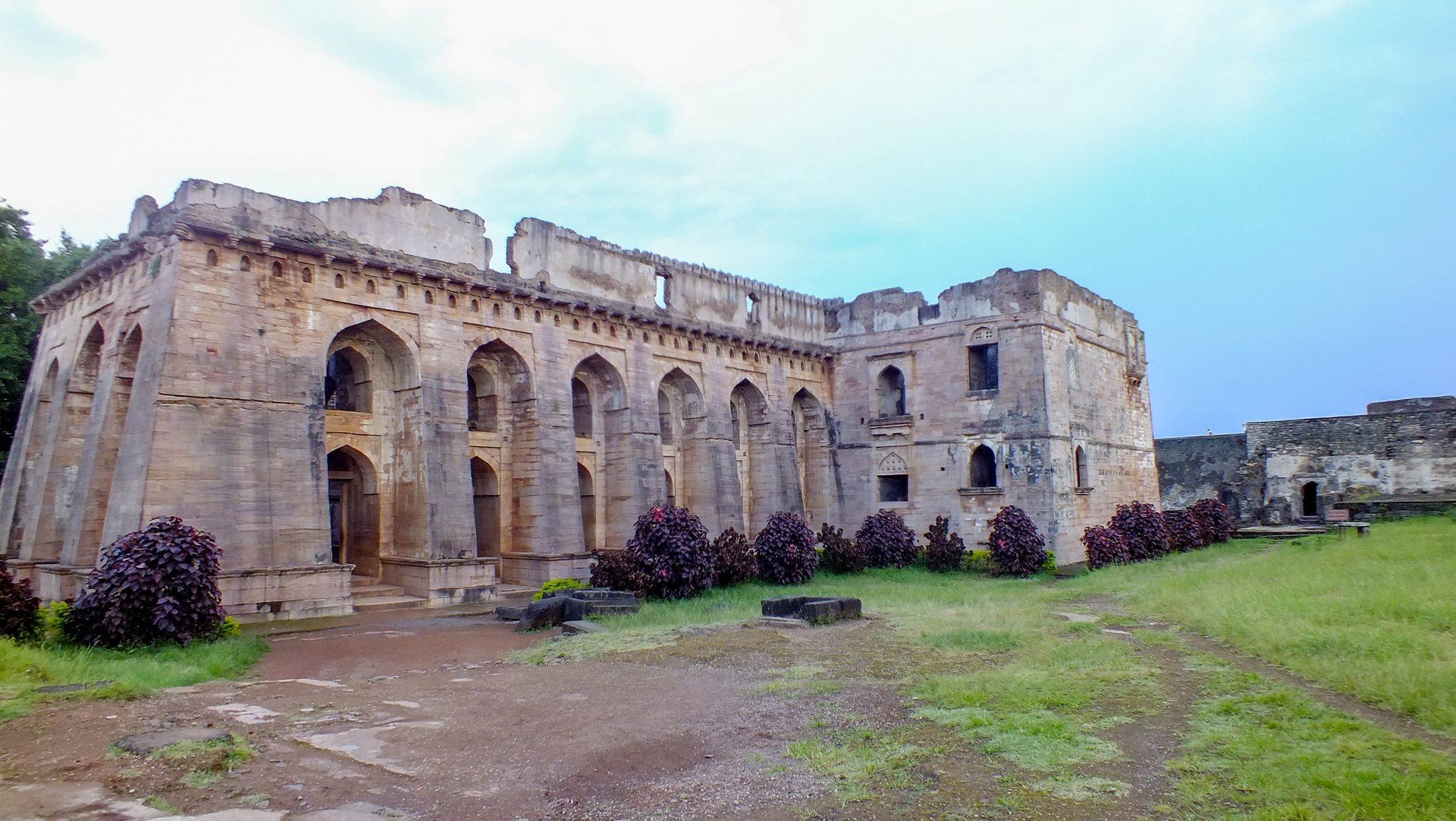 Hindola Mahal (palace of swings) is so called because of the slanting walls on the outside (above). It is a essentially a big hall, possible used for durbars or musical performances.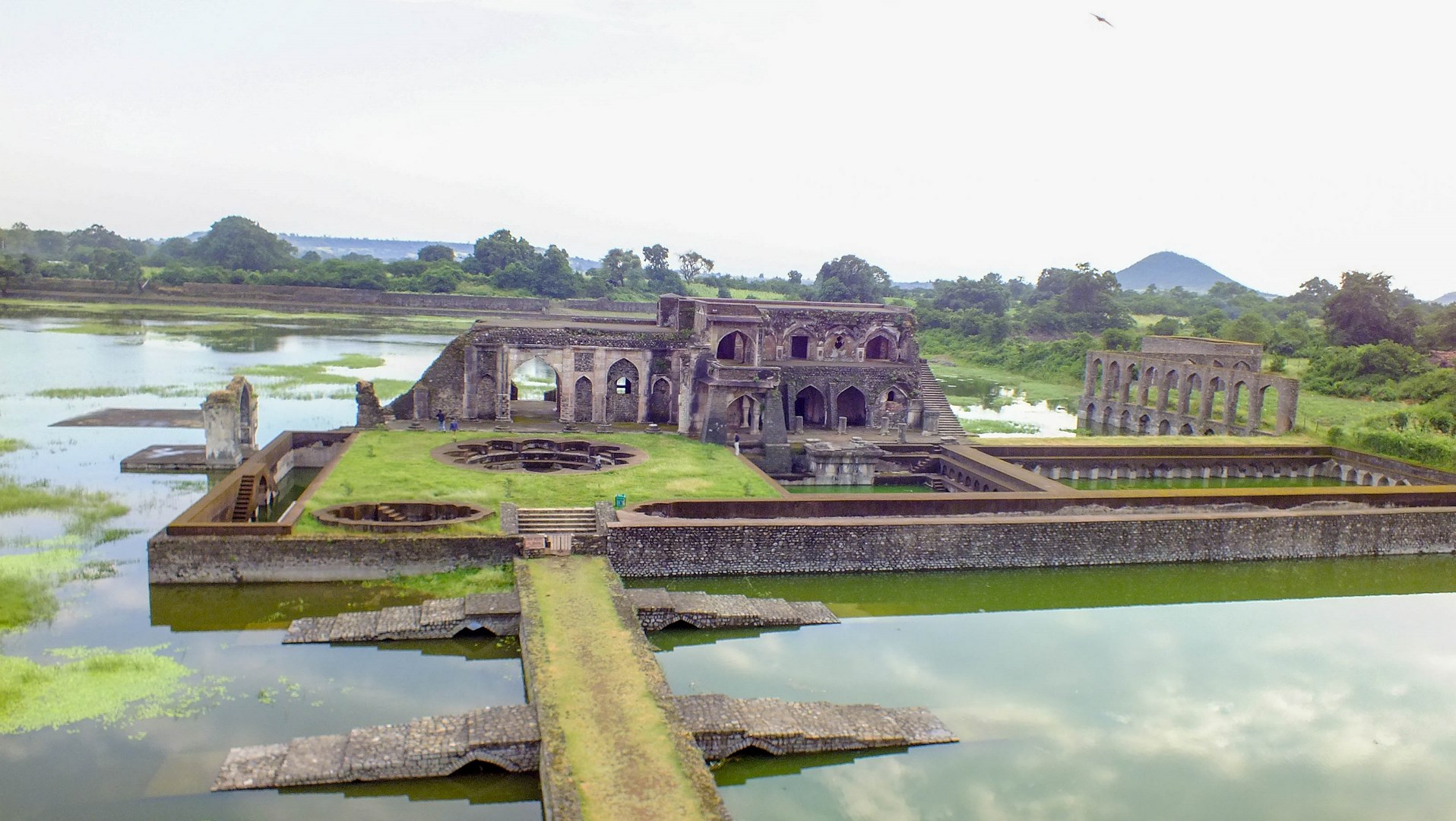 The other striking building is the Jal Mahal (above). Set in the Munj lake, accessed from the main palace by a thin passageway, it is said to have been built for Emperor Jehangir when he was visiting Mandu. It is a smallish palace with a beautiful view of the Jahaz Mahal.
We spent a couple of hours exploring the Royal Enclosure, before sitting down on the terrace of Jahaz Mahal and watching the sun go down over the lake. Although it was a little crowded because of the national holiday, Mandu in rains is a mesmerizing place.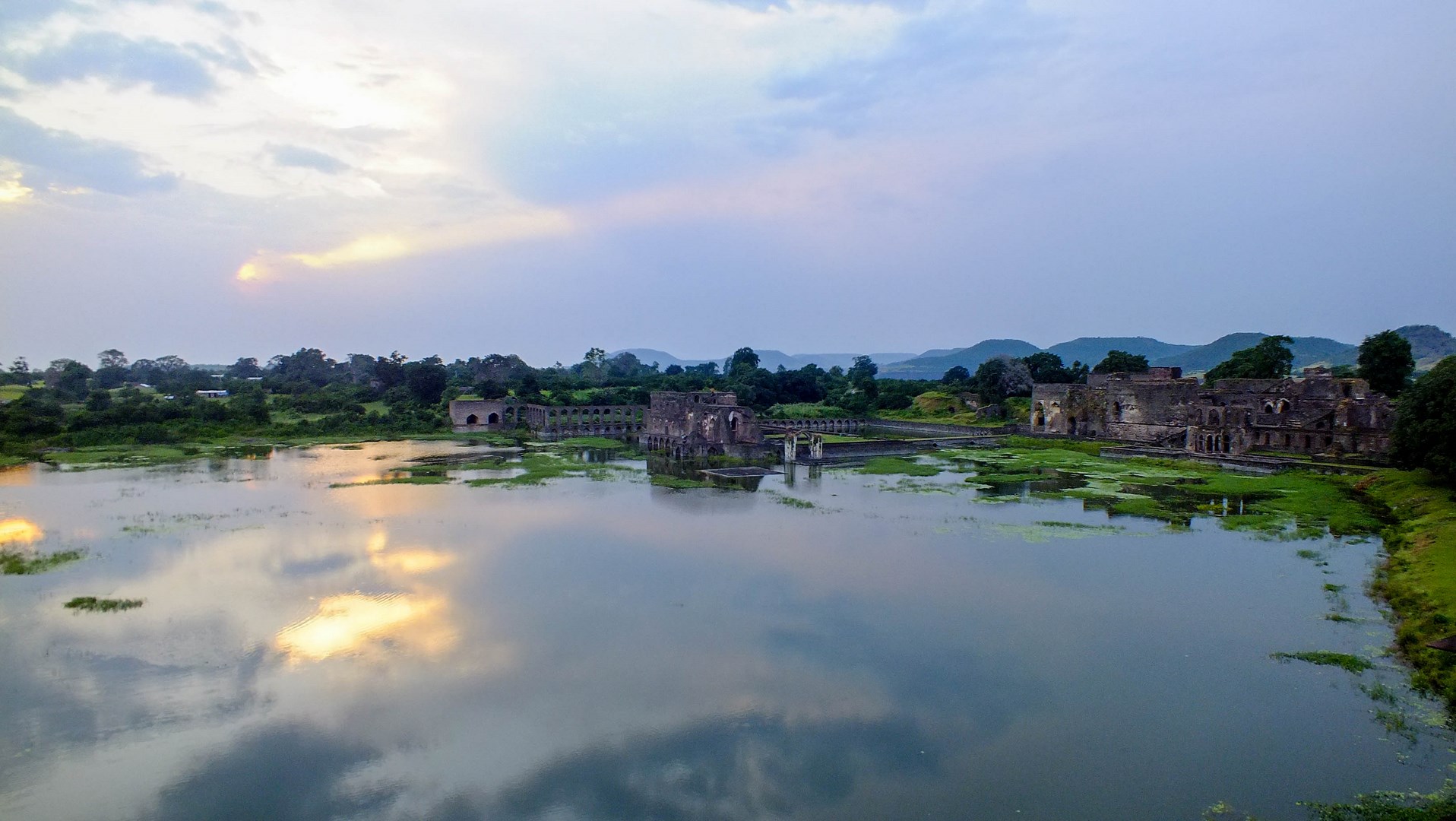 Because we had only half a day at Mandu, we covered only the famous buildings. If you have an additional day, there are so many unnamed tombs, serais & havelis to discover on your own.
The Baobab trees
The knowledgeable among you might have heard of baobab trees in Africa. They are trees with immensely fat trunks, upto 11 m thick. In a mature plant, the trunk often becomes hollow, and in Africa, such hollow baobab trees are often used by tribals for shelter (in South Africa, someone has even started a bar inside one baobab tree !) So imagine our surprise when we see baobab trees growing wild in Mandu. No one is quite sure who brought seeds for this African tree to Mandu, but they seem to have taken quite a liking to the place. Their pulp of the fruit, when scraped, has the look and sticky consistency of tamarind, and it is sour to boot. It is consumed locally and sold as "meethi imli". We tasted it – it is very sour like tamarind and there is definitely a sweetish tinge, but overall too strong tasting.